Recipe: lychee panna cotta
OMG, I woke up at 9 this morning. That is incredibly late for me, especially as I had the intention of waking up at 5:30. I'm trying to be patient and accept that I need to let the side-effects of radiation play out, which means sleeping way more than I ever wanted to (Manggy is gasping with indignation at that, I'm sure!) The other reason I slept in this morning was because I was up late shooting something special. Can you guess what it was? Not something in the sky…
For as long as I can remember, we had these funky, fleshy, gangly plants growing in our house. And whenever I visited a member of my mom's family, they had one or two or three or more of these plants in their house too! It all started when Grandma came to the States from Taiwan and carried a leaf wrapped in wet paper towels and plastic bag. She gave it to my mom who started a plant in her house. Every time one of us bought our first house, we were given this plant (leaf). They grow into the most unwieldy things that must be trimmed back (give the leaves to your friends to start their own) periodically, and from time to time will grace your house with a bloom.

here is a bloom that will open tonight: it's almost alien looking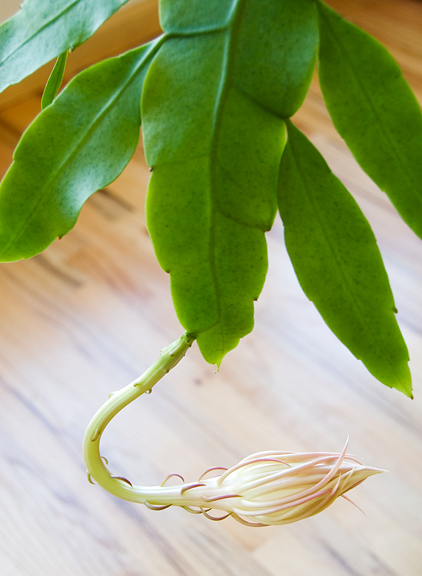 can we get a puppy schnoz for scale? thanks, 'weah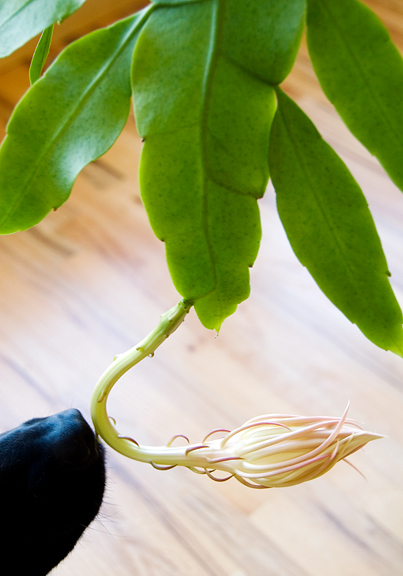 In my (Mandarin-speaking) family, we always called it
tan hua
. Then someone said it was called a century plant in English. Whoever said that was wrong, but those were the pre-Google days. I have since confirmed that this is in fact, a night-blooming cereus (aka Queen of the Night).
You know when a bloom is coming, because it takes about 2.5 weeks for the buggers to go from tiny bud to ginormous flower. The flower only blooms at night and it only opens for about 6+ hours and then it's done – no more blooming action! It's quite a treat and I remember it was one of the few occasions that my mom would let me stay up past midnight as a kid. My favorite part was the delicate fragrance that the flower would release – almost a floral, tea-like scent that permeated the entire house. Grandma said it was a good omen for the house. Hey! She's a feng shui expert! Good omens are good…

in profile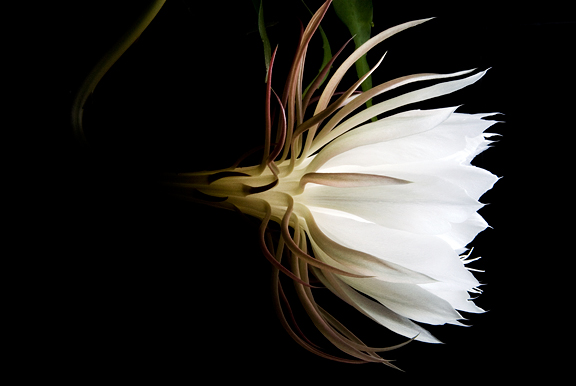 fresh face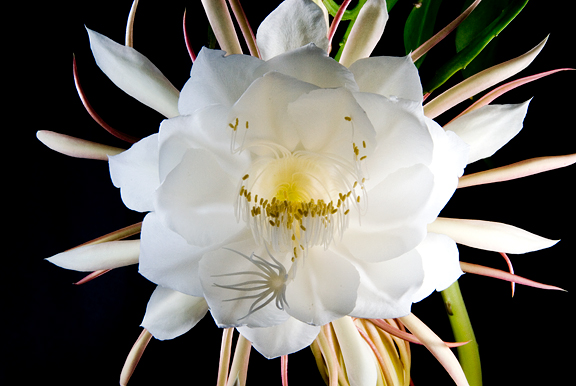 Not only was it good feng shui, but it was the first time Jeremy had witnessed a Queen of the Night bloom! My mom called in the evening to ask if it had started opening. Then she said, "Can you smell it yet?" I stuck my nose in the flower and couldn't detect anything (and I have a GOOD nose). I told her no and began to secretly worry that my plant was somehow defective. She assured me it would start to smell in a couple of hours. How did she know?! Well, she was right – that lovely perfume began to release around 10 pm.
It was also a nice opportunity to mess with my flashes. See folks, this is one flower you will not be able to shoot in natural light unless you have a hot house in the Arctic or Antarctic circles and I have my doubts if the plant will survive even then. An argument to learn to use your damn flash ;) You can see the series of pictures on the photoblog. The cool thing is that I have two more buds that are going to bloom tonight! Sweeeet.

speaking of sweet… lychees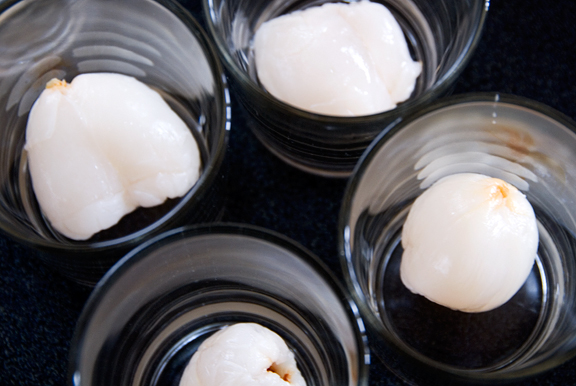 Somehow this recipe was forgotten and has been languishing in my archives for a few months. Please, forgive me.
What I love about lychees is that they have a subtle, floral flavor to match the plump and juicy flesh. [There goes Manggy running out the door – he hates lychees!] Since I can't get fresh lychees very easily around here, I use canned. They are different beasts, yes, but I still enjoy the canned variety as well (just imagine how painful it must be if you're standing underneath when the cans drop off the trees…)

raspberries for color and tartness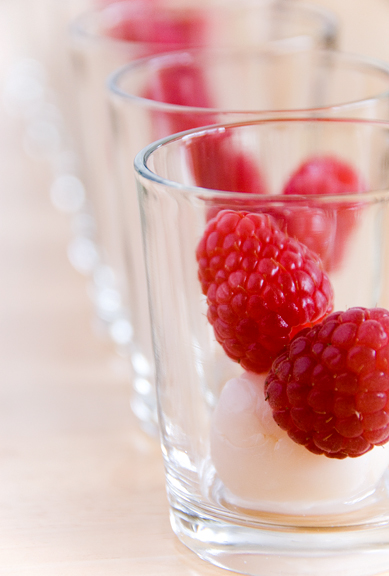 Ah yes, the recipe is lychee panna cotta. Remember when I said that FIL is a chocolate fiend? Most of the people on that side of Jeremy's family are chocolate fiends. Personally, I think people who limit themselves to chocolate-only desserts are a little close-minded and I have to exercise a lot of patience with them. The true dessert afficionado knows that there are so many wonderful confections out there that don't involve chocolate. Luckily, MIL loves a lot of the cream-based or fruity desserts that I delight in. When I first met Jeremy, he would wrinkle his nose at non-chocolate desserts. I almost kicked him to the curb except that he loved sushi, so it balanced out in the pros and cons list… But over time, he has surprised me with his matured tastes. He now eats and loves a myriad of vegetables (still working on tomatoes, but at least he eats them), fruits, Asian foods, and… non-chocolate desserts. Imagine my delight when he sang the praises of the lychee panna cotta with nary a drop of chocolate or caffeine in sight.
pour in the precious cream mixture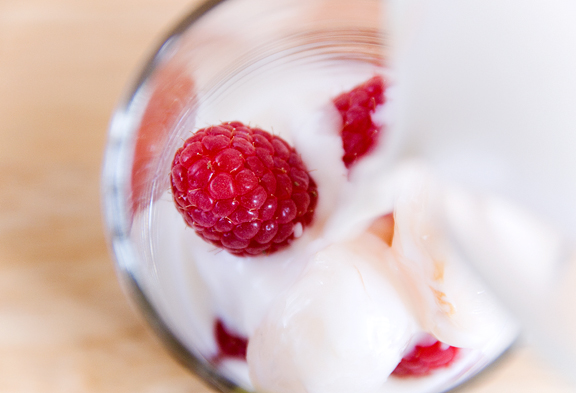 The dessert is subtle. I use the lychee syrup from the can to flavor the cream. If the syrup is too weak for your tastes, I suggest boiling it with a little sugar and reducing it to a syrup. That will concentrate the flavor. The raspberries and lychees will float to the top unless you fill their cavities with the liquid panna cotta. I think it's fun.
my favorite way to serve panna cotta: shots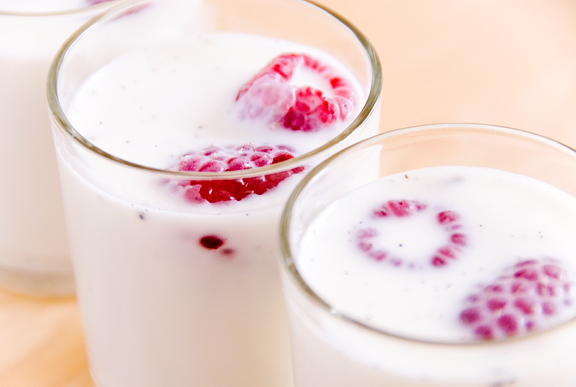 Panna cotta pairs with so many flavors and it is wonderful served any time of year. This summery version is delightful with a little rose syrup served on top (not pictured because we ate it!). The little panna cotta shots are great if you do dessert "courses", or serve it in a juice glass if it is the main event.
a creamy way to end a meal
Lychee Panna Cotta
[print recipe]
1 cup cream
1 cup whole milk
1/2 vanilla bean
2 tsps gelatin
1 cup lychee juice (from the can)
3 tbsps sugar
lychees (canned or fresh if you can get them)
raspberries (fresh)
Bring cream, milk and vanilla bean to a boil over medium-high heat in a saucepan. Remove from heat and cover for 5 minutes. Open the vanilla bean and scrape the seeds out into the cream. Discard the vanilla pod. Sprinkle gelatin over the lychee juice or syrup* and let sit for 5 minutes. Stir the lychee mixture and sugar into the cream. Place fruit in serving glasses or bowls and pour cream over fruit. Refrigerate for at least 2 hours before serving.
* If you want a more concentrated lychee flavor, you can boil the cup of lychee juice with the sugar and reduce it to a syrup. If you do this, then omit the 3 tablespoons of sugar from the cream mixture.