Recipe: arugula salad with figs and prosciutto
Do you remember the Go-Go's song Vacation? It's so 80s, I know. Hey – I wore the hot pink and turquoise. I watched Duran Duran on MTV. If I have any regrets in my life, it's being a teen in the 80s. Whenever I'm about to leave on vacay, Belinda Carlisle's voice enters my head and she is singing that damn song…
Yes, we're shoving off. Cindy had asked me recently if I ever feel like I'm living someone else's vacation. I laughed. She always makes me laugh. Believe me, I realize that we live in a fantastic place. I realize this because we spent over a decade's worth of vacations in places just like our current surrounds! That's why we chose to settle down here. But that doesn't keep us from heading out to explore other awesome places.
I'll still blog from the road when I can and perhaps you will see some familiar faces here… That's all I'm saying for now.
My question for you: What is your ideal vacation? Is it spent with family, friends, strangers, no one? Is it a particular place? Is it travel, exploration, relaxation, eating, learning? On the water, at the beach, in the mountains, in the desert, in a posh hotel, riding a train, flying, exploring cities, art museums, listening to or watching performances?
I ask because I'm curious. I ask because a lot of people don't care much for my brand of vacation which usually involves exertion, sweat, and dirt or snow. My friend, Fiona, calls that Fun #2. I am all about Fun #2. My ideal vacation: exploring alpine backcountry with Jeremy in preferably arid climates (wet climates are fine as long as the temp is below freezing).
I'm not asking this for the purposes of evil market research or other crap like that. Right now, the only sponsor of this blog is me. So if you answer my question in the comments section before midnight, August 14 (that's my mom's birthday), Mountain Time, you will automatically be entered into a drawing. Jeremy will randomly generate 3 numbers between 1 and the # of comments using trusted Python code, then we will let Kaweah select which of the three will win a matted photo from my gallery.

she's going to work hard on this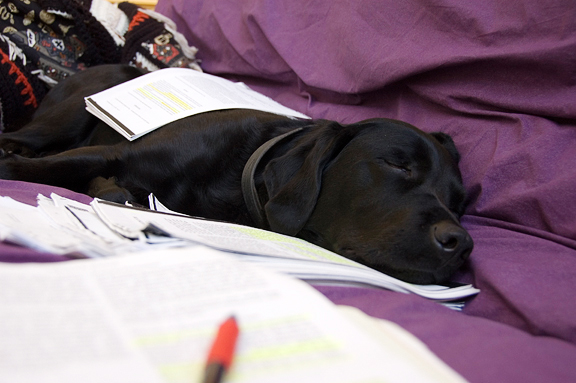 The winner will be the comment # that corresponds to the number selected by the 'weah. If you have problems with the outcome, you can take it up with teh dawg. Said winner will get to choose an 8×12 photo matted to 12×16 from the following:
the rockburn track, new zealand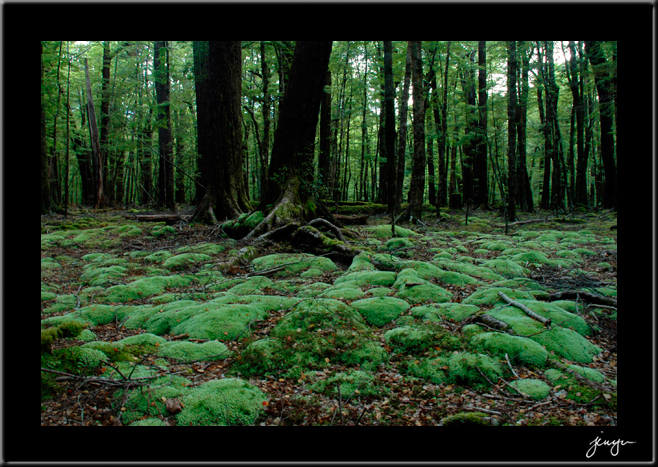 the maroon bells, aspen, colorado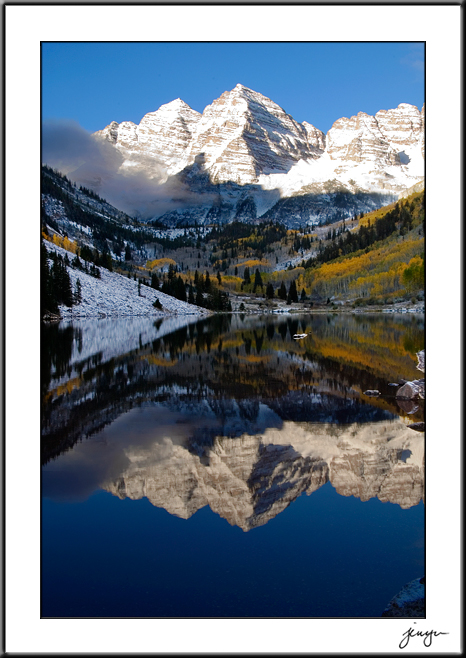 aspens, rocky mountain national park, colorado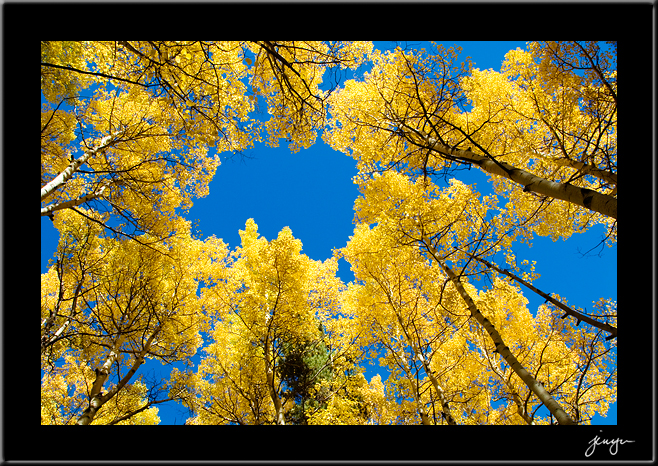 dahlias at butchart gardens, victoria, canada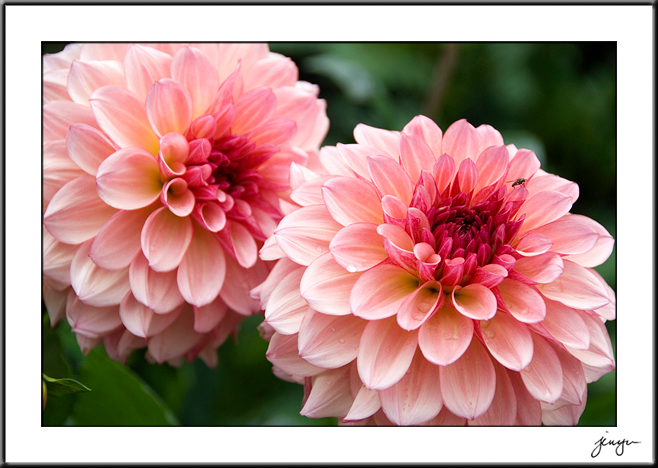 I'll do my best to announce the winner on August 18th, barring any unforeseen disasters. I'll ship this puppy (the photo, not the actual dog) worldwide. You've got a week – so tell me what your idea of the perfect vacay is!
I have been desperately trying to clean out the refrigerator because I hate to leave the house in a state of filth and rotting food. I also hate to waste food, so I handed off several lovely fruits to my friends in town yesterday when we met for lunch. Oy. Better that than exploding into a giant messy fruit salad in the middle of the living room… But I did manage to finish off the fresh figs in a scrumptious salad. I'm all over the salads these days.

pour olive oil over the greens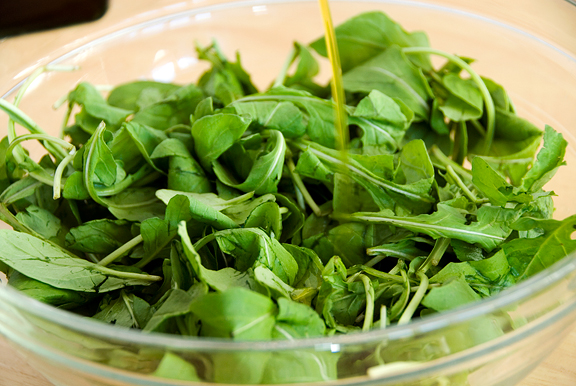 Arugula didn't make it onto my radar screen until 5 or so years ago, but I love the stuff. I like the peppery, slightly bitter green prepared in the simplest way: tossed with olive oil, salt, and pepper. I guess that's the theme for summer here – olive oil, salt, and pepper. You can go quite far on that combination.
tossed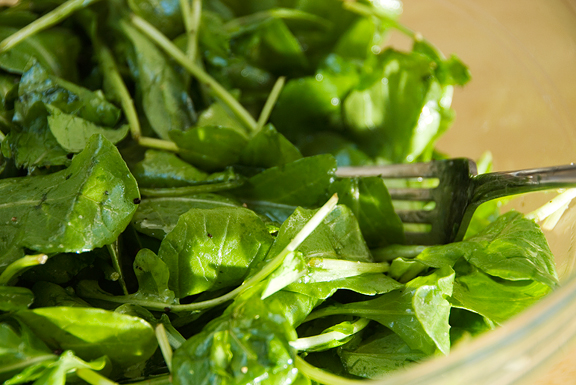 Fresh figs are nothing like dried figs. I am not such a fan of dried figs and I detested fig newtons as a kid. When the teacher would hand those out in class my reaction was, "This is not a treat!" That was a bad scene. Anyway, fresh figs are heavenly and they are available in the markets now. [I will also be visiting a tree that bears the fruit on our trip. I know I will get to gorge on them because the people living with that tree hate figs. Blasphemy, I know!!] Add some halved fresh figs to the greens.
luscious figs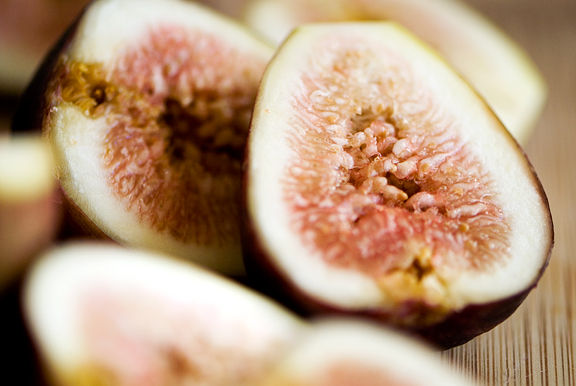 And I cannot help but toss in a few strips of prosciutto. The whole ensemble is a journey through sweet, salty, bitter, spicy. It's also incredibly easy to slap together without going near the bad bad heat.
some lovely prosciutto rounds out the salad
serve and enjoy
Arugula Salad with Figs and Prosciutto
[print recipe]
5 oz. arugula
12 figs, fresh (rinsed)
8 slices prosciutto
3 tbsps olive oil
salt
pepper
Place arugula in a large bowl. Drizzle olive oil, salt, and pepper over the greens and toss to evenly coat the leaves. Slice the figs in half. Slice the prosciutto into strips. Divide the greens into four bowls. Divvy up the figs and prosciutto on the salads and serve.