Recipe: tofu fish
Long hiatus, I know. That's what happens when you have major surgery. Apologies for the silence. I haven't been on the blog at all and barely looked at my email in the past week. It's all piling up and I'm not overly concerned at the moment. Thanks for all of your notes and comments.
I was in the hospital for 5 days with all manner of nurses "caring" for me round the clock while I endured some pretty horrific pain. [Caring is in quotes because I really believe if left in the hands of some of those nurses for more than a 12 hour shift I would indeed be dead by now.] Because it was emergency surgery, I got the surgeon on-call instead of my normal surgeon. Funny how some people have an accountant or an attorney, but me? I have a surgeon. I prefer my normal surgeon, but more than that, I prefer no surgery, no staples down my belly, no incapacitating pain when I sit up or stand.
I had mentioned a while back that we were preparing for a slew of visitors. Our first visitor, my dear friend Mitch, arrived in Boulder the night I went to the ER and flew home to London while I was still in the damn hospital – but we were able to share some QT while I was hooked up to oxygen, IV, O2 monitor, catheter, morphine, etc. I managed to get home right before Jeremy had to go on travel for a very important something or other (mum's the word still), so my aunt came to stay with me until he returned this weekend. Now my parents are visiting. If ever you wondered how I got to be so hyper and full of energy, I point you to my mom and dad.
Kaweah was confused and a little depressed while I was away, but upon my return she has been quite pleased with all of the visitors and extra attention. Plus, while Jeremy was out of town, she snuggled up next to me on the bed each night, although she nearly killed me on Thursday when she shoved her chin on my abdomen and tried to hoist herself closer.

a puppy heals you faster than any drug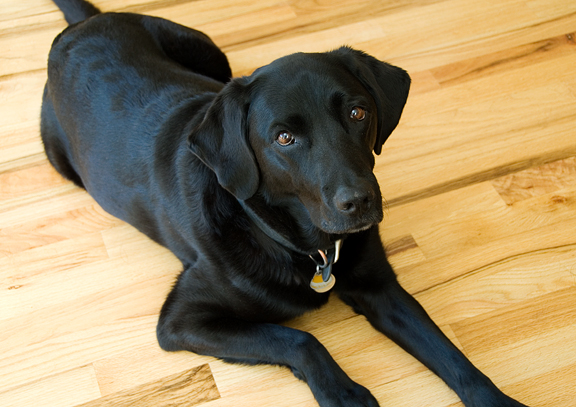 In my stupor of recovery, the weather in our mountain town has begun to flirt with fall. Overnight lows are nearly at freezing and on occasion we are getting those downright chilly, damp, and overcast days. I love it. I'd love it even more if I could get out into it… but I'm trying to keep my patience (or find it… whatever).
now that is what i'm talking about!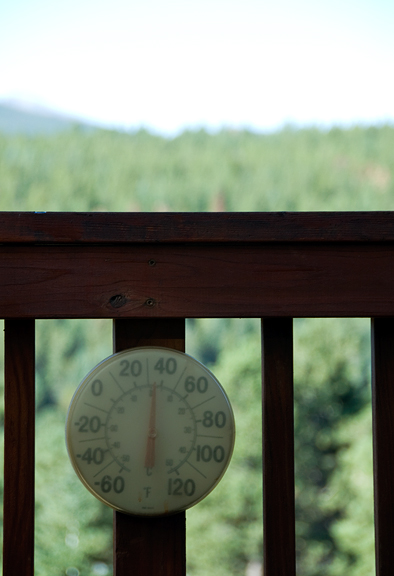 I can barely stand up straight for 10 minutes let alone cook right now. Instead, you are getting a guest cook tonight: Dad. Non-food bloggers cook very differently from food bloggers. My parents were surprised when I said that the final plating was in fact, one of the most important shots to get. They find the whole process intriguing and amusing. At least they humor me.
striped bass marinating in chinese sherry, salt, ginger, and green onion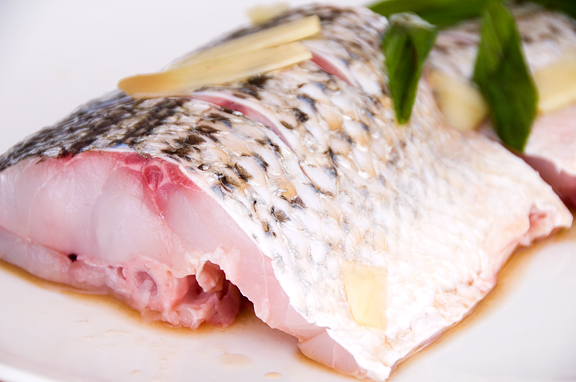 We spent the first half of the day driving around Denver and Boulder to do some grocery shopping for this week's menu. Shopping for Asian groceries was far easier when we lived in Southern California… My parents are all about cooking. They are both great cooks. Mom tends to be consistent and efficient. Dad almost never produces the same results, yet makes a big splash as well as a huge mess. Tonight, he made Tofu Fish (
tofu yu
).
sliced firm tofu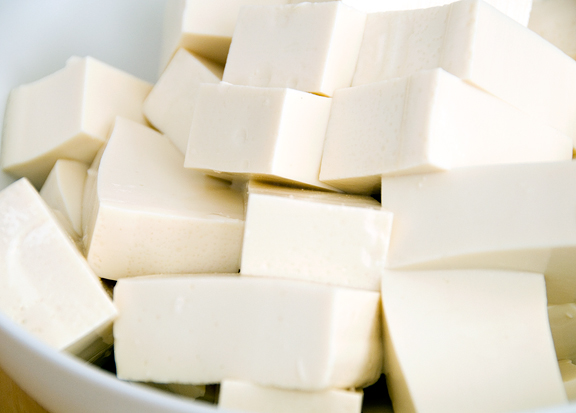 three kinds of hot sauce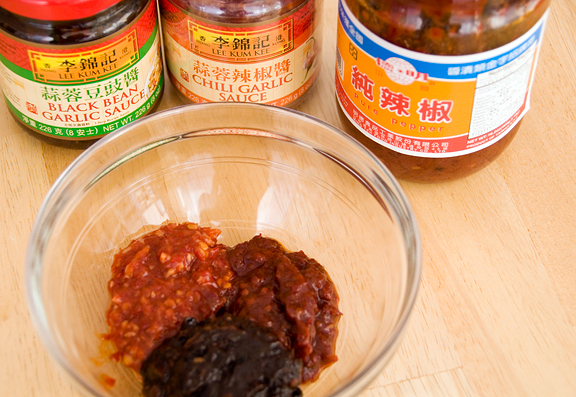 Typically, my dad will catch his own fish for this dish. He recommends a striped bass or similar fish on the order of 2 pounds (whole fish) because anything larger loses tenderness and sweetness. Of course, the best we could find at the H Mart in Denver was a 5 pound striped bass, so Dad used the mid section.
tree ears, preserved mustard greens, ground pork, garlic, green onions, ginger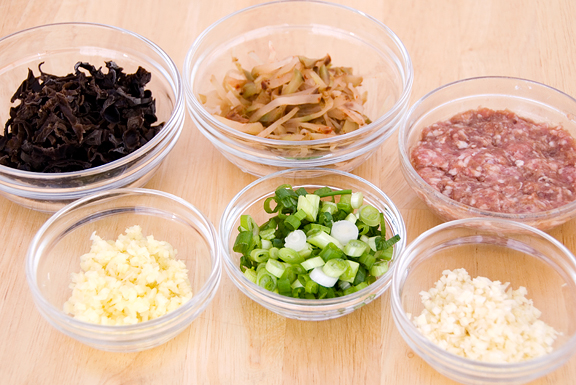 The recipe is somewhat involved. I highly recommend reading over the instructions carefully. I say this because when I asked my dad to sit down with me while I went over a previous version of the recipe, he changed about 50% of it. He kept saying, "Where's the ground pork? You forgot to include that," or "Not TWO tablespoons!" I nearly split my incision from laughter because he was the author of the previous version and kept wondering aloud who wrote such a stupid recipe…
sauté garlic, ginger, green onions and ground pork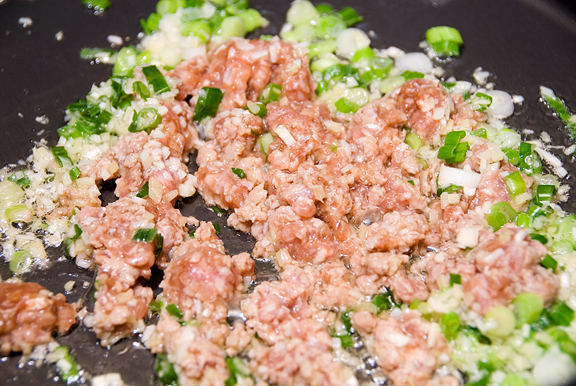 simmering the fish in the sauce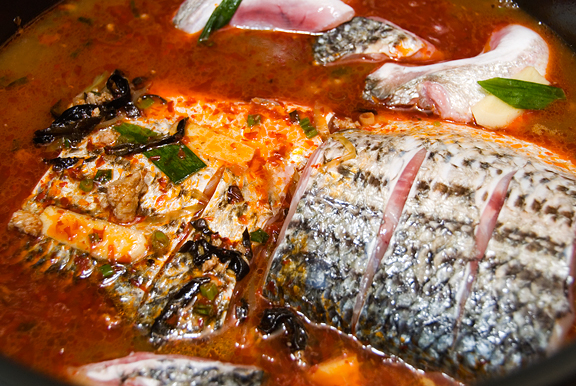 Much of the recipe should be tweaked to taste. Dad likes food to be unbearably spicy. This is not a dish for spice wimps. It is indeed spicy, but amazingly good on a cold evening served along with steamed rice or Chinese flatbread. Much like Mapu Tofu, the flavors are better the next day.
add tofu to simmer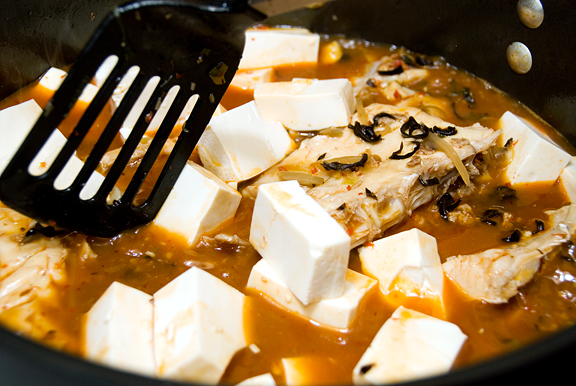 I haven't yet made this dish myself, but I have watched my dad make it a dozen times by now. It's one of those special occasion dishes. If you have issues with the recipe – take it up with Dad.
serve hot and spicy
Tofu Fish (tofu yu)
[print recipe]
2 lb. whole fish (cleaned/gutted) or 1.5 lb mid section of a fish (prefer striped bass)
1 tsp salt
1 stalk green onion, sliced
1 tbsp ginger, sliced
1/4 cup Chinese cooking sherry
2 lb. fresh firm tofu or firm packaged tofu, sliced 1/2 inch thick
1 tsp salt
4 oz. ground pork
1 tsp soy sauce
1/2 tsp Chinese cooking sherry
1 tsp cornstarch
1 tsp water or chicken broth
3 tbsps vegetable oil
1/2 cup green onion, minced
1/4 cup garlic, minced
1/4 cup ginger, minced
3 tbsps Chinese black bean chili sauce
3 tbsps Chinese chili garlic sauce
3 tbsps Chinese chili sauce
1/2 cup tree ears, julienned
1/2 cup preserved mustard green, rinsed and julienned
1 tbsp fermented sweet rice (jo nian) OR 1 tsp sugar
28 oz. chicken broth
2 tbsps cornstarch (mixed with 2 tbsp water)
cilantro or green onions, chopped (for garnish)
If using fresh tofu: bring a large pot of water and 1 tsp of salt to a boil. Add the tofu and let cook for 2 minutes, then drain water off and set aside.
Make vertical cuts along the length of the fish on both sides. Mix sherry with salt, green onion slices, and ginger slices. Rub mixture over the fish and let sit for 10 minutes.
Mix the ground pork, soy sauce, cooking sherry, cornstarch, and water (or chicken broth) together in a small bowl. Set aside.
Heat vegetable oil in a large frying pan. When the oil is hot, add ginger, green onions, and garlic. Sauté until fragrant. Add pork and stir-fry until half cooked. Add all hot sauces and cook until pork is done. Then add tree ears and mustard green. Cook for a few minutes then add chicken broth and fermented sweet rice (or sugar). Bring to boil, then place fish in the pan. Cook on high for 4 minutes then reduce to medium heat for 6 minutes. Turn fish over. Add tofu and simmer for 6 minutes. Remove fish and place on a platter. Add cornstarch mixture to sauce. Cook until thickened, then remove from heat and pour over fish. Garnish with cilantro or green onions.