Recipe: chinese pork rib soup
Today is a special day. It's my birthday. But that's not why the day is special. It's because two of my good friends share the same birthday with me… and Amy's twin brother – so make that three!

colorful understory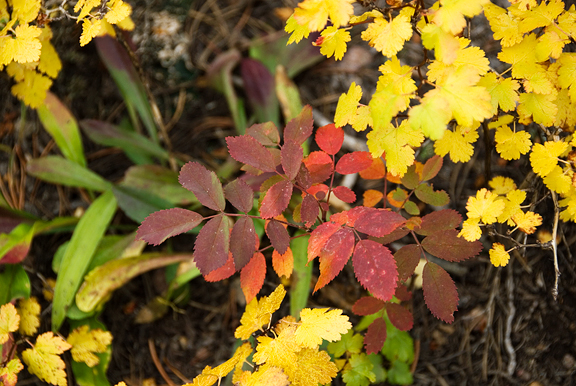 I received in my email yesterday the best birthday message ever:

Greetings from the future, where it's already your birthday. The dawning of your birthday in the antipodes was ushered in with the beating of drums, ceremonial dance and breakfast sashimi. Australia has been given a public holiday to mark the occasion, but it is strongly suggested that we either take to the grassy slopes of a nearby park for some mock telemark skiing, or join with other groups at the harbour foreshore for the Grand Crab Boil. At dusk, many Australians will gather with friends, lay down mats facing towards Nederland, Colorado and chant JEN, JEN, JEN…whilst prostrating themselves.
Then we will probably watch some TV.

I did make some carrot cake cupcakes, not for my bday, but because I had bought ten pounds of carrots. Unfortunately the recipe only required two carrots. We took them to our neighbors this evening.

what is carrot cake without cream cheese frosting and a little crystallized ginger on top?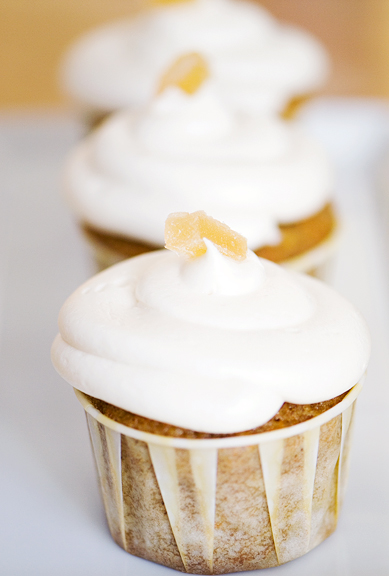 These days I don't want gifts, cakes, or parties for my birthday. I just want to be well enough to get outside and enjoy it. The past year ranked up there as far as suckage goes, but it wasn't life altering – it just blew. People say that cancer changed their lives – that it forced them to re-evaluate their priorities. After the diagnosis, surgeries, chemo, radiation, side-effects… I've learned something about myself: I learned that my life's priorities before my diagnosis were bang on. I knew then what was important to me and those same things are just as important to me now. It shouldn't take death to make us recognize and acknowledge what matters in life. As far as I'm concerned, you only get one shot – so you damn well better make it count.
different perspective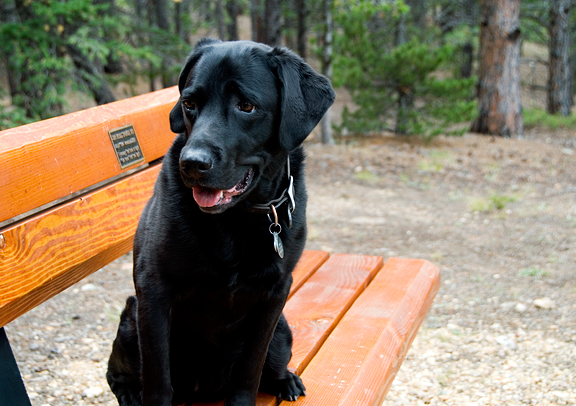 waiting for the snow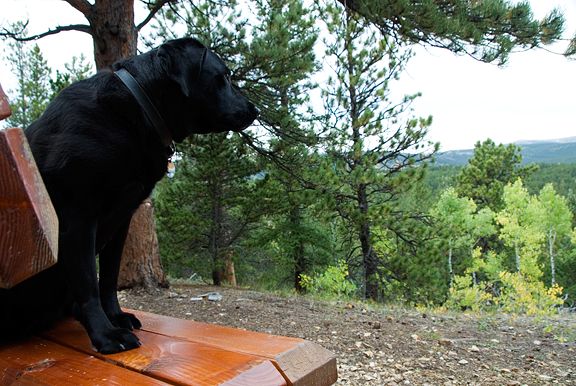 I think I learned far more about others than about myself, and not all of it was good. But there were folks who really helped carry me through the last 12 months with small gestures that, for me, meant the difference between loving life and going to that dark place. I consider myself fortunate to have so many wonderful people in my life.
small beauties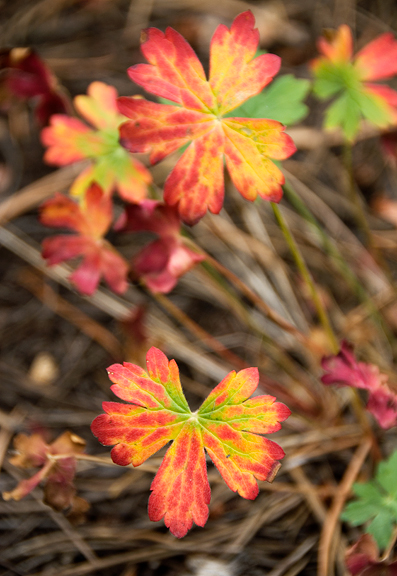 So there wasn't anything special going on today except that I needed to eat noodles per the Chinese tradition. You eat long, unbroken noodles on your birthday for long life. Funnily, I forgot to eat noodles on my birthday last year and look at what happened! ha ha ha! Oh, I guess it isn't all that funny…
get ye some pork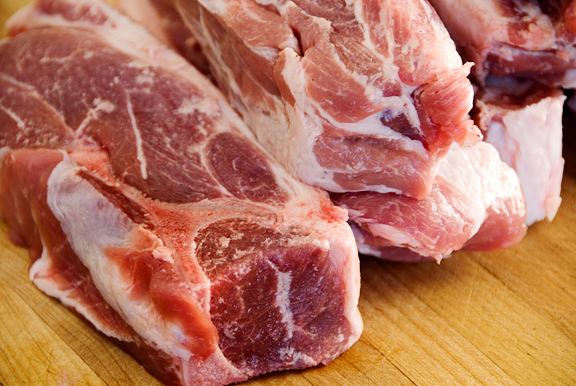 I decided to make some braised pork ribs based on a recipe I got from my ILs a long time ago. The original recipe was called 12345 Ribs. It's super easy to make. I tried to see if there was a Chinese name for the recipe, but couldn't find the equivalent. So I gave my parents a call.
flash boiled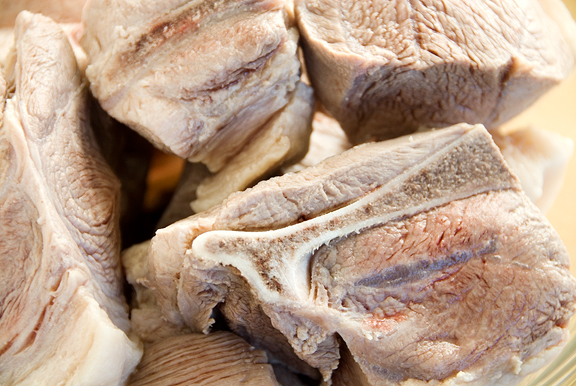 When I read the ingredients to my parents my dad immediately said, "Never use vinegar!" and the recipe was henceforth altered. After Dad finished giving me his version of the recipe, he declared that the discussion was no longer productive and went to go do something else. Mom then gave me her version of the recipe and told me it was okay to make it a soup rather than a flashy gourmet dish (Dad's MO, don't you know). I think I cook more like my mom than my dad, but Dad as Chef is highly entertaining.
sauté green onions and ginger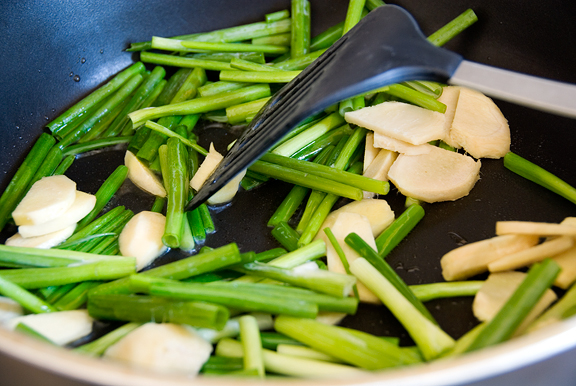 You are supposed to use pork ribs, but I got these country style ribs which are really from the shoulder (blade cut). If you want recognizable ribs, you should get ribs cut crosswise in 2-inch slabs and then cut them into 2-inch cubes. For what I was making, any dark meat cut with bone in works. Dad said to briefly boil the pork so the scum and bone bits would release in the water. I drained and rinsed the pork off and then sautéed the meat with ginger and green onions for a few minutes.
add the pork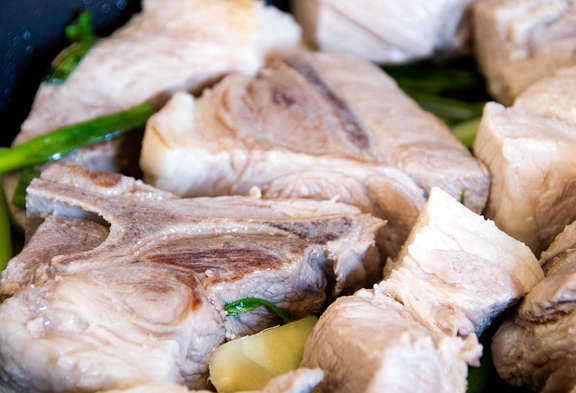 star anise gives a little kick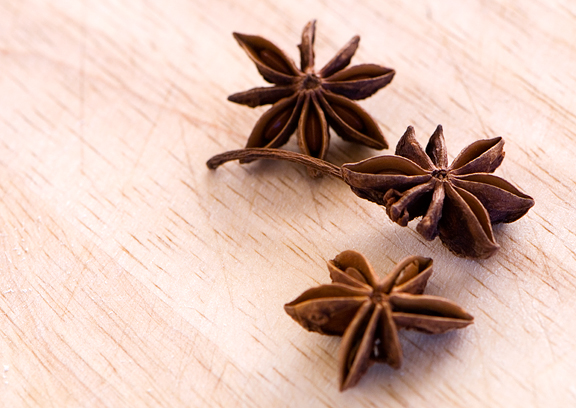 I deviated from Dad's recipe and dumped everything into a saucepan along with sugar, soy sauce, star anise, cooking sherry (I would have used Shao Xing cooking sherry except my DAD used it all up when he was visiting!), and water. I added enough liquid to cover the pork.
chock full of goodies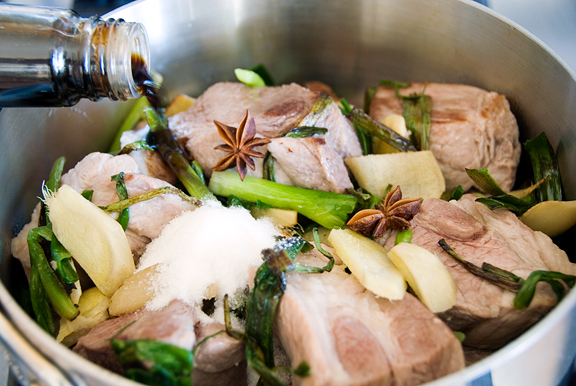 The contents were brought to a boil and then reduced to a simmer and covered. I let it simmer for 2 hours. I'm wondering if this is crock potable? I consider the pork done when it is falling-off-the-bone tender. Dad told me to reduce the liquid to a thick sauce, but I wanted soup for my noodles. Mom said to ignore Dad. I consulted with Grandma tonight and she too said I was allowed to ignore Dad :)
almost ready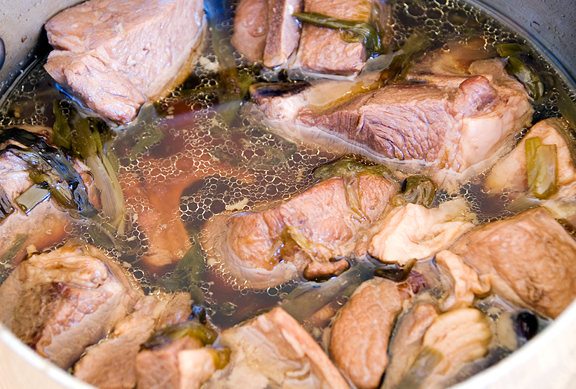 I took the extra step of stripping the bones and fat from the pork meat as well as straining the broth and putting it in the freezer for an hour or so in order to remove the disc of solid fat from the top. The noodle soup is easily assembled. I boiled the noodles in water and drained them when they were done, placing them in serving bowls. Then I heated some of the broth with the pork meat until it came to a boil. I tossed in some spinach and then ladled the soup over the noodles.
to long life or something like that
Chinese Pork Rib Soup
[print recipe]
1 pound pork spareribs, cut into 2×2 inch cubes
2 tbsp vegetable oil
6-8 green onions, cut into 3-inch pieces
2 tbsp ginger, sliced
1 cup soy sauce
3 tbsp Shao Xing cooking sherry
3 tbsp sugar
2-3 whole star anise
water
Boil a pot of water. Add the pork to the water and let return to a boil. Cook for a few minutes or until pork scum surfaces. Remove from heat and drain the pork. Rinse the pieces clean. Heat oil in a saucepan and sauté the green onions and ginger until fragrant. Add the pork and sauté for a few minutes, browning the sides of the pork. Add the soy sauce, sherry, sugar, star anise, and enough water to cover the pork. Bring the contents to a boil and then reduce to a simmer. Cover the saucepan and let simmer for 2 hours or until meat is falling off the bone. For a soup, the broth should be ready (if it's too salty, add some water). For a thick sauce, remove the cover and let the broth reduce. [Jen's Dad says to then place it in a baking dish and bake it (he doesn't say what temperature, so I'll guess 350) to further reduce the sauce and intensify the flavor.]