Recipe: shredded beef tacos
That phrase is the first sentence I learned in Spanish way back in high school, from a bunch of friends who took Spanish. I took French, see. So when I headed down to South America to do field work for graduate school I was all, "Guys, I don't speak a lick of Spanish." Well, except for por que tu eres un taco grande? Everyone assured me I'd pick it up.
I did pick up some Spanish, all with an Argentine accent. That got me a lot of funny stares when I flew across the Andes to Chile for work on a field project with Jeremy and a team of astronomers. When Jeremy met me at the airport in Santiago and we caught a cab, he was amazed while I chattered away with our driver in my Argentine Spanish explaining the geophysical research project I had been working on for the past month. Jeremy speaks Spanish. When he saw me off at the airport in the US, the only new Spanish I had learned was No me molestes! and Chupacabra (from an X-files episode).
When I say Jeremy speaks Spanish, I really mean that he knows a lot of Spanish, but the guy hardly speaks much in English and even less in Spanish. He actually *thinks* before he speaks. That's why when he finally says something, everyone listens. It's usually something quite good. But me, I run my mouth all the time and let my jabbering find its way around until I say what I wanted to say. I don't hesitate to speak. Same goes for my Spanish.
Despite my crappy command of the Spanish language I did surprisingly well communicating with the locals. I attribute that to my crappy Chinese. I'm well practiced in the art of getting semi-complex ideas across using a 3rd grade vocabulary. You should have seen me asking where I could find birthday candles at the grocery store in Pisagua, Chile [where can I find a small light that you place on a cake which is served on the day someone is born?]
So the other day I was thinking about how bad my Spanish has become (rather, how much worse) and I said aloud to myself, "Por que tu eres un taco grande?" Mmmm, tacos. It had been an age since I last made shredded beef tacos (and I had this giant sack of limes to finish off). I got on the shredded beef taco kick after going to an awesome Taqueria on Mission and 24th in San Francisco with a friend of mine who had grown up there. He told me if I ate Taco Bell, he'd beat the crap out of me. Ha! I could *so* kick his ass. But the memory of their amazing shredded beef tacos still lingers in my mind.

beef eye of chuck, limes, garlic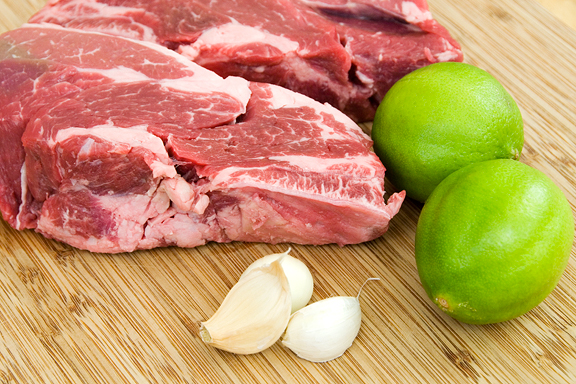 the marinade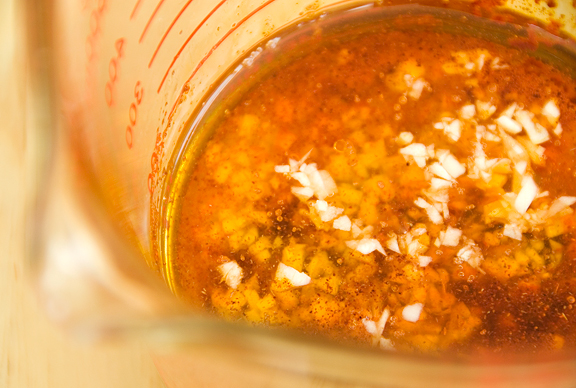 I tried to reproduce these in graduate school, but I think when you work on a PhD, you become incompetent at everything you do (including the PhD). It's worse than chemo brain, I tell you. I always used beef chuck and shredded the beef in the food processor using the dough blade. Somehow, a light bulb went off in my head this time… Why not READ the recipe carefully?
the beef cut into strips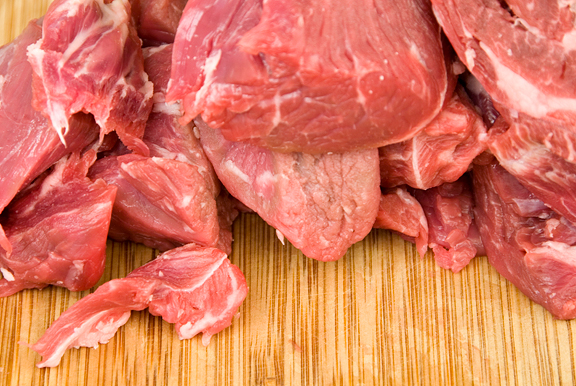 into the ziploc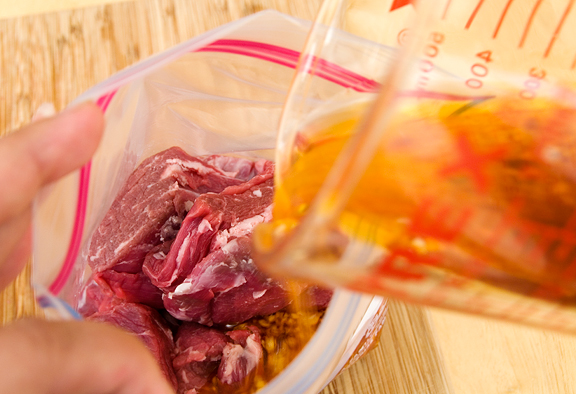 Beef eye of chuck is not quite beef chuck as I knew it. Dude in the meat department was all "That is not the right cut of meat in your hands, you want this instead." I did look it up for shits and giggles because I like diagrams of animals and the names of the cuts of meat (and how the Brits have different names than Yankees do.) Being a Coloradoan, it's my sworn duty to loathe Texas, but when it comes to Beef, Texas
knows what she's talkin' about
.
pour the beef and marinade into baking dish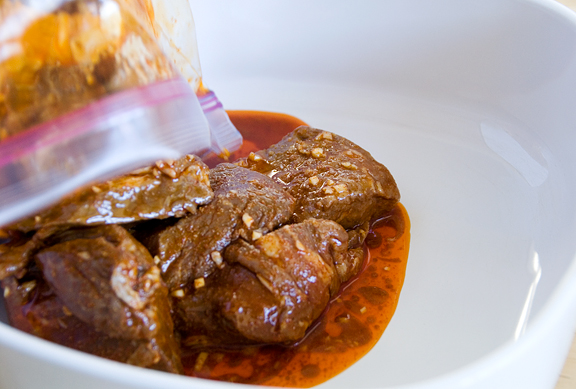 add beef broth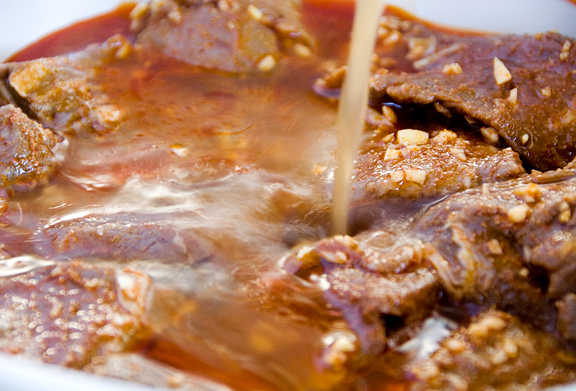 Right, so the recipe said I could grill the beef or bake it. Grilling it won't result in shredded beef, just fajita-like strips. I opted for the baked version because I am all about the slow-cooking and the falling apart of cheap cuts of meat. The original oven time was just over an hour. When I tried to shred the beef, it felt tough, so I let it go another hour in the oven. Much better.
shred it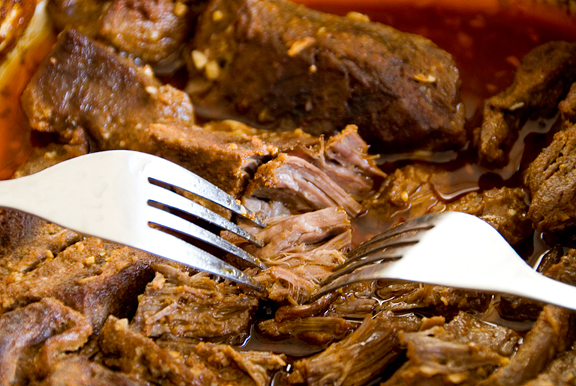 ready to serve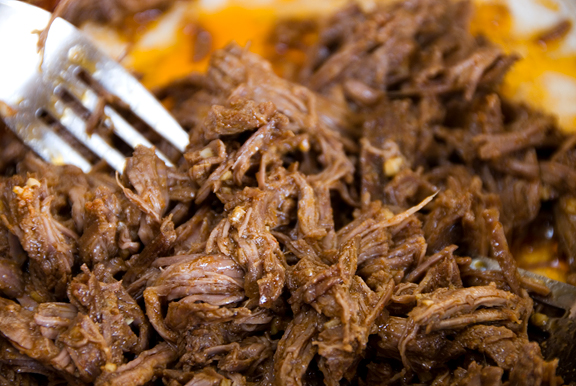 After shredding the beef, I mix it in with the juices and serve it on lightly fried fresh corn tortillas with lettuce,
guacamole
, salsa, whatever you want, really. I highly recommend queso fresco instead of cheddar. Since all of the grocery stores in Boulder conspired to NOT HAVE queso fresco, I grated some feta which actually worked out nicely (not as creamy, but nice, smooth and salty). Of course, the first store I set foot in when I was visiting Grandma in California had GIANT slabs of queso fresco on display. *sigh*
Jeremy loves these shredded beef tacos. I, myself, feel like dancing while I eat them. They are THAT happy-making.

pile it on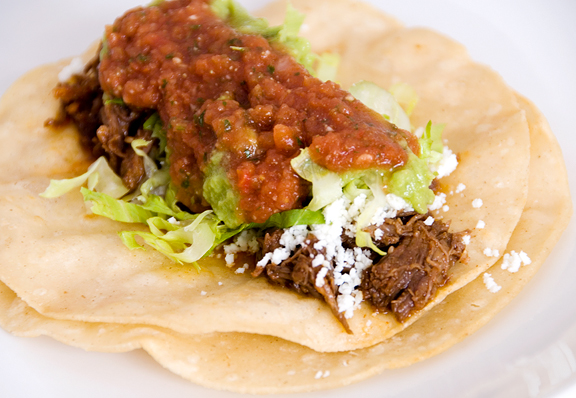 can't talk… eating
Shredded Beef Tacos
[print recipe]
slightly modified from Tejas Tacos in The Border Cookbook
1 1/2 lbs eye of chuck (which is NOT beef chuck roast)
4 tbsps vegetable oil
2 tbsps vinegar
2 tbsps fresh lime juice
1 1/2 tsps ground cumin
1 1/2 tsps chili powder
3 garlic cloves, minced
1 cup beef stock
salt to taste
~ 24 corn tortillas
lettuce, queso fresco, salsa, guacamole, etc. (for toppings)
Trim the fat and cut the beef into 1 inch thick slices. In a ziploc bag, combine the oil, vinegar, lime juice, cumin, chili powder, and garlic. Place the meat slices in the bag, seal, mix it around and refrigerate for at least 4 hours or overnight. Bring the meat to room temperature. Place all contents from the bag in a baking dish with the beef stock. Cover the dish and bake for 1 1/4 hours (I baked it for 2 1/2 hours) at 350°F. Let the meat rest for 10 minutes and then shred it with forks or process it quickly in a food processor with the plastic dough blade (I prefer the forks method). Salt the meat to your liking. Fry the tortillas lightly in a little hot oil. I like to double the tortillas and stuff them with shredded beef, lettuce, cheese, guacamole, and salsa.