Remember how I was testing out some flash solutions while in San Jose? I was too lazy to lug my tripod or external flash(es) and diffuser(s) with me because I was instructed by Dr. McHottie to take it easy on how much weight I lifted until 6 weeks after my surgery (which is tomorrow – and you can just bet I'm hopping on the rowing machine first thing). While I was hanging out in Grandma's little apartment, I toyed with a few ideas. I wound up taking most of the indoor photos with my pop-up flash on the D200. Because I really don't like the hard shadows from the little flash, I used a tupperware I had on hand to help diffuse the flash. After messing around with all manner of tupperware, yogurt cups, etc. that Grandma had, I decided to drop $20 on Gary Fong's Puffer.

a pop-up flash diffuser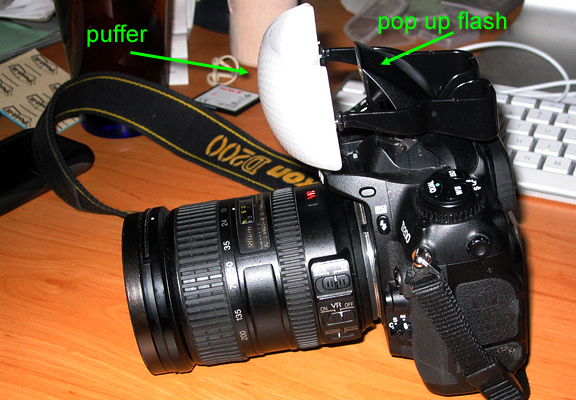 The issue wasn't so much finding the right material as finding the mount to hold it away from the flash so I wouldn't have to shoot with one hand holding the rather heavy D200 and one hand holding a tupperware a small distance in front of the flash. I got it in the mail today. The mount goes in the hot shoe bay and the whole thing can be taken apart and stowed easily enough. It's a nice option for snappies when I don't feel like carrying all of my photo gear. I think it does alright based on my quick and dirty trial with my second favorite model (first favorite is Special K).
with the puffer diffuser (left) and without (right)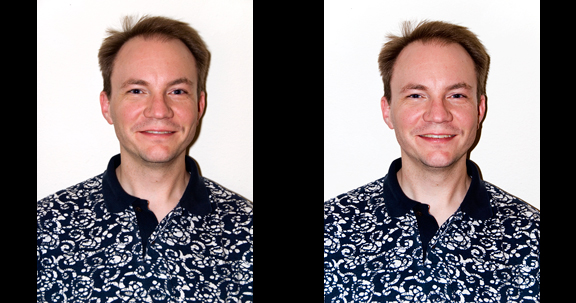 I am always bemused when bloggers tell other bloggers to never use their flash, that natural light is the only way to go. Food blogging would drop off substantially in winter months if we all followed that crappy bit of advice. Flash is your friend if you understand how it works and what you can do to make it work for you. I'm just tossing out some solutions for folks who don't want to spend a small (or large) fortune on additional photo equipment just to take pictures for a blog.
1) Do It Yourself: a little step by step tutorial on how you can make your own on the cheap.
2) Gary Fong's Puffer for $20: the puffer is more durable, has extra diffusive components, is adjustable, and sits out a distance from the flash (right on the flash isn't so useful).
3) And for all of you point-n-shoot folks (whom I must applaud for not running out to buy a dSLR just for the sake of blogging): you might be interested in the delta which is a diffuser for point-n-shoot cameras – $15.
Well, that's my bit of show and tell for those of you in the northern hemisphere who bemoan the approach of winter (as you know, I cannot wait for winter to begin) and are afraid to use your camera's internal flash. Fear not!