On the drive back to the house after dinner last night, fantastic lightning storms were raging in the sky over Pagosa Springs. Just as I grabbed my camera off the kitchen counter to go outside on the deck, it began to rain, then sleet, then hail like nobody's business! It was too much even for me. Before MIL and I went back to work in the quilt room, I watched Jeremy and his brother playing some game on the Wii. If you think it is fun to play, it is equally hilarious to watch as two 6-foot tall, thirty-something, skinny guys punch the air while shouting, "No way!" or "How did you do that?!" or "Come on!!!"
When I stepped out onto the deck this morning, there was some snow on the ground. Woooohoooo! Even though Pagosa is further south than Ned, we usually get less snow than my ILs do. Still, we'll gladly take less if it is enough to ski. Winter is coming.

from the deck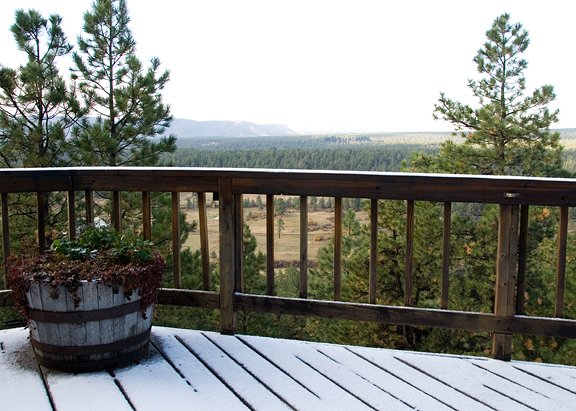 I managed a few minutes for snappies this morning of MIL's awesome quilt room in between quilting and brekkie. You can get a glimpse of the baby quilt I was working on for a friend.
sewing corner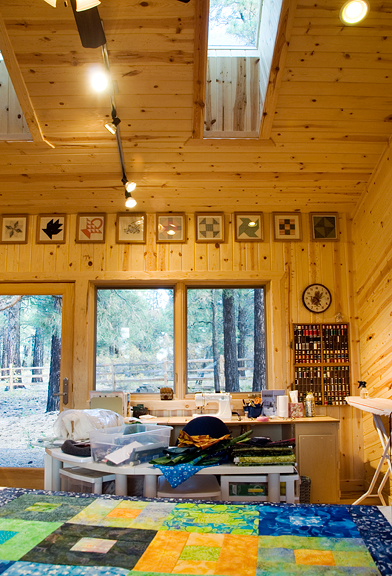 this isn't even a tenth of the stash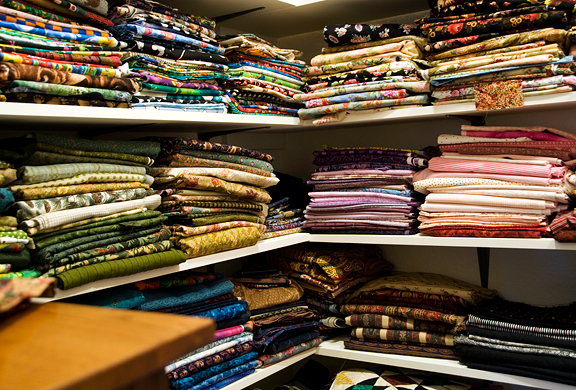 almost done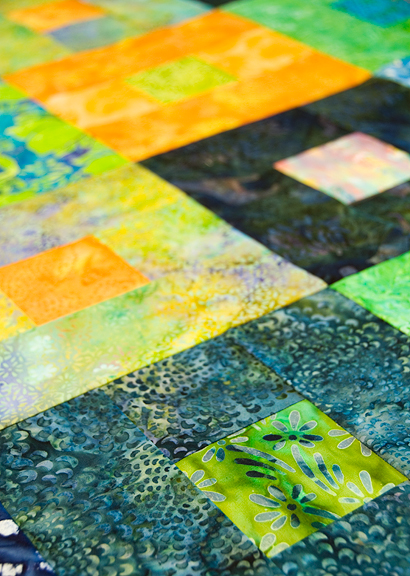 In their old house, MIL had a tiny storage room filled to the hilt with fabric. Most of that has been in boxes or bins until the addition to the new house was finished. She still has a ton to unpack, but began sorting some of it into her walk-in storage closet. Everywhere I turned was a bin full of scraps or a cute Amish cabinet filled with fat quarters. They say she who dies with the most fabric wins. MIL doesn't have to die – she wins! I had a bunch of lovely batiks picked out, but she let me raid her batik scraps bin (she has a bin JUST for batik scraps?!) to chuck some orange into the mix. Awesome. We had such fun and I love watching her creative genius at work. Our minds function very differently in that regard, so it was a fascinating learning experience for me.
Kaweah *loves* to visit her grandparents because she gets to run around like a nut and kill all of Buffle's toys. Buffle couldn't care less, he just wants to chew her head and try to hump her. Bumpy is thrilled that someone else is Buffle's chew toy for a few days. You'd not know it from the pictures, but Bumpy is only 6 years old and our Special K is nearly 10.

bumpy and kaweah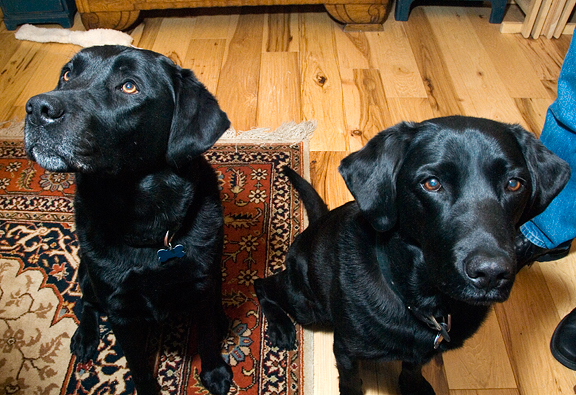 Kaweah and Bumpy are related, believe it or not. Smudge was the family's old black lab. She was an awesome dog. Kaweah and Bumpy are both descendants of Smudge. Bumpy comes from the same breeder, Kaweah from a different breeder. [Kaweah was an anniversary gift to us from MIL and FIL.] All of the dogs have the sweetest disposition and a fair bit of goofiness.
Buffle is not related to them. You can tell. He is a pill. He's still quite young (just 3 years) and he acts like a pesky 2-year old. Mine mine mine! He thinks he is the boss of everyone. I had to give him the smackdown about 20 times a day, as did Jeremy. Buffle doesn't like getting the smackdown. After he gets in trouble, he slinks away, then sneaks back and paws at your leg and high-tails it out of reach like the chicken he is. He loves Kaweah and they play well together because they are essentially Tweedle Dumb and Tweedle Dumber. Kaweah slept well on the car ride home, so I think she got plenty of exercise this weekend.

herd of dogs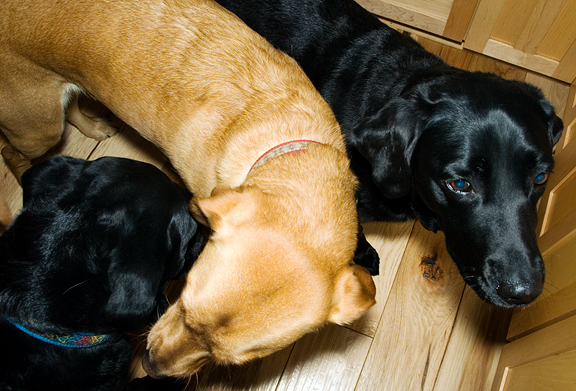 i'm the boss of you…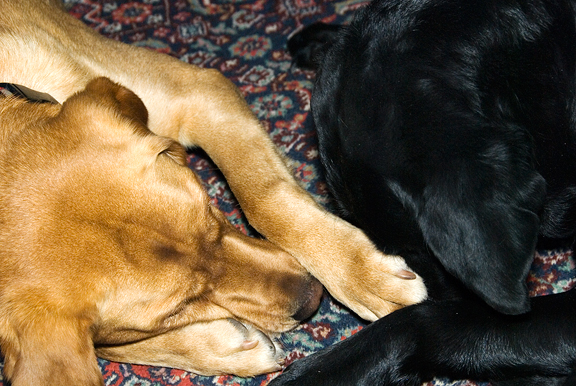 Driving back to Northern Colorado, we saw there was still color holding out in some aspen patches while others lay bare. Despite the drop in temperature, the sun was out and the day was beautiful. Such a contrast from Saturday's tumultuous weather.
a side trip on the way out of pagosa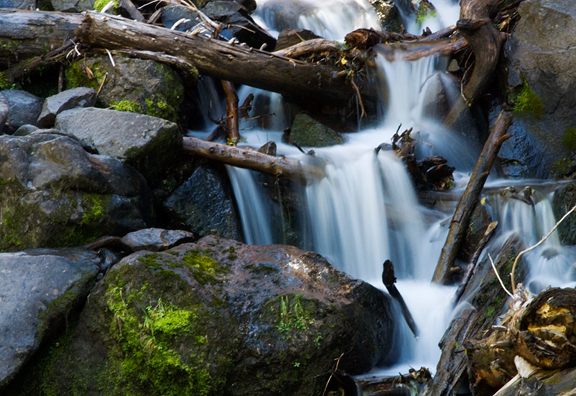 a little red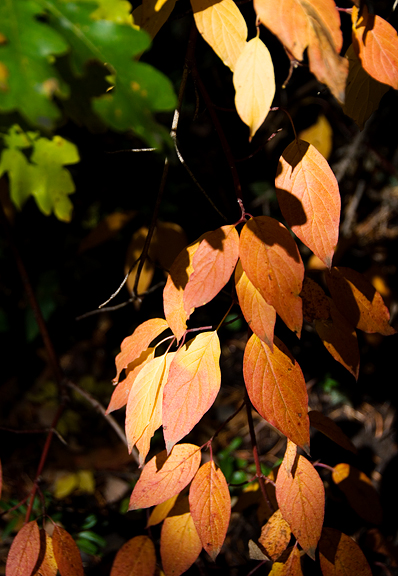 fresh snow and lingering aspen colors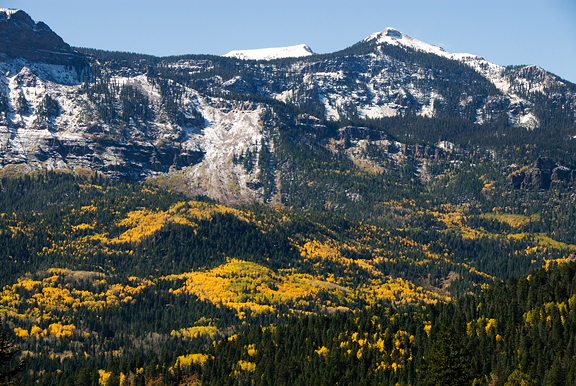 We pulled into the house after nightfall, but I'm happy to report there was a little snow on the ground and I can't wait for more!