Recipe: apple tartlets
I typically encounter few problems when cooking or baking things that I eventually post on Use Real Butter. There may be some recipes that I merely feel "meh" about and hold off posting those for times when I'm out of posting material. And then there are times, like this past week, when I try a recipe and it didn't come out as I had hoped. This actually happened with TWO such recipes and the end results are kind of important to me (okay, okay, I AM OCD). I even told Tartelette I wasn't sure I wanted to bother redoing them this weekend. But redo them I did… and with the proper results. That makes me feel better.
Most of today was spent working on a rather odd project that I'm pretty sure not a one of you has ever embarked on making before. More on that tomorrow. I'm quite jazzed about it.
The other day I had a few Granny Smith apples lying about with no designated purpose. I didn't think too much about them until I was working out and the thought of caramelized apples bounced into my head. I tossed about the idea of a deconstructed apple crisp, but I'm not as keen on deconstruction as say… reconstruction. If you will recall the apple cranberry crisp from not to long ago, I went for the same theme, but different presentation.

the oatmeal streusel topping pressed into tartlet pans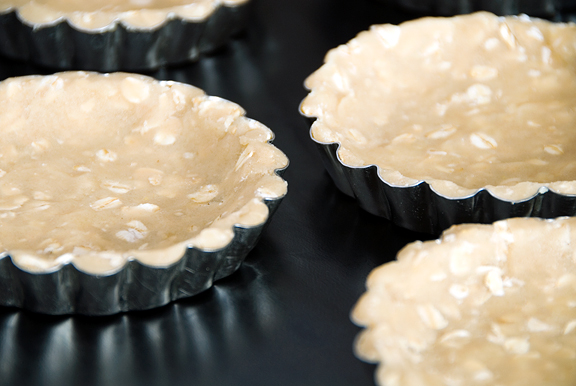 I sliced up the apples and browned them in sugar and butter until caramelized and gooey. Smelled heavenly. They cook down to a pretty small yield, so I suggest one apple per 4-inch tartlet shell.
cooking the apple slices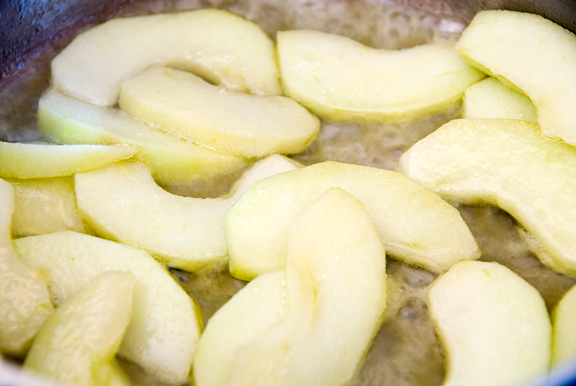 The shells came out rather crunchy. Even though I love crunchy, these were too hard to break through easily with a fork. Perhaps I should have made them much thinner, or cooked them for less time. I think the next time, I will use a short dough with some oatmeal mixed in for the shells.
fill with caramelized apples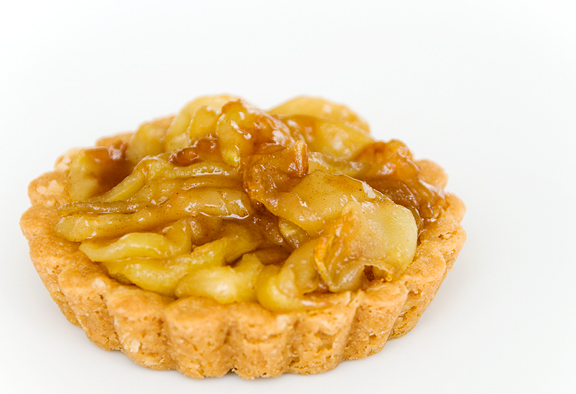 I had some homemade
vanilla ice cream
and
cranberry sorbet
in my freezer. Adding a few scoops to the tartlet, I was able to recreate the flavors from the crisp, but in different form.
apple cranberry crisp revisted
Apple Tartlets with Vanilla Ice Cream and Cranberry Sorbet
[print recipe]
crust
1 1/4 cups flour
1 cup rolled instant oats
1/2 cup sugar
1/2 cup light brown sugar (packed)
3/4 cup unsalted butter, soft
apples
4 apples (Granny Smith or other tart and crisp apple), peeled, cored, sliced
4 tbsps butter
4 tbsps sugar
1 tsp cinnamon
vanilla ice cream
cranberry sorbet
Cut the sugars into the softened butter. Mix in the flour and oats until coarse crumbs are formed. Press the dough into 4-inch tartlet pans (I got 4, but maybe I should have made them thinner and gotten 6). Bake at 350°F for about 10 minutes or until just golden. Remove from pans and let cool on cooling rack.
Melt the butter in a saucepan. Toss the apples with the sugar and then add to the saucepan. Add the cinnamon. Cook the apples over high heat, stirring the apples until they brown and the sugar and butter turn to a thick caramel. Remove from heat.
Fill the tartlet shells with caramelized apples. Top with a scoop of vanilla ice cream and a scoop of cranberry sorbet.