Recipe: spring rolls
out with the old, in with the new
What? You thought I was talking about politics? *snicker* My friends know where to find what I really think :) No, I am talking about our new car, which replaces the 14-year old loyal car which served us well but can't make it up our driveway in 4 inches of snow without chains. The old car is going into a milder climate retirement in New Mexico under the loving care of Jeremy's brother. Now that we have two Subarus, we can't refer to them both as Subie (what every Subaru owner calls their car). So the Outback XT will remain Subie.

meet roo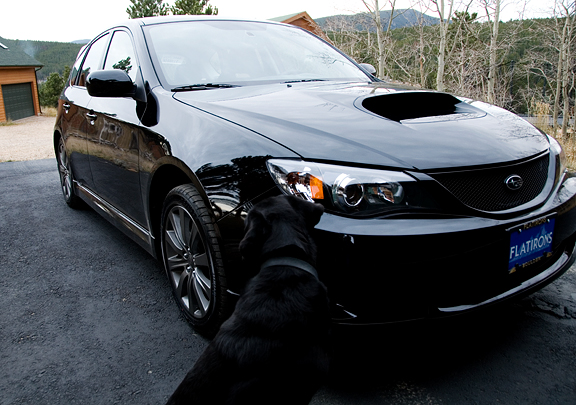 we do make sure that the dog accessorizes nicely with our cars…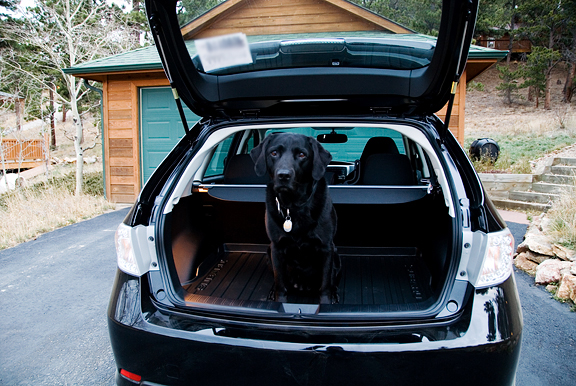 While I normally prefer to buy a car a few years used, the substantial discount I get at Subaru through GSA (Geological Society of America) combined with the outstanding service team at Flatirons Subaru in Boulder pointed us to a new car purchase. Talk about serious brand loyalty here.
I am equally excited about another recent purchase – something I will use almost as much as Roo. A new stock pot! I waited five years for the old low-end stock pot to die (it was a gift), because we live in such a throw-away society. Something breaks? Don't bother fixing it, just throw it away! That attitude makes me insane. I have slowly been replacing old pieces of lesser cookware with quality pieces that will last the rest of my life (I hope!).

soooooooup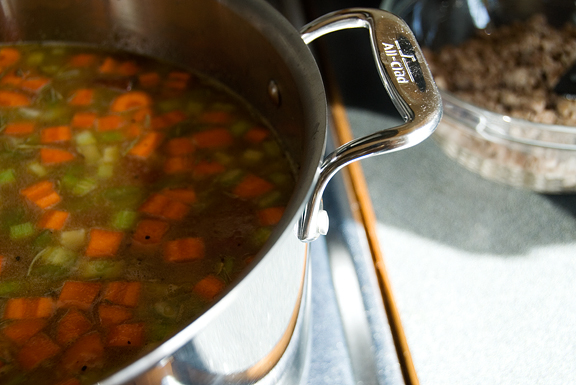 This pot was $100 off at Marshalls because one rivet was not perfect. Not a problem for me because I don't plan to wear it down the runway or anything… Additional bonus: the lid fits my All Clad deep sauté pan which didn't come with a lid (part of a fryer set)! Score.
I'm finally running and biking and rowing again and it feels fantastic. I was hoping to get back to this level of activity after chemo ended in May, but there were all sorts of side-effects that seemed to catch up and smack me in the back of the head. Then there was the evasive leaky appendix (thank you for waiting to try to kill me until after I was done backpacking in California), radiation fatigue, tendonitis, and lymphedema… Now, it seems that things are finally coming under control. It's not perfect, and I'm afraid it never will be again, but still – it feels good and I'll make the most of it.

ready to make spring rolls?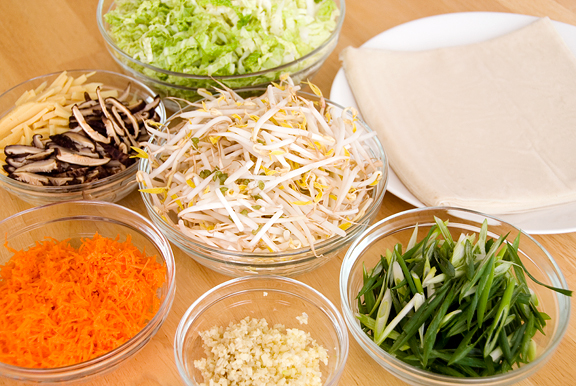 sauce to add to the veggies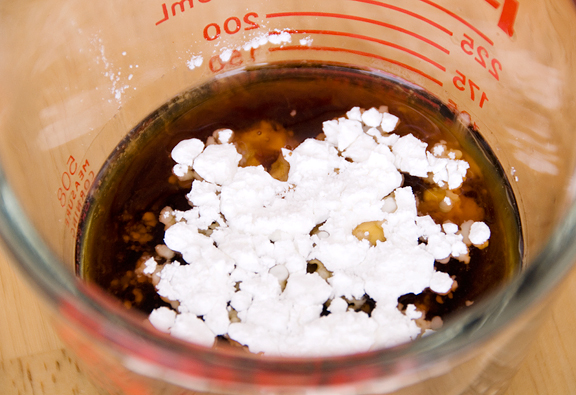 When I was in college, I worked part-time at NASA JPL with a young and bright group of software engineers. One of my co-workers lived in my apartment complex and I'd drop by to visit from time to time. One time Jeremy and I borrowed camping gear and Steve was in the middle of frying egg rolls. I had never made egg rolls before and since Steve wasn't what I consider a cook, I was surprised to see him cooking at all! I was always one to shy away from deep frying because we just didn't do much of that at home, but I thought to myself, "Well, if Steve can fry egg rolls…"
sauté the cabbage, sprouts, and onions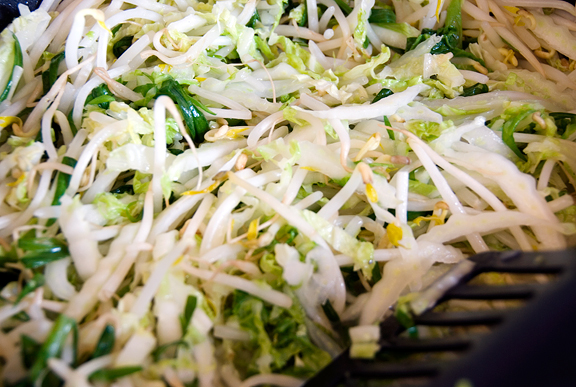 garlic, ginger, carrots, mushrooms, and bamboo shoots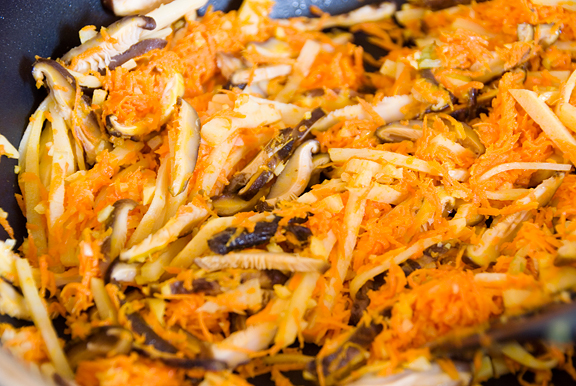 I actually prefer spring rolls to egg rolls. What is the difference? I can't actually tell you authoritatively. I just know that I have always considered the egg roll: contains meat, is wrapped in a thicker skin, and is larger. I make spring rolls with vegetables and store-bought spring roll wrappers which are practically see-through. To me, summer rolls are the unfried cousins wrapped in rice paper… like the delicious nuggets of goodness that
Diane and Todd
treated us to when we visited them this summer. Did I mention that I love those two and their pups? LOVE THEM.
adding sauce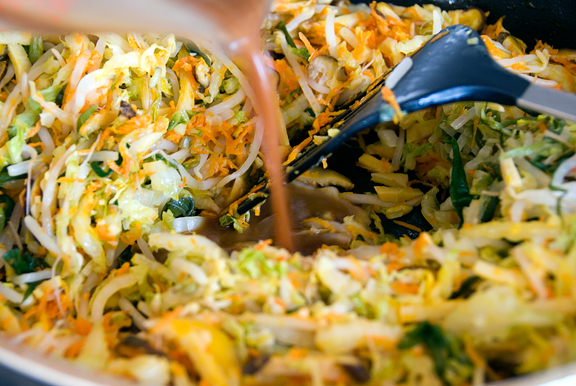 ready to roll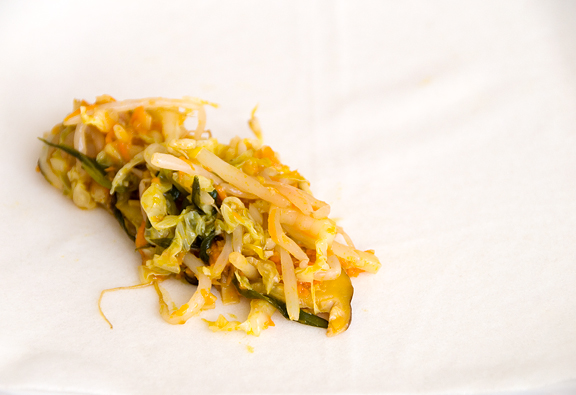 Even though we never ate spring rolls or egg rolls at home, when I asked my mom how to make them years ago, she rattled off several ingredients. Can I add x, y, and z?
Sure, you can add x, but nobody adds y, and z… well, you could… but I wouldn't.
As I'm sure most of you who try to glean recipes from older relatives already know, it's a very fuzzy process of hand waving and lack of measurements. Oy! These days I am no longer frustrated so much as entertained, amused, and even affectionate about asking my parents or grandma for recipes. To be honest, asking my dad for recipes is an exercise in hilarity.
wrap it like a present: nice and tidy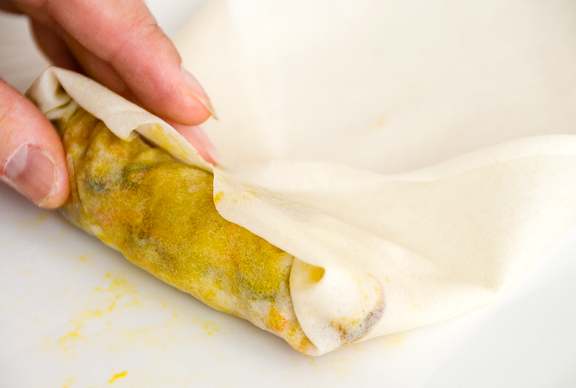 a little egg wash on the edges to seal the deal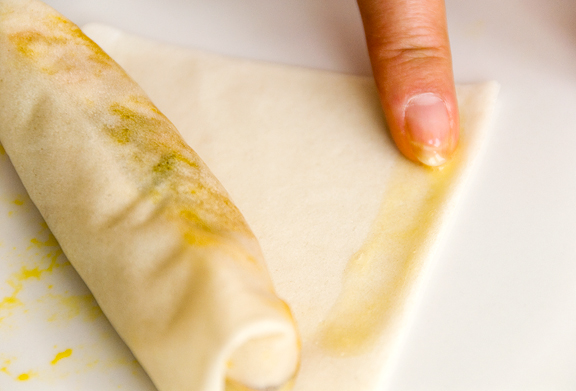 The nice thing about spring rolls is that you can put whatever you like in them, despite the fact that most folks (well, my mom and myself) have certain ideas about what does and doesn't go in one. I like my spring rolls to be crunchy with sprouts and cabbage. I shred my carrots fine so they add sweetness, but don't commandeer the flavor. I will put Chinese mushrooms in almost anything because I love them so much. It's really whatever you want it to be as long as my mom isn't hovering over your shoulder.
waiting for the hot oil spa treatment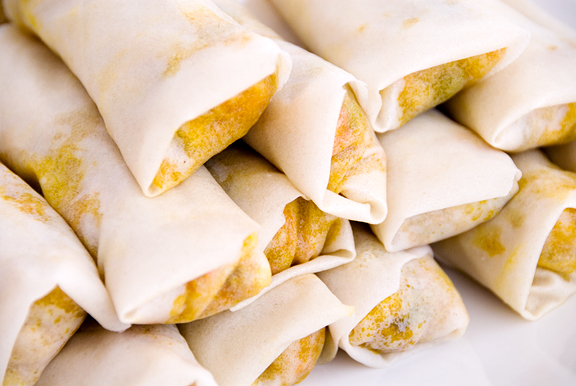 nice and tan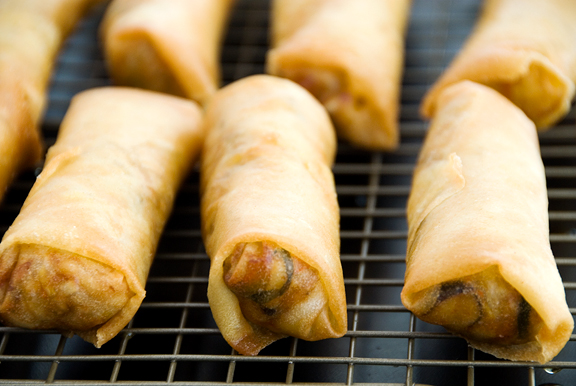 It has been a while since I've made spring rolls. I forgot how much brightness the ginger lends to the flavor. With the "sauce" of the filling, neither Jeremy nor I thought the spring rolls needed a dipping sauce. I personally loathe that day-glo orange sweet and sour sauce you get with most spring rolls in Chinese take-out joints. If you want a sauce, I suppose a daub of hoisin sauce wouldn't be too bad.
crispy, crunchy and delicious
Spring Rolls
[print recipe]
oil for deep frying and sautéing
2 cups scallions, julienned
4 cups napa cabbage, shredded
3 cups bean sprouts
1/2 tsp salt
2 tbsps rice wine or dry sherry
1 tbsp ginger, minced
1 tbsp garlic, minced
1 cup bamboo shoots, julienned
10 Chinese black mushrooms, rehydrated and julienned
2 large carrots, shredded
6 tbsps soy sauce
2 tbsps water
2 tsps sesame oil
3 tsps cornstarch
25 spring roll wrappers
1 egg, beaten
Mix the soy sauce, water, sesame oil, and cornstarch together in a cup. Set aside. Heat 2 tablespoons of vegetable oil in a large frying pan. Sauté scallions, bean sprouts, and cabbage with salt and rice wine (or sherry) until cabbage is softened. Remove from heat. Drain off excess liquid and set aside. Heat the garlic and ginger in 2 tablespoons of vegetable oil in the same frying pan. When fragrant, sauté the mushrooms, carrots, and bamboo shoots. Add the cooked cabbage and sprouts. Pour in the soy sauce mixture and combine the ingredients until well-coated. Remove from heat. When mixture is cool, place 2-3 tablespoons of filling near one corner of the spring roll wrapper and roll/wrap on the diagonal, folding the sides in tidily. Rub a little bit of egg mixture on the final corner to seal the spring roll wrapper. Fry in oil at 350°F for a few minutes or until golden. Remove from oil and let rest on a cooling rack (not paper towels). Serve hot.