Recipe: pasta e fagioli
Can you believe that I've been prattling on for four years on Use Real Butter? Yup, it's URB's fourth blogiversary today. My perspective on food has changed so much in that time and I have to credit the food blogosphere for a lot of inspiration and education. URB didn't start as a food blog, but eventually the food side of the blog kept the name and moved into the public arena… and here we are! So thanks to all of the readers and fellow bloggers who keep the whole enchilada lively and fun, but especially to those of you who stuck with me through my craptastic year of cancer treatment – thank you.

i cried a river of tears over those onions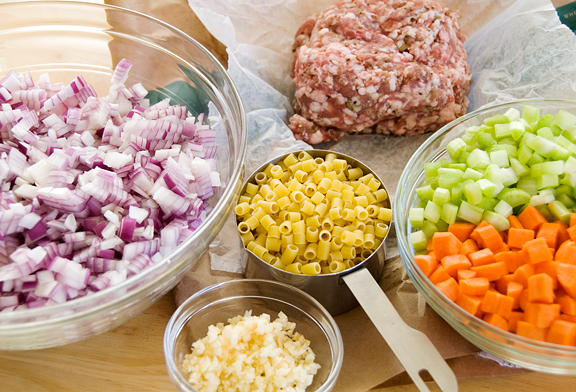 The inaugural recipe for my new All Clad stock pot arrived in my post office box just last week in the form of a shiny January 2009 issue of Fine Cooking. It is officially soup weather here in my little mountain town. High winds, snow, and temperatures plummeting below freezing put me in the mood to make a big pot of hearty soup. It was also a great way to clear out my crisper drawer in the refrigerator as I always seem to have a few carrots and celery stalks lounging about. Kaweah loves when I make soups chock full of vegetables because she enjoys munching on the occasional carrot or cabbage leaf.
browning the italian sausage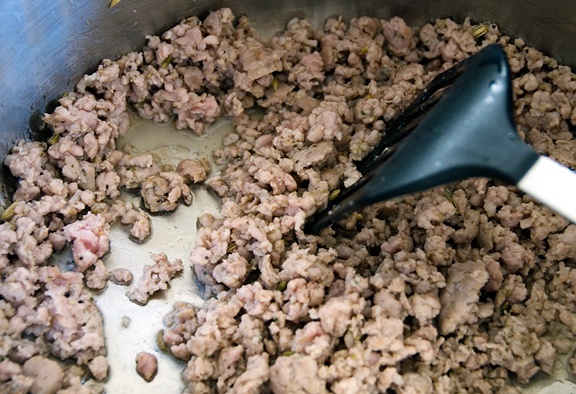 There were a handful of beautiful soups to choose from, but I immediately settled on pasta e fagioli because I had been searching for a recipe lately. How timely. The Fine Cooking version called for bacon, and frying the onions in the bacon grease… sounded great, but I opted for some Italian sausage instead. After browning the sausage, I drained off the grease and sautéed the onions in vegetable oil.
garlic, rosemary, and cinnamon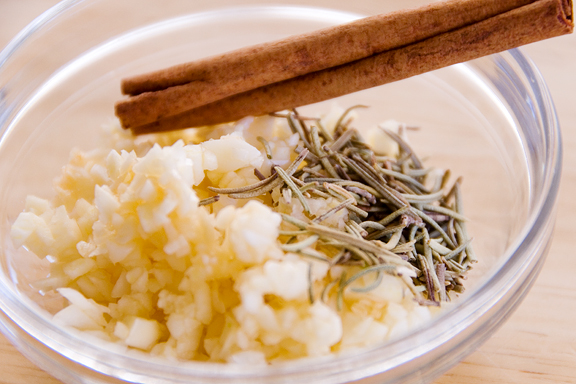 adding spices to the sautéed onions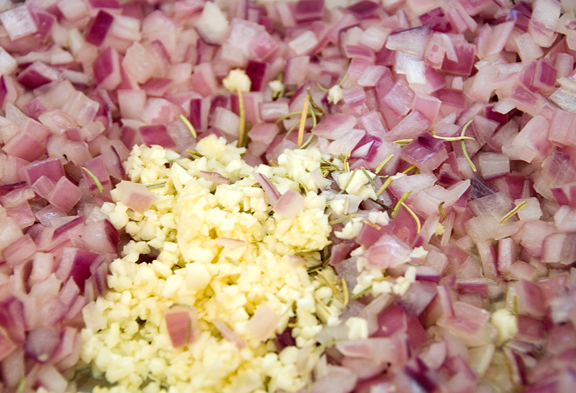 I found the cinnamon stick to be a curious addition to the soup. While I love soups and stews, I'm not so well versed in the myriad of spices and herbs that determine the personality of a dish. Perhaps that is something to work on this winter.
canned great northern beans and diced tomatoes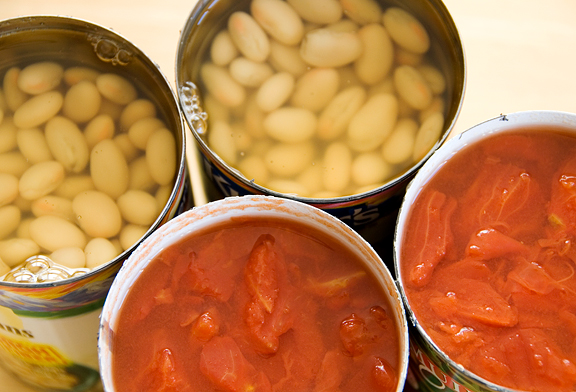 In addition to subbing sausage for the bacon, I also omitted the chick peas (garbanzo beans) in favor of cannelli beans. But while I was at the store, cannelli beans were nowhere to be found. I wheeled up and down the bean aisle and then the bulk foods aisle and back again, caught in an infinite loop unable to find my beans. Not wanting to waste any more of my life searching for something I was pretty sure they didn't have, I settled on great northern beans as a substitute for my substitute.
adding the broth, beans, and vegetables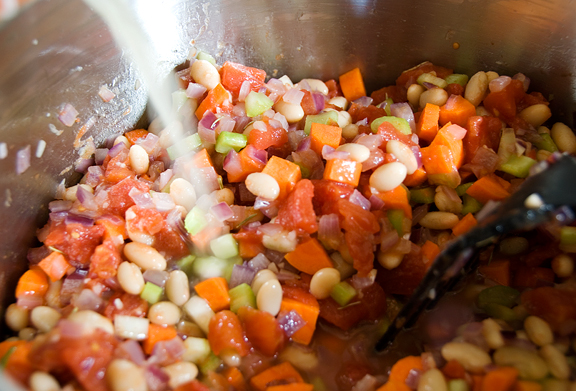 Macaroni would have been an easy pasta to use, but I really like the short tubular pastas. Why I get these specific shapes, textures, or flavors in my head for certain recipes, I don't know… Call me particular. Whole Foods had crap for a selection. That miffed me. I suppose I (unreasonably) expect Whole Foods to carry every specialty item I seek because they charge me so damn much for *everything*. That may not make sense. I never claimed to make sense. I did find some Ditalini at Safeway, which was exactly what I wanted in my soup.
toss in the cooked sausage and pasta
After all of the prep, the assembly of the soup was quick. Thirty minutes on simmer and it was done. So the verdict on that cinnamon stick? I love it. It's different from what I am used to and I think the spice brings out a warm and lively dimension to the pasta e fagioli that might otherwise taste ordinary, bland. This is a keeper recipe.
lovin' spoonful
Pasta e Fagioli
[print recipe]
modified from Fine Cooking no. 96 (January 2009)
1 lb. Italian sausage, bulk
3 tbsps vegetable oil
3 red onions, finely chopped
3 cloves garlic, minced
1/2 tsp dried rosemary
2 quarts chicken broth
2 cans (15 oz. ea) great northern or cannelli beans, drained
2 cans (15 oz. ea) diced tomatoes, with juice
4 medium carrots, diced
4 stalks celery, diced
3/4 tsp salt
1/2 tsp pepper
1 cinnamon stick
1 cup water
1 cup ditalini pasta, cooked and drained
2 tsps red wine vinegar
grated Parmigiano-Reggiano for garnish
In a large stock pot, brown the Italian sausage until cooked. Remove from pot and drain. Heat the vegetable oil in the stock pot and sauté the onions until softened. Add the garlic and rosemary, cooking until fragrant. Add the broth, beans, tomatoes, carrots, celery, salt, pepper, cinnamon stick, and water. Bring to boil over high heat then reduce and let simmer for about 30 minutes until the vegetables are tender. Discard the cinnamon stick, then stir in the sausage, cooked pasta, and vinegar. Season to taste with salt, pepper, and more vinegar. Serve hot with grated Parmigiano-Reggiano for garnish.