Recipe: fish tacos
Hoo boy! I have been busy… in the good way. You know, getting things done. I still have plenty more on my plate, but I imagine that keeps me off the streets more or less. I got a request from Antarctica the other day. Apparently the dwindling NSF (National Science Foundation) budget translates into crappier than usual fare at McMurdo Station this season. I spent a little time today scampering about Boulder with BethBeth, gathering precious food stuffs for our bud(s) way down south. Who knew it was so damn hard to find whole fat powdered milk?! And I had to take care what to include in the package because trash is a big issue in Antarctica. While I don't think trash is as trivial an issue in "civilization" as most people do (chuck it out, don't think about it anymore), it really does factor into what to send to Antarctica because, well – it's Antarctica!

we miss you: M, J, J (get well soon, sweetie), and P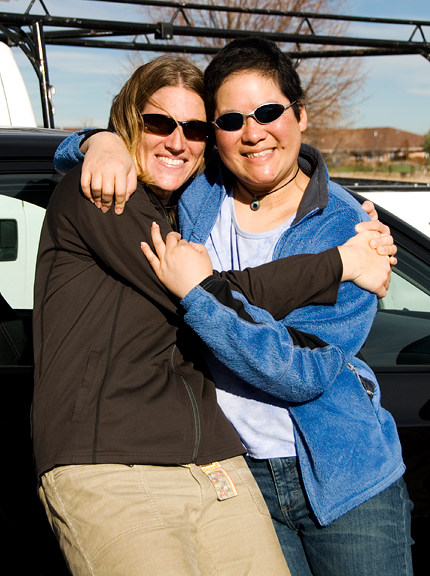 I think food blogging keeps me from repeating meals as often as I would otherwise. I used to flip through my quadrille notebook (that's where I write down the keeper recipes) and come up with a weekly menu lickity split. But these days I incorporate at least two to three new recipes a week for the purpose of trying something new and blogging it. Because of this pattern, I've neglected some old favorites. After I made
spring rolls
I had that pot of oil sitting there… What else to fry?
that is some sexy red snapper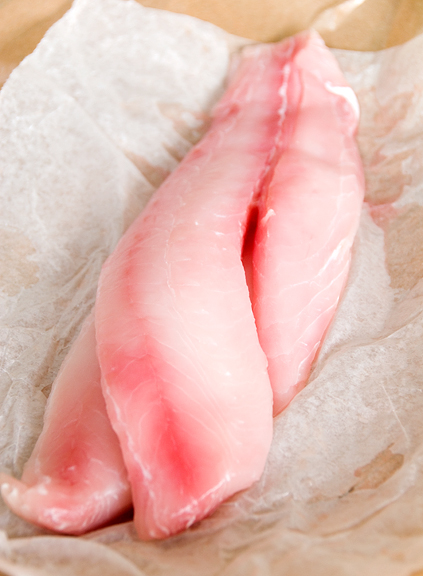 I first had fish tacos in Southern California. One of my co-workers turned me on to the awesome fish tacos from Señor Fish. Even our sushi chef gave it high praise! I know it's healthier to do the grilled fish tacos, but
come on
– the fried version is like fish and chips without the chips, in corn tortillas with lime and cabbage!
slice into 1-inch thick strips
The key is the fish. You need to get a hold of good tender, but firm, white flesh fish. Snapper is nice. Grouper is better. Nothing too dense, but nothing too delicate. I happened upon some red snapper fillets at our local Whole Foods for this round of tacos, and for once, it didn't cost me a mortgage at the check out line. Beer batter is my favorite way to fry it up. I've tried the batter with milk (when I was out of beer) and the flavor is decidedly "meh" in comparison. Look, I don't even drink beer, but I love the beer batter.
adding pale ale to the mix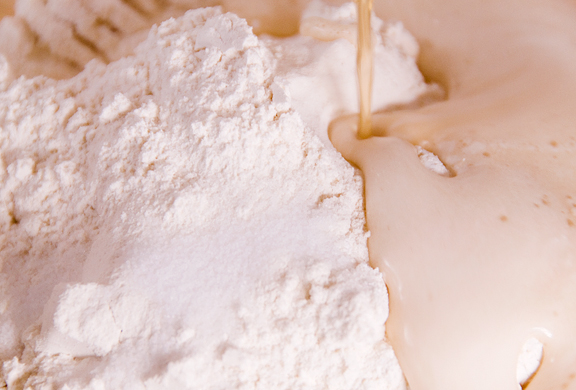 dipping the fish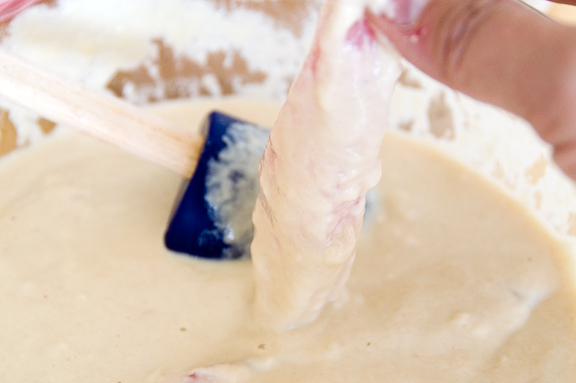 One of the reasons I used to fear deep frying was that I could never tell how hot the oil was. I just figured anything hot enough to burn me was hot. It wasn't until I began to play with caramelized sugar that understood the varying degrees of hot. It is, after all, physics. That said, a good candy thermometer will take the mystery out of hot sugar and hot oil. When frying up the fishies, just remember that overcrowding the pot will bring that temperature down too low and your frying will be compromised. So slap a candy thermometer onto that pot of oil and keep one eye on the mercury.
fried to flaky, golden perfection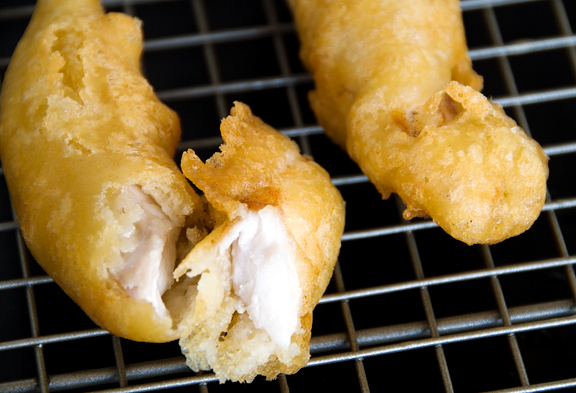 When you remove the fish from the oil (I use tongs or chopsticks), set the pieces on a cooling rack rather than on a bed of paper towels. I learned this trick from
Amy
who in turn learned this trick at her amazing CIA (Culinary Institute of America) boot camp. It keeps fried things crispy – and I am ALL ABOUT THE CRISPY.
fish tacos aren't fish tacos without lime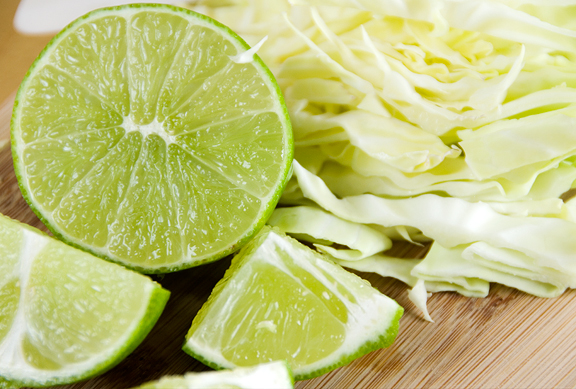 If I'm feeling particularly naughty, I'll pan fry a few corn tortillas. If not, then warm corn tortillas will work to wrap around a piece of fish with cabbage, a generous squeeze of lime, cilantro, and salsa.
i'm hearing surf guitar
Fish Tacos
[print recipe]
1 lb. red snapper fillet (or grouper or other delicious firm white fish)
1 cup flour
1/2 tsp baking powder
1/4 tsp salt
1 cup beer (or milk)
oil for deep frying
corn tortillas
2 cups cabbage, shredded
2 limes, cut into wedges
salsa
cilantro
Slice the fish into 1-inch thick strips. Heat oil in a medium saucepan to 350°F. Combine flour, baking powder, and salt in a medium bowl. Pour in the beer (or milk) and mix until smooth. Dip one piece of fish into the batter and coat. Transfer to hot oil. Repeat with 3 or 4 more pieces and fry until golden (4 minutes or so). Don't crowd the pot too much or the temperature of the oil will drop too much. Remove the fish from the oil and set on a cooling rack. Serve with warm corn tortillas (or pan fry the tortillas if you're feeling decadent), cabbage, salsa, and lime.