Recipe: potatoes au gratin
I've been thinking about our Thanksgiving menu a lot and not doing much about it, until today. So after watching weather reports and reading up on some climate modeler's predictions, I made the decision to have an early Thanksgiving dinner à la turkey. I'm still playing around with various components, but one thing is for sure – we are having potatoes.

organic yukon golds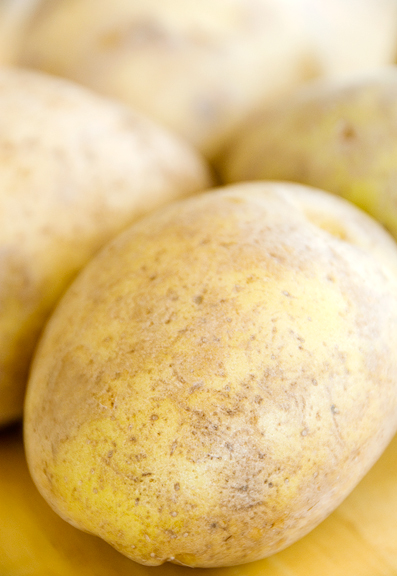 But we aren't having mashies. While we both like mashed potatoes, we both love potatoes au gratin. It happens to be one of those dishes that benefits from an extra day of sitting around. The flavors mature with time.
slice them up uniformly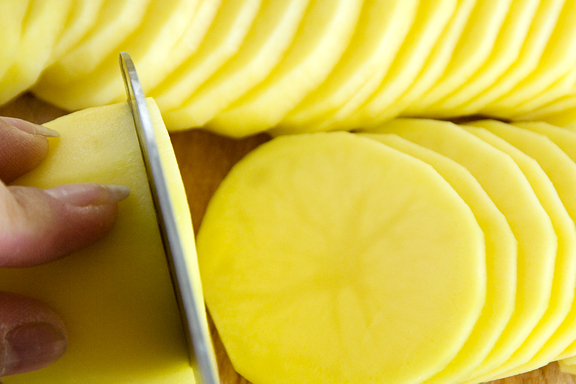 parcook in milk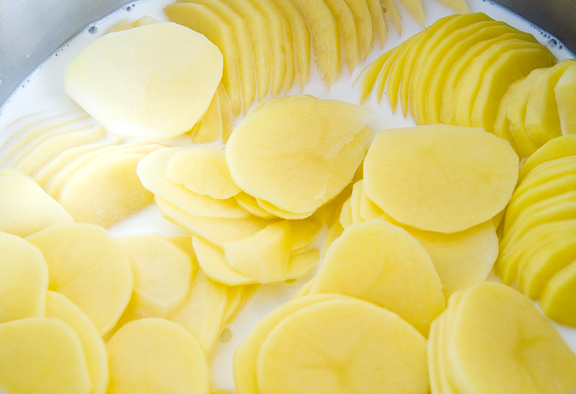 So I started on the potatoes today as we will nominally have the bird and the works tomorrow. Honestly, when I think of the number of sides that are served at a "traditional" Thanksgiving dinner, it makes me feel a wee bit sick in the tum. Is it me or is that an obscene amount of food?
adding hot cream and spices to the potatoes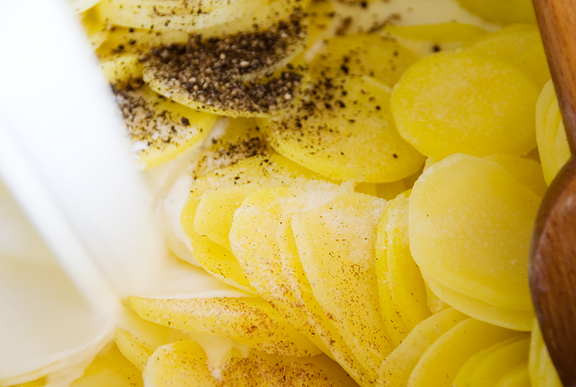 The recipe comes from Fine Cooking, but I'm not sure which issue as it has appeared a number of times over the past several years. In the November 2008 issue of Fine Cooking, you can find a nice variety of gratins, but this one is fairly straightforward and delicious… and decadent.
layer cheese over the potatoes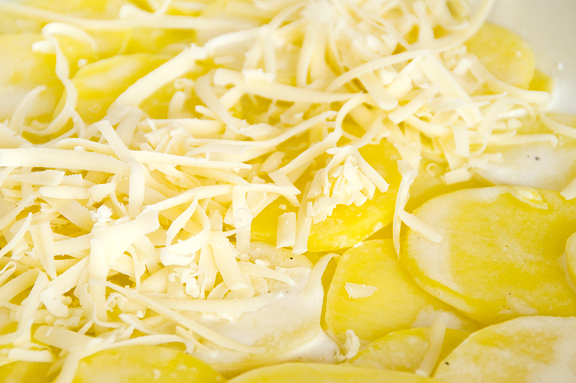 The potato slices are parcooked in milk (I like them a little more than parcooked) and then hot cream is added along with some pepper, salt, and nutmeg. I personally love the combination of yukon golds with nutmeg and Gruyère cheese.
pour the remaining cream over the dish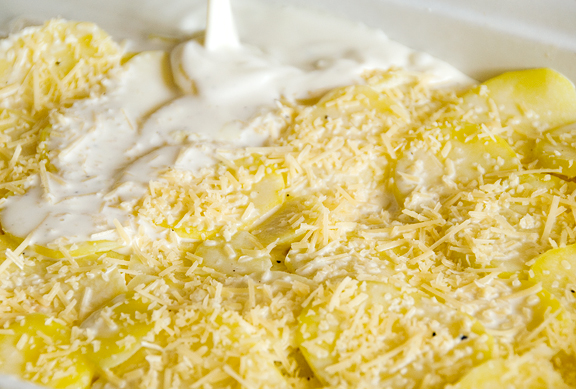 I typically bake the potatoes until most of the cream becomes gooey and thick, the potatoes are soft, and the top is golden brown. The cream will continue to thicken as it cools. A nice way to serve it up is to take a biscuit cutter and slice out columns of potatoes au gratin (it should be cooled to warm so that it doesn't fall apart). This is a definite crowd pleaser when entertaining.
this little serving packs a lot of flavor
Potatoes au Gratin
[print recipe]
adapted from Fine Cooking
2.5 lbs. yukon gold potatoes, peeled and sliced 1/8-inch thick
1 pint milk
1 pint heavy cream, hot
1/2 tsp salt
1/4 tsp pepper
pinch nutmeg, ground
8 oz. Gruyère cheese, shredded
4 oz. Parmesan, grated
3 oz. bread crumbs (optional)
3 oz. butter (optional)
Preheat oven to 325°F. Add the potatoes and milk to a pot and bring to a boil. Simmer the potatoes until they are parcooked. Add hot cream and season the potatoes to taste with salt, pepper, and nutmeg. Layer a fifth of the potatoes in a buttered baking dish. Layer a fifth of the Gruyère over the potatoes. Layer a fifth of the Parmesan. Repeat the process and finish with cheese on top. Sprinkle the top with bread crumbs and dot with butter. Bake the gratin for 45 minutes or until cream thickens, potatoes are soft, and the top is golden. Let cool to warm before serving. (Jen's Note: Flavor improves if left to sit for a day).