Recipe: vegetarian bagel
I am getting into the spirit of the season. And by season, I really mean season. The solstice is here, the longest night of the year for those of us in the northern hemisphere. Jeremy dreads this day because he really misses the daylight. I don't mind it, really. And it seems to come upon us so quickly that I'm usually a little surprised when it arrives. Alright, honestly? I'm always surprised when the month of December arrives. For some reason, after the leaves fall, the last quarter of the year rushes in like a flood: one holiday after another, winterizing the house, putting away summer clothes and getting out the winter clothes, cooking more stuff in a crock pot than on the grill (well, I pride myself in using the grill throughout the year if I can!), changing out my header image on use real butter, tuning up our tele gear, getting our winter skin back. The past couple of weeks have felt like true winter because of the snow and the darkness and the frigid temperatures – but it was all autumn.
I look forward to the solstice because our days get longer from there until summer solstice. It's a hopeful time to me and I love winter – especially the night sky in winter. Plus, the chilly temps make for great cuddling with Kaweah, the mobile furnace. I am especially jolly this solstice since Jeremy returned from travel on Friday. We managed to squeak in a lunch at Sushi Tora in Boulder before he had to rush off to a last minute meeting.

hamachi sashimi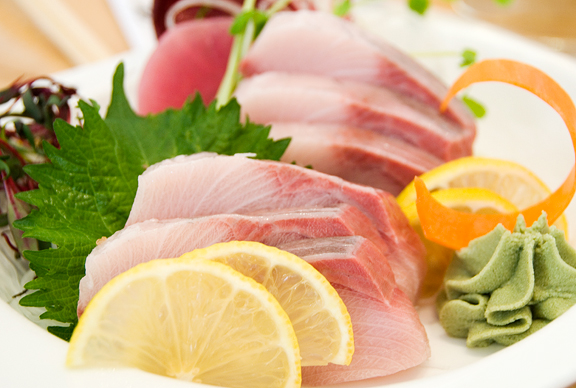 ama ebi (sweet raw shrimp with fried heads)
I will never tire of sushi. Every time I bite into a piece of hamachi or toro, I say to myself, "This is the best stuff on Earth." I also got Jeremy a little something special. While I hunt for good chocolate and love to work with chocolate, Jeremy is the one who enjoys eating chocolate. During my chemo, I got a lot of packages from friends. Many of my friends included chocolate… for Jeremy. Good chocolate. We have a shelf in our cupboard that is dedicated to tasting chocolates (my baking chocolates have their own shelves which are not to be tampered with). I didn't keep track of who sent what – it just all got stacked into the chocolate shelf. One day I found a tiny square of foil on my work counter. It read Chuao. I asked Jeremy about it that evening and he told me that was the best chocolate he has ever had and wanted to save the label for my reference. The best? Yes, the best. Looking online, I learned that
Chuao
is an artisan Venezuelan chocolatier run by two brothers out of San Diego. So I found some bars for him to try:
61%, 74%, dark chocolate with caramelized cocoa nibs and nutmeg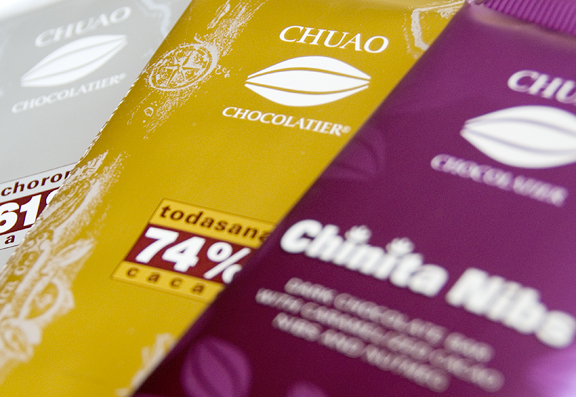 delightful flavor up front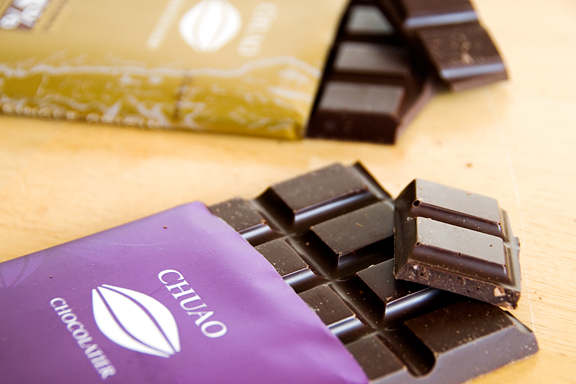 While I really like Chuao, I think as tasting chocolates go,
Chocolove
still has my heart – and it's a local Boulder business.
When it comes to brekkie, are you a sweet or a savory type? Most of my pals know that I am a savory sort all the way. A couple bites of pancakes and I feel like I want to crawl under the table and sleep. Drop a plate of hash browned potatoes, bacon, and eggs (sunny side up and ruuuuuuunny) and I am ready to conquer the world! For the longest time, I would skip breakfast unless I could grab a cold slice of pizza from the fridge on my way out the door. That didn't work so well in graduate school when my brain function would plummet around 10 am. Luckily, the geology building was just across the gorge (hey, it's Cornell – you know… Ithaca is gorges) from Collegetown Bagels, a subsidiary of Ithaca Bakery. It wasn't just a place to grab a coffee and a bagel – geology grad students would always saunter over there to recharge, huddling at a table in the winter or lounging outside in summer.

a plain bagel could go either way: sweet or savory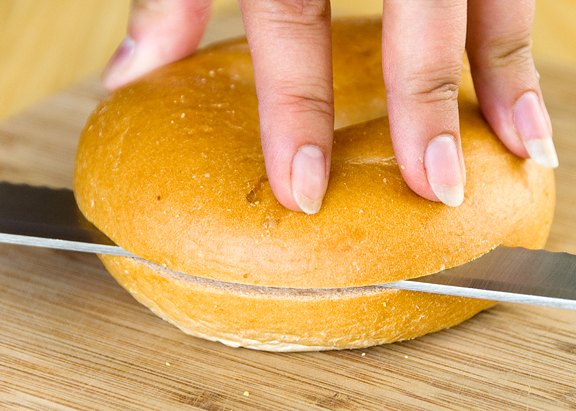 Jeremy and I were pretty careful with our expenses as graduate students. Our combined income put us just above the poverty line. Going to CTB was a treat for me. I loved so many of their bagel sandwiches, but the one that really gave me juice in the morning was their Vegetarian Bagel. That's probably because it was loaded with fat, but it got me through to dinner on days that I forgot to bring lunch, or got me through the late nights when I forgot to bring dinner.
i make mine savory, with chive cream cheese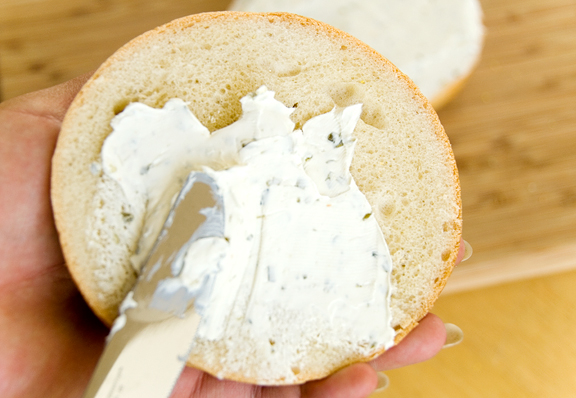 CTB makes their Vegetarian with vegetable cream cheese, but I rather like the chive cream cheese. I also don't put nearly as much cream cheese as they do (because when I stop to think about what cream cheese is, I start to feel a little ill).
layer tomatoes and meunster cheese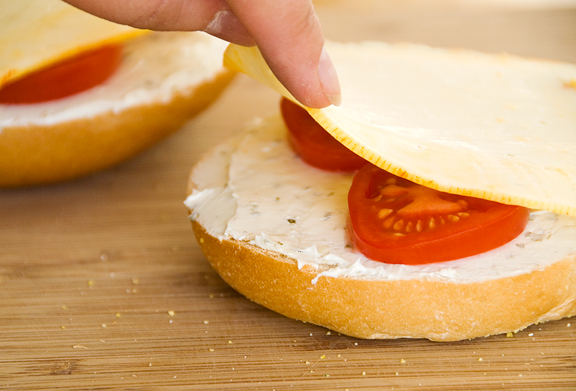 Slice up some tomato and slap a piece of meunster cheese on each half and you're almost done. Of course, if you can get your hot little hands on some in-season tomatoes, that will really make the bagel. Bake until the cheese gets bubbly and you're all set.
serve it right out of the oven
can't talk… eating
Vegetarian Bagel
[print recipe]
from Collegetown Bagels in Ithaca, New York
1 bagel (plain or otherwise)
cream cheese (pick your flavor – recommend a savory version)
1 tomato
2 slices meunster cheese
Preheat oven to 375°F. Slice bagel in half. Spread cream cheese on bagel. Slice tomato and layer slices over the cream cheese. Place one slice of cheese over each bagel half. Bake in oven for 10 minutes or until cheese is bubbly.