Recipe: bouillabaisse
By now, just about everyone is nearly done with Christmas. I hope it was a good day for all. Just an update on Menu for Hope: Pim has extended the deadline to purchase raffle tickets to December 31, 2008. If you haven't bid yet, I implore you to head over and have a looksee at the awesome prize offerings and perhaps purchase a few tickets. All of the pertinent links are listed on the header of my blog until the 31st. So get on it, kids! And thank you!

kaweah enjoys a christmas apple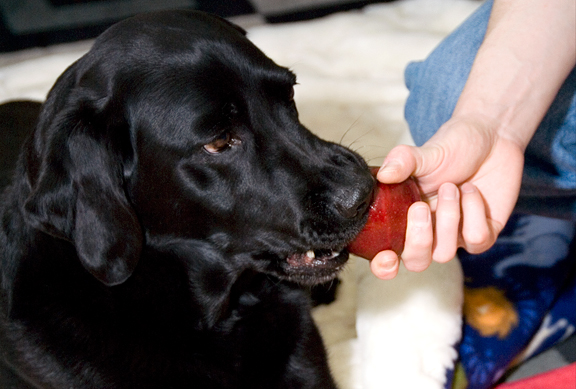 While we don't make a big deal of Christmas, I do like to prepare a nice meal on Christmas Day. I try to avoid spending all day in the kitchen, but unfortunately another project had me spending a couple of days in the kitchen, including Christmas (getting pretty cheesed off to boot – but more on that at a later date). I personally cannot stand the feeling of being stuffed, so I relish the thought of preparing a delicious treat of a meal that leaves me feeling satisfied, but able to run in an hour.
our simple christmas spread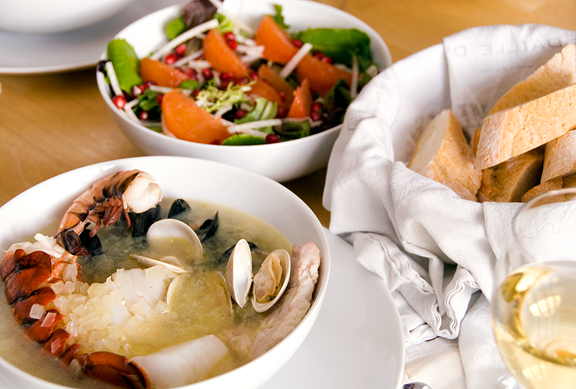 We had soup for Christmas, but not just any soup – we had bouillabaisse. When I was a kid, my dad was on a fine dining kick for several years. Once a month, he would select a nice restaurant in the area and have me make a reservation for the family. His exact words, "You and your sister need a little culture." You should hear my secretarial voice – even at age 9, I sounded awesome. My dad is crazy about seafood and so you can imagine his joy when he ordered his first bowl of bouillabaisse. Of course, Dad being Dad, he had to try and recreate it in his own kitchen and over the years, he has more or less perfected the recipe. Call it a Chinese immigrant's interpretation of a Southern fine restaurant's interpretation of a French classic. Something like that. While versions vary widely, I quite love my dad's recipe because it contains a bounty of good seafood and not just fish.
fish heads… fish heads… eat them up, yum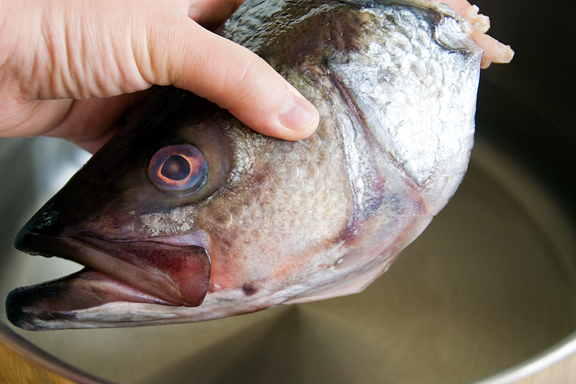 grinding up some saffron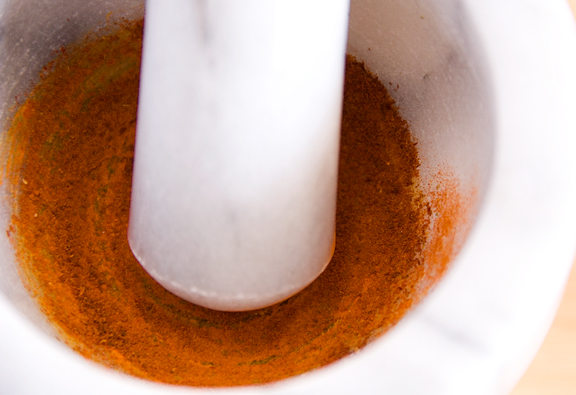 The first thing I started with was fish stock. I had a frozen fish head in my freezer that my parents had left from
their last visit
. This may sound odd, but just about every time my parents visit me, they leave a frozen fish head in my freezer. It's a sign of love :) I made a most basic fish stock a couple of days ago with the head which weighed about two pounds (it was a decent-sized striped bass). If you opt to make your own fish stock, be sure to have the exhaust fan on because it smells very… fishy. My dad's recipe is quite flexible, because you can't always get your hands on fish stock. He actually suggests a combination of fish stock or clam juice, with some chicken broth. The chicken broth gives the soup a smoother flavor and more body. The other critical ingredient in the soup is a bottle of wine.
barefoot's sauvignon blanc gets a 90 point rating and it's quite affordable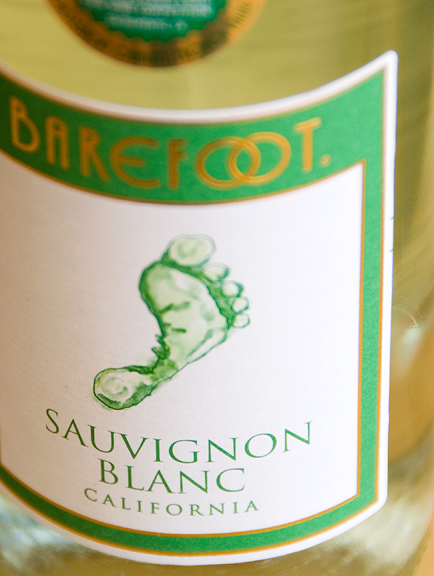 adding ground saffron to sautéed onions and garlic in butter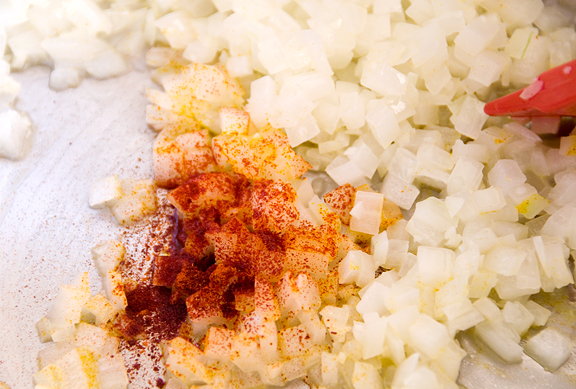 This morning, I made the "soup" part ahead of time because my dad observed that the soup tastes better if the broth is given time to mature and develop its flavors. I sautéed minced onion and garlic in butter, then added saffron and sautéed another minute or so. Next I stirred in a quart of fish stock, 2-3 cups of chicken broth, and the whole bottle of Sauvignon Blanc. I placed the herbs (except the saffron) into a little spice bag and tossed that into the soup, heated everything to a boil, then covered the pot and turned off the heat. I spent the next several hours wrestling with a dessert.
bouquet garni: thyme, parsley, and bay leaves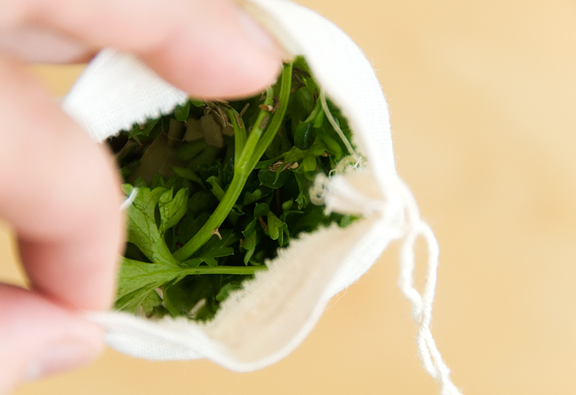 pouring in the liquid goodness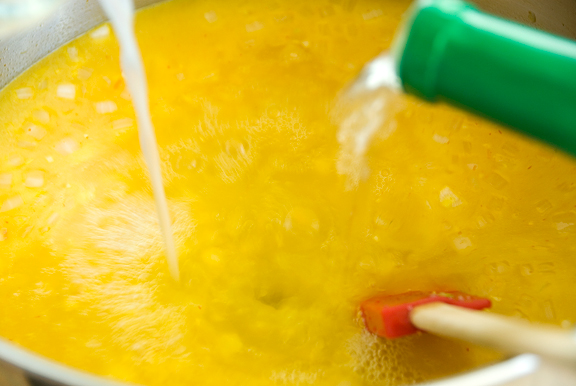 About an hour before dinner, I began to prep the seafood for the bouillabaisse. I had bought mussels, clams, scallops, shrimp, lobster tails, and two kinds of fish: cod and red snapper. My guys at Whole Foods didn't have any snapper filets, so I bought a whole snapper (about a pound, which is a perfect size with delightfully sweet meat) and asked to have it filleted. I also requested the bones, head, and tail… to make more fish stock in the future. Whatever fish I get, I always prefer to remove the skin and any bones. It's easiest to get those bones out with a pair of clean needle-nose pliers.
feel around for the tip of the bone and then pull them out along the length of the filet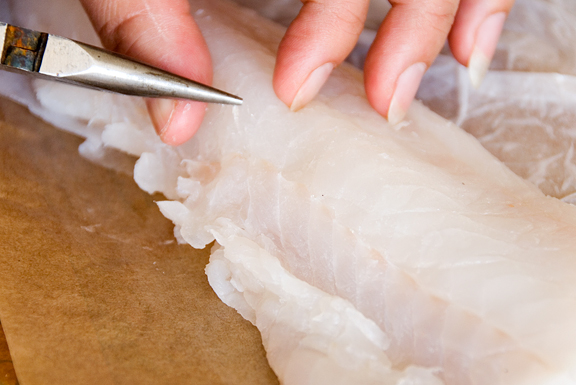 the loot: lobster tails, shrimp, mussels, clams, cod, red snapper, scallops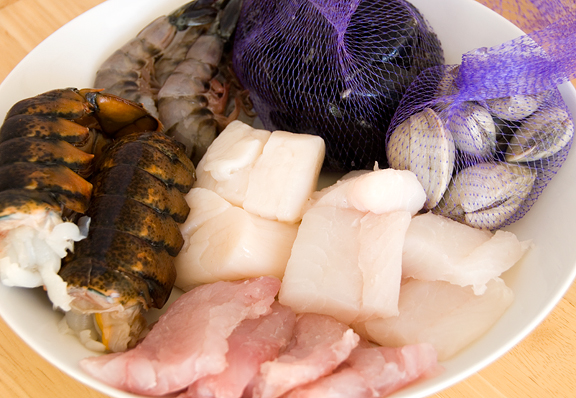 Your mise en place is important because timing is everything and you can ruin perfectly good seafood if you overcook it. The mussels and clams should cook first in a separate pot of boiling water because they can contain sand or grit which you don't want in your soup. While the bivalves are cooking, heat the soup in a large pot. You can either leave the onions in the soup, or strain them out of the soup (I leave them in). I sliced open the shells of the shrimp and deveined them, but left the shells on because it lends flavor to the broth.
split the shell of the shrimp along the back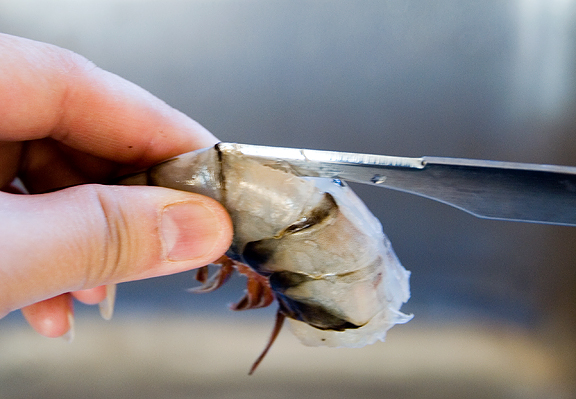 the mussels and clams are ready as soon as their shells open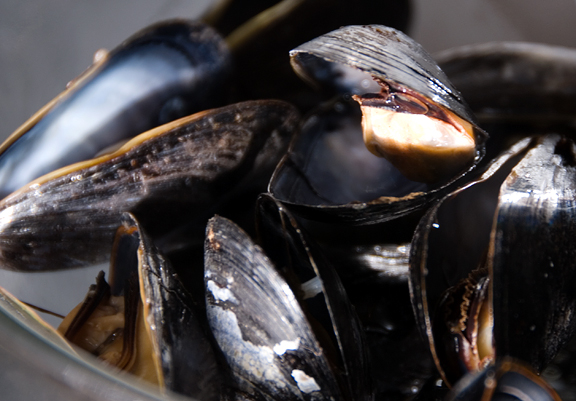 Remove the clams and mussels from the boiling water as soon as their shells pop open, draining off any excess liquid. When the pot of soup comes to a boil, it is time to add the lobster tails and the shrimp. The soup will taste somewhat acidic, but when you cook the various sea critters in the soup, they make the broth a little more alkaline which neutralizes the acidity and lends some more flavor to the liquid. The shrimp cooked for about 2 minutes until pink and then I removed them from the pot. I bought two small Canadian lobster tails, about a quarter pound each, and cooked them until they were red (about 3 minutes). If you get a larger whole lobster, my dad suggests cooking the whole thing in the soup until it turns red. Then remove the lobster and chop off the head. Cut the rest of the lobster into quarters, leaving the meat in the shell. The seafood will continue to cook, so you want to take them out of the soup when they are just underdone.
adding the lobster tails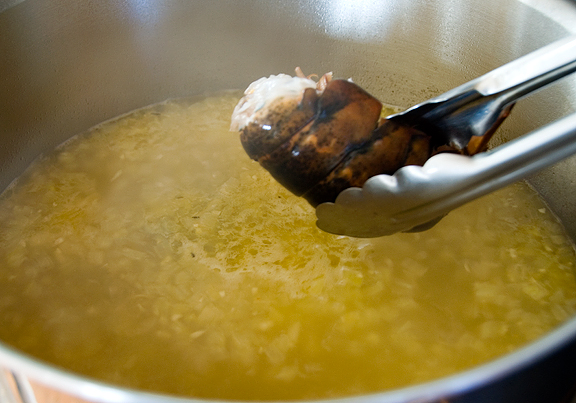 cooking the fish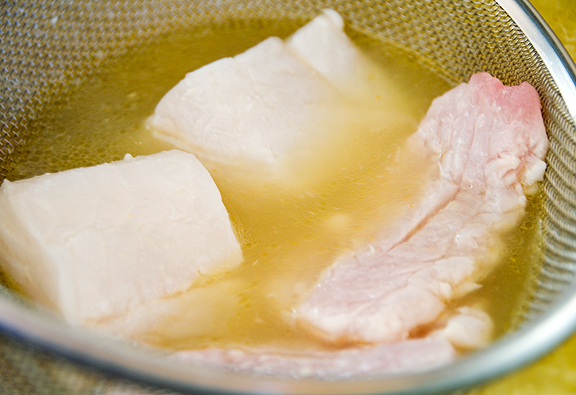 It is a good idea to cook the fish in a sieve or basket because 1) they cook very quickly and 2) they fall apart easily once they are cooked. After the shellfish are done, place the fish pieces in a sieve or basket and plunge them into the boiling soup. It will take a few minutes for them too cook. Remove when they are just underdone. Do the same for the scallops (a few minutes at most). When all of the seafood is ready, distribute them in each bowl. If you know the number of people you are serving, you should have bought enough so that each person gets a little bit of everything. Pour the soup into each bowl.
quite the feast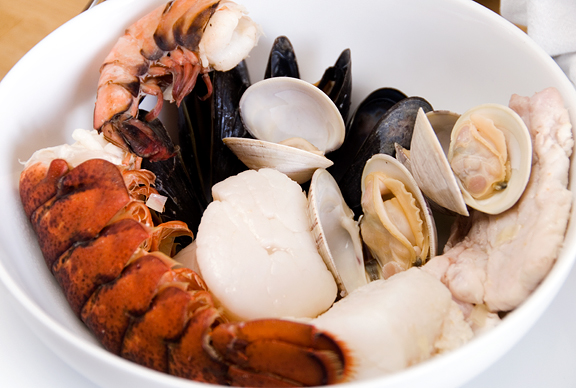 ladel the hot broth over the seafood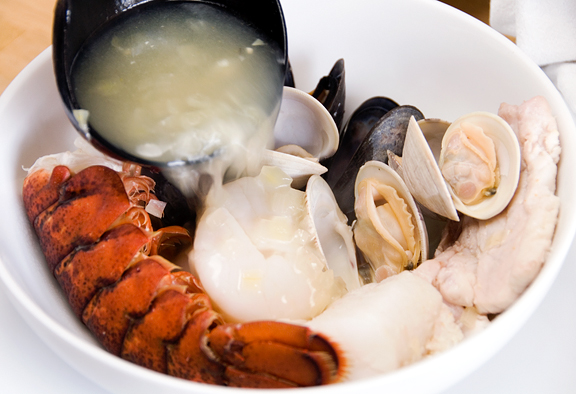 For anyone who loves seafood, this is a great meal. Serve with slices of warm, crusty baguette and a good bottle of wine (like our Spanish wine from the night before) and you won't be wanting for anything else.
bouillabaisse, dad's way
Bouillabaisse
[print recipe]
Dad's version
1 medium onion, diced
4 cloves garlic, minced
1/2 cup butter
1/2 tsp saffron threads, ground
1 quart fish stock or clam juice
2-3 cups chicken broth
1 bottle (750 ml) white wine (bordeaux)
2 bay leaves
2 sprigs of thyme (or 1/2 tsp dried thyme)
2 sprigs fresh parsley
14 oz. can whole stewed tomatoes, drained and deseeded (I didn't use in this recipe)
1 piece per person skinless, boneless white fish (sea bass, grouper, orange roughy, cod, or halibut), ~ size of a credit card
1 piece per person skinless, boneless red fish (red snapper, mahi mahi, striped bass), ~ size of a credit card
2 med-large shrimp per person, shell cut along the back and deveined (leave shell on)
3-4 small clams per person, in shell
4 mussels per person, in shell
2 pieces of lobster per person, in shell (assume 4 pieces per 1 pound lobster tail)
1 large scallop per person
salt to taste
Sauté onions and garlic in butter until translucent. Add saffron and stir until uniformly golden. Pour in wine, fish stock, and chicken broth. Place bay leaves, thyme, and parsley in a small cheesecloth sack and tie closed. Add this bouquet garni to the pot of soup. Bring soup to a boil. Add tomatoes (optional). [Optional step: let soup cool and refrigerate for a day.] Strain the onions, garlic, and bouquet garni out of the soup right before using (optional).
Bring a pot of water to a boil and add the mussels and clams. When the bivalves open their shells, remove from boiling water immediately. Drain off any excess liquid. Bring the soup to a boil in a large pot. Place shrimp and lobster in boiling soup. When shrimp is pink and just underdone, remove from soup (about 2 minutes). When lobster turns red and meat is just underdone, remove from soup (about 3-4 minutes, depending on size). If whole lobster, remove the head and cut the tail into quarters. Leave in shell. Place fish in a sieve or basket and immerse in the boiling soup until just cooked. Remove from soup. Repeat the same cooking process with the scallops. When all seafood is cooked, add salt to taste to the soup.
Distribute the seafood among the serving bowls. Ladle hot soup over each bowl. Serve with good french bread and wine. Theoretically serves 8.