Things were not right with the world yesterday. It was too warm – like 60s in Boulder! And I got a flat tire in the canyon where there is no cell reception.
Just as I began to loosen the first lug nut, a nice gentleman in a huge truck came and changed my tire for me in ONE MINUTE. I tried to get his info so I could send him a bottle of wine or booze or a cake and he said, "M'am, I do this everyday, you don't need to thank me." Well, I did thank him verbally. I only noticed the AAA on his door as he pulled onto the road. Huh, I guess that makes sense since most people don't carry pneumatic drills in their vehicles. But I might start to because I *love* it.
This morning… we have snow. Good. Good and Bad. Good, because I love snow and the local slopes were starting to show a little gardening (i.e. vegetation) on the black runs, which is uncool.

okay, okay… i feel better now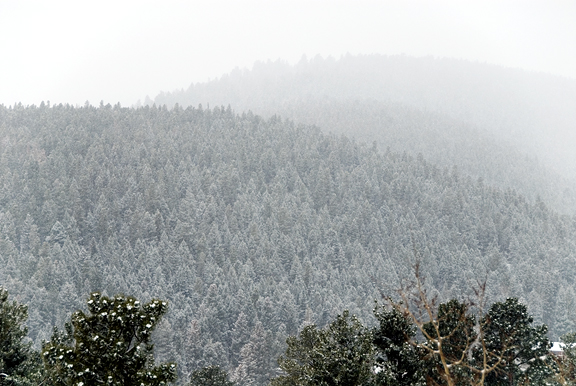 Bad? Well, bad, because Subie is at the service center in Boulder waiting for four new shiny tires and I have to go to Denver today… in Roo. Should be alright, me thinks, as long as the roads don't get socked in (which I doubt they will).
Yup. So most things that were not right are now being set straight. Except for one.
Remember those chocolate macarons from yesterday? That post would not exist without the help of the one, the only Tartelette. She's so popular, she was nominated in TWO categories for the Well Fed Network's Best Food Blog awards. She is currently in second place in the Chef category. She is within striking distance! I am asking every damn one of you (damn in a good way, not the bad way – I'm cussing because I love you) to please get over there and vote your brains out for Tartelette before January 24, 8 pm EST. That's tomorrow, kids!
I don't know who Book the Cook is. Dude seems nice enough. But he is goin' up against my girl and he has got *nothing* on Tartelette. He doesn't have a French accent, probably doesn't have her sexy legs, pics can't hold a candle to hers, apparently doesn't have a bad puppy who chews holes in the closet walls, and can we talk about artistry? Have you SEEN her blog? I mean, COME ON! Go – go now! Vote for Tartelette! Vote your ever lovin' brains out for our girl!!! PLEASE!
I'm done shouting. Thank you.