Recipe: roasted potato and green chile salad
Do you watch the weather? I do. It all started because my mother and grandmother constantly watched the news for the weather report when I was little. Then with the arrival of cable and The Weather Channel, that channel became the default when there was nothing better to watch. My father also watched the weather because he wanted any excuse to go sailing (oh the days of sitting adrift in the middle of James River with nary a breeze to lift our sails). This is a habit I've had for nearly all of my life, to check the weather. We don't own a television now, but this obsession has become worse for me, you know. In graduate school we were required to have a minor outside of our field, so I chose two: planetary radar astronomy and… atmospheric science. These days I completely geek out reading atmospheric science blogs (yes, they blog about global climate models and it's really bloody complicated and fascinating stuff) and sitting on NOAA weather forecasts – all in the name of recreation. Ski, climb, hike, whatever it is, I always want to know the weather because in the mountains, it can kill you.
The weather has been absolutely gorgeous. Sunny, warm, pleasant. And that means skiers are in a panic. My girlfriend told me "Luke is losing his shit!" Translation: Luke is upset that the base is disappearing on the mountains and that his ski season will be truncated. We are all worried about that not just for our ski season, but also the implications for the snow pack, our water supply, and fire danger. And yet! Look at the forecast this week:


Our skis are at the ready. We have our ski day routine pretty much dialed in. But today… today felt like late April instead of late March, so we took to exploring a new trail with Miss Kaweah, who desperately needed a hike (and a bath afterward, which she didn't really want). We found a cool makeshift teepee!
room enough for two three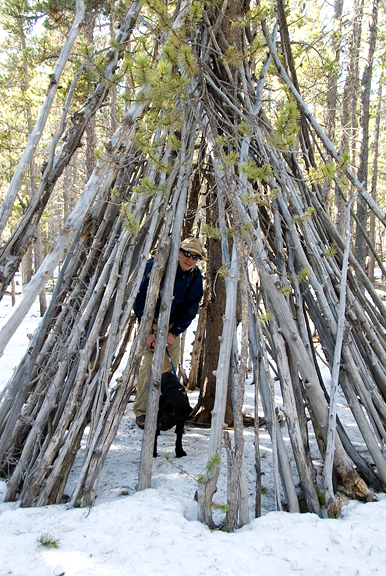 kaweah is unimpressed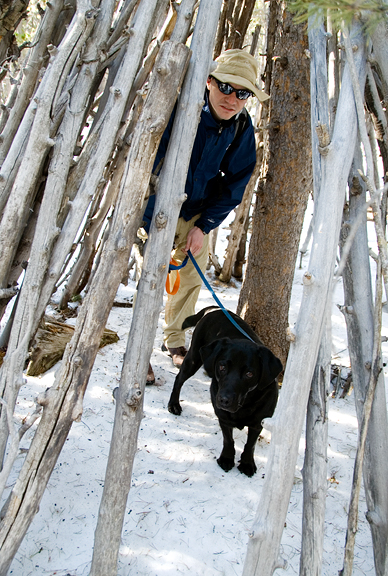 looking up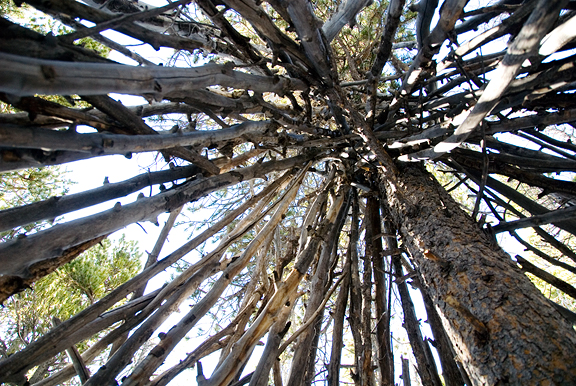 I'll admit that I have a touch of the fever, spring fever. Corn snow triggers a new mode of thinking in my brain – thinking about all of the wilderness I want to explore. Jeremy gets the same way. We love to watch the backcountry transform throughout the seasons.
the path we gladly take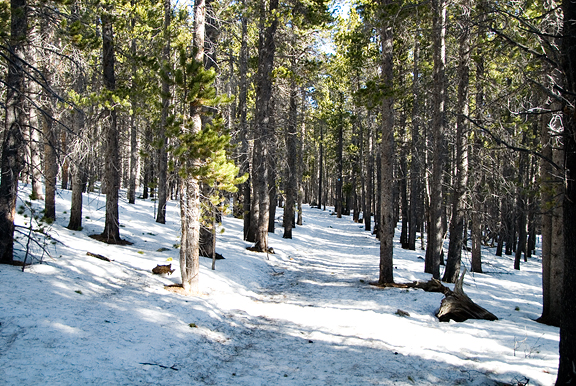 gorgeous ice: frozen in space and time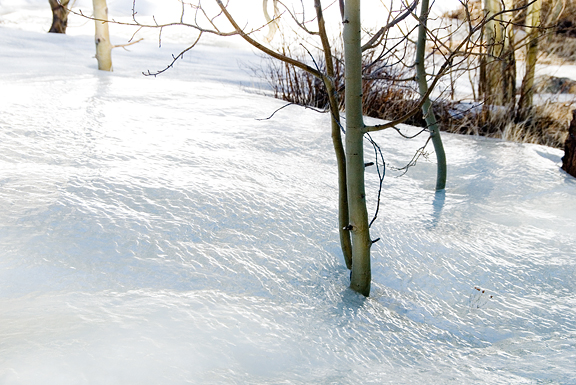 delicate ice on a morning puddle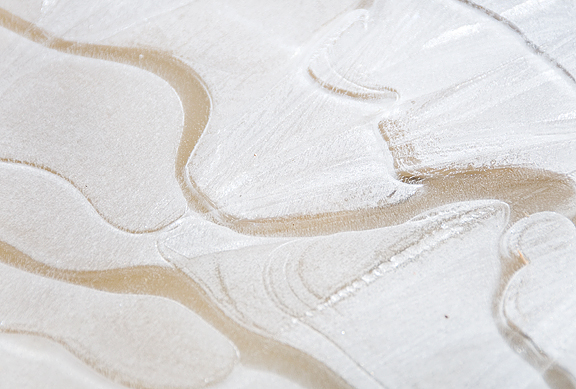 Delightful to get that taste of spring right before the next storm front blows through. This afternoon we met up with a dear friend for happy hour in Boulder. We opted to dine outside as the weather was just too amazing to pass up. The town was hopping!
all manner of goodies on the menu
If you will recall from last weekend, Jeremy and I had a
very special dinner
at our friends' house. Several of you had requested recipes for some of the dishes. While I typically do not post recipe requests, it just so happens that B emailed me all of the recipes and I had roasted green chiles in my freezer waiting to be used up.
i bought the tri-color potatoes because i love purple
The great thing about this potato salad recipe is the southwestern twist (the green chiles) and how super easy it is to whip up. That and if you, like me, cannot resist the purple potatoes, then you will have a gorgeous, colorful salad with a bit of a kick. The recipe says to roast the potatoes whole. I cut the larger ones in half because I love the crispy crust that the cut faces develop when you roast them.
tossed with salt, pepper, and a little oil
If you can get your hands on real green chiles, please do. B warns against using canned green chiles because they lack… oh everything. I can't really advise you on where to get them outside of New Mexico. Every October, New Mexicans roast the Hatch green chile harvest and every October, my aunt will freeze several bags of those lovely chiles for me. A note of caution – the longer you keep the chiles in the freezer, the hotter (spicier) they get. As it is now March, our chiles are pretty hot!
defrosted roasted hatch chiles
I peel the skins off (they come off very easily) and then scrape the seeds out and dice up the chile flesh. Just like when handling other hot peppers, don't rub your eyes after skinning and de-seeding! It will make you cry.
toss the stuff on the left, keep the goods on the right
When the potatoes are done, cut them in half and toss them into a large bowl with the rest of the ingredients. See how simple it is?
add finely diced red onions
I like to serve this salad warm, because I think the flavors are more pronounced: earthy potatoes, that bite from the onions, tang from the vinegar, the sharpness and spice of the chiles. It's perfect for winter dinners or summer barbecues – a keeper for sure. Thanks, B!
tastes great, looks great, great for ya!
Roasted New Potato Salad with Green Chiles
[print recipe]
from the Texas Border Cookbook
4 long green chiles, roasted and coarsely chopped (I skin and de-seed the chiles after roasting)
2 1/2 lbs. new potatoes, washed (I cut the potatoes in half because I like the crunchy roasted parts)
3 tbsps corn oil
salt
pepper
3 tbsps white wine vinegar
1/3 cup red onion, fine dice
1/2 cup olive oil
Roast chiles if necessary (do not use canned chiles, no flavor!) and chop into a medium dice. Toss potatoes with salt, pepper and corn oil and roast in oven at 400°F or on grill until done. (Jen's note: I roasted in a single layer in a baking dish for 40 minutes at 425°F.) Cut potatoes in half and toss with olive oil, vinegar, red onion and chiles. Chill 30 min and serve. (Jen's note: I like to serve this warm.) Serves 8.