Recipe: herbed popovers
I thought I was done with winter. I should have known better. It's a good thing I only put my skis away mentally, because we have a foot of snow on the ground outside this morning and there is at least another foot coming today and tomorrow. The ski whore season is alive and she is kicking!

this would have been better back in march, but i'll take it!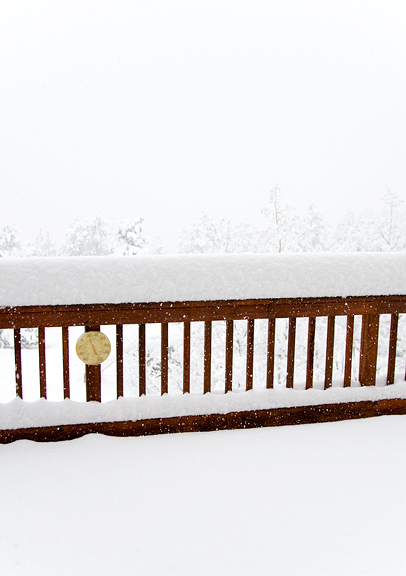 Luckily the snow held off until most of my appointments and engagements were done Thursday. I met up with Nichole and
Manisha
at noon to get some education at the Indian grocery store. I love Indian food, but I know very little about preparing it or even what the ingredients are. Time to remedy that, don't you think? I especially like when I ask Manisha her opinion on such-and-such Indian (or Nepalese) restaurant in Boulder and she gives me her trademark "how do I say this politely?" look. I'm on it, girlfriend. I will study and learn :)
indian bitter melon – beautiful and *more* bitter than chinese bitter melon!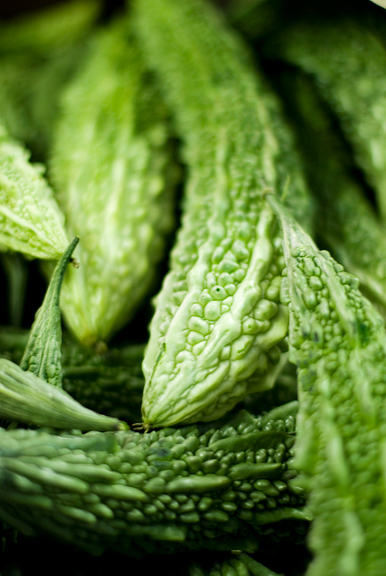 In the late afternoon I attended a very cool reception and talk at the university's planetarium. It was an alumni function, but I was a guest of the hottest member of the department faculty. These alumni shindigs are full of white-haired people, so when we sat down with our friend (another guest of Jeremy's) for the planetarium presentation, this elderly fellow leaned over to me and quipped, "I guess they allowed students for this presentation?" I looked around to see who he might be referring to before I realized he meant us. Hi-larious!
science on a sphere in the lobby – i'd love to have that in my living room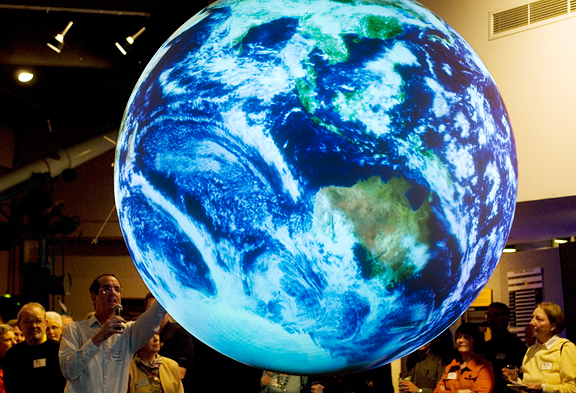 jeremy explains his recent discovery in the antennae galaxy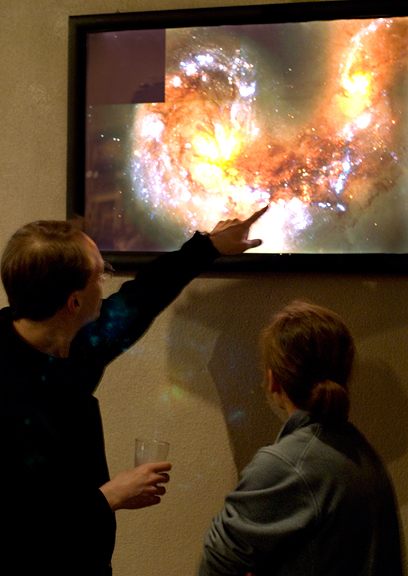 Yesterday felt like a Friday to me, especially since today (Friday) turned out to be a Big Dump Snow Day. It's still coming down like nobody's business, but Jeremy is already outside shoveling the drive. I'll be out to pick up the second snow shovel in just a moment, but first, let's talk about something important… Are you the type who avoids doing things you should (but don't want to) do or are you the type who makes yourself do those things even though you really don't want to? I fall into the latter group for most things because… well because shit needs to get done, people! *clap clap* That, and I *hate* avoiders. Jeremy and I even have a name for what they do: avoision. I really think it boils down to denial of reality, but whatevs. This is really directed at something a little more mundane.
I am not a brekkie kind of girl. I went for many years skipping breakfast because I just don't like it. If you wait a few hours (or several if you rise early) it's time for lunch and *that* my friends, is my favorite meal. But I found that cutting brekkie did not jive with competitive sports or intense physical training/activity. So I gave in. I treat breakfast like a chore – like brushing my teeth. If they had breakfast chow in the mornings, I would eat that. The only time I really cook breakfast is when we have guests visiting and that often evolves into brunch because I have limited brekkie recipes in my arsenal. Last month, Cathy of A Blithe Palate and Stephanie of Dispensing Happiness invited me to join a Cookbook Spotlight event on Gale Gand's latest book: Gale Gand's Brunch. My first reaction was, "nah…" but my little brain sergeant said, "You should expand your breakfast repertoire! Get off your butt and DO IT!"

i doode it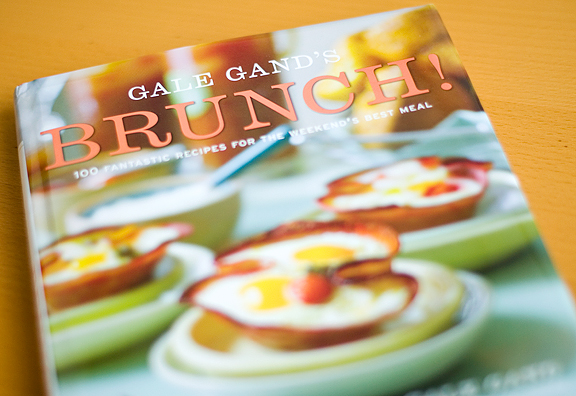 I received my complimentary copy in the post and quickly flipped through. There are a lot of lovely recipes (with equally beautiful photos) for little bites – my favorites for entertaining – and big bites. I also like that there is a good distribution of sweet and savory dishes throughout because I really loathe an all-sweets brunch/brekkie. I settled on test driving the herbed mini popovers because I actually own popover pans from eons ago and I rarely use them. So, the publishing company asked us not to reprint the recipes and that's fine… I won't. I will list the ingredients as 1) those cannot be copyrighted and 2) I think it would be assholey of me to rave about a recipe and not share it with you. That means you need to
pay attention
to my description here, okay?
simple ingredients
I whisked together the eggs and milk over a warm water bath until the temperature was around 70°F. I'm not sure if that has much bearing on the end result since I looked at a few other popover recipes and they didn't call for similar steps.
whisking in the dry ingredients (flour, salt, and herbs)
Off the heat, I combined the dry ingredients into the liquid until they were barely mixed – like you do with quick breads.
sit for an hour on the kitchen table
My popover pans are for normal popovers. I don't think they made mini-popover pans back in the day. The yield is supposed to be one to two dozen mini popovers, depending on the volume of your popover pans, but I wound up with six regular popovers (filled to 2/3 volume on the big ones, but 1/2 full if smaller) despite having buttered both of my pans. Don't you hate that? Here's the puzzling bit for me: my popover pans are non-stick, but I had to heat them in a hot (450°F) oven for ten minutes and then brush them with melted butter before pouring in the batter. The butter just beaded up and pooled at the bottom, so I'm not sure it really made a difference.
pouring the rested batter into the pans
Because I used large popover molds (yes, use muffin tins/pans if you don't have popover molds), I let mine bake for the instructed 15 minutes, watching them puff up nicely through the closed oven door. I turned the oven down to 375°F to bake for another 10 minutes before they were browned. I'm assuming that mine takes 10 minutes instead of the lower end 5 minutes for smaller popovers.
browned
They smelled fantastic. I think next time I might try chives. The insides were hollow and moist and steam billowed out when I broke one open. The outer shell was delightfully crispy. It reminded me why I bought popover pans in the first place (because I love them). I didn't even need to make any high-altitude adjustments! That is most bonus in my book.
had to try one fresh out of the pan
The cool thing about this recipe is that you can plan ahead and just mix up the batter the day before and store it covered in the refrigerator until you are ready to make popovers the next morning. These are great on their own or with a smear of butter.
brunch
Herbed Mini Popovers
from Gale Gand's Brunch
2 large eggs
1 cup whole milk
1 cup flour, sifted
1/2 tsp salt
1 tbsp chopped fresh tarragon or savory herb
3 tbsps unsalted butter, melted