Recipe: strawberry hazelnut salad
The new lens arrived! We are getting acquainted. I think I like her. K-dawg and I took her out for a test drive yesterday morning.

i love it here, despite the winds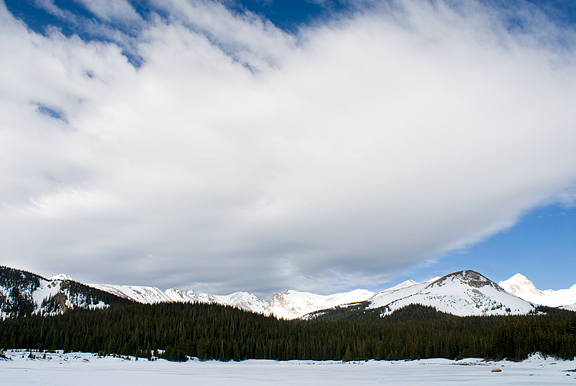 Kaweah exhibited the strangest behavior I've ever witnessed in her on the way back out from the lake. I won't bore you with details, but after discussing with Jeremy last night on the phone, we're pretty sure it was a mountain lion or bobcat following us for well over a mile. I never thought of Kaweah as "scrumptious" before, but I imagine she must be a tasty looking chubby little morsel for a big cat these days. When we reached the car, we encountered a much friendlier resident (actually, I'm sure if it were large and fanged and clawed like a mountain lion, we might not consider it friendlier).
cute-a-roonie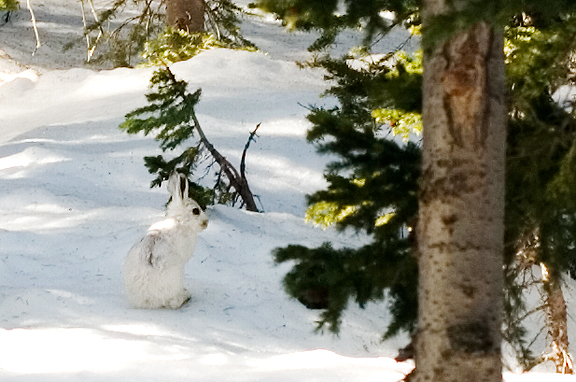 We had a good friend come up for dinner earlier this week as I needed to pick her brain for information on the Sierra Nevada. For dinner, I made that fan-friggin-tastic
roasted pepper and goat cheese tart
. You must make it, just do it – it's freaking awesome and you can replace the goat cheese with feta if you like. I totally cannot shut up about it. I was also working on that
strawberry chiffon buttercream cake
goodness for dessert. And 30 minutes before M arrived, I remembered that I had forgotten a salad. Hands on hips, foot tapping, brain whirring. I had greens, but what else?
strawberries to the rescue
I've always enjoyed fruit in my salads because I love the way sweet, sour, and salty play so well together in a bed of slightly bitter greens. I've plopped apples, supremed oranges, grapefruit, grapes, pears, raspberries into salads before, but… not strawberries. That's probably because they don't last long enough in our house to make it to the salad. Luckily, I had a lot of strawberries on hand that night. And the blogs have been pairing a lot of strawberries with balsamic vinegar of late. I hadn't tried that before.
a wee bit of sugar, balsamic vinegar, and olive oil
The vinaigrette is easy to whip (whisk) up if you just remember to add the oil in a slow and steady drizzle. I wanted a little extra texture in the salad and went rummaging through my pantry for some – ah! hazelnuts! I toasted the hazelnuts for five minutes and then gave them a quick whack with the flat of my santoku knife. Here's the voice of experience: put the nuts in a bag and smack them unless you enjoy searching the room for the bits of hazelnuts that went flying in all directions.
coarsely cracked
I filled the bowl with the greens and sliced strawberries and tossed them with the vinaigrette so that all participants could share the love. For some reason I always add the nuts after the tossing. I don't know why. It's just a thing. Maybe because they're always collecting at the bottom of the bowl?
pour the dressing
sprinkle the hazelnuts
See how easy that was? I think it is common for salads to get short shrift. Personally, I love the refreshing bite a salad brings to a meal (or as a meal). For a savory gal like myself, this sort of salad is as good as dessert.
it's good for you and it tastes great
Strawberry Hazelnut Salad with Balsamic Vinaigrette
[print recipe]
8 oz. salad greens, washed and shaked dry
8 oz. strawberries, washed, trimmed, and sliced
2 oz. hazelnuts (preferably skinned)
2-3 oz. balsamic vinegar
1 tsp sugar (to taste)
3-4 oz. extra virgin olive oil (i don't like my dressings to be too oily so adjust to your liking)
salt and pepper to taste
Toast the hazelnuts for 5 minutes in a 350°F oven. When the nuts have cooled, place them in a plastic bag and whack them with the flat side of a broad knife (please don't smack them with a ceramic knife – you will be sad) or under a rolling pin or cutting board. In a medium bowl, whisk together the sugar and the balsamic vinegar until the sugar is dissolved. While whisking continuously, slowly drizzle the oil into the vinegar-sugar mixture in a steady and thin stream. You should have an emulsified dressing. Place strawberries and greens in a large mixing bowl. Pour the dressing over the salad and season with salt and pepper. Toss. Sprinkle the crushed hazelnuts over the salad and serve. Enough for four to six side salads.