Recipe: chive dumplings

daring cooks – you got the onions chinese chives?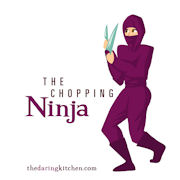 This month I'm not just a Daring Cook, but I'm the host of the Daring Cooks June challenge! First, let me pay homage to our most revered founders: Lis of
La Mia Cucina
and Ivonne of
Cream Puffs in Venice
, because we love them and they make the world a better place. I chose a recipe that was versatile enough for all manner of Daring Cooks: Chinese dumplings and potstickers. The recipe I gave for the challenge is
a family recipe
that I've blogged before. However, I wanted to push myself beyond the familiar and attempt a gluten-free version.
[EDIT] So there have been a few folks making noise about wheat starch and how it is not gluten free. Sources give conflicting conclusions on whether or not wheat starch is safe for consumption if you are celiac. So let's be clear here – you need to make your own decision and you need to be responsible for that decision. If you think there is ANY risk, then you probably shouldn't use it unless you enjoy playing with fire. If you aren't affected by gluten, then you can probably safely consume wheat starch. This is a traditional recipe, it was not developed as a gluten free version – it is a type of dumpling that people make in Chinese cuisine. [END EDIT]

use wheat starch (not wheat flour!)
chinese chives (garlic chives)
If you've ever had dim sum, you have probably feasted upon many different kinds of dumplings. My favorite to order when I'm in a good dim sum joint is the chive dumpling. While I was looking up a gluten-free version of the Chinese potsticker for our alternative Daring Cooks, I ran across several recipes for chive dumplings and knew I had to try these at home.
chop the chives
sauté
Chive dumplings are typically filled with Chinese chives (also known as garlic chives) and shrimp. Chinese chives aren't like regular chives. They have a fantastic garlic scent and flavor that makes them a perfect partner in any stir-fry or dumpling. These chives can usually be found fresh in well-stocked Asian markets. They are also incredibly easy to grow at home. I made the trip to Denver to purchase two bunches of Chinese chives. They usually have a lot of fine grit or sand, so thorough washing is recommended. After sautéing the chives, I mixed them with some salt and coarsely chopped raw shrimp meat.
chopping the peeled and de-veined shrimp
the filling
When the filling was done, I got started on the gluten-free dough – a first for me! Amazingly, my little Asian grocer in Boulder had wheat starch. I wasn't able to find tapioca starch, but the recipe said I could substitute more wheat starch in lieu of tapioca starch. Now, I know a lot of gluten-free folks are really skeptical of wheat starch, because isn't wheat gluten the source of much of their woes? As the responsible host, I read up on how wheat starch is made. It is a by-product after wheat gluten is removed. Certain brands that are certified gluten-free are probably trustworthy enough for gluten-free cooks (and backed by Celiac groups). I know there are some wonderful gluten-free cooks out there who found other great alternatives that worked out for their dumplings. Use your best judgment.
[EDIT] If you prefer to avoid using wheat starch, there are some awesome dough wrapper recipes that terrific and talented people have developed. Here are a few:
Angela's Kitchen: Gluten-free version
Hey, that tastes good!: Vegan and gluten-free
Jen's Kitchen Blog: using gluten-free flour mix
[END EDIT]

mixing boiling water with the starch to make the dough
cutting segments
I think because I used all wheat starch for the dough, mine was especially non-pliable. The dough tears very easily, although it also mashes back together just as easily. I'm used to my flour-based dough which is beautifully elastic, so this was new and a bit of a challenge. Even rolling out the wrappers required gentle handling and extra dusting of wheat starch to keep things from sticking to the board and rolling pin. There is little tolerance for over-filling the dumpling too, since this wrapper just cannot stretch to accommodate more.
gently rolling out each wrapper
folding pleats like a galette
I didn't attempt to fold the dumplings in the way I fold my regular potstickers because I've always seen these folded in the round, cute package. So I attempted to emulate what I could recall from all of those great dim sums in Southern California and the Bay Area.
pleating all the way around
sealing the dumpling
I pan fried these the way I would pan fry my usual potstickers, but they were fried folded-side down first to help seal the dumpling. When they were done, Jeremy couldn't wait to dig into them. They tasted great, but I have to say that the dough wasn't what I remembered. I think this all wheat starch version is just a little too starchy and not more chewy and delicate like the ones in the restaurants. Hopefully I will give it another shot with tapioca starch in the mix next time. Still, it was great to learn another technique and I have some gluten-free friends who would probably love to try some Chinese dumplings.
Thanks to all of the awesome Daring Cooks who participated in this challenge. Please be sure to see the creative and beautiful dumplings and potstickers others have turned out this month at the Daring Cooks Blogroll.

pan-frying
serve hot and happy
Chinese Chive Dumplings
[print recipe]
based on this recipe
Note: for the original Chinese dumplings and potsticker recipe, go here.
filling:
8 oz. (250g) chinese chives, cleaned, trimmed, and chopped into 1/2-inch pieces
4 oz. (125g) shrimp, peeled, de-veined, coarsely chopped
salt
vegetable oil (something without strong flavor)
dough:
1 1/4 cup (165g) wheat starch
1/4 cup (35g) tapioca starch (or 1/4 cup wheat starch)
1/2 tsp salt
1 cup (236g) boiling water
1 tsp vegetable oil
To make the filling: Heat 2 tablespoons of vegetable oil in a frying pan. When the oil is hot, sauté the chives, adding salt to taste, until they are cooked. Remove from heat. In a mixing bowl, combine the chives, the raw shrimp meat, and more salt (maybe 1/2 tsp).
To make the dough: Combine the wheat starch, tapioca starch (or more wheat starch if you don't have tapioca starch), salt, boiling water, and oil in a bowl and mix it together until combined. While dough is hot, begin kneading the dough until it is smooth, but no longer sticky. Add more starch as needed during this process. Cut the dough into thirds and roll each third out into 8-inch cylindrical pieces. Cut each roll into six pieces. and keep them covered with plastic or a damp cloth. To roll the wrapper, you can place a piece of dough between two squares of parchment or wax paper and roll it out that way, or you can carefully roll it out on a work surface dusted with wheat starch. The wrapper should be about 4 inches in diameter.
Fill each wrapper with 1-2 tablespoons of filling and pleat the wrapper together so the filling is sealed inside. Heat a tablespoon or two of oil in a frying pan on medium-high flame and arrange the dumplings in the pan so that they are not touching, folded-side down. Cook for a couple of minutes on each side until they begin to brown. Add 1/2 cup of water to the pan (careful of the splatter) and cover the frying pan with a tight lid. Reduce the heat and let it simmer for 3 minutes or until the dough looks translucent at the edges. Remove the lid from the pan and increase the flame to medium and continue cooking for another few minutes until the water has evaporated. Crisp both sides to a light brown color. Serve hot. Makes 18.