Recipe: pim's pad thai
Did you have as lovely a weekend as I did? I hope so! Even if you don't celebrate the Fourth of July (let's say, because you are British) I hope the weekend treated you well.

even the yard had red (paintbrush), white (yarrow), and blue (blue flax)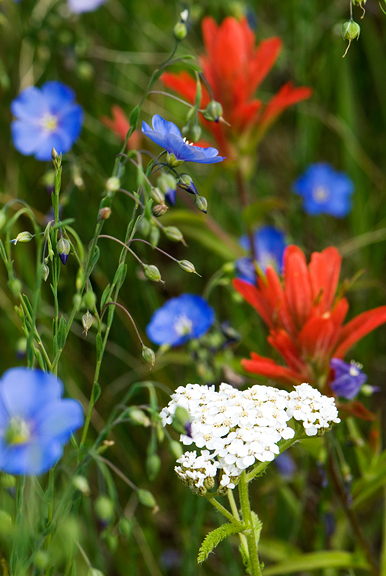 We hiked in the mountains, got a little work done, ran a few errands, ate some great food, and saw brilliant, spectacular, thrilling fireworks! I love fireworks. Love love love love them. I'm a parrot when it comes to those dazzling and colorful displays, which is why I had to capture some at the reservoir on Saturday.
boom! bang! pow!
You can see more of the fireworks photographs on
my photo blog
. Every Fourth of July, Jeremy and I marvel that local kids have not yet burned down the entire expanse that is the American West. I mean really, fire+beer+young men+forests = not a good scenario.
So I am finally posting about a recipe that took me years to tackle. Pad thai. This self-proclaimed noodle girl loves all manner of noodles and pad thai ranks up there with my favorites. My first exposure to the dish was in college (oddly, growing up in a Chinese household, we just didn't DO other Asian cuisines). My feeble attempts to cook it at home had such lackluster results, I was willing to pay the $7.95 for an order of great pad thai. But then we moved to Ithaca, NY and I could get mediocre pad thai at the slop joint in Collegetown or glorified mediocre pad thai from the overrated and overpriced Thai Cuisine in town. I got so desperate I scored a Thai cookbook with a recipe that brought me a leeeedle closer to the real thing, but it wasn't *it*.

rice noodles soaking in water
salted turnip
If I don't have a knock-em-out recipe, then I feel like I'm wasting time making something I won't be satisfied with. If you've done the pad thai rounds, then you know pad thai varies wildly from one restaurant to the next. Enter Pim. In early 2007 she posted a glorious rant about chefs using ketchup in their pad thai recipes. No no no!!! Nooooooooo! She cussed, she railed, she set the record straight and then posted her authentic recipe. Pim is a force to be reckoned with. The girl knows her shit.
brown sugar, chili powder, tamarind concentrate, fish sauce
the sauce and eggs
It took me over two years to finally attempt Pim's recipe even though I
knew
it was the winner just from reading it, just from the conviction in her writing. Okay, part of the delay was the whole cancer/chemo thing, but it was also because I had to sit down and force myself to write it in recipe format. Anyone who has tried to put an Asian family recipe into writing knows what I am talking about. So a few months ago, I finally did it.
sprouts, chicken, shrimp, ground peanuts, chopped turnip, minced garlic, green onions
sautéing the chicken
It was fan-freaking-tastic. AND I could reproduce the results with amazing consistency. I don't own a wok (I know, what sort of Chinese daughter am I?) but the use of my large nonstick frying pan worked well enough. The issue that plagued me in the past until Pim pointed it out, was that I always tried to cook 6 servings in one go. Per Pim's instructions, I cooked up 1-2 servings at a time and it rivaled the pad thai of my fondest memories.
stirring in the noodles until soft
cracking the egg into the pan
So the two biggest improvements on the pad thai for me were: mixing the sauce ahead of time and cooking in small batches. Made all the difference. If you have your mise en place ready, then it comes together very quickly, very easily. While I usually make a vegetarian version of pad thai (because I'm too lazy to deal with chicken and shrimp), I went all out this time.
adding sprouts, chopped turnip, and ground peanuts
finishing off with green onions
I now have my goto pad thai recipe. And so do you. It's not just the flavor and color, but texture that needs to be right. Pim nails all three. Below I list the recipe as I make it (mostly because she has lots of options and I don't), but you can go to Pim's site for the original. Now I can sleep at night.
serve hot and fresh
Pim's Pad Thai
[print recipe]
from Chez Pim
vegetable oil (for frying)
12 oz. chicken (2 oz. per serving)
4 cloves (10g) minced garlic (about 1/2+ clove per serving)
sauce (see below) (about 1/4 cup per serving)
1 lb. (500g) rice noodles, soaked in warm water to soften (but not too soft)
6 eggs (1 egg per serving)
1 lb. shrimp, peeled and deveined (4-6 shrimp per serving)
1 cup (155g) ground peanuts (1-2 tbsps per serving)
3-4 cups bean sprouts (1/2 cup per serving)
1/2 cup (75g) pickled turnips, chopped (1+ tbsp per serving)
1 cup garlic chives or green onions, chopped (2 tbsps per serving)
more sprouts (garnish)
fresh limes (garnish)
sauce
1/2 cup (130g) tamarind paste
1/2 cup (120g) fish sauce
1/3 cup (75g) brown sugar
1 tbsp (9g) chili powder (to taste)
Make the sauce: Over a low flame, heat the tamarind, fish sauce, and brown sugar together until the sugar is dissolved. Stir in the chili powder a teaspoon at a time to desired spiciness. Bring the sauce to a simmer. Turn off the heat (keep sauce warm).
Make the pad thai: [The key is to cook up 1-2 servings at a time!] Heat 2-3 tablespoons of oil in wok or large frying pan over high heat. Add 2 ounces of chicken and stir-fry until it is half cooked. Add 1-2 tablespoons of sauce, and a pinch of garlic. Stir around and add about 2 cups of loosely packed (for me, a big handful) of rice noodles plus 1/4 cup of sauce to the pan and stir vigorously until the noodles soften. If it dries out, you can add some water. Push the noodles to the side and crack an egg into the pan. Let the egg cook for 10 seconds and then toss the noodles and egg together in the pan. Drop 4-6 shrimp, a couple of tablespoons of ground peanuts, a heaping tablespoon of turnip, and 1/2 cup of sprouts into the pan. Stir fry until the shrimp are just cooked (very fast – about a minute). Toss in the green onions or garlic chives and remove from heat. Serve hot with more sprouts, ground peanuts, and lime wedges for garnish.