Recipe: butter-poached cod with powdered flavors
Two posts within 24 hours can only mean one thing… something Daring is going on. It's the 14th. While my Frenchie friends are dreaming of rolling heads, the Daring Cooks are rolling out their reveals today. Our founders are the same wonderful and amazing ladies as last month and as the month before: Lis of La Mia Cucina and Ivonne of Cream Puffs in Venice. I am really quite fond of them. Our host this month is Sketchy of Sketchy's Kitchen (site seems to be in need of a domain re-registration at the moment). His challenge this month: Skate with Traditional Flavors, Powdered from Grant Achatz, found in the Alinea cookbook.

daring cooks – yeah baby, i got your onions right here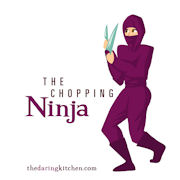 I'm going to be brief with this one because the challenge itself has already used up its allotment of time suck this month. The recipe is a toe-dip into the realm of molecular cuisine and Sketchy's intent was to push us to try something new and very different.
the flavors in fresh form: parsley, cilantro, red onion, banana, brined capers, lemon
prepped for the dehydrator
The task at hand was to serve butter-poached skate (I subbed cod) with several flavored powders, as in you make the powders from the real foods. Sketchy gave thorough instructions on how to acquire or make your own dried ingredients. Luckily, I actually have a dehydrator because none of the stores in town carried unsweetened banana chips. I just made my own along with all of the other components. I also poached my lemon peel in water instead of simple syrup and didn't mix it with vitamin C powder.
dried
pulverized and pounded to smithereens
The drying took the most time (12 hours) but the pulverizing and sifting took the most effort. I wasn't about to mess with Jeremy's precious coffee grinder, so I used my mini chop which did an 80% job. Sifting the powders, I used my mortar and pestle for the remaining dregs and then resifted those. I was unable to procure powdered cream to make the browned butter powder (mixed with banana powder), so I just stuck with the powdered banana as it was – it was great. Okay, powders ready.
clockwise from top left: banana, cilantro, parsley, onion, capers, lemon
prepping snow peas
The original recipe calls for the use of string beans, but my good man is allergic to string beans. I made a simple substitution of snow peas instead. Worked just great. After making the poaching liquid, a buerre monte, which
I've made before
for a previous Daring Cooks challenge, I used some to cook up the snow peas and used the rest to poach the cod.
snow peas: done
poaching pieces of cod
The plating was simple enough, layer some slices of fresh banana, top with snow peas, top with fish. I sprinkled my plain banana powder (instead of the intended browned butter powder) over top and then arranged the remaining powders on the plate for dipping. It was a delightful surprise to say the least. The mingling of flavors with the textures worked here and I have to say I was a little skeptical (or maybe just looking for an excuse to punt this month's challenge). Jeremy was incredibly unfond of the fresh banana. While he enjoyed the meal, he didn't think it was worth the effort.
plated: less of a spiral, more of a "sideshow bob" style
I'm glad I did the challenge. I almost always am. Thank you, Sketchy, for introducing me to something new. Although I really do prefer my foods to be fresh and whole, I think learning new things is always good for me. And I got to use that dehydrator. Go peruse the other
Daring Cooks challenges
to see what the rest of the crew has come up with!
Cod, traditional flavors powdered
[print recipe]
from Grant Achatz, found in Alinea
12 oz. cod, cut into 3 oz. pieces
beurre monte
300g fresh snow peas, sliced into thin rounds (2 mm)
sea salt/kosher salt
1 banana
300g lemons (about 2 medium lemons)
150g cilantro
150g parsley
100g dried banana chips (or dry 1 banana's worth of chips)
300g spray dried cream powder (or powdered milk) (I omitted)
100g cup minced red onion
200g capers (brined, not oil)
beurre monte
1 lb. (450g) butter, cold and cubed
60g water
In a small saucepan, bring the water to a boil, remove from heat and whisk in the butter 1 cube at a time. This should from an emulsion. Keep this heated, but under 195 degrees. The emulsion will not break – this is your poaching liquid. The poaching liquid could be replaced with other poaching methods. Water, wine, bay leaf, garlic clove, pepper, etc. Try to go easy on the salt in the liquid if you use a replacement.
Powders: once dried, all powders should be pulsed in a coffee grinder/spice mill/morter and pestle then passed through a chinois or fine mesh strainer.
citrus powder
300g lemons
water for poaching
Zest 2 lemons, remove the pith from the zest and poach in boiling water three times. Dry with paper towels and move to a dehydrating tray. 130°F for 12 hours. Pulse the zest in a coffee grinder, pass through chinois. If you do not have a dehydrator, place in microwave for 8 to 10 minutes at medium powder. Once dried, follow the other instructions.
cilantro/parsley powder
150g parsley
150g cilantro
Blanch the parsley in boiling saltwater for 1 second, submerge the leaves in ice water for 3 minutes. Dry on paper towels and place on dehydrator tray. 130°F for 12 hours. Grind and pass through chinois. If you do not have a dehydrator, place in microwave for 30 seconds, turn over leaves and microwave for another thirty seconds. They should be dry by now, pulse in coffee grinder, pass through chinois and reserve. Repeat for the cilantro.
onion powder
1 cup (100g) red onions, minced
Place in dehydrator at 130°F for 12 hours or microwave at medium power for 20 minutes. Pulse in grinder, pass through chinois.
caper powder
200g capers (get the ones packed in brine/vinegar)
Run the capers under cold water for two minutes to remove some of the brine. Dry on paper towels and dehydrate for 12 hours at 130°F. Once dry, pulse and sift the powder. Mix it with the onion powder.
brown butter powder
100g dried unsweetened banana chips
300g spray dried cream powder (omitted)
If you cannot find the cream powder, you can substitute Bob's red mill non fat dry milk powder, or even carnation instant milk powder. The substitutions will alter the flavor a little, but you will still get the general idea. Preheat the oven to 350°F, sift the cream powder into a fine layer on a silpat or on parchment. Bake for 4 minutes, then remove from heat. If it bakes for too long, it will burn. Be very cautious with all powders in the oven. They all go from browned to burnt in a few seconds. Grind the banana chips in a coffee grinder and mix with the toasted cream powder. Pass this through a chinois and reserve.
Prepare the cod: I cut my cod into 3 ounce pieces (about double what is recommended). Bring 100g water, 100g beurre monte, and green bean rounds to a boil over high heat. Cook until the water has evaporated (about 3 minutes), when the pan is almost dry, remove it from heat and season with salt. Bring 300g water and 300g beurre monte to simmer over medium heat, add fish and simmer for 2 minutes. Remove the pan from heat and flip the fish over and let rest in pan for two more minutes. Transfer to warming tray lined with parchment and season with fine sea salt.
Plating: Take the tip of a small spoon and make a small mound of the citrus powder, the onion-caper powder, and the cilantro parsley-powder. Swirl these around in a hurricane type pattern. I found that it is easier, and you get finer lines if you lightly shake the plate to flatten out the mounds, then swirl the spoon through it to get the pattern. Peel the remaining banana into thin slices (3mm) fan three slices on the plate, place green beans on top and place skate wing portion on top. On the tall edge, sprinkle the brown butter powder.