Recipe: toasted coconut ice cream
Crazy month is off to a crazy start, but it's the Good kind of Crazy. Wanted to check in and make sure everyone is having fun, keeping off the streets, being good. Yes? Great! Some highlights from the week:
My night-blooming cereus (Queen of the Night) bloomed! Grandma always says it is a sign of good luck. While I believe we make our own luck, I'm not going to argue with Grandma and it's such a gorgeous flower that you can't help but feel a little special when it opens at night for a few precious hours. Last year was the first time my plant sent forth blooms. This year, the first one had a much stronger fragrance… how to describe it? Floral, delicate, lighter than a rose and in my opinion, slightly sweeter yet sharper. One blossom filled my entire house with that heady scent for the 8 hours it was open. I photographed it for four hours and because it is a *night-blooming* cereus, I used flash(es). [As I've tweeted in the past, for those who say to only shoot in natural light, I say to you "Stick it!"] I have some of the photos of the Queen of the Night bloom on the photo blog.

this flower is as big as my face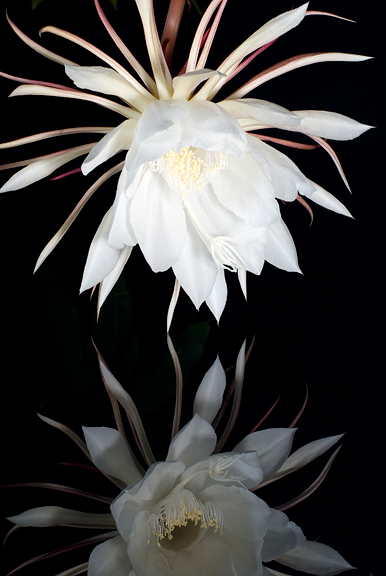 My parents and some very dear friends of the family were in Breckenridge this week for a Colorado vacation. Jeremy and I went out to meet up with them for lunch yesterday and since we were making the 2-hour drive, we figured we may as well grab a hike in the morning. We hiked Quandary Peak – our first fourteener in Colorado (14ers are peaks over 14,000 ft.) – as training for an upcoming trip. We saw four full rainbows on our way up the mountain and then lowered our heads as we plodded through the associated squalls (including stinging hail). We got to summit just as another dark front neared. I am not a peak-bagger. I love walking through the mountains and forests because the journey heals me. But standing on Quandary, I felt a small victory. I grinned and flipped an imaginary middle-finger to cancer (imaginary b/c there were other people at summit around me) while the winds tried to knock me over while Jeremy took a snappie.
i doode it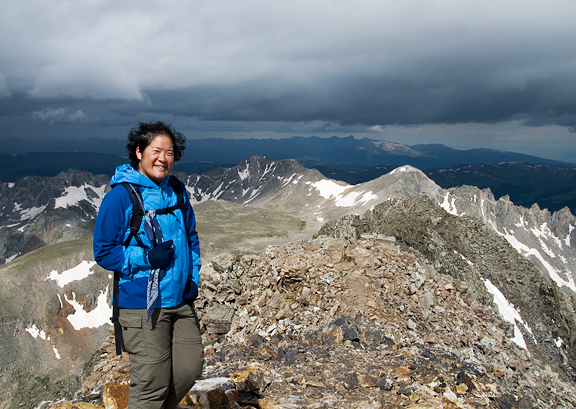 It's very entertaining when my parents go someplace I've been to (or live in) and tell me things like, "There's a ski resort in Vail!" :) It means they are having fun discovering things for themselves in their retirement, which is the very least they deserve since they worked hard all their lives. At lunch, my mom said there was an error in the Chinese spaghetti recipe – that I wasn't supposed to use sweet red bean paste, but sweet bean paste. Of course, I have never heard of sweet bean paste other than sweet red bean paste. The ingredient was lost in translation, so I'll have to go back and fix that (and perhaps FIND this mystery paste). My parents and our friends got a good laugh out of that one. My parents' friends are like family to us, so the visit was doubly sweet. I love their daughters as if they were my younger sisters. It felt great to catch up and see that they have become beautiful and fine young women – both doctors now (one MD, one PhD).
I noticed that my queue of recipes is piling up with ice cream lately. Better post those before it's too cold to want any… Although, when is it too cold for ice cream? When I made coconut macaroons a few months ago, I found unsweetened shredded coconut at my local Whole Foods and made a mental note to return for more later. As a kid, I always felt this ridiculous guilt for choosing certain flavors of ice cream over chocolate because you're supposed to love chocolate and I just – I just didn't! My heart belonged to butter pecan, pralines and cream, and toasted coconut. It still does.

you're so toast(ed)!
infusing with vanilla bean and toasted coconut
The other night when M was over for dinner, we began to talk about her upcoming trip to France. She's French and she goes back every year for a month before she heads down to Antarctica for four months of field work. The conversation with M *always* comes back to food at some point. I've directed her to a couple of my favorite French/France-related food blogs and sometimes while we're sitting at the dinner table, I'll reach behind me and pull a cookbook from the bookshelves. This time, it was
The Perfect Scoop
. Ah yes, I told her, you'll love this guy, this
David Lebovitz
fella. He is hi-larious. While talking and flipping through the book I saw the toasted coconut ice cream page and it wedged itself into my very little brain until I finally made a batch.
strain the liquid
stir cream into the custard
I like the crunchy munchy of coconut bits in my ice cream, but this recipe first infuses the cream-milk mixture with the coconut and then strains the coconut out (to be tossed). I was tempted to toast some more coconut to stir into the ice cream, but trusted that a smooth and creamy version would surely be irresistable. The fragrant vanilla and coconut overtones that wafted up from the pot as I stirred the custard transported my mountain kitchen to the tropics without the annoying sand in awkward places. Nice. Before I ran the custard through the ice cream machine, I added a teaspoon of rum which picked the flavor up just enough without making me look like some booze hound. Better. If you love coconut, this is a no brainer. If you don't like coconut, consider that Jeremy, He Who Shuns Coconut, really enjoyed this treat – and that was
before
I made the waffle cones dipped in chocolate and sprinkles!
yo ho and a bottle teaspoon of rum
tropical island life in a cone – with sprinkles, fo shiz!!!
Toasted Coconut Ice Cream
[print recipe]
from The Perfect Scoop by David Lebovitz
1 cup (70g) dried shredded, coconut (unsweetened)
1 cup (250 ml) whole milk
2 cups (500ml) heavy cream
3/4 cups (150g) sugar
big pinch of salt
1 vanilla bean, split in half lengthwise
5 large egg yolks
1/2 tsp vanilla extract or 1 tsp rum (go for the rum)
Sprinkle the coconut evenly over a baking sheet and bake in a 350°F oven for 5-8 minutes until it is golden brown. Stir it frequently so it toasts evenly (I managed to not stir it at all and it toasted unevenly, but it was still great!). Heat the milk, a cup of the heavy cream, the sugar, and salt in a medium saucepan until just steaming. Pour in the coconut. Scrape the vanilla bean seeds into the heated milk along with the vanilla pod. Cover and remove from heat. Let steep for an hour. Reheat the milk mixture and then strain through a mesh strainer making sure to squeeze out any liquid from the solids. Throw out the coconut and reserve the vanilla bean for some other use. Whisk the egg yolks in a medium bowl and slowly pour the warmed milk mixture in while continuing to whisk. Scrape the contents back into the pan. Stir mixture over medium heat with a heatproof spatula until the mixture thickens and reaches a nappe consistency. Strain the custard through a sieve and stir in the remaining cup of cream. Stir in rum or vanilla and chill completely (over ice bath or in refrigerator) before turning the mix into your ice cream machine per your manufacturer's instructions.