Recipe: chopped shrimp waldorf salad
Frenzied. I'm feeling frenzied here. There is much going on at use real butter headquarters because summer is when everything except sleep gets turned up to maximum intensity: travel, visits, socializing, entertaining, outdoor pursuits, house maintenance. Like a nearly empty tube of toothpaste, we're trying to squeeze every last bit of summer out of August before Jeremy resumes teaching. [Even though my summer runs through September, his does not.] You know the drill. Or maybe you don't? You might be one of those types who likes to relax. My idea of relaxing is doing something, so in essence, I can't relax. It's okay, I am happier functioning that way. From the still photographs, you'd never be the wiser for the flurry of activity going on behind the scenes.

can't resist fruity cocktails: piña coladas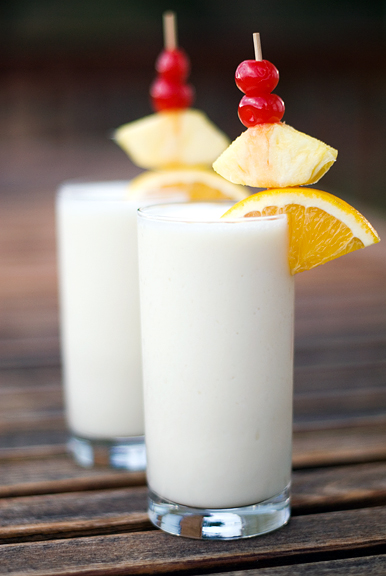 brilliant mammata clouds after sunset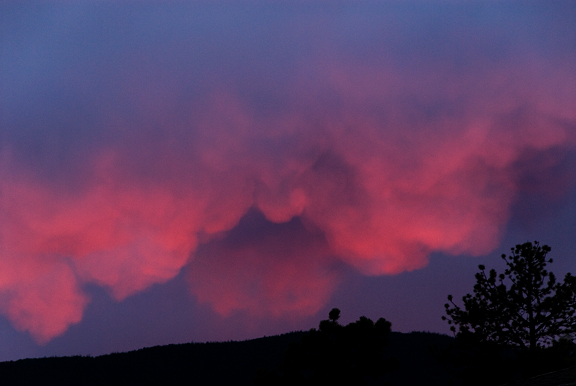 dinner at sushi den in denver with my parents and friends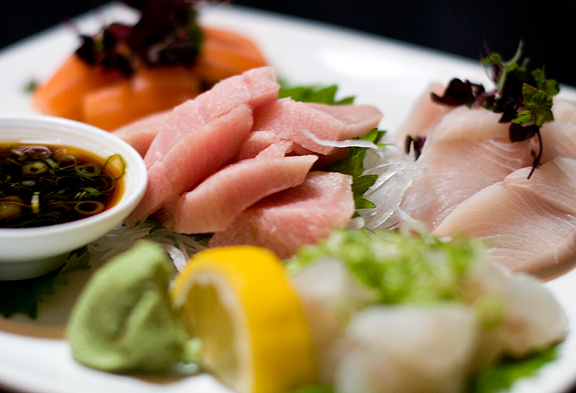 Speaking of, I have observed that our summer meals are much like a "flurry" in that they are typically quick, low on energy consumption, and easy. (My) Winter meals allow for considerably longer prep and cooking times, filling the house with warmth and good aromas after a long hard day of skiing our beloved Colorado powder (drifting off into reverie). Oh right – but what could be more quintessentially summer than a salad-as-meal? Just chop, toss, and eat.
a nice twist on the "waldorf": shrimp, cucumber, celery, apples, almonds, grapes
why yes, i used lovely little champagne grapes
I found this recipe for a chopped shrimp take on the Waldorf salad in my Fine Cooking library and immediately placed a sticky tab on the page. For me, this is the perfect summer meal when the weather is really bloody hot. Okay, second only to a giant slab of cold watermelon when the mercury rises above 90°F (rare in our mountains). As most of you know, heat makes me cranky and I lose my cooking mojo when it gets too warm around here. Washing and dicing fresh produce calms me down – relaxes me, if you will.
bibb (butter) lettuce
chopped and ready
Over the years I've migrated from store-bought salad dressings to making my own and now I find most purchased dressings to be disgusting with their thickeners and corn syrup and plastic taste. Dressings are so simple, but to sell them in bottles that get shipped around the world to sit on a shelf for months on end you have to add all manner of crap to keep them from going bad. *News Flash* The very process makes them suck. I have always migrated toward the vinaigrettes and so Fine Cooking's buttermilk dressing was new territory for me. Rocked my world, kids. Easy peasy and muy rico.
give the dressing a good stir
toss with the dressing (all pieces that jump ship are fair game)
This salad is deliciously simple, packed with crisp, crunchy, juicy components. I loved making little wraps with the delicate bibb lettuce leaves. The only problem I encountered was that the champagne grapes, since they're so tiny and hence didn't need to be sliced in half, bounced away if they fell out of the lettuce wrap. *Public Service Announcement* I had to chase those down before Kaweah could get to them because grapes in any form (wine, grape juice, raisins) can cause renal failure in dogs. *End PSA* My favorite thing about a salad like this is how easy it is to substitute ingredients to your liking: chicken, dried tofu, walnuts, jicama, curry powder in the dressing. So hey – have fun with that and get outside!
flavor AND fiber – hee hee
Chopped Shrimp Waldorf Salad
[print recipe]
Fine Cooking issue #79 with minor deviations for the lazy bums among us
1 lb. large shrimp, peeled and deveined
1/2 cup mayonnaise
1/3 cup buttermilk
1 tbsp fresh lemon juice
1 tbsp fresh tarragon, roughly chopped (I omitted)
1 tsp Dijon mustard
salt and freshly ground black pepper
2 cups Fuji apples, medium dice (1/4-inch)
2 cups red seedless grapes, halved (I used champagne grapes, whole)
2 cups English or Persian cucumber, medium dice (1/4-inch) (Jen's addition)
1 1/2 cups celery, medium dice (1/4-inch)
1/3 cup almonds, blanched, slivered, and lightly toasted
1 tbsp chives, thinly sliced
12 tender butter (bibb) lettuce leaves
Steam the shrimp over simmering water until just cooked, about 3 minutes. (I just tossed the shrimp into boiling water and let them cook for a couple of minutes until pink and drained them). Let the shrimp cool. Meanwhile, make the dressing by whisking together the mayonnaise, buttermilk, lemon juice, tarragon (I don't dig tarragon, so I left it out), and mustard. Add salt and pepper to taste. Cut the shrimp into 1/2-inch pieces. Combine the shrimp, apples, grapes, celery, and almonds in a large bowl. Toss with the dressing and adjust the seasonings with more salt, pepper, or lemon juice as you like. Sprinkle with chives. You can serve the salad on a bed of butter lettuce leaves or next to the lettuce so you can spoon salad into each leaf to consume like a lettuce wrap.