Recipe: chinese stir-fried shrimp with snow peas
Daring Cooks: Sorry DCs! Just like the last DB challenge, I was unable to squeeze this one into my schedule. Hope to be back in business next month.
H'okay! Now we are all set. I got my new lens in the mail on Friday and this morning the filter arrived. "The circle upgrade is now complete. When I left you, I was but the learner; now I am the master." I feel a little giddy holding this thing in my hands.

my first of the holy trinity of lenses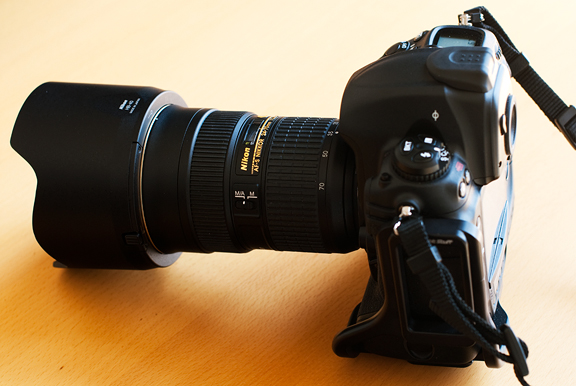 Fall is here, kids. We had a big cool down on Saturday replete with cold, damp fog, rain, and a minor frost overnight. It has warmed back up a little, but the mood is settling in quickly – that desire to throw on a snuggy, soft fleece. When I close my eyes, I can feel the warmth radiating from the oven, see apples in the golden autumn light, and smell cinnamon on the air. We took Kaweah for a quick walk yesterday and encountered a mother moose and her baby (which is as big as a Honda Civic) racing across the trail and disappearing into the woods. They're really quiet. Jeremy didn't even hear them, he only looked up when I stopped and said, "Moose!" Kaweah didn't notice a thing (too busy sniffing for deer poop).
fading daisies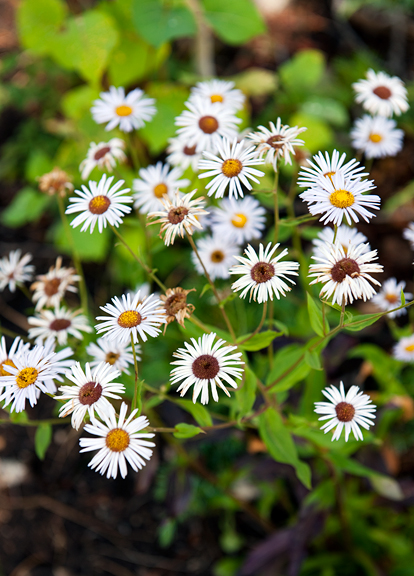 our old girl and her favorite rocks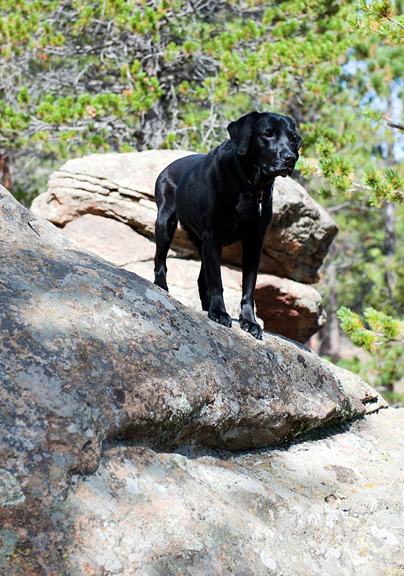 Today is Jeremy's birthday, which he actually missed – literally. That's because he was flying over the International Date Line last night and jumped a day ahead to the 15th. I joked that this might be the fountain of youth… but if you've ever flown coach from the US to Sydney it's more like the fountain o' misery. So happy birthday, Jeremy! We'll have a proper celebration when things settle down. For now, we'll settle for a tiny celebration of sorts. I don't know about you, but shrimp is always a festive ingredient for me. Maybe because it's expensive (granted, I typically buy fresh, wild-caught shrimp), but I think it has more to do with how happy shrimp looks. It's what I consider decorative with its curly, pink and white flesh. A perfect morsel to pop in your mouth.
mise en place: snow peas, raw pink shrimp, garlic, green onions, water chestnuts
butterfly the shrimp
This is among the simpler Chinese-style shrimp dishes I enjoy at home. Aside from peeling and de-veining the shrimp (which you can avoid if you purchase them shelled and de-veined) the preparation and cooking time are less than 20 minutes. The other thing about this stir fry is that it is totally flexible. You can add all manner of ingredients. My favorites: snow peas and water chestnuts. But maybe you like bamboo shoots, chinese black mushrooms, baby corn, straw mushrooms, carrots, red bell peppers, peas. Totally up to you.
snow peas and quartered water chestnuts
shrimp with a little cornstarch, salt, and shao xing cooking wine
My dad likes to add an egg white into the shrimp and mix it up, but he has access to a really good (high output) burner and sort of does a quick deep-fry of the shrimp. When I tried that, I got what looked like a war zone in my pan. I decided to omit the egg white on my second attempt. (I know Dad, I'm doing it wrong…)
mix the shrimp
sauté
I give my vegetables a quick sauté in a little oil and salt first (especially for the vegetables that take longer to cook like carrots or peppers because you really don't want to overcook shrimp). When they are *almost* cooked through, I remove them to a bowl. After I heat up a little more oil with the green onions and garlic, I will stir-fry the shrimp until they are just underdone. At this point, I add the vegetables into the pan and give a quick stir for a minute before pouring it onto a plate to serve. Just remember that overcooking shrimp and snow peas is a crime, punishable by law.
crispy and tender
Chinese Stir-fried Shrimp with Snow Peas
[print recipe]
1 lb. raw shrimp, shelled, de-veined, and butterflied
2 tsps cornstarch
1/2 tsp salt (to taste, really)
3 tbsps shao xing Chinese cooking wine
non-flavored vegetable oil
2 cups snow peas, trimmed and washed
1 cup whole water chestnuts, quartered
3 stalks green onions, washed, trimmed, and cut into 1-inch pieces
2-3 cloves garlic, roughly chopped or sliced
In a medium bowl, mix the shrimp, cornstarch, salt, and shao xing together until the shrimp is evenly coated. Heat a tablespoon of oil in a large pan on high heat. Sauté the vegetables (snow peas and water chestnuts) until they are just cooked (still undercooked). Season with a sprinkle of salt. Remove from heat and set the vegetables aside in a bowl. Add another tablespoon or two to the pan and toss in the green onions and garlic. When the oil begins to sizzle, stir the garlic and onions around and add the shrimp. Stir-fry the shrimp until they are just underdone (about 3 minutes) and add the cooked vegetables to the pan. Stir the shrimp and vegetables together for another minute until cooked and serve hot.