Recipe: grilled corn and chilpotle soup
Wednesday night I participated in an event that is rooted in a community I never even knew existed until a few months ago. Ignite is a movement that I have briefly mentioned in the past. I attended my first Ignite Boulder (#5) in July this year. The only reason I know anything about Ignite Boulder, Ignite in general, or the tech startup community in Boulder is because of my friend, Andrew Hyde (follow on twitter @andrewhyde). Ignite started in Seattle in 2006 – it's an evening of presentations for those with short attention spans: 20 slides that advance automatically every 15 seconds. That's right, 5 minutes. Ignite Boulder (founded by Andrew) is a boisterous, raucous good time. The audience is loudly supportive and the topics range from whimsical to erudite and EVERYTHING in between. The first time I viewed an Ignite online from another city, I was surprised to see how tame, respectful, and quiet the audience was. I think the Ignite Boulder speakers on average are far more dynamic and engaging… certainly the entertainment value is high.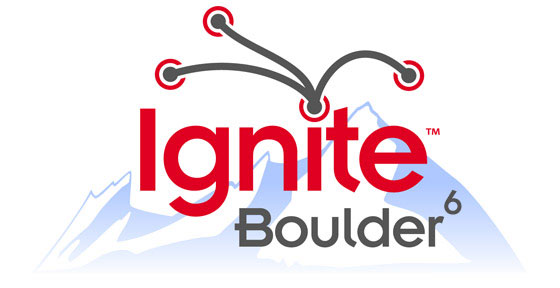 The majority of my online networking has been with people from all over the world because of this blog. But it was only a year ago that I began to interact with the local community when my immune system had recovered enough after the treatments. I think I have more readers in New Zealand than I do in Boulder, Colorado. Or at least, I used to. So last night, I was one of the presenters at Ignite Boulder 6. In fact, I was the first if you don't count Ef Rodriguez (follow on twitter
@pugofwar
) who energized the crowd with his awesome warm up talk/singing/performance. I was glad to go first, because then I could truly enjoy the rest of the 13 talks without worrying about my own anymore. I met people who read
use real butter
, people who I follow on Twitter but never met IRL (in real life), and people I had no idea existed and vice versa – but I'm glad they do, because they're wonderful and fascinating… like a shiny new mountain bike.
dave burdick (@daveburdick) draws parallels between journalism and "ghost busters"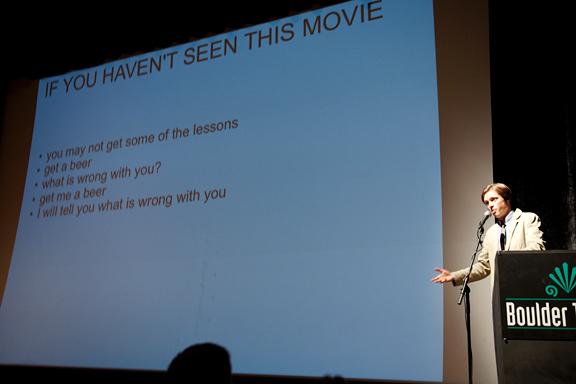 It was the first time there were more female speakers than male speakers. Sweetness. Overall the talks were terrific. I have too many favorites to call them favorites. There were a few rows of seats reserved in the front for the evening's speakers and I sat next to a quiet and unassuming gentleman who seemed a little nervous. We introduced ourselves and he told the rest of us he was going last. We all sympathized – that's hard to do. Lots of pressure and stress, but huge potential. He told me his talk was titled, "Reward and Risk". I figured it was about pure game theory.
michael brown (@seracfilms) on reward and risk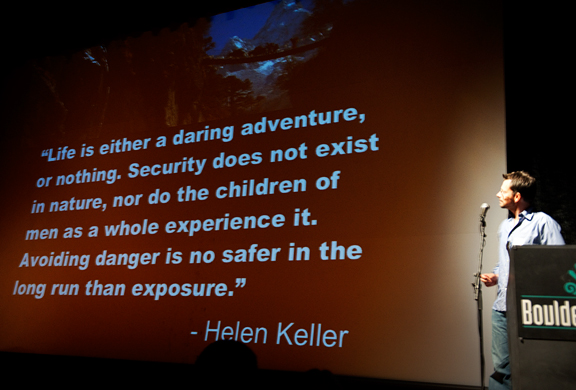 He's the president of
Serac Adventure Films
and put reward and risk in the context of mountaineering. At the end of the presentation, there were three short trailers he played that moved me to tears. You can see the first of these breathtaking trailers
Farther Than The Eye Can See
at their website.
Helen told me she couldn't see the live feed of my talk until the last slide, but luckily for all of us, Manisha was in the audience recording the presentation (thank you, sweetie!!). That amazing woman had it on YouTube before the night was out! I'm including a link to my slide presentation because some folks have complained that the slide in the venue was dim. Just remember that Ignite Boulder is LOUD, the audience traditionally participates enthusiastically (and I can hear Nichole giggling nearby in the audio). Definitely watch the video to see how the timing works.

The Jeremy who graciously tossed cookies (hee hee) out to the audience for me at the end of my talk is Jeremy Tanner (
@penguin
). My Jeremy (
@drdarling
) was in Australia giving a talk at the same time (he literally missed my talk by a few minutes)! Except his talk was on astrophysics, not food porn.
mountain standard time performed for the intermission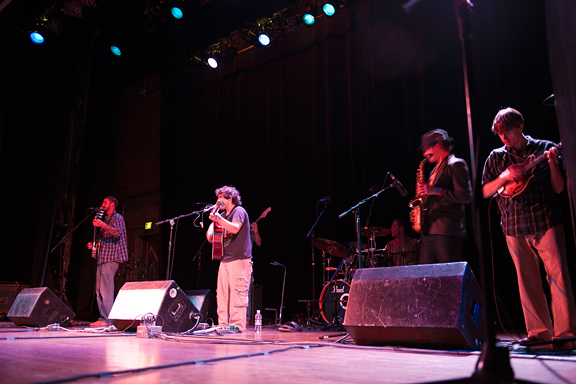 I'm so glad I gave an Ignite presentation because it makes me less of an observer in this community and more of a participant. I think I'll always be dabbling on the periphery just because I value our quiet mountain life over The Scene in Boulder, but I am meeting fascinating people with big ideas and even bigger hearts. And I dig that.
We are approaching soup weather, but not the kind of soup soup that simmers forever and fills the entire house with steam and the aroma of a deep and rich broth. This is a perfect transitional soup (transitional for the seasons) because it takes advantage of corn as the season begins to wind down and yet it doesn't require a huge investment in cooking time.

corn corn corn, makes you glad you were born
could it get any sweeter than this?
I had this soup ages ago in New Mexico. My MIL gave me the recipe and in the past decade I've made it about once every 3 years. Each time I forget that I made it too hot (spicy) the last time. This was no exception.
cut the kernels off the cob
purée red onions, corn, chilis, spices, and water
I don't use chilpotles in my cooking much, I just chuck those suckers in. Erring on the side of caution means you can still eat the soup, whereas making it too hot means it sits in a tupperware in the refrigerator until I can doctor it down. The problem is that I made a half batch of the recipe and where it says two to three chilpotles, I used two because I didn't want it to be weak with just one. That soup is cooling its heels in the back of the refrigerator patiently waiting to peel out the inner lining of someone's GI tract. I have had neither the time nor the stomach to deal with it just yet.
add cream (i used half and half) to cut through the heat
mixing the relish
I'm pretty sure if I had used one small chilpotle, it would have been fine. I'm not a spice-wimp either, but for some reason it felt like there was a little dragon in my belly… for two days. The soup is pretty rich with so much whipping cream (a quart!?). I opted for a marginally healthier half and half substitution, but I also think adding some homemade chicken broth would broaden the flavor a tad. Then again, the only flavor we could taste after a while was the chili pepper. Seriously, it's a good soup and you can omit the chilpotle altogether if you're afraid. A little fear is a healthy thing.
dishin' it up
Grilled Corn and Chilpotle Soup
[print recipe]
from Blue Corn Cafe and Brewery in Santa Fe
6 medium ears of sweet corn
2-3 chilpotle peppers (use 2 or 1 if you're skittish)
1 large red onion, minced
2 cups water (perhaps sub in homemade chicken broth here)
4 cups whipping cream (I substitute half and half)
white pepper, to taste
cumin, to taste
1 avocado, peeled and sliced (optional)
relish
modified by my laziness
reserved grilled corn
1 tbsp red bell pepper, diced
1/8 tsp jalapeno pepper, minced
1 tbsp honey
3 tbsps white vinegar
salt to taste
Shuck the corn and rub with oil and salt. Place on heated grill. Keep an eye on the grilling because the kernels should blacken and pop some, but not entirely. Turn the cobs as the kernels begin browning. When nicely browned, remove from heat and cut the kernels off the cob with a sharp knife (please be careful). Divide the corn in half. Combine half the corn with the onions, chilis, spices, and half of the water or broth in a food processor and pulse until it forms a coarse paste. Add more water (broth) as needed. Leave it a little chunky if that is your desire. Empty the contents into a saucepan and stir in the cream (or half and half). Heat to a boil and reduce to a simmer. Let it simmer for 15-20 minutes. If you want the fullest flavor, reduce the volume of the soup by half. Mix the relish ingredients together in a bowl and cover for at least an hour. Serve the soup with the relish and avocado.