NaBloWriMo day #11.
There is much going on and I will completely understand if you've missed the news from the past few days. Just look at the top of the page where I have links to posts on the Good Bite-Quaker Oats competition where my chosen charity Farm to School could win $10,000, and on my giveaway for a $25 gift card to Macy's.
Today (Sunday) was the first day of the Eat on $30 challenge that Tami of Running with Tweezers is hosting. I'm proud to say that I'm participating in this hunger awareness campaign. Yes! Yet another one! I told Tami if all the leaves in Colorado had fallen or were brown by this week (i.e. no reason to scour the state to shoot fall colors), I'd join. So here I am. I discussed the idea of the campaign earlier and got a lot of reader comments and suggestions. This isn't just about seeing if I can feed my household on $30/person, it's about getting a dialogue started about hunger in this country and maybe understanding the predicament that so many Americans find themselves in today. What does it mean to eat on $30?

produce i bought for the week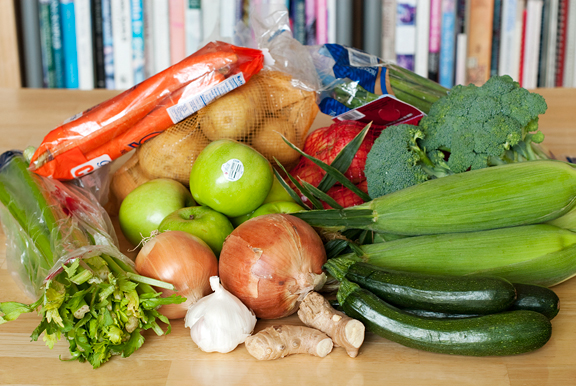 Eating on $30 is *easy* if you have access to a library of spices, typical staples (I always have butter, flour, rice flour, sugar, brown sugar, confectioner's sugar, rice, beans, soy sauce, sesame oil, olive oil, vegetable oil, vinegar(s), ten different kinds of Asian noodles, dried cranberries, almonds, walnuts, pecans, pine nuts, hazelnuts, chocolate(s), chiles, etc.), and a freezer full of homemade broths and meats. It's *easy* if you have a garden. It's *easy* if you live in a place where food is cheap and you have access to terrific and affordable farmer's markets. This is not about the EASY. This is about what struggling Americans have to deal with. Forgive me for having a little (or a lottle) attitude, but people who act indignant that others can't make ends meet really chap my hide. As if the poor are at fault for being poor or hungry.
meats and most of the dairy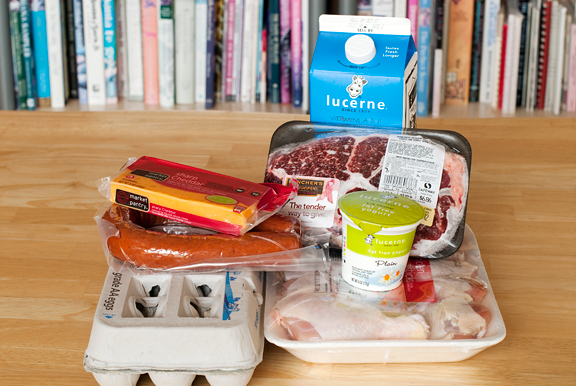 As far as I'm concerned, the hard part of Eat on $30 is over. That would be the menu planning, price comparison, and shopping. Now I get to cook (easy) and eat (easier). Let me describe my situation first. I live in a small mountain town of 1500 people at 8500 feet above sea level. We have snow on the ground from as early as September to as late as May. There is a decent (but small) local grocery store and a local co-op. Both places are on the expensive side for what I deem less than quality produce and it's hard to find certain ingredients. Boulder is the nearest town of sizable population (~100,000) and it is a 30 minute drive down a steep and windy canyon from my town. I try to shop ONCE a week in Boulder. Food in Boulder is not cheap. We spend approximately 50% more on food per week than we did when we lived in Southern California. The quality of our groceries is lower and the selection is smaller. I shop primarily at Safeway, Costco, Whole Foods, and my local Asian grocer. I prefer organic, local, and sustainable products when I can get them. To be able to make a statement with my dollar is a luxury.
grains, canned foods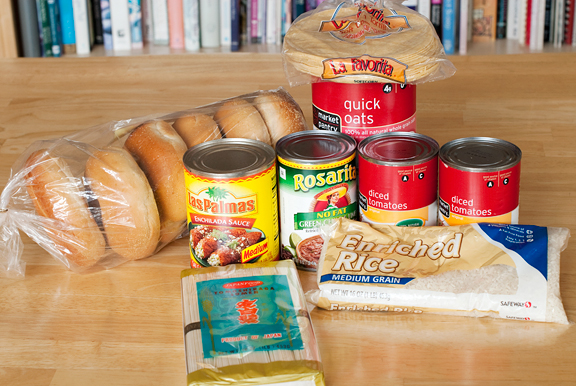 My approach to the challenge was to keep our eating habits as normal as possible. That means meat, vegetables, fruit. Tami gave us four gimmes: salt, pepper, oil, and butter. Because I am making a dessert to take to a party on Saturday, I threw butter into my budget since I needed more than just a smear on some toast. I opted out of Costco because I think that's cheating. The membership is something like $40 (see, I don't even know anymore) but the cost of volume, as I discussed before, is a large cost up front that people on food assistance likely don't have available to them. In a few instances, I took down the price of things like flour, sugar, brown sugar and added them to my costs without purchasing them since I have all of those things at home, taking care to note the amount used is less than or equal to the amount I theoretically purchased.
what i bought for the week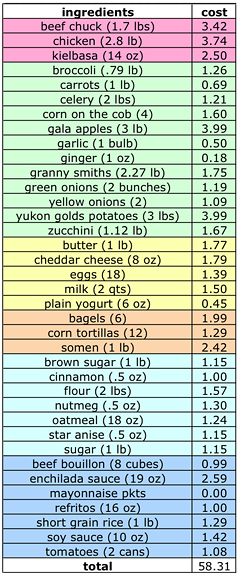 This is what happened:
1) I didn't purchase a single organic product because it was never cheaper than its conventional counterpart.
2) No desserts or sweets except for the dessert that I'm bringing to a party on Saturday.
3) I shopped at three different stores to get everything I needed for the week (Safeway, SuperTarget, and a local spice shop which I'll talk about this week).
4) Total time to plan, compare prices, and shop took over 8 hours.
5) Most of the foods I am preparing this week are not necessarily fast or easy.
6) Given the choice between crappy coffee and no coffee, Jeremy chose no coffee.
7) We are drinking water and Jeremy got a half gallon of milk. (I really like water, so it's cool with me).
8) We are not dining out at all except going to a potluck party.
Thoughts so far:
1) In some ways, the challenge isn't realistic because even those on food assistance don't need to purchase small amounts of cinnamon or rice (for example) every week. There ARE some items that can be used from one week into the next. However, I think the items you can't purchase in bulk (because they cost too much) and must therefore buy at higher cost for a smaller quantity balance or outweigh the little staples.
2) Who the hell has the time to track sales and drive all over the place to search for the cheapest x, y, and z? What if they don't have a car? What if they work two or three jobs? Cost of transportation is neglected in the challenge, but is another concern for those on food assistance.
3) The shopping alone made me very aware of the choices I am fortunate to have. Let's say the difference in cost for organic potatoes over conventional potatoes is $1 – I normally pay the difference without thinking twice. I'll plunk down $20 for a sale on good meats and divvy them up at home and freeze them to use over the next few months. That saves me money over the long term, but it would screw me had I done it this week.
4) Thank goodness for the extra $6-$9! The average amount of money an individual receives on food assistance programs is really between $21 and $24, not $30.
5) I hate that Boulder doesn't have a Trader Joes.
6) I have a love-hate relationship with Whole Foods. More on that in another post.
This morning, we skipped breakfast because we do that a lot when we go hiking on weekends. We took Kaweah for a walk in the local mountains to scope out the backcountry ski conditions. We always keep emergency fruit leathers and other snacks in our packs, but this time we couldn't eat them because they weren't in the budget (plus, they'd send us over budget if we DID eat them). It was 19°F at our house, but at 10,000 feet it was a balmy 37°F! INVERSION! The winds were blowing snow every which way on the mountains, but it was moderately sheltered in the trees.

my best buddies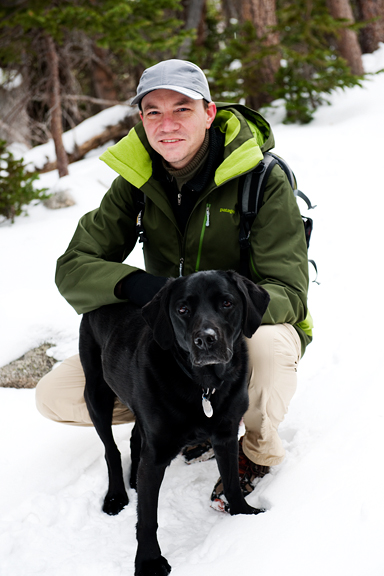 stormy weather on the high peaks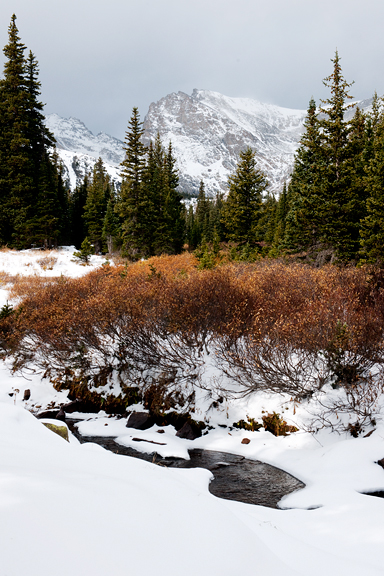 By the time we got home, we opted for a quick brekkie since everything else on the menu for the week required cooking, which I hadn't started. We each had a small bowl of instant plain oatmeal which I flavored with some brown sugar, cinnamon, and a tiny bit of butter. Then we split a toasted bagel and each had an egg (one scrambled egg sheet and one sunny side up).
nothing like mountain weather to whet the appetite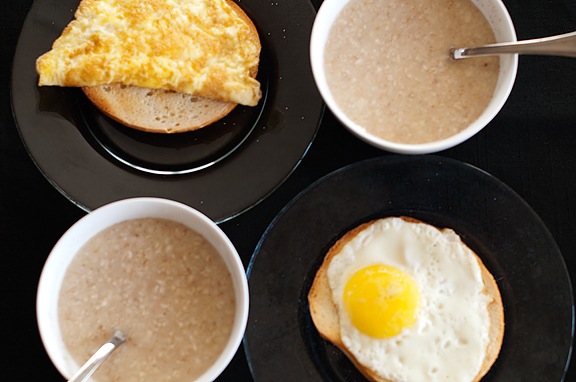 I spent the rest of the day cooking a lot of food. That's how we did it in graduate school – Sunday was the day I cooked several large pot dishes that would feed us during the week. My motivation for cooking up most of the food today was because I didn't want the meats or produce to spoil and also to give us some variety during the week.
the ingredients for soy sauce chicken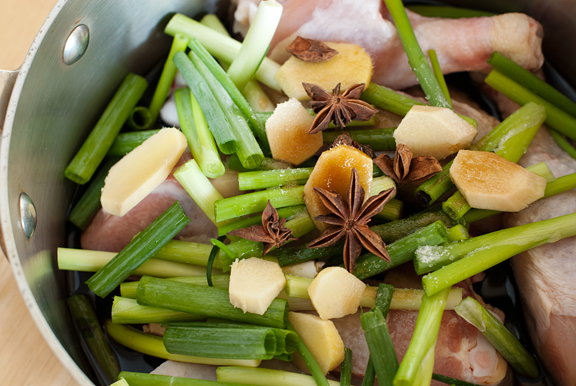 8 hard-boiled eggs for soy sauce eggs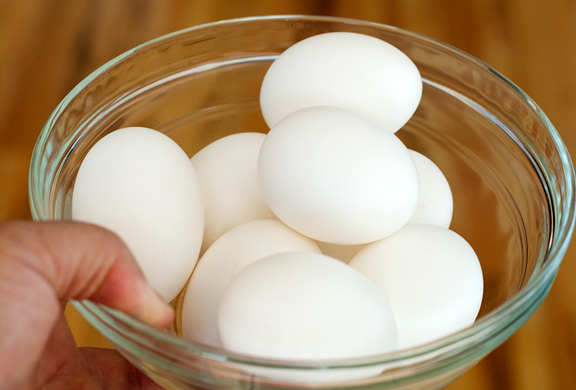 Our dinner tonight was somen noodle soup with
soy sauce chicken
(1/2 the chicken drums, soy sauce, green onions, ginger, star anise, sugar, water),
soy sauce eggs
(eggs and broth from the soy sauce chicken), stir-fried broccoli with garlic (broccoli and 3 cloves garlic), and broth from the soy sauce chicken.
sprinkling the green onions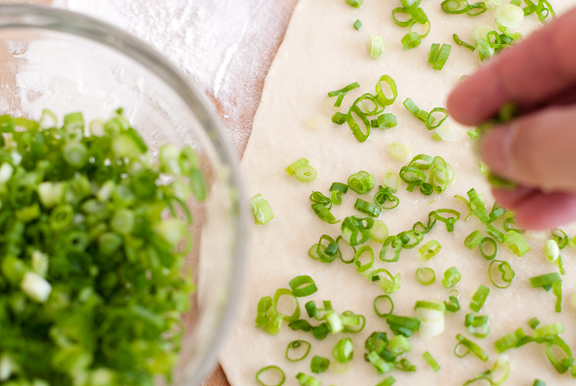 this will supplement several meals nicely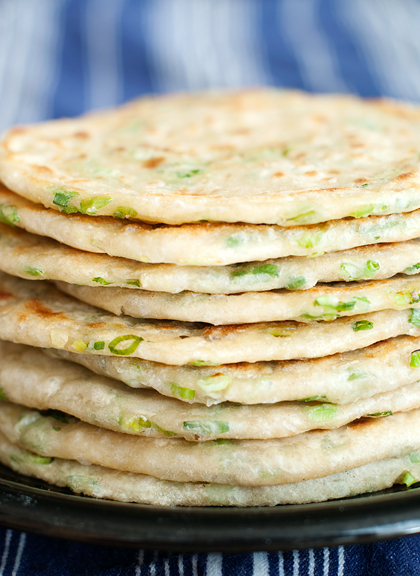 I also made a bunch of
scallion pancakes
from flour (1 lb. 5 oz.), water, the remaining green onions, oil, and salt. Dessert was a gala apple for each of us. I didn't finish my dinner because I was full (we ate the first scallion pancake off the pan because we were really hungry) and later when I got peckish, the apple was perfect.
chinese noodle soup and scallion pancakes for dinner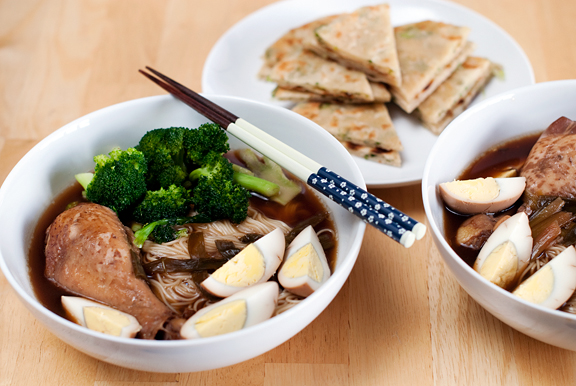 Stay tuned for the rest of the week of Eat on $30 here on
urb
. Follow or join the discussion on Twitter using hashtag #eaton30. And definitely check out/cheer on the awesome group of bloggers participating:
Our faboo hostess: Tami of Running with Tweezers – Twitter @runwithtweezers
Betty Joan of Trouble With Toast – Twitter @bettyjoan
The Broke Socialite – Twitter @brokesocialite
Carrie Neal of carrienealland – Twitter @carrienealland
Diana of A Little Bit of Spain in Iowa – Twitter @dianabauman
Frugal Hostess – Twitter @frugalhostess
Hailey of Hail's Kitchen – Twitter @hailskitchen
Jimmy of Eat It Atlanta – Twitter @EatItAtlanta
Kristina of Tennessee Locavore – Twitter @TNLocavore
Mike's $30 Project Blog – Twitter @boutte
Paula of Bell'alimento – Twitter @bellalimento
Robert of WhizKid Sound – Twitter @rdyson
Susan of Doughmesstic – Twitter @doughmesstic
Zach of Mise en Face – Twitter @drzachary