Recipe: tomato soup
It WAS cold outside. Today the weather is bounding back up to a balmy 24°F around here and that means wind – lots of wind. But before the winds came howling through, we had a couple of incredibly peaceful and calm days. It even snowed (thank goodness). It's a morning ritual when snow has fallen to check the mountain stats at Eldora, our local ski hill. They reported almost a foot of new snow and a current temperature of -6°F. Normally I wouldn't go near the mountain if they were below zero because our typical winds would make that a less than pleasant experience. But it was a completely calm morning and the sun was shining so… -6°F didn't sound so bad!

glorious morning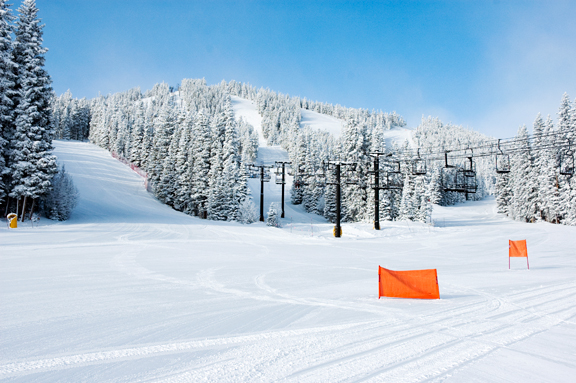 so the black runs are still roped off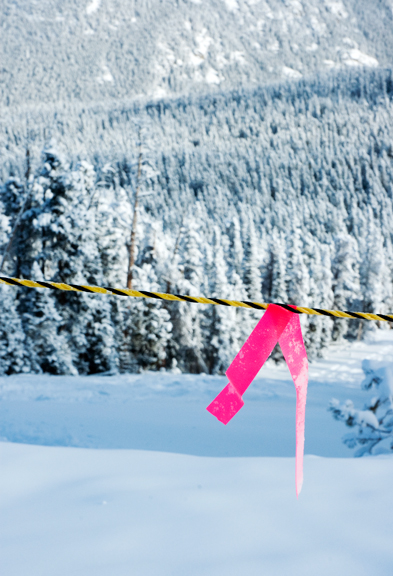 We had a solid first day of the season. I know it's rather late, but if someone can find my snow… thanks. Eventually, the cold did get the better of us and it was time to head home. As my toes endured the painful thawing process in the car, my thoughts turned to some leftover soup I had waiting in the refrigerator. Last month I had posted about a
grilled steak sandwich
which I love to pair with a bowl of hot tomato soup. So many people asked about the tomato soup! In all honesty, I buy Pacific Natural Foods' organic tomato soup. It's one of the few that doesn't have milk products and actually tastes good to me. But you people shamed me into making my own tomato soup because it seems ridiculous that I have never done it before.
dice an onion
and some garlic
I wondered if I could even attempt making tomato soup seeing as fresh tomatoes are many many months away. While I was looking for another recipe, my eyes scanned across the words
TOMATO SOUP
on the spine of a Fine Cooking issue – March 2008 to be precise. Flipping through, I discovered that I didn't need fresh tomatoes. In fact, they recommended my favorite brand of canned tomatoes. While I would normally use some of my own homemade chicken broth, I didn't have any on hand (I've been on task to try and clear out the freezer). When you use your own chicken broth, any store-bought variety is inferior, plain and simple. In a pinch, I'll use Pacific's organic chicken broth.
melt butter and olive oil
chicken broth and canned tomatoes
Had I known that making your own tomato soup could be so easy, I probably would have started making mine from scratch years ago. I particularly like that I can control the amount of salt and sugar that goes into my soup. Most recipes add far too much of both for my taste.
adding flour to sautéed onions and garlic
pour in the puréed tomatoes
So I have a question about blenders… Do the buttons on a blender mean anything? Do they perform different tasks besides the OFF button? Chop, Grind, Purée, Crush, Mix, Blend, Stir, Massacre? I massacred those tomatoes into a purée and had to wonder about that. Anyone?
let simmer for 40 minutes
one last spin through the blender
When the soup was ready, so was I. You cannot have tomato soup without a grilled cheese sandwich. Just like you cannot defy the Laws of Physics… EVER. If you've never made your own tomato soup, I encourage you to try it. I discovered that I could really taste the tomatoes front and center for the first time without the added sugar and salt that normally plagues most canned or boxed varieties. It's a little disconcerting to think how some mainstream food brands have conditioned us into expecting tomato soup to taste like a bowl of sodium. Now I'm excited to give this
roasted tomato soup recipe
a try.
serve warm and happy
Classic Tomato Soup
[print recipe]
from Fine Cooking issue #91 March 2008
2 tbsps extra-virgin olive oil
1 tbsp butter, unsalted
1 large white onion, finely chopped
1 large clove garlic, smashed and peeled (okay, I minced it)
2 tbsps all-purpose flour
3 cups lower-salt chicken broth
28 oz. whole peeled plum tomatoes, puréed (include the juice)
1 1/2 tsps sugar
1 sprig fresh thyme
kosher salt and freshly ground black pepper
3 tbsps thinly sliced fresh basil, chives, or dill, or a mixture of the three
In a non-reactive 5- to 6-quart stock pot or Dutch oven, heat the oil and butter over medium-low heat to melt the butter. Add the onion and garlic, stirring periodically until translucent and soft. Take care not to brown them (which is what I accidentally did). Stir in the flour until the onion and garlic are coated. Pour in the broth, puréed tomatoes, sugar, thyme, and about 1/4 teaspoon each of salt and pepper. Bring the soup to a simmer over medium-high heat while stirring to prevent any sticking on the bottom of the pot. Reduce the heat to low and let the soup simmer, covered for 40 minutes. Remove the thyme sprig and let the soup cool a little before puréeing it in a blender or a food processor. Rinse the pot (or do like I did and just grab another one) and pour in the soup. Season to taste with salt and pepper and reheat if it has cooled too much. Serve warm, garnished with herbs. Makes 8 cups.