Recipe: french onion soup
Oh, you are all so very very sweet. Thank you for the kind wishes and new year's greetings! I hope we ALL have a great 2010 and beyond. I'm definitely much better now from that nasty sinus infection although there is some lingering congestion, kinda like when some guys don't get the hint and they just keep hanging around… ;) If you attended a technical university, you will most definitely know what I'm talking about. Anyhow, I realize I've fallen dreadfully behind on the comments and well – I'm not sure that I'll be able to get to them this week just yet. See, I'm in Virginia.

the land of krispy kreme donuts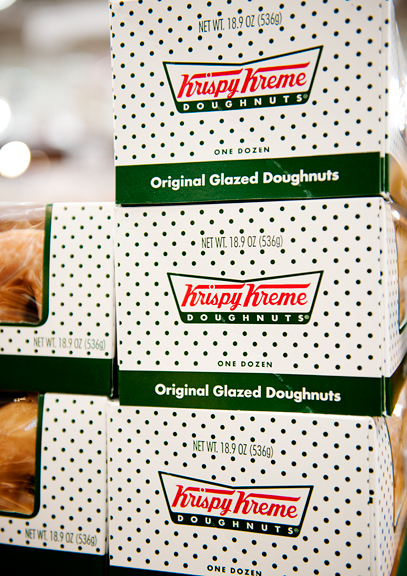 and southern haaaaaaaaam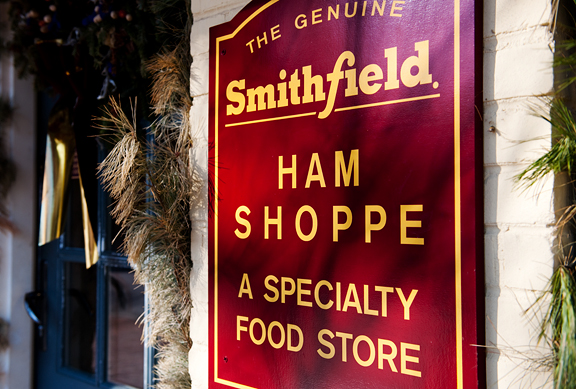 I'm chilling out with my parents at their place. Their current house is relatively new (same neighborhood). It isn't the house I grew up in, but I noticed while walking through the rooms that it still feels familiar to me. Even though the building and the furnishings have changed, there is a sense of coming home.
entering the house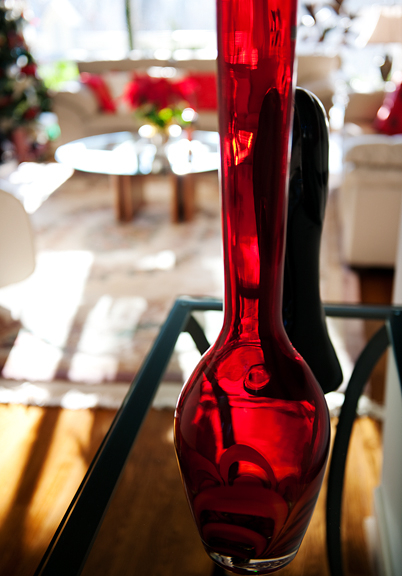 the sunroom overlooking the water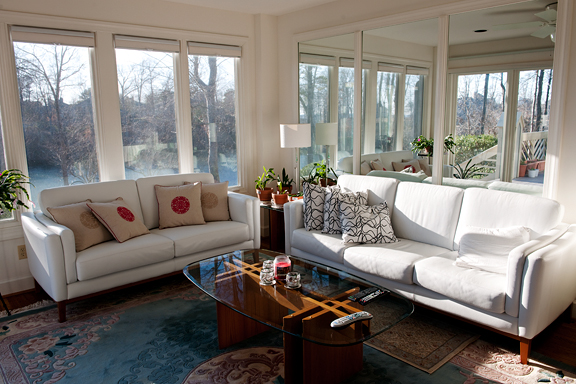 My mom and dad were so excited about my visit that they had been calling me for days before my arrival to plan out every single meal (typical foodies, no?). When your head is full of mucus and you feel like crap, it's hard to imagine wanting to eat anything – and I didn't. However, the day before I flew out I suddenly found my spare time thoughts racing from one recipe to another. I had been worried that I had lost my cooking mojo, but it was just the blasted flu and sinusitis muddling up my brain. Mom made me Chinese hot pot the night I arrived – the perfect remedy to any cold or flu. Tonight, my dad prepared a "simple" meal of rack of lamb and I offered to slap together some roasted vegetables to go with it.
brussels sprouts and potatoes for roasting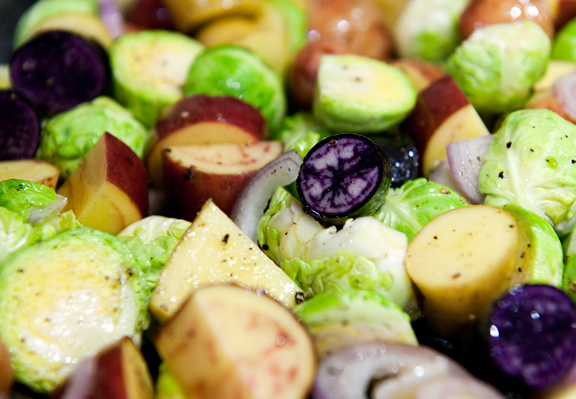 dad slices the rack of lamb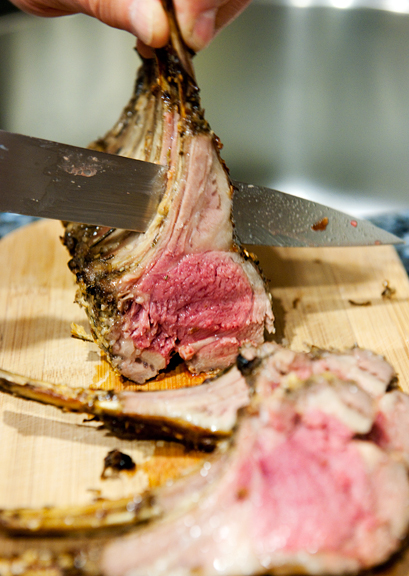 my parents' idea of a simple meal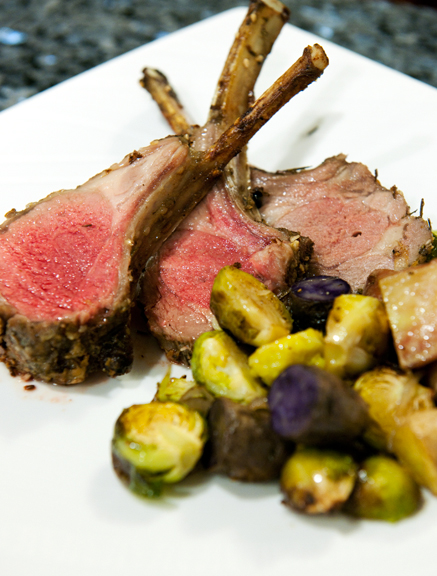 I'm trying to pace myself because 1) I know they have a marathon of food lined up and 2) I haven't regained my appetite completely… although it's easier to have an appetite when the food in front of you looks and tastes amazing. In any case, I'll have the camera at the ready to document the culinary proceedings. Jeremy will join us toward the end of the week after his conference is over.
Being back in my hometown reminds me of my earliest cooking years when I joined my neighborhood 4-H group. We learned to cook French onion soup one day at 4-H and it was forever etched in my brain as something so easy a fifth grader could do it. I think that's a great solution to overcoming fear – learn to do it young. Man, I wish I had learned to ski moguls and glades as a kid…

onions and thyme
sliced bread for croutons
I'm not typically a huge fan of cheese and while I like onions I'm not *crazy* about onions, but put them together in this soup and I have a hard time turning down a bowl with all that melty, cheesy goodness bubbling on top. If you make this recipe in winter you get the added bonus of filling your house with the wholesome aroma of homemade soup while you fill your tummy with the actual soup. It makes for a perfect après ski meal.
toasted croutons
pouring broth into the caramelized onions
You can make this as easy or as complicated as you like, mostly depending upon whether you make the broth from scratch or not. And if you've never caramelized onions before, I have notes in the margins of this recipe that read, "have faith, they will caramelize."
set croutons and cheese in bowl
more cheese, please
I guess some recipes call for broiling the crocks briefly to melt the cheese, but I prefer how this recipes bakes them for a good half hour. It heats the whole ensemble through so that it's piping hot when you take it out of the oven. Makes for maximum enjoyment when you dig in. Just please please please make sure your crocks or bowls are oven safe.
i have found the center of the galaxy, and it is this bowl of soup
Jacques's Onion Soup Gratinée
[print recipe]
Julia and Jacques, Cooking at Home
2 tbsps oil
1 tbsp butter
1.5 lbs. onions, peeled and thinly sliced (about 5 cups)
1 tsp fresh thyme sprigs, minced (or 1/2 tsp dried)
1/2 tsp salt, or more to taste
5 cups hot chicken stock (I used beef), homemade or low-sodium canned
1/4 tsp black pepper, freshly ground
1/4 cup red or white wine (optional)
for each crock of onion soup gratinée
3-4 slices of baguette, about 1/4-inch thick cut on the diagonal
2-2.5 oz Gruyère or Emmentaler cheese, grated (about 3/4 cup)
Heat the oil and butter in a heavy 3- or 4-quart saucepan over medium-low heat. When the butter is melted, add the onions, thyme, and 1/2 teaspoon of salt. Stir together well. Cover the pan and cook for about 10 minutes. Give it a stir from time to time. When the onions are tender, remove the lid and increase the heat to medium. Cook another 20-25 minutes, stirring often, until the onions have caramelized (dark golden color). You can reduce the heat if the onions look like they may burn. Meanwhile, heat the stock in another pot. When the stock is hot and the onions are caramelized, stir the stock into the onions and bring the soup to a boil. Taste and adjust seasonings adding salt, pepper, and wine if you like. Cover and simmer for 10 minutes. Toast a dozen or so baguette slices on a baking sheet in a 400°F oven until crisp and starting to turn golden (10 minutes). When the soup is ready, place the croutons (whole or broken) into the bottom of each oven-safe crock and sprinkle 2 tablespoons of cheese on top. Arrange the crocks on the baking sheet. Ladle in a cup or more of soup to about 1/4 inch from the rim. Mound grated cheese all over the surface of the soup to cover. Repeat for each crock. Place the baking sheet with all the crocks in the oven for 30 to 40 minutes until the cheese turns golden and crusts over the soup. Move the crocks carefully onto individual plates and serve. Makes 5-6 small crocks.
more goodness from the use real butter archives