Recipe: navy bean soup
I hope everyone had an enjoyable weekend doing whatever it is that you do. As a rule, Jeremy and I do not participate in any form of Super Bowl anything. Typically, we spend that particular Sunday each year hiking or skiing and this year was no exception. Mother Nature can be a cruel prankster at times. While she dumped a few feet of snow on Virginians who don't know what to do with said snow (other than to bitch and moan about it), we in Colorado got some scraps that amounted to a little fresh powder in the mountains. Naturally, we ski it.

snowing lightly in the glades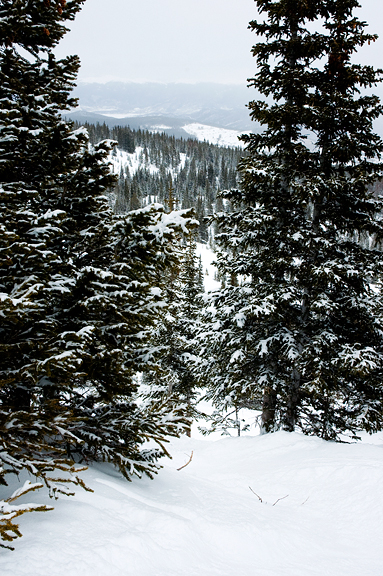 There are certain foods I crave after a day out in the snow. The most common would be the ubiquitous hamburger because you smell them as you ski past the mountain lodges and Breckenridge even has a picture of a juicy burger with all the fixings on some of the lift chairs (those bastard marketing geniuses)! Jeremy and I are pretty good about withstanding the lure of the $12 burger because we usually have some nice hearty soup or stew waiting for us at home.
loaded with nutritious vegetables
and remember that ham i brought home from virginia?
I love to make navy bean soup, but this recipe calls for country ham which I only have in my possession on rare occasion. I've had this recipe for over 15 years such that I have no idea where it came from… probably rec.food.cooking – anyone remember those newsgroups? Anyway, since I had some Virginia ham in the fridge, I made a couple of batches of this lovely navy bean soup. It's hearty without being overly meaty.
diced vegetables, chopped parsley, chopped ham, navy beans
sautéing the vegetables
The original recipe called for dried beans and I tried that once. That was not a happy time in Tummyville, let me tell you. I know, I know – I need to invest in a pressure cooker to get beans just right at this elevation. In the meantime, I am perfectly satisfied substituting canned navy beans for now. [A navy bean is bigger than it seems.]
add beans and broth
cooking down the fresh tomatoes
I often use a can of diced tomatoes in the soup, but this time I happened to have a pound and a half of fresh tomatoes on the vine that I needed to finish off. It's a more time-consuming task to peel, de-seed, and cook down the fresh tomatoes, but the flavor is certainly superior to canned tomatoes.
purée two cups of soup
finish with parsley, ham, and seasonings
The final soup is a vibrant bowl of vegetables, beans, and ham. It quickly warms the core and satisfies the stomach. If you let it sit overnight, the flavors meld together nicely.
and it's good for you
Navy Bean Soup
[print recipe]
I honestly don't know where I got this recipe from, I've had it THAT long
1 lb. dried navy beans (or in my case, I used 4 cans of navy beans)
3 tbsps olive oil
1 onion, medium dice
4 cloves garlic, minced
3 stalks celery, diced
4 carrots, diced
2 quarts chicken broth
14 oz. can diced tomatoes (or 1 1/2 lbs fresh tomatoes, peeled, seeded, diced)
1/2 lb. country ham, chopped
2 tbsps Worcestershire sauce
2 tbsps fresh flat-leaf parsley, chopped
1 bay leaf
1 tsp pepper
salt to taste
Soak beans in water overnight, then drain. Heat the olive oil in a large stock pot on high heat and sauté the onions, garlic, celery, and carrots until soft. Add the beans and broth. Bring to a boil and then reduce the heat to let the soup simmer for an hour. Remove 2 cups to a food processor (or use an immersion blender) and purée until smooth. Add the purée back to the soup. Toss in the tomatoes, ham, Worcestershire sauce, parsley, bay leaf, and pepper. Salt to taste. Simmer for another hour. Remove the bay leaf. Serve hot. Makes approximately 14 cups (3.5 quarts).