Recipe: stir-fried beef with chinese barbecue sauce
There just is not enough time in a day. Or a week for that matter. It's February! How did this happen? Either my memory sucks (always a possibility) or more likely than not, I've packed my calendar to the hilt. Okay both. Work hard. Play hard. Sleep is for losers. Last night was Ignite Boulder 8 and it was the largest Ignite in the world topping out around 830 attendees! Word. Every time I go I'm amazed and impressed by the organizers, the speakers, and the community. I've snuck peeks at other Ignites around the country online and well… *yawners*. Boulder's Ignite is aptly named (it's IGNITE, not FALL ASLEEP). Every time I come home after an Ignite Boulder, my face hurts from laughing and smiling so much.

head honcho andrew hyde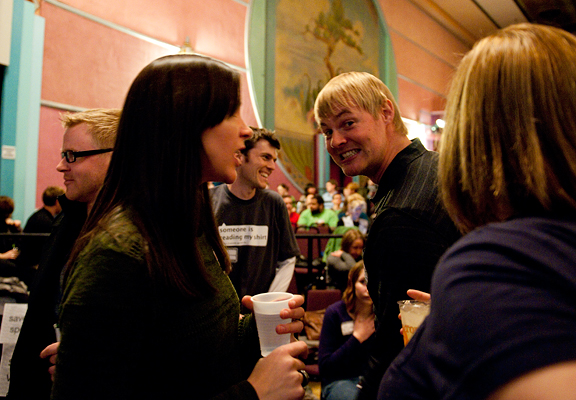 mel sportin' the coolest shirt (the back reads: "poke me")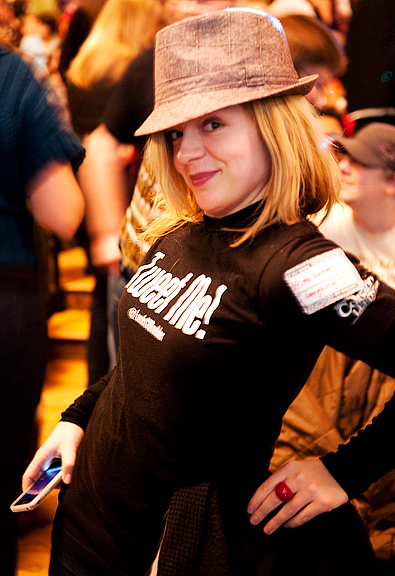 thank you, organizers!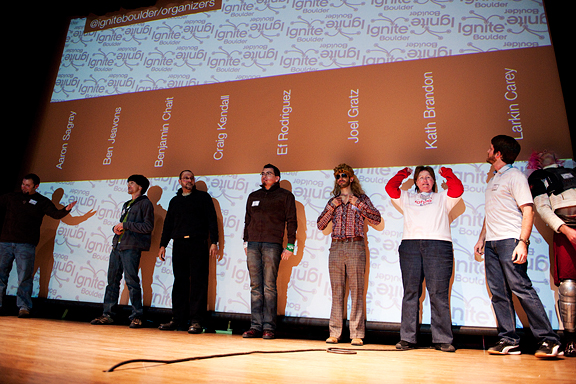 The ephemerides tell us that the Lunar New Year (Chinese New Year – year of the Tiger) and Valentine's Day coincide this Sunday, February 14th. Even though I scrunch my nose at Valentine's Day, there isn't really a conflict because the Big Partay for Chinese New Year is on Chinese New Year's Eve. Chinese New Year is the most important holiday on my calendar. I can get away with blowing off Christmas and Thanksgiving routinely, but the week of Chinese New Year is my frenzy time. It's a good frenzy because I like to share the celebration with friends.
red envelopes, fruit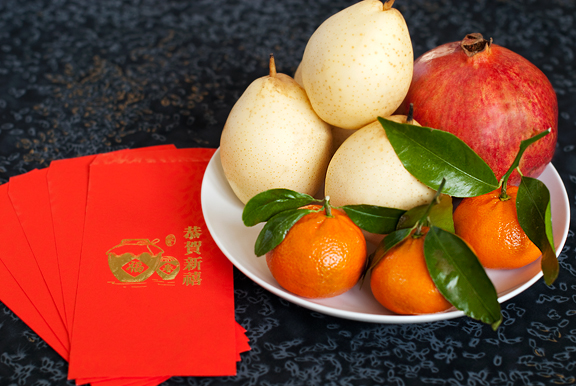 In planning the menu for this weekend, I had to balance logistics with tradition. There are certain dishes I will not be preparing because it's too time-consuming or it isn't enough to serve a dozen people or I don't have enough burners to cover that many stir-fries. For a beef recipe, I decided to try something new – stir-fried beef with Chinese BBQ sauce (
sa tsa
or
sa cha
).
it's mostly flank steak and green onions
easier to slice semi-frozen
I've had this dish at restaurants before and most recently my dad made it for me when I was last home. Dad used filet mignon and while I have a great respect for that oh-so-tender cut of beef, I truly truly love my flank steak for its superior flavor. I like to slice the beef when it is in a half frozen state because it makes it easier to get thin slices (a trick I learned from my mom). Don't make the slices paper thin or else you'll end up with a pile of slop when you cook it. The Chinese BBQ sauce I use is the same stuff we eat with our
Chinese hot pot
. The brand is Bull Head.
look for the label, that's how i shop because i can't read chinese
prep the sauce and onions
Traditionally, I've seen this served with sautéed onions. While I love to cook with onions, I don't like eating big hunks of yellow onion. Instead, I subbed green onions for the flavor and opted to partner the beef with some random Chinese broccoli (cooked separately).
a little shaoxing cooking wine
Mix the beef with seasonings, ready the sauce mixture, and have your onions sliced. It all goes quickly as most stir-fries do. The bulk of the time is always in the prep.
first sauté the beef until half-cooked
add the sauce
I tend to cook the beef until it is pink since it continues to cook from residual heat and the slices are pretty thin. You could serve this with onions as mentioned above, or on a bed of vegetables – however you want to do it. I usually sauté some spinach, but since I had made a big Asian grocery run this week, I bought Chinese broccoli to sauté instead. A great combination.
test drive: successful!
Stir-fried Beef with Chinese BBQ Sauce
[print recipe]
1 lb. beef, sliced thin against the grain (flank steak, filet mignon)
1 tbsp shaoxing Chinese cooking sherry
1 tbsp water
2 tbsps soy sauce
1 tsp cornstarch
2 tbsps vegetable oil (something flavorless, not olive)
3 tbsps Chinese BBQ sauce (sa cha)
2 tbsps soy sauce
1 tsp sugar
2 tbsps vegetable oil
4 stalks green onions, trimmed, sliced
It helps to slice the beef when the meat is partially thawed (or partially frozen, you pick). In a medium bowl, mix the beef with the cooking sherry, water, 2 tablespoons of soy sauce, cornstarch, and 2 tablespoons of vegetable oil until the beef is evenly coated. Set aside. In a small bowl, combine the Chinese BBQ sauce, 2 tablespoons of soy sauce, and sugar. Stir together. Heat 2 tablespoons of vegetable oil in a wok or sauté pan on high heat. Toss in the green onions when the oil is hot (they should sizzle when they hit the oil) and stir for ten seconds. Add the beef and sauté until the meat is half cooked. Pour in the BBQ sauce mixture and stir fry until the meat is just pink. Remove from heat. Serve.