Recipe: gluten-free rosemary olive bread
My head is spinning from all of the comings and goings of the people in my life. Nevermind my own comings and goings. I did a double take when I checked my calendar today. Who has been filling up my schedule with all of this stuff? It's good stuff though. Just odd that it seems to be happening at once. Speaking of which, the weekend is here and I am not. That's both good and bad. Good, because I'm exploring someplace new. Bad, because I'm missing the birthday of a friend.

it's a one pound loaf of bread, but it looks small because the boy is a giant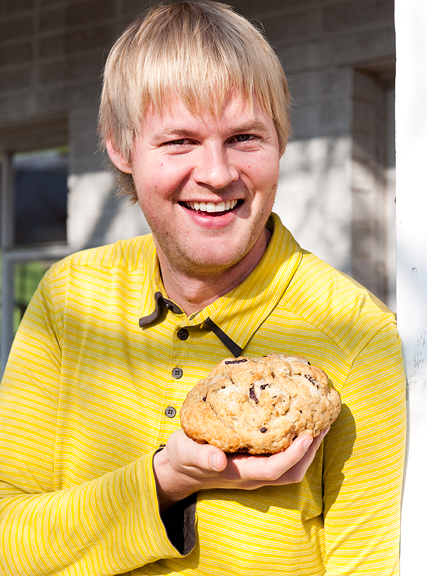 That guy
Andrew
, just finished six weeks on the paleo diet. I promised him a couple of weeks ago that when he was done with the paleo diet, I would bake him a loaf of bread. You should have seen how Andrew's face lit up. It's a big deal for me to promise that because 1) I don't bake bread very often 2) I cuss a lot when I bake at elevation and 3) Andrew's body doesn't tolerate gluten. I had never baked gluten-free bread before.
gluten-free flours and assorted ingredients
sea salt, rosemary, olives
I didn't promise that bread out of the blue like some dipshit without a plan. I had seen and read about
Shauna's success with a recipe
just days earlier. It looked spectacular. Now don't get me wrong, I like gluten. I eat it and I like it. Now imagine if you couldn't eat bread and then one day someone brought you a loaf of bread that is pretty darn close to the bread you once knew and loved, but you could eat it?! That's the kind of happy I wanted to give my friend. Well, that and a little baggie of
orangettes
.
various gluten-free flours and yeast
a little vegetable oil
I was fearful delving into the unknown. I emailed
Shauna
a couple of times and that wonderful woman – as busy as she is – suggested brands of and places to find these ingredients I had never used before: sorghum flour, brown rice flour, xanthan gum. I think my
food
blogging
pals
are a community of cooks and bakers that I would otherwise never have found in my own neighborhood. They teach me, they expand my horizons, they challenge me. And the best part is sharing that with others – spreading the love.
mix in fresh rosemary and chopped olives
let the dough rise
Let's be honest, I was dubious. The gluten-free foods I tend to like are those recipes that just happen to be free of gluten, not recipes that have been changed to mimic something that had gluten. But there is a small army of dedicated bakers who do a phenomenal job of adapting recipes (like
Jeff and Zoë
– this recipe is originally from their book) and I dare say, this bread rocked my socks.
score the top, drizzle olive oil, sprinkle salt
bake and let cool
Crusty golden outside, soft and fluffy inside. The smell of rosemary lulls you into a reverie as the texture of the bread yields gently under your teeth. It's brilliant, really. It's also incredibly simple to throw together. Andrew was so happy when I presented him with the boule(s). Okay, I gave him one boule and most of the other boule – anyone who is friends with a food blogger expects a serving to be missing for the photograph, right? Happy birthday, my friend. I hope you have a terrific day. As for the rest of you, I hope you have a lovely weekend.
Let the weekend commence!

beautiful bready goodness
Gluten-Free Rosemary Kalamata Olive Bread
[print recipe]
from Gluten-Free Girl and the Chef which was adapted from Healthy Bread in Five Minutes a Day, by Jeff Hertzberg and Zoë Francois
1 cup (165g) brown rice flour
3/4 cup (100g) sorghum flour
1 1/2 cups (215g) tapioca flour
1 tbsp (11g) granulated active dry yeast
1 1/2 tsps (9g) kosher salt
1 tbsp (10g) xanthan gum
1 1/3 cups (300g) lukewarm water (heated to 110°F)
2 large eggs, at room temperature
2 tbsps + 2 tsps canola oil
1 tbsp honey
1/2 cup kalamata olives, sliced
2 sprigs fresh rosemary, stripped and finely chopped
olive oil
coarse sea salt
Mix brown rice flour, sorghum flour, tapioca flour, yeast, salt, and xanthan gum in bowl of stand mixer (if by hand – in a large bowl). Add water, eggs, oil, and honey to dry ingredients and mix with paddle (if by hand – use a large spoon) until the dough is moderately cohesive. It's okay if it slumps about – Shauna says this is how it should be. Toss in the olives and rosemary and mix. Turn the dough into a large, clean bowl and cover it with a clean towel (I covered with plastic wrap because I live in a very dry place). Place the bowl someplace warm and let rise for two hours. Once the dough has risen, you can proceed or store it in the refrigerator in a large container that you can seal. The dough is good for up to a week and Shauna notes that the flavor appears to improve overnight. Shape 1 pound (half) of the dough into a squat oval shape or small ball. If the dough is sticking to you like a bad ex, wet your hands to make it less clingy and easier to handle. Let rest for 40 minutes. If the dough was refrigerated, let it rest for 90 minutes before baking.
Preheat the oven to 450°F 20-30 minutes before the dough is done resting. I used the Dutch oven method like Shauna and placed the pot with lid in the oven to heat up. From Shauna: Jeff and Zoë recommend a pizza stone in the oven and a pizza peel sprinkled with cornmeal for resting the bread. Please make sure both are never before used, if you are gluten-free. When the dough is ready, score the top of the form 1/4-inch deep with a serrated knife. Drizzle olive oil over it and sprinkle with coarse sea salt. Place the dough in the Dutch oven (I put it on top of parchment then in the Dutch oven), cover, and place it in the oven. Or, slide the loaf from the pizza peel onto the hot baking stone. I followed Shauna's recommendation to fill a sauté pan with ice and set it on the bottom rack in the oven which creates steam and helps to form the lovely golden crust. Close the oven door and bake the bread until the top has lightly browned and the bread feels firm, about 35 minutes. (Also, the internal temperature of the bread should be at least 180°F.) Remove the bread from the oven and the pan and let it cool for 15 minutes. Makes two 1-pound loaves.