Recipe: bibimbap
Having spent a good deal of my adult life in or around university settings, you'd think I'd be accustomed to the flow of people in and out of my geographic location. That's the nature of a university and you come to expect that a lot of your friends will move away eventually. But I'm not accustomed to it. This week, we said good-bye to our neighbors. They are more than just neighbors, they are good friends.

at our place for barbecue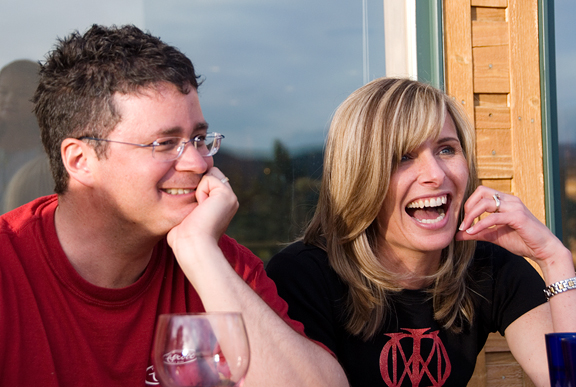 We have had all manner of "interesting" neighbors, but Tom and Kellie were the best ever. We kept an eye on each other's houses when we were out of town. We borrowed their power tools, they borrowed our ladder. They were always willing to taste test my cookies, cakes, pastries, whatever! Anytime we dropped by for just a minute, it always ended up taking as much as an hour because we always had plenty to talk about, to share. We took care of each other's dogs and cats when emergencies came up. We laughed and chattered together while shoveling the deep snow from our driveways in the middle of the night. So despite how crazy busy March had been (and continues to be), we had to have them over for dinner before they headed to their new home in Montana.
at a big anniversary party for tom's parents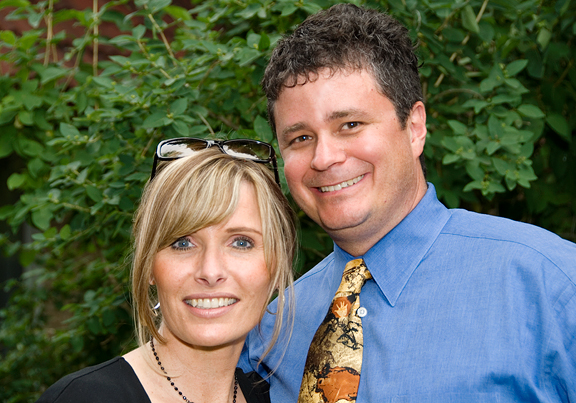 As they drove away Friday afternoon, they honked good-bye. Jeremy told me Sunday morning that it feels lonely with them gone. It does feel lonely. We'll surely see them this summer, but in the meantime – we are already missing them very much. Yet, part of this flux of people in my life involves those who are arriving and also returning. Our good friend, Marianne is finally back after months spent on the ice (Antarctica).
Manisha
held a lovely dinner to celebrate her return as well as find an excuse to introduce us to some of her phenomenal regional cooking from the west coast of India. Oh mai!!
manisha presents fried monkfish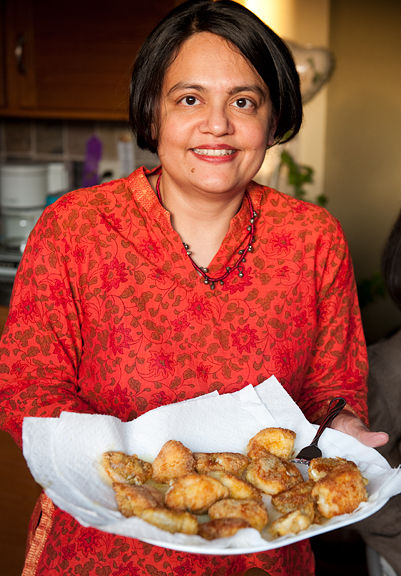 kitt refrained from making funny faces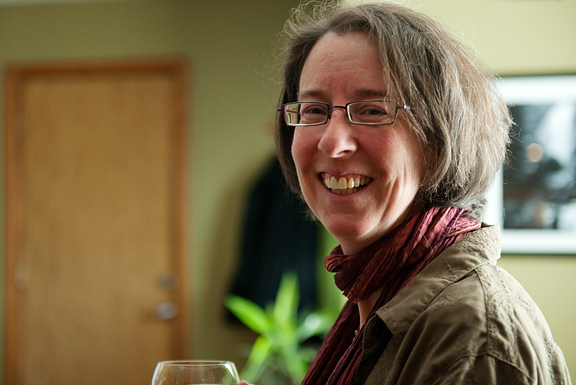 ivy gourd (i am in love with this vegetable)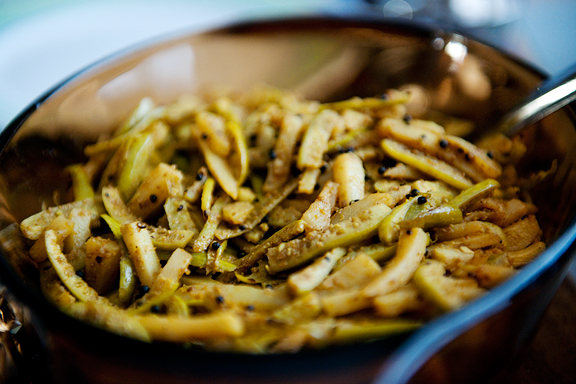 lemon pickle chutney and grated mango chutney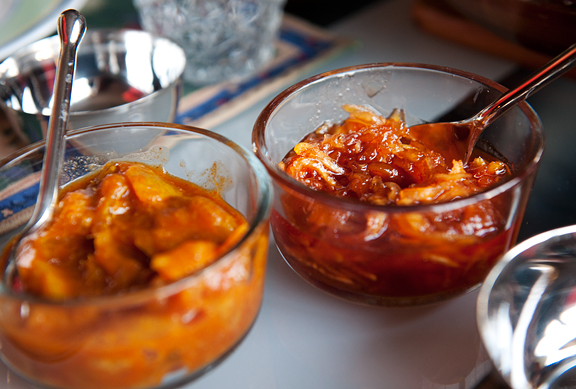 gathering for a feast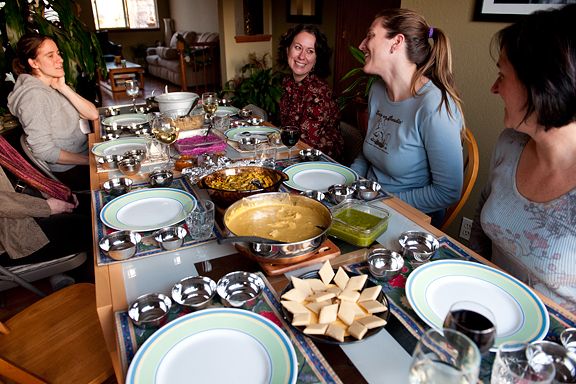 I don't lose sight of the time spent with the people I love. I've learned enough by now to know that it matters when you are together because everyone is busy and we all take each other for granted to some degree. A lot of times, we never fully realize just how special some people are until they are gone. So I'm reminding myself that no matter how busy I get, I should try to make that time. [Of course, get-togethers seem to revolve around food in my circle of friends and family…]
making marinade for galbi
slice the beef thin
Even though I cook and eat a lot of Chinese food, I am a little crazy for other Asian cuisines. I mean
crazy
. I think it might be because these cuisines are somewhat similar to Chinese but also very different. Like… Chinese but EXCITING. It's exciting because I didn't grow up eating these wonderful dishes that friends and fellow bloggers have introduced me to.
nice, fresh vegetables
Enter the
dragon
bibimbap. I first heard about bibimbap when my sister was in college. It's what everyone went to get at a local Korean restaurant after late night study sessions. It wasn't until graduate school that I had my first peek at a large bowl of bibimbap being served to a gentleman seated next to our table. I had always opted for the noodles (I am, afterall, a noodle girl).
toss the sprouts with sesame seeds and sesame oil
chopping the blanched spinach
It had always tempted me. I've had the dish served to me once before, but… it didn't really knock my socks off (my socks were still on my feet, see). After years of seeing posts on food blogs, I realized that there was way more to bibimbap than I had experienced. And anything with galbi or bulgogi has got to be good. I didn't have any leftover galbi on me, so I marinated some sliced rib-eye steak and cooked it in a frying pan. There appears to be a great deal of flexibility with the vegetables and I went with those that were easy to whip up.
sliced zucchini
sautéed zucchini with garlic
I admit, I was fast and loose with the preparation because I had little time (fast) and don't know what I'm doing (loose). Unable to hunt down the
gochujang
, I subbed in some Sriracha sauce instead – because you can never have enough chili sauce to clean out your insides. Most of the time is spent in prep and when you are done, you have a lovely arrangement of goodies to pile upon a bowl of rice.
arrange beef on the rice, then repeat with the other guys waiting in line
top with a poached egg (i'm lazy, i fried one)
The beauty of bibimbap is that it's anything you want it to be. I like that kind of flexibility and I also like that it is a great vehicle for cleaning up leftover vegetables. But unlike some dishes that have heaps of leftovers and taste like a heap of leftovers, bibimbap tastes like Awesome. I mean that in the best way possible. Meat, vegetables, rice, egg, spicy, crunchy, soft, savory, sweet, tangy. It's a bowl of self-contained happiness.
enjoy your own little wheel of flavor country
Bibimbap
[print recipe]
inspired by Kitchen Wench
3/4 lb. beef, sliced thin against the grain (I used rib-eye steak)
1 kiwi, peeled and quartered
1/2 yellow onion, peeled and quartered
2 cloves garlic, peeled
1 inch nub of ginger, peeled
1/2 cup soy sauce
1/4 cup sugar
1/4 cup rice wine vinegar
2 tbsps sesame oil
1/2 tsp ground black pepper
1 tsp vegetable oil (or more)
3 cups mung bean sprouts (I love this stuff, I highly recommend cooking more)
dash of sesame oil
salt to taste
sesame seeds
1 lb. spinach
sesame oil to taste
salt to taste
3 medium zucchini, cut into 2-inch long medium matchsticks
1 tsp vegetable oil
2 cloves garlic, minced
salt to taste
steamed rice
2 carrots, peeled and shredded (Ellie preps these properly, I'm a bum and leave them raw)
kimchi
yellow pickled radish (daan moo ji), sliced into matchsticks
gochujang (I didn't have any, so used Sriracha)
sesame oil
egg(s), poached or fried (just make sure the yolk is runny, because that is liquid gold, people!)
The galbi: If you have leftover galbi or bulgogi, use that. If you don't, then find a cut of beef (flank steak, rib-eye steak, whatever) and freeze it halfway (or thaw it halfway if it is frozen) to make slicing it easier. In a food processor, combine the kiwi, onion, garlic, and ginger and pulse into a purée. Pour the contents into a ziploc bag and add the soy sauce, sugar, rice wine vinegar, sesame oil, and black pepper. Seal the bag, moosh it about to mix. Then open the bag and pile in the sliced beef. Seal the bag, moosh it about some more to make sure all of the beef is marinating properly. Place in the refrigerator for 8 hours. When you are ready, pour a little vegetable oil in a frying pan and set on high heat. Place the beef on the pan in a single layer and let it brown (caramelize). Remove from pan.
The sprouts: Blanch the sprouts in boiling water for 1 minute. Drain and toss with sesame oil, salt, and sesame seeds.
The spinach: Blanch the spinach in boiling water for 1 minute. Drain and squeeze the water from the spinach. Chop the spinach and toss with sesame oil and salt.
The zucchini: Heat the vegetable oil in a pan on high. Toss in the garlic and stir a few times before tossing in the zucchini. Season with salt and stir-fry until the zucchini is wilted.
Assembly: Place the steamed rice in a large bowl (some recipes do a quick pan-fry of the rice into a sort of cake with crispy edges – I didn't this time) and arrange the beef, sprouts, spinach, zucchini, carrots, kimchi, and pickled radish on top of the rice. Add a good dollop of gochujang and a dash of sesame oil. Set the egg on top in the middle. Serve.