Recipe: creamy mushroom soup
I was going to get the workshop registration up and running this week before I left for a shoot. I came to the realization this morning that if I opened registration right before I was leaving, people who had questions or problems would be stuck out until I returned. So, in a move that will maintain my sanity and hopefully prevent some of you from hating me, I'm pushing it out a couple more weeks because I am going to be living in the dirt and incommunicado for a little while. However, I did put a logo together and my fellow cohorts gave it the thumbs up… I know it's just a logo, but I am not a graphic artist, so this was a small victory for me in the Land of Crazy Busy.

just so you know i'm not slacking off on ya

Earlier in the week, I had a shoot in Boulder which involved a bowl of berries and a bunch of kids – a bunch of fun and sweet kids. When the shoot was done, the girls sat down with the berries and happily stuffed them into their mouths, one after another. It's hard to imagine anything more springlike than hanging out with three giggling children eating fruit on a gorgeous, warm and sunny Colorado day. I love that I get to do this and call it work.
sisters being goofy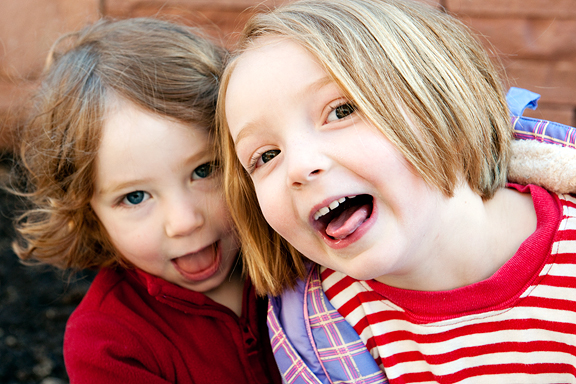 polishing off the props
i've never worked with happier people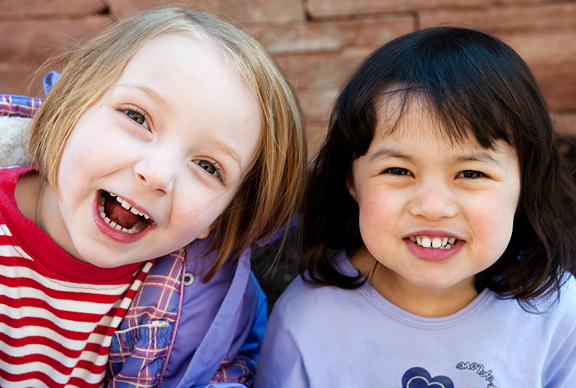 But March is psycho-weather month here in Colorado, and while the sun and Daylight Saving has lulled those wishful people into a false sense of Spring, snow is right around the corner. I see it in my forecast – here it comes… I don't mind snow and cooler temperatures. Right now it is either snow or mud in the mountains, and I really do prefer snow. It's a great excuse to extend hot soup season.
portabellas, alba mushrooms, onions, thyme, garlic
I dog-ear a ton of recipes. More often than not, I am always rediscovering those recipes that are 180° out of phase with the season. So it was my dumb luck that I came across this lovely recipe for a hearty mushroom soup to serve at dinner last week to our guests. I'm always trying to expand my vegetarian entertaining repertoire and this was easy enough to substitute vegetable broth for chicken broth. I'm not a fan of store-bought vegetable broths, but I was running short on time (this seems to be a recurring theme for me) and grabbed an organic version.
sliced thin
we want to hydrate the porcinis and save the soaking liquid (good stuff)
Even though the recipe didn't call for it, I decided to add some dried porcini mushrooms to the mix. The reason: the leftover porcini liquid is pure gold. Talk about flavor country. Don't be draining that off and dumping it down the sink!! Sometimes a little sediment might settle to the bottom – I leave that behind. My hope was that the liquid would mask any weirdness in the vegetable broth.
nothing more heavenly than sautéed mushrooms in butter
the soup is a boilin'
It worked beautifully. Our vegetarian guest loved it and all of the omnivores did too. The soup isn't terribly heavy, but it is so satisfying on the taste buds. I think mushrooms sit atop a special throne in the vegetable world because they command such heady flavors that most vegetables can only dream of achieving. I'm anxious to give it a try with some of my homemade chicken broth, but the mushrooms are the true stars of this recipe.
garnished with thyme and mushrooms browned in butter
Creamy Mushroom Soup with Sherry and Thyme
[print recipe]
from Fine Cooking issue #74
2 tbsps unsalted butter
2 tbsps olive oil
1 medium onion, medium dice (~ 1 1/2 cups)
4 cloves garlic, minced
3/4 lb. fresh mushrooms, wiped clean, trimmed, and thinly sliced (~ 4 1/2 cups) – I used portabella & alba mushrooms
1/2 oz. bag of dried porcini mushrooms, rehydrated in 1-2 cups boiling water (reserve the liquid, but leave any sandy dregs behind) – this is optional, but I did it
2 tbsps plus 1 tsp fresh thyme leaves
1/2 tsp salt to taste
1/2 tsp ground black pepper to taste
4 cups chicken or vegetable broth
1/4 cup half-and-half
3 tbsps dry sherry
1 tbsp soy sauce
In a large stockpot heat the butter and olive oil over medium-high. Sauté the onions until they are browned, about 4 minutes. Add the garlic and stir about for a minute. Then add the mushrooms, 2 tablespoons of thyme, salt, pepper, and cook until the mushrooms begin to wilt (in a couple of minutes). Pour in the broth and the porcini liquid (aka liquid gold) making sure to scrape up any fond that has formed on the bottom of the pan (the good browned bits). Bring to a boil over high heat and then reduce to a simmer. Cook for about 7 to 10 minutes until the mushrooms are tender. Remove the soup from the heat and let it cool slightly. Either using a food processor, a blender, or an immersion blender, purée about half of the soup. Return the purée to the pot and stir int he half-and-half, shery, and soy sauce. Season with more salt and pepper to taste. Reheat as needed. Garnish with fresh thyme and extra mushrooms that have been browned in butter (that is some heady garnish, lemme tell ya!). Serves six.