Recipe: eton mess
We've got three things going on here today, so keep your pants on! Are you ready?
First – I finished processing the photos from Antelope Valley. Serious orange-out is all I can say. That, and California poppies are my favorite wildflowers ever. Okay, I like the other guys too – I just love that there are so MANY of them.

tiny goldfields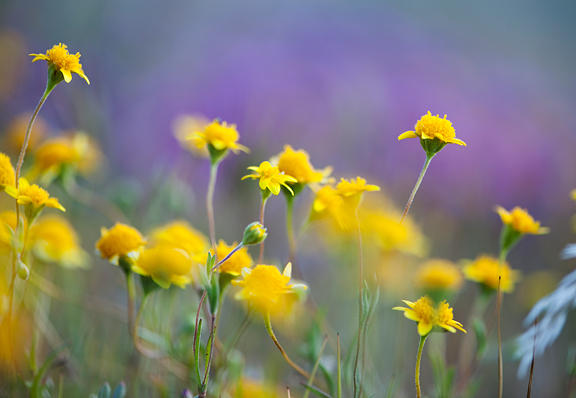 poppies glow like little lanterns in the sun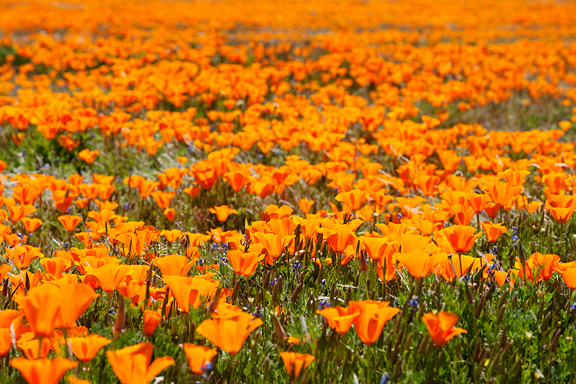 If you want to see enough flowers to make your allergies tickle you can view
day 1
and
day 2
on my photo blog.
Next – we have a giveaway. I've been waiting to give this thing away for about… four months, but it had to get the stamp of approval from the law-talkin' guys first. No matter, because it is certainly worth the wait. Back in December, I hosted a Nintendo-sponsored Wii Fit Plus party for my gal pals in Boulder! Easiest party I've ever had to host because all I had to do was send out invitations and show up. Nintendo took care of the space, the equipment, the food, and beverages.

fruit juice shooters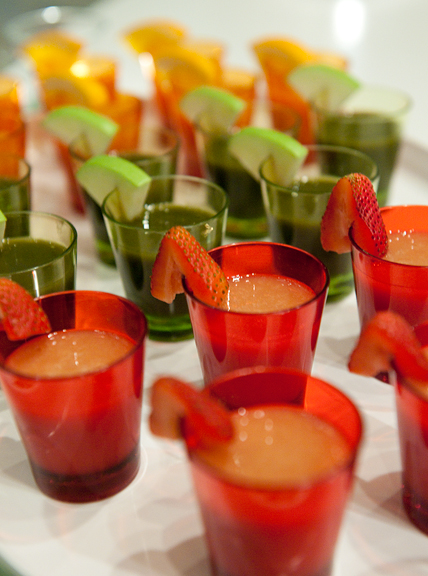 everyone was let loose to try the yoga and the games after a quick demo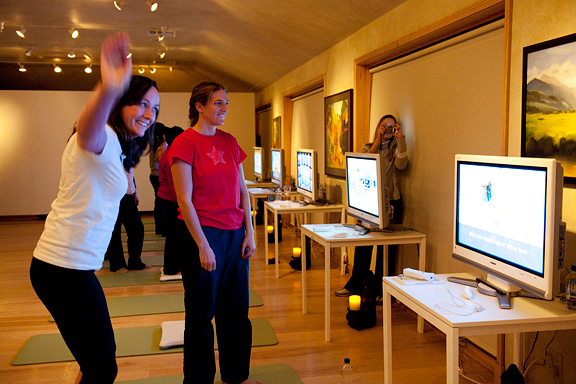 we had a blast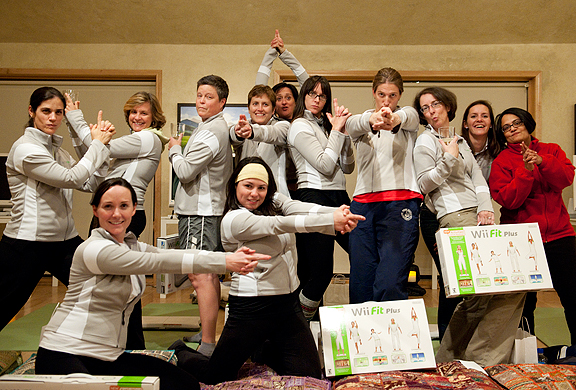 Oh, that was seriously fun. What I love about
Wii Fit Plus
and the Wii in general is how it's more than just a gaming system. It gets you moving and it can be a social activity (I'm definitely hosting Wii parties at my house!). Exercise made fun. I'm a big fan of the multiplayer mode. My favorite activity is the Rhythm Kung Fu.
that's my Mii character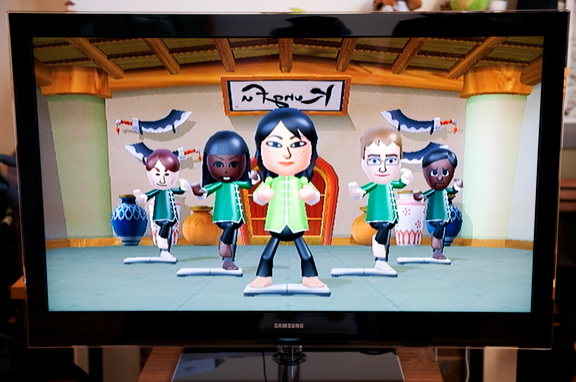 we even have a Mii pet for kaweah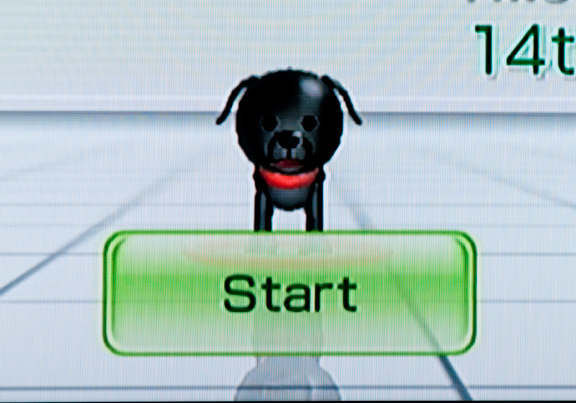 The good people at Nintendo have given me an additional Wii and a Wii Fit Plus game and I'm giving them away here!
You merely have to answer the question:
How will you fit some fit in with the Wii Fit Plus from Nintendo?
Let me translate: How are you gonna get your Wii on?
Here are the rules:
1) Leave a comment on THIS POST answering the question above by 11:59 pm MDT Sunday, April 25, 2010.
2) One entry per person. If you submit multiple entries, you will be disqualified.
3) The winner will be selected at random using a random number generator and announced on Monday, April 26, 2010.
4) Contest is only open to US residents 18 years or older.
5) Anyone related to me cannot enter.
6) Nintendo employees are ineligible to win.
Full disclosure: I received a free Wii™ system and Wii Fit™ Plus package (including Balance Board™) from Nintendo. The Wii Fit Plus party was entirely sponsored by Nintendo. The giveaway Wii system and Wii Fit Plus package were given to me by Nintendo, and I'm giving them away.
And finally: the recipe. California strawberries are popping up in the grocery stores around here. Yeah, I know they aren't local, but who can resist a luscious red strawberry after months of winter? Heck, who can resist a luscious red strawberry ever? My favorite way to enjoy a strawberry is straight up, but a close second is an Eton Mess.

strawberry
separate the egg whites from the yolks
Eton what? Eton mess. The first time I ever had it was in Sydney at Restaurant Balzac with Jeremy and our friends, Kell and Jerad. It's a traditional British dessert of strawberries, some booze, whipped cream, and meringue – all mixed together. It looks like a mess. I have made it three times in the past year and could never achieve a final photograph that didn't resemble a mess – a delicious, tantalizing mess.
make meringues
bake them
I lightly macerated the strawberries with some Grand Marnier and let them sit while I baked the meringues. I remember making meringues when I was a kid in Virginia. They'd come out of the oven nicely baked and dry. Then within hours, the humidity would turn them into a sticky disaster. Not so in Colorado. I can let the meringues sit out for days and they remain perfectly dry throughout.
assemble the parts
mix together
Since the meringue is pretty sweet, there is no need to add sugar to the cream. Just whip it to soft peaks (I overwhipped mine – that's what happens when you step away from the stand mixer for ONE second). I fold the whipped cream and meringue together first and add the strawberries last so that the whole thing doesn't turn completely pink. It's a good idea to serve this right after assembly or else the meringue will eventually soggify.
the best kind of mess
Eton Mess
[print recipe]
4 (150g) egg whites
pinch of salt
1 (225g) cup sugar
1 lb. (500g) strawberries, washed, topped, and diced
dash of Grand Marnier
1+ cups heavy cream, whipped to soft peaks
Preheat oven to 200°F. Line two baking sheets with parchment. Combine the egg whites and salt in the bowl of a stand mixer (or in any old bowl if using hand mixer). Whisk on high for a few minutes until soft peaks form. Gradually add the sugar in while beating on high (of course, my mixer flings some of the sugar around the kitchen when I do this) until stiff peaks and glossy. Fill a piping bag fitted with a wide tip (plain or fluted is fine) with meringue. Pipe long strips of meringue and some little decorative pieces (like stars, buttons, etc.) on the parchment. Bake for an hour or until the meringues are hard when tapped. Try to keep them white (they will start to brown if you let them go too long). Meanwhile, combine the strawberries and Grand Marnier in a bowl and seal tightly with plastic wrap. Shake the hell out of the bowl. Set aside. Remove the meringues from oven and let cool completely before removing from parchment. Whip the heavy cream to soft peaks. Crumble the meringue tubes into a large bowl. Add whipped cream and gently fold together. If it's a big solid mass, add more cream to desired consistency. Then add strawberries and fold until they are coated with cream. Serve immediately. 8 to 10 servings.