Recipe: pad see ew
Thank you to everyone who left a comment and entered the CHEFS swag bag giveaway! It seems that the most popular summer snacks were watermelon, fresh tomatoes from the garden (omg, I'm so jealous of you people!), fresh seasonal berries, cherries, and ice cream. I'm all over the seasonal fruits and the homegrown tomatoes straight up!
Several of you have either commented or emailed asking about the next workshop. At this point, things are wide open and I haven't had a chance to mull over which direction to take the workshop. Of course, if there is another Food and Light workshop, you'll hear about it on urb. Thanks for your interest!
So let's get to the winner of the giveaway… Believe it or not, Miss Kaweah's metabolism is slowing down and the whole "pick a number/eat the treat" method has been phased out. Instead, we have opted for the "pick a toy that corresponds to a number". It is decidedly and supremely random. When Kaweah picked a digit, we would insert a new toy to replace that digit for the next round (we've had issues with her returning to the same toy, so this is more fair).

first digit: 6 (the kong)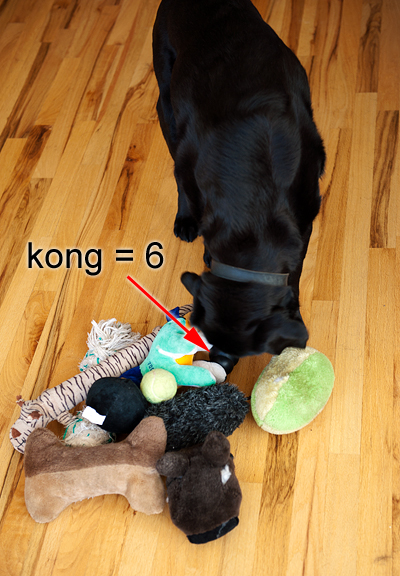 second digit: 3 (stick tiger courtesy of manisha)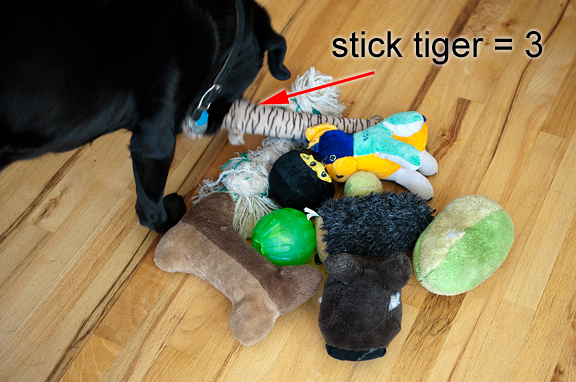 third digit: 3 (giant hedgehog!!!!)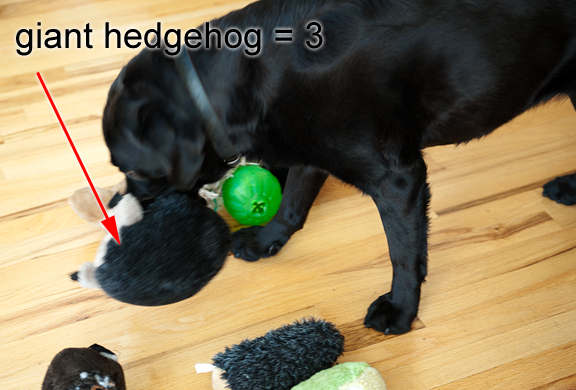 whew, that is hard work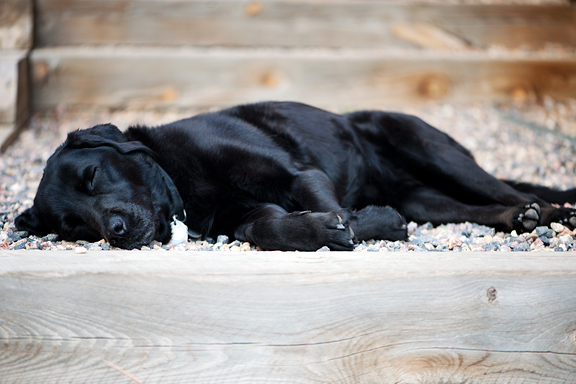 The number is 633 mod 544 which gives us 89. SheilaM is our winner! Congratulations!! I'll contact you shortly for your mailing address. Big thanks to
CHEFS catalog
for being such a wonderful and generous sponsor. Another thank you to all of you for entering!
Our yard is dotted with all manner of colors: reds, purples, blues, whites, yellows, oranges, different yellow, a greenish yellow, more whites, pinks… That's pretty impressive considering how we do NOTHING to maintain our yard (then again, I wouldn't recommend playing lawn darts in our yard). The afternoon thunderstorm cycle is revved up and the wildflowers beckon. When it is February and our deck is under three feet of snow, this is what I think of when my thoughts turn to summer.

kaweah inspects a handful of our wildflowers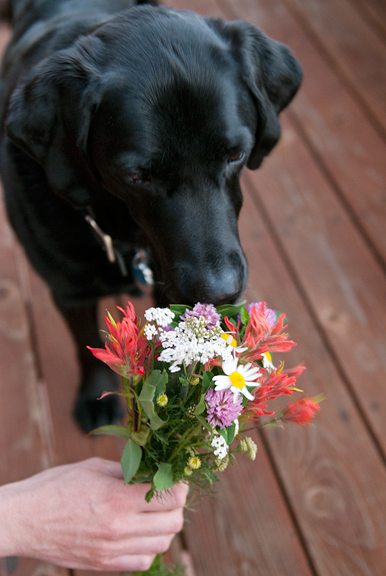 Because it is so brief, timing is everything and I'm heading out into that there yonder. There is work to be done. Hopefully this recipe will tide you over until the next one – whenever that will be. It's a noodle dish because I am a noodle grrl. It does require the use of heat, but I think you'll find the brief blast of BTUs worth it. Totally. Worth. It. [Feel free to insert ZOMGs and noms as you see fit.]
chinese broccoli (gai-lan), wide rice noodles, pork, garlic
get saucy: fish sauce, thick soy sauce, oyster sauce, sesame oil, rice wine vinegar
I met with joyous success when I made
Pim's pad thai
last year (oh wow, posted a year ago to the day). That was after
years
of crappy versions that just… sucked. It's been a full year of pad thai bliss. A few months ago, I had a reader ask me if I knew how to make pad see ew. What's that? I am the most pathetic kind of Thai food junkie. I love it and I have no idea what it is called. Some searching on the interwebs led me to a handful of trusted food bloggers and ultimately to
Pim
.
peeling the chinese broccoli stems
slicing pork
Turns out I've had it before, loved it, and never quite caught the name. A one-night stand… but no more! We've been reunited. I was worried that I would have to drive to
BFE
far away places to secure some fresh wide rice noodles, but my
local Asian market
had some. SCORE. Actually, most all of the ingredients in this dish are relatively easy to find.
mix and marinate the pork
mise en place: noodles, chinese broccoli leaves and stems, pork, garlic, egg
I love my vegetables. I love my greens. What I really love are my Asian greens. Chinese broccoli is one of my favorites AND it is getting easier to find around here. Like Pim, I like to use the stalks. Some people throw them out which I think is a crying shame because the leaves and the stems are almost like two separate vegetables in your stir-fry. Eat them up, they're good for you.
sauté the chinese broccoli
stir-fry the noodles
Those noodles were a little tricky to handle. The ones I bought were refrigerated and a tad brittle. Oh, and they stuck together like crazy. Prying them apart resulted in a lot of broken noodles – nothing longer than 3-inches. But they cooked up perfectly into a soft and chewy texture, soaking up the colors and flavors of the added sauces.
drop the egg into the pan when the pork is almost cooked
add the cooked vegetables back into the pan
The key to this dish is to have everything ready and on-hand. Each component gets cooked quickly and then removed until the end when it is all tossed together. The total cooking time was maybe 5 minutes, which is a good thing because the aromas rising from the pan will taunt you. We loved these noodles. I found this recipe easier than the pad thai by a smidge, but they both live in the "favorites" section of my brain.
toss with vinegar, fish sauce, and thick soy sauce to taste
pad see ew
Pad See Ew
[print recipe]
from Chez Pim
marinade
8 oz. (225g) pork loin, sliced thin against the grain
1/2 tbsp fish sauce
1 tbsp oyster sauce
splash of dark sesame oil
Mix together in a bowl and let sit for 30 minutes.
the rest of it
2-3 tbsps cooking oil
9 oz. (250g) Chinese broccoli, cut into bite-size pieces (use the leaves too!)
fish sauce to taste
11 oz. (300g) fresh wide rice noodle*
1 tbsp thick soy sauce
2 cloves garlic, minced
1 egg
1 tbsp rice wine vinegar
ground black pepper to taste
* Pim says if you use dry noodles, that you should soak them in lukewarm water until they are pliable, but not soft. Drain them well before cooking to avoid oil splatter.
It's a good idea to get your mise en place (mess in place) because the cooking part happens rather quickly. Heat a tablespoon of oil in your wok or pan over high heat. When the oil is hot, add the Chinese broccoli stems and sauté for about a minute. Then add the leaves and a splash of fish sauce, sautéing until the leaves are wilted (this won't take long). Remove the greens from the pan and set aside. Add another tablespoon (or more) of oil to the pan and toss in the noodles, coating them with the oil. Add thick soy sauce, a few splashes of fish sauce (like a tablespoon total?) and stir the noodles about until they are evenly cooked. You can even go for the charred bits by letting some of the noodles sit on the pan for a little longer. If the noodles start to stick, Pim says you can add more oil. Remove the noodles from the pan and set aside. Scrape off any remnants from the pan, add another tablespoon of oil and set over high heat. When the oil is hot, add the garlic and stir for a second, then add the pork. Stir-fry until the pork is almost cooked through. Push the pork to the side of the pan and add an egg to the middle. Let it cook for a few seconds then stir it together with the pork. Add the Chinese broccoli and the noodles. Stir together. Remove from heat. Add more soy sauce and/or fish sauce to taste (you may not need any) and then toss the noodles with a tablespoon of rice wine vinegar and a few grinds of black pepper. Serves 2.