Recipe: chinese sweet red bean soup
Before I forget, several of you had asked for a picture of the Thai tea I had purchased when I made Thai tea ice cream. Twist my arm! I went back to the store and bought a second bag just for you guys… ahem. Hee hee. But seriously, I get it because I can't read Chinese (or Korean or Japanese or Vietnamese or Thai or…). The picture is always helpful. I'll add this to the other post too, but here it is for those of you who were wondering. I'm sure there are other brands that are equally good.

oh darn, another bag of wonderful thai tea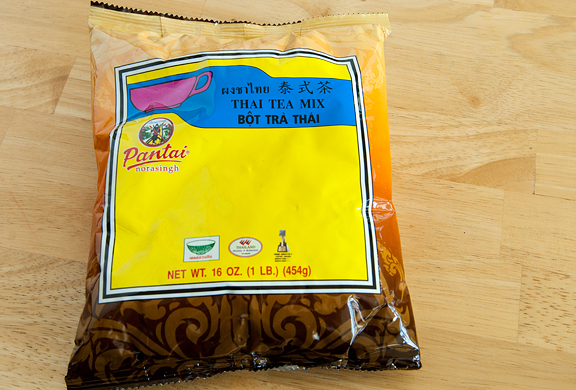 It's getting a little toasty around here which means it is downright hot in Boulder and the surrounding flats. I've been avoiding the stove and oven for a good month now, but had to break down today in my quest to clean out my freezer. More on that (a little) later. Just three days ago we had cold, wind, rain and overnight we dipped quite close to freezing. I kinda loved it. I kinda had a craving for soup. Now, in the heat of late afternoon, I can't think of anything other than a cold glass of ice water. Come evening, because of our (blessed) low humidity, our temperatures drop into the low 50s, sometimes 40s. It's delicious and my brain lulls back into cool weather mode and thoughts turn to soup. I know – soup? In
this
heat?!
red beans
Make that red adzuki beans. I'm talking about a sweet soup. Most westerners are pretty underwhelmed by Chinese desserts. They don't tend to be very sweet, but I rather like that. However, the
marriage of Asian flavors with western style desserts
is like the ultimate in awesome for me. When I dine in authentic Chinese restaurants in the Bay Area or Southern California, our complimentary dessert is almost always a hot bowl of some kind of sweet soup. Taro root, corn and carrot, red bean, green bean, black sesame, peanut… soup.
soaking in water
you'll want to add some tapioca pearls too
When I was a little girl, my grandma made all manner of Chinese sweets from scratch because… there were very few to be found in southern Virginia and certainly none as good as Grandma's. This sweet red bean soup was my favorite. A comfort food, if you will. And it's simple to make.
boil the beans until they are soft (i like mine really soft)
add sugar to taste
You could end it right there after adding sugar and run off with your bowl of sweet red bean soup. But there are options. I love having options! I like to blender my soup so it becomes thick. You can also blender half of it and leave half of the beans intact. My favorite addition is tapioca pearls. I love the little ones and the big ones… [Ask
Jason
about my obsession with boba "bubble" tea. How can you resist a drink that doubles as a choking hazard?] Grandma says to boil the little tapioca pearls separately and then add them to the soup.
except for "off" i suspect all of the buttons on my blender do the same darn thing
stir in the cooked tapioca pearls
The soup can be enjoyed hot or cold. Right now, cold is the way to go for me. In winter, I love a hot bowl of this in the evenings after dinner. Considering it is mostly beans, it's quite good for you too. Cold soups are appropriately popular in summer. This is a nice one to add to the mix.
comforting when hot, refreshing when cold
Chinese Sweet Red Bean Soup
[print recipe]
1 cup adzuki beans, dried
8 cups water (more as needed)
dash unflavored oil (canola, vegetable, etc.)*
3 cups water (more as needed)
1 tbsp small tapioca pearls, dried
1/2 cup sugar (more or less to your preference)
*Only use for pressure cooker method.
Soak the beans in water overnight. Drain and rinse the beans.
Conventional stove-top method: In a 3 quart saucepan, combine the adzuki beans with 8 cups of water and set to boil over high heat. When the water reaches a boil, let it continue for a minute. Reduce the heat to a simmer and cover the pan (take care that it doesn't boil over – ugh, what a mess). Let the beans simmer for about 90 minutes or until they are soft enough that they are almost falling apart (I simmered mine for 2 hours, but I'm at elevation).
Pressure cooker method: Place the drained soaked beans and 8 cups of water and a dash of unflavored oil (canola, vegetable, etc.) in the pressure cooker. Seal the pressure cooker and set to high pressure setting. Heat over medium high heat. When pressure is reached, cook for 5 minutes at pressure. Turn off the heat and leave the pressure cooker to release naturally (just let it decompress on its own).
Both methods: While the beans are simmering or the pressure cooker is cooling, in a separate saucepan, boil 3 cups of water. When the water comes to a boil, add the tapioca pearls and reduce to an active simmer. The tapioca pearls will eventually turn translucent. When they are half cooked, they will look like reverse tadpole eggs. When they are nearly done, the whole pot will look like a little galaxy of stars. Add more water if it boils down too quickly. When the white centers are almost gone (this took me about 25 minutes), you can remove the pan from the heat. When the adzuki beans are done (or pressure cooker naturally released), remove from heat (or open the pressure cooker) and stir in the sugar. You can either leave the beans as they are, blender all of the soup, or only blender half of the soup/beans. Totally up to you. Stir the tapioca pearls and liquid into the soup. Serve hot, warm, or chilled. Serves 8.