Recipe: honeydew granita
In summer I hear the constant zoom of hummingbirds all around the house. The "yard" is dotted with wildflower colors that we can take absolutely no credit for. After the sun has set and our second wave of pink clouds has faded to the west, shouts and laughter of the neighborhood kids continue to ride the trickle of cool night air climbing in through our open windows. On a few summer nights each year, a mysterious fleshy pod lies in wait for nightfall. Over the course of a few hours, this almost alien bud opens 6-8 inches across and releases a beautiful fragrance. By early morning, the Queen of the Night (aka night-blooming cereus or Epiphyllum oxypetalum) blossom will close and wilt. It is a One Night Only! kind of deal.
My grandmother gave me the cuttings to start this plant when we moved into this, our first house and I've been enjoying the flowers since 2007. Each year, the plant produces more buds. So far this summer, we have five (it's still a youngish plant, so five is pretty good). One is opening in our great room right now as I type. It is considered good luck when a blossom opens, but more than that – it is extraordinary. I've documented the blooms before, but it's something else to experience it in person. The timing worked out such that we made a little party of it Friday night.

i guess it was a sizable party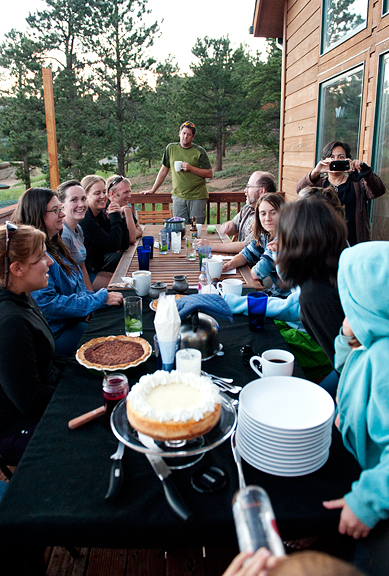 at 1:30am (the bud is just one day behind)
flowers that jason and heather's kids picked for me (so sweet)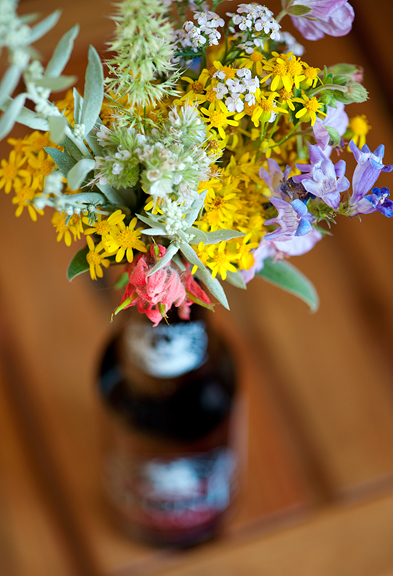 Compared to the
last two blossoms from the previous week
, this one sure took its time opening up. Maybe it was shy with all of those people around? After a dessert of
chocolate espresso pecan pie
,
lime cheesecake with blackberry sauce
, a lovely apricot frangipane tart that Marianne brought, coffee and tea – we piled back inside for some Wii Sports smackdown! As most of my friends know, I like to serve multiple desserts. Sometimes I'll forget one. When I opened the freezer to grab some ice I realized I hadn't broken out the granita.
honeydew, to be exact
cut into chunks
The timing was perfect though. We passed tiny glasses stuffed with light green crystals of fruity granita around – just enough to refresh without making anyone feel too heavy. I love granitas in summer. Nichole asked if the recipe was on my blog and I replied, "I'm going to blog it soon." Erin's eyes sparkled as she smiled at me – how many times has she heard me say that at dinner?
juice a lime
a little tartness to bring out the sweet
I wish I could claim that all of the fruits and vegetables I purchase are perfectly ripe, sweet, and whatever they are supposed to be. The truth is that I don't have the luxury to casually shop for ingredients. When I go into town, it is a search and destroy mission – my time is packed to the hilt. That's how I roll. This honeydew melon was the best I could select, and even so it was a little underwhelming when I tasted it.
some sugar to spunk it up
making good use of my blender this summer (hellooooo piña colada!)
The melon was more fleshy than fruity. I just didn't know how it would turn out. After blending the hell out of everything, I strained the purée. I'm a bit of a nut about the color green. I really like green. It's not even my favorite color (blue is my favorite color), but pretty shades of green mesmerize me.
beautiful bright green slurry
straining out solids
Once the fleshy bits were discarded, the remaining juice was more like honeydew. It was still a little on the flat side, but I knew once it was frozen it would taste better. I don't know why freezing does this, but all of the granitas and custards and sorbets that I make have a more lively flavor when they are frozen.
pour the liquid into a pan for freezing
my favorite part: scrape scrape
The simplicity of a granita resonates with me in summer. In my world, ice cream is too heavy and sorbets are too sweet – both leave me wanting for a glass of water. Tiny flakes of fruit-flavored ice are elegant, simple, and refreshing. Added bonus: no special equipment required! A granita is just the treat I want in warm weather. You can booze it up a little by drizzling liqueur of your choice over the granita (don't add booze to the liquid, it won't "ice" properly).
summer living
Honeydew Granita
[print recipe]
from Group Recipes
2 tbsps lime juice (juice of 1 lime)
4 tbsps sugar
1/8 tsp salt
8 cups honeydew melon, cut into cubes (I used 1 melon, de-seeded and rind removed)
Purée all ingredients in a blender until smooth (about a minute). Strain the purée through a sieve set over a bowl. Be sure not to push the pulp through the sieve – let gravity do her work and gently move the pulp around to let the liquid find its way through. Pour the liquid (about 4 cups) into a baking dish and place in the freezer. After an hour, start scraping the ice with a fork. Repeat every 20 minutes until all of the ice is scraped. Serves 8-12.