Recipe: prosciutto-wrapped grilled peaches
I get it. I do.
There are folks who want to make money and garner fame through their (food) blogs. And if food blogging is something they truly love, then good luck to them. It's not terribly unlike people who want to make a living in let's say, photography – although you can make a living as a photographer without heaps of cash or adulation. I think what bothers me is the overemphasis on (more) fame, (more) money. And you know there are those who will never be satisfied, they just want MORE. They're easy to identify and in my case, avoid. I'm not a more kind of person. I see a lot of positives in LESS. Maybe if you slapped a pack on your back and hiked into the sticks for a week, you'd get a good sense of what is necessary and important. Maybe not.
I recognize that my priorities don't always jive with the rest of the flock. I'm cool with that.
What's funny (and by funny I don't mean ha ha) is how some are pointing their fingers at those of us who frowned upon gearing blogs to maximize traffic and SEO. "I see your ads and your badges on your blog!" The implication being: having ads or badges on your blog means you have no right to criticize those who want money and fame. In essence, I've invalidated my rail against the SEO/traffic machine by hosting an ad and some badges.
Not true.
My blog is my space. I use my blog on a daily basis. Remember, I'm a little OCD and I love to archive. I look up old recipes. I use it to jog my memory (we DID go to so-and-so's for dinner on such-and-such night four years ago). It tells me what time of year the columbines bloom in the high country. The fact that I can pull revenue to cover the costs of my hosting service (which became necessary when my home grown server could no longer handle the traffic), materials, and conferences is pretty damn sweet. This is not lost on me. The fact that urb is self-sufficient helps me to continue doing it without burdening our finances. That some publications I respect happen to like my mindless drivel is merely icing on the cake. But I'm not filling my posts with tag words (Angelina Jolie boobies chocolate cheesecake chili porn?) and altering content to drive more traffic to my site. Are you kidding? I can barely manage writing what I think in a coherent manner.
What I object to is the cookie-cutter mold for food blogging and the desire to blog just for money and fame. They all start to look the same when everyone is clamoring for and getting a recipe on how to get rich/famous off your food blog. I don't think much of trend-chasers and disingenuous people. I prefer the blogs that are grown organically, with their own sense of style and voice. Be yourself.
There's one last thing I wanted to address that some of my dear readers brought up in the comments. …it's easy not to care about traffic when you have lots of it already! I understand that people want a response for their efforts. They want to know that someone is out there reading and connecting. I had a woman in all sincerity ask me on the Food Blog Forum why on Earth I would blog if I didn't care about getting readers. As much as I love all of you wonderful people, I would be perfectly happy blogging to no one because (as I've said in the past) I blog for me.
My website started in 1994. It was well before the advent of blogs. I had pages dedicated to backcountry trip reports and some recipes. I knew that someone somewhere was going to find that information useful someday. I did this because I found other trip reports to be incredibly helpful. It was about sharing information and helping others. Feedback was unheard of then. I got an occasional email (like every 3 months) asking about weather and trail conditions. Traffic, comments, and SEO had no meaning. Fast forward 16 years (*gulp!*) and I have added urb, a photo blog, and a personal blog. My photo blog gets a few comments, but can go for months without a peep. That's fine! I just keep dumping my pictures there so I can keep track of my noodlings. My personal blog has a few dozen readers and they rarely comment, but they read to keep tabs on what I'm doing and thinking.
So it's about me, but it's not about me. I need the outlet, but not the attention and I'm happiest that way. I learned long ago that placing my happiness and validation in the hands of others is a good way to get really pissed off (and screwed).

frost this morning on the deck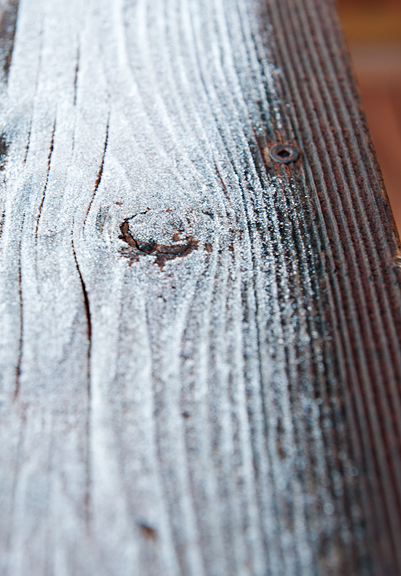 We had our first frost this morning. This means a couple of things. First off, it means SKI SEASON is coming. I hope it arrives before March this time. Second, it means fall colors will be making a (hopefully) grand entrance in a few weeks to Colorado. Third: this is my busiest time of year. Fourth: this is my favorite time of year! But before I get ahead of myself, I need to clear out the summer recipes so they don't languish in the queue for 11 months. I'm enjoying local peaches like they are going out of fashion.
beautiful, cheeky things
a few slices of prosciutto
Several years ago, my good friends were married at a vineyard in the Alexander Valley and one of the appetizers passed around was a quartered (perfectly ripe) peach with a slice of duck prosciutto draped on top. I had peaches and prosciutto that needed to be consumed before my Seattle trip, so I began to think of different permutations on that appetizer. Grilled peaches with prosciutto? Peaches and prosciutto, grilled together? Ungrilled prosciutto on ungrilled peaches?
slice in half
gently pull apart (the really ripe ones got a little creamed)
I wanted to grill the peaches because the flavor grows deeper with a touch of smokiness, but I left the prosciutto uncooked for that tender texture that almost dissolves on the tongue. Our (crappy) grill is a lot like a
Whisperlite
stove – it is either full blast or off. Unlike the Whisperlite, our grill on full blast still sucks because it cooks unevenly… and not even consistently unevenly. This just makes grilling more "exciting".
place the quarters on the grill
more or less grilled
Once off the grill and slightly cooled, I wrapped each quarter in a strip of prosciutto. Wouldn't you know it, even Jeremy (the guy who doesn't eat drupes/stone fruits), said it wasn't bad! These are great to eat in the company of friends who don't care that you shove the whole thing into your mouth. If you are serving these in polite company, it might help to slice them in half with a knife.
salty sweet, good to eat
Prosciutto-Wrapped Grilled Peaches
[print recipe]
2-4 peaches, ripe (white or regular peaches)
8-16 2-inch wide, thin slices of prosciutto
Wash the peaches and dry them off. It's up to you if you want to leave the skins on or not (hey, I like fiber). Cut the peaches in half and remove the pits. Cut the halves in half so that you have quarters. Oil your grill grate. Grill the peaches over high heat for a few minutes each side or until the peaches begin to brown or show nice grill marks. Turn the slices over to grill the other sides. Remove from heat and let cool a little. Wrap each peach slice in prosciutto. Serve.