Recipe: parmesan bacon crackers
There was frost on the ground when I was waiting for the sun to rise. I wasn't alone. A few other nutjobs were scattered about, standing in the dark and cold, all pointed toward the mountains. We were waiting for magic. Jeremy was in the car either reading a scientific paper or getting some shut eye. Shivering in the blue glow of twilight, I moved my feet in a silly little dance to keep warm. But, I do like sunrise shoots better than sunset shoots. Mornings tend to be quiet, thoughtful. By sunset, I'm usually tired, hungry, hot, dusty, and smelly. Sunset requires a little more discipline to remain inspired.

i love mornings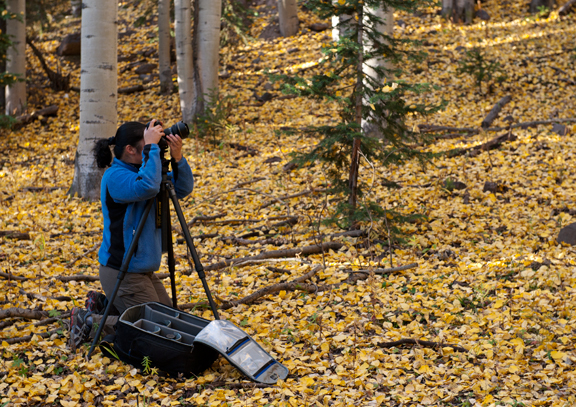 On this last shoot, Jeremy accompanied me for the 1000-mile drive around southwestern Colorado. This is my fifth year shooting the fall colors in Colorado and I think I'm starting to get the hang of it. I know the location of remote favorite stands of aspen better than how to get to most of my friends' houses in town. The aspens feel like old friends. There is something to be said for the tranquility you find among mature aspens – majestic white trunks, shimmering yellow and red canopy, gold leaves gently floating down around you. Autumn delights and soothes. And winter is just around the corner.
token "we were here" photo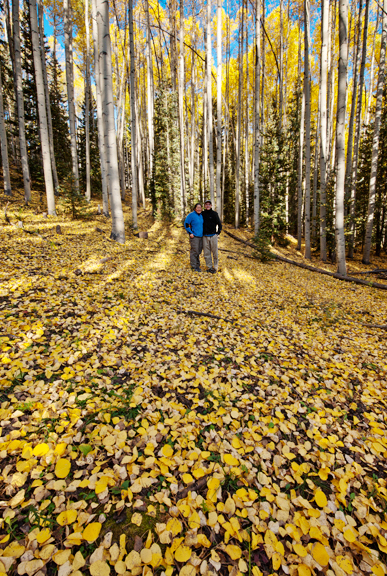 my subaru ad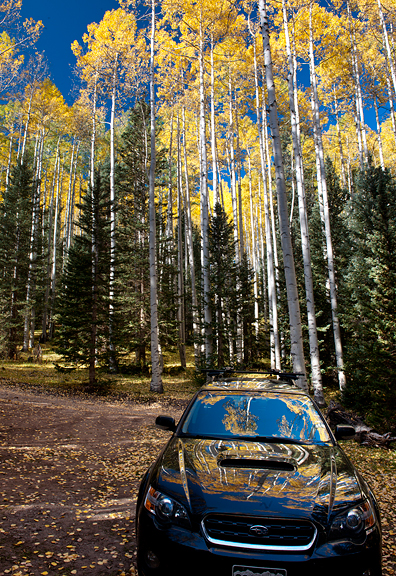 the moon high overhead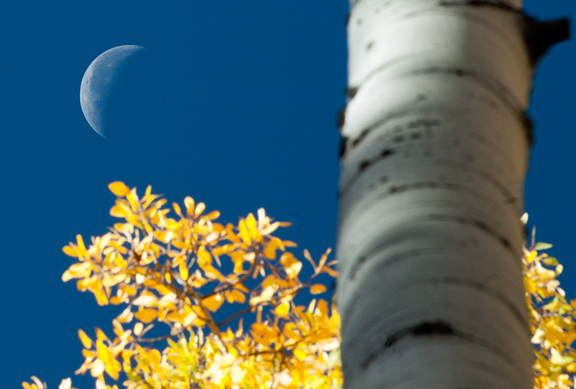 Normally, I don't think about winter during the fall shoot unless there is an early season snowstorm. There hasn't been a real snow storm yet. In fact, it's been outrageously hot. However, we swung by Telluride to scope out the colors and some of the trails. As we stared down from the top of a grassy green field dotted with late season thistles and salsify, I looked up at the sign: a black diamond run. I got antsy for ski season. Despite the sun beating down on me, I envisioned the gorgeous mogul field which must grace that slope in winter. I turned to say as much to Jeremy whose glazed over look indicated he was dreaming of tele turns in hip-deep powder. Oh Telluride…
On our way back, we spied the Telluride airstrip. Jason wasn't kidding when he told me it's a cliff.

it's a cliff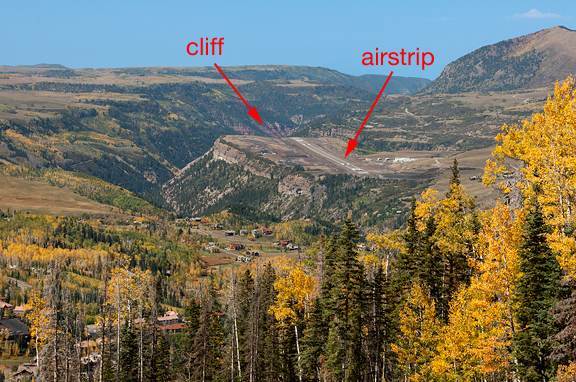 As far as my schedule goes, the fall shoot is done. Stick a fork in it! I have my sights set further west for the next couple of months and then hopefully by then it will be cold enough to start cooking again – I mean
really
cooking. But if you want a quick baking project that doesn't turn the entire house into a furnace, might I suggest trying homemade crackers? They are so unbelievably quick and easy, and of course they taste better than any store-bought cracker. How is it that we don't all make our own? There ought to be a revolution.
all you need to know is that there is bacon
…well okay – and butter and cheese
The greatest hurdle to finally making my own crackers was deciding on a flavor. I knew I wanted it to be savory, so that helped to narrow down my choices a little bit. Ultimately the winner was a baconized version of a New York Times Parmesan cream cracker. Well, I made both versions – one with and one without the bacon
in the off chance
the bacon cracker didn't turn out to my liking. Off chance, ha!
add cream, because butter alone doesn't make it decadent enough
this pinch test is quite handy
Even without a food processor, it only takes a few minutes to cut the butter up into the dry ingredients and wet it down with some cream. As for rolling the dough, I have become a big fan of rolling dough out between sheets of parchment or plastic wrap. Not only is it less messy, but it makes transferring the rolled out dough a snap.
lovely crumbled bacon
ball up the dough
rolling out the parmesan dough
Once the dough is rolled out, the fun part is scoring it. So that's what those fancy pastry cutter wheels are for! Isn't it established fact that foods cut into cute little shapes actually taste better? I don't own one of those dealie jobs, but a sharp knife works beautifully if you like straight lines.
i like straight lines just fine
sprinkle a little parmesan on top for good measure
You will want to watch the baking time because the edges brown quickly. Be careful with these crackers because if you don't pay attention, you just might polish them off in one sitting. I didn't even think to eat them
with
anything, just straight up. Fabulous.
variety is the spice of life
Parmesan Bacon Crackers
[print recipe]
adapted from The New York Times
1 cup flour
1/2 tsp salt
1/2 cup fresh Parmesan cheese, grated
4 slices bacon, cooked and finely crumbled
4 tbsps unsalted butter
1/4 cup cream (plus a little more in case the dough isn't moist enough)
coarse salt (I sprinkled with Parmesan cheese)
Oven: 400°F. Line a baking sheet with parchment paper and set aside. Place flour, salt, cheese, bacon, and butter in food processor. Pulse until everything is just combined. Pour the cream into the food processor and pulse to combine. Add more cream a teaspoon at a time until the dough holds together but isn't wet and sticky. Roll the dough out between two sheets of parchment paper (or wax paper or plastic wrap) until it is 1/2-inch thick or thinner if you prefer. Peel one sheet of paper or wrap from one side and place the dough on the prepared baking sheet. Peel the remaining sheet of paper or wrap. Score the dough with something sharp (knife, pizza cutter, etc.). Sprinkle with salt or whatever tickles your fancy. Bake for 10 minutes or until golden. Serves 4-8.