Recipe: chinese salt and pepper squid
I made a new friend last week. Despite being around him for the past several months, the reason he's my new friend is because he was only just born a few weeks ago. Erin and I went to visit with our friends – the proud new parents – and with little Felix. He's a charmer and I am obsessed with his little feet. There was much discussion of how to craft some telemark skis for him.

adorable toes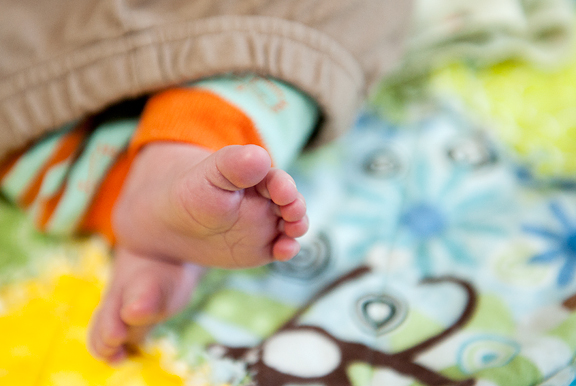 The past week we've spent more time on trails than at the big resorts because we are spoiled brats who don't like skiing with crowds of holiday or weekend skiers. Plus, there is something to be said for the beauty and solitude of our local backcountry. I know some of you will think skiing is skiing, but there are many flavors of skiing. I call this one "delayed gratification". But really, it's great exercise and a lot of fun.
trees provide some shelter from the winds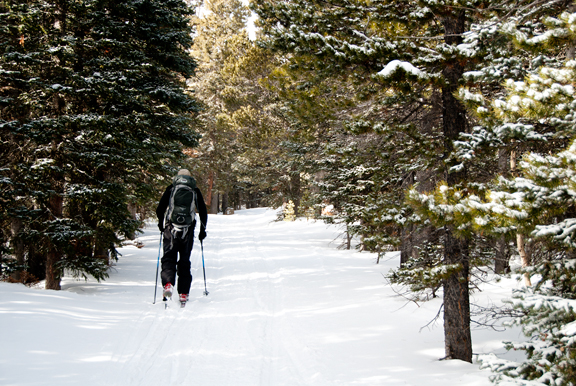 my skins are put away and i'm ready to head downhill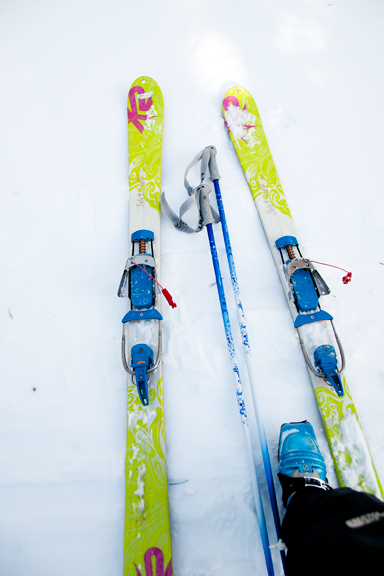 jeremy securing his cables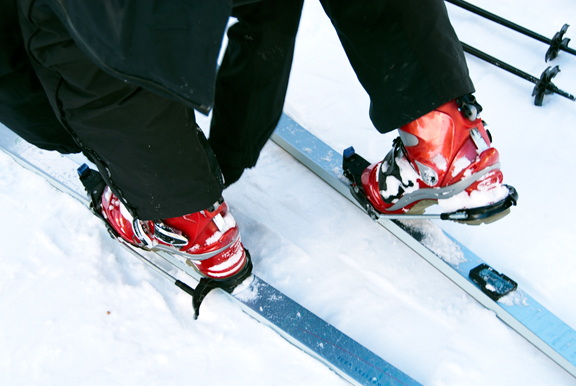 another gorgeous colorado day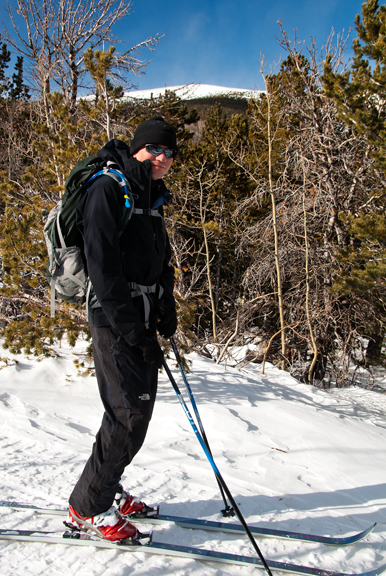 As some of my friends know, I had lost my Chinese cooking mojo for a while. I just wasn't feeling it. Sure I could think of things to make, but I had no desire, no spark to actually want to make any of them. Then in the last few weeks, I've developed cravings for various Chinese dishes that I've only had in restaurants. Perhaps it is because Chinese New Year is just around the corner (next month) or because I'll be seeing my beloved Chinese Grandma on my next trip to the Bay Area? Whatever the reason, I began scouring my Chinese cookbooks for a favorite recipe I had been wanting to learn to make for years: salt and pepper squid.
green onions, thai chili peppers, sichuan peppercorns, salt
slicing the squid
It's not like I own a million Chinese cookbooks, but I do have a handful that have served me well in the past. Not a single one had a recipe for salt and pepper squid… except for
Jaden's book
. Oh, thank goodness for homegirl! The recipe was so simple – I knew it was the one. It was so simple that my mind lept over this activation barrier I've had for so long and I set to work prepping, cooking, and shooting.
to make the sichuan peppercorn salt
crush the peppercorns
This is something we usually order when we are in California where the Chinese restaurants are good and plentiful. I tend to order those dishes that 1) I don't know how to make 2) are too complicated to make at home or 3) are a mess to make at home. It's an easy dish to whip up if you don't mind the frying (I kinda mind the frying). I love this stuff, which is probably why I should only make it once a year on special occasions. The point is – I CAN MAKE IT AT HOME IF I WANT TO. Isn't that one of the challenges of the home cook: to reproduce and perhaps rival what you get at a restaurant?
add sichuan peppercorn salt to the flour and cornstarch
coat the squid
My one caveat is to be sure and pat the squid dry as best you can. If there is any water/moisture when you fry them, they will pop and splatter and do all manner of rude things. The squid cooks quickly. We are talking seconds (60-90), so you need to be quick or else you'll turn your squid rubbery. Work in batches and when all of the squid are fried and still hot, I like to toss them with a mix of chopped green onions and Thai bird chilis. The residual heat from the squid will release some nice spice and flavors from the mix.
dice the chilis and green onions
drain the fried squid
Don't forget to sprinkle a little more Sichuan peppercorn salt before serving. I love the tentacles which curl up like tender little flowers and are a lot of fun to eat. If you haven't tried squid like this, I highly recommend it. This is my favorite way to prepare and enjoy squid.
watch those thai chili bites – whew!
Chinese Salt and Pepper Squid
[print recipe]
(slightly modified and reproduced with permission) from The Steamy Kitchen Cookbook by Jaden Hair (aka Steamy Kitchen)
1 lb (500 g) raw squid, tentacles and tubes
4 1/2 tsps sea salt
1 1/2 tsps Sichuan peppercorns, toasted over medium low-heat in a pan (no oil) for about 3 minutes
1/2 cup (50 g) flour
1/2 cup (80 g) cornstarch
3-4 Thai bird chilis, roughly chopped (use less for milder spice)
2 stalks green onions, chopped
oil for deep frying
Slice the squid tubes into 1/2-inch thick rings (leave the tentacles whole – they curl up beautifully when cooked). Rinse the squid in water and pat dry with paper towels. The more you soak up any extra water on the squid, the less popping and spattering of hot oil you'll have when you fry them. Crush the toasted Sichuan peppercorns and salt together to create a coarse mixture (I used my mortar and pestle). Combine four teaspoons of the Sichuan peppercorn salt (reserve the rest for serving) with the flour and cornstarch in a wide bowl. Place the squid in the flour mixture and toss until every piece is well-coated. Mix the Thai chilis and green onions together and set aside in a large bowl. Heat about 1 1/2 inches of oil in a medium sauté pan or a wok over high heat to achieve a temperature of 375°F (190°C). With tongs or chopsticks, pick up some of the squid (no more than a fifth of the total) and shake off excess flour before lowering it into the oil. Fry until the squid turns a light golden color which takes between 60 to 90 seconds. Remove from the oil and set on a cooling rack to drain. Repeat until all of the squid is cooked. Toss the (still hot) squid with the chili, green onions, and remaining Sichuan peppercorn salt and serve immediately. Serves 4.