I love a road trip with a good companion. Jeremy is my ideal companion. I love a photo shoot with a good shooting partner. Jason is a great shooting partner. But sometimes things come up and I have to go solo – like this week's shoot. I left Jeremy at his conference and headed back north for a few days.

the road from new mexico to colorado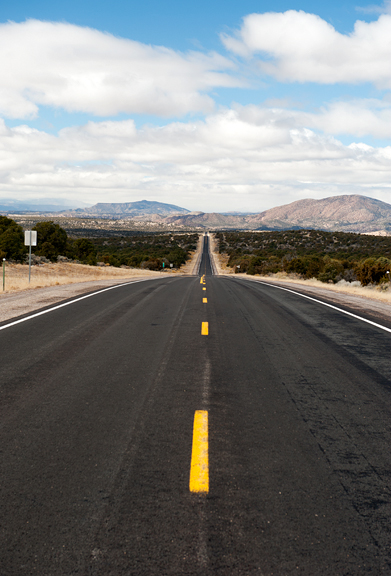 The fact that the American West is so big and spread out is both a blessing and a curse. More blessing than curse though. Sure, it takes a long time to get from point A to point B. I cherish the wide open space between them. People talk about what a small world it is, but if you drive the empty roads under big skies and through sprawling landscapes and really have a look around, you understand that the world is quite enormous and you are but a measly speck. It's awesome.
fresh snow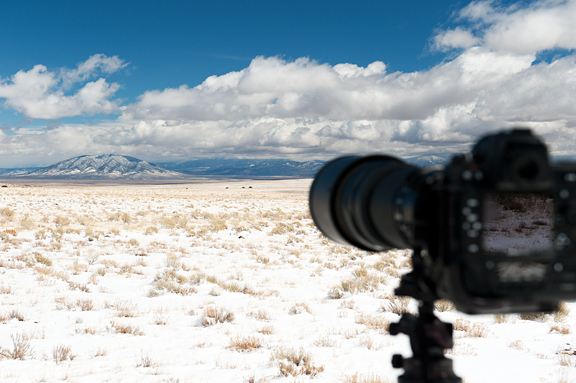 Empty roads, wide shoulders, views for hundreds of miles. Out here, you can slow down to 15 mph and cruise for antelope or birds of prey. Pull over, step out, and take a breath of that clean air. The only sound is the wind racing across the high plateau. If you pass something interesting, it's easy enough to take your foot off the gas and turn yourself around. Go back. Check it out. How many times do you continue driving and then think "I wish I had stopped"? When I tell myself I'll go back later, most of the time I end up not returning. I'm trying to be better about this.
hasta, baby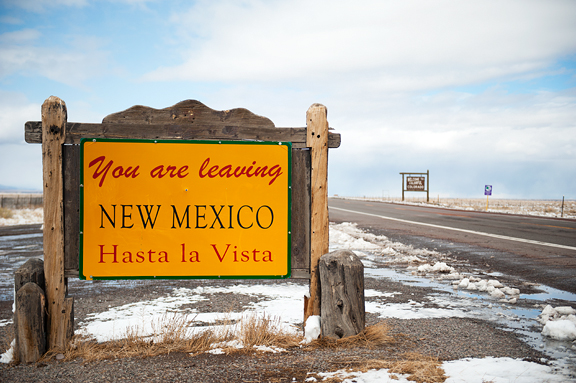 The passenger seat is filled with quick grab items: an ipad, maps, water bottle (with water), juice, phone, camera, wallet, headlamp, hat, gloves, lip balm, guide books… If I could put the main camera and my tripod in the passenger seat safely, I would – but that's what the backseat is for.
believe it or not, there is organization to this jumble of junk
the big lens makes all of the others look like tiny toys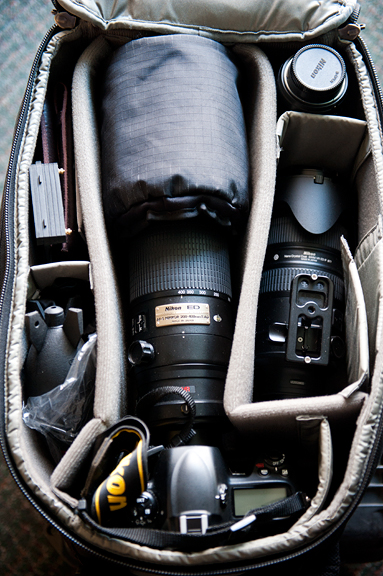 Do I talk to myself? Yes. A lot. I try to keep a lid on it when other people are around, but there is a loud, never-ending discussion going on in my head when I'm working alone. It helps to keep my mind from getting stuck in a music loop. I don't listen to music or the radio when I drive or when I'm out shooting. I listen to the road, the engine, the birds, the winds – I hear my surroundings as much as I see them. Midday is usually reserved for recon, so there is more driving than shooting. But there is always looking… seeing.
checking out another wildlife preserve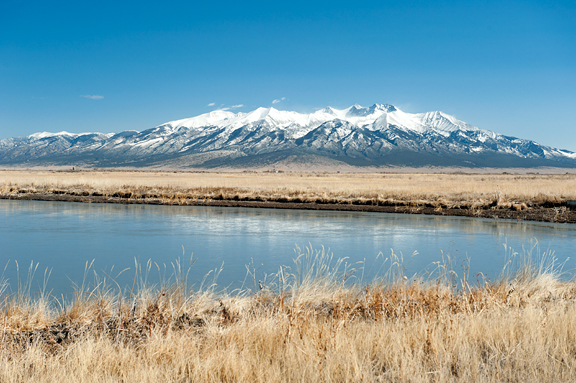 let's go say hi to the dunes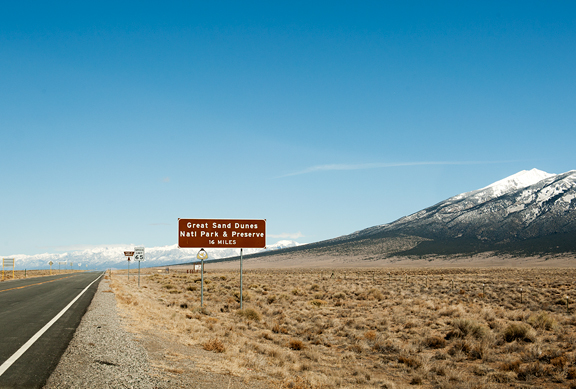 While I enjoy the company of others, I also thoroughly enjoy the solitude and working on my own terms and my own schedule. After the sun goes down, most of the bird watchers, photographers, and noodlers pack up and head for someplace warm. I like that time with just me and thousands of sandhill cranes, geese, ducks, blackbirds, and any other birds I didn't identify.
coming in for the evening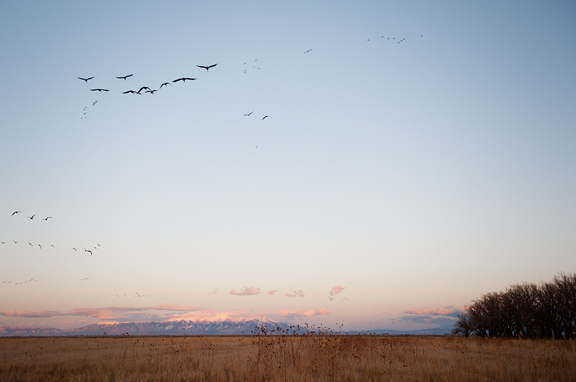 At the end of each day, I drive to my generic motel in the dark with high beams on so as to see bunnies, deer, and other critters that like to scurry across or stand in the middle of the roads. The internal conversation mentions something about being grateful for seat warmers. I realize I am starting to feel my toes again, but the fingers are still numb with cold. In the morning the process is the same, just backwards. I load the car quietly in the dark and start driving back to the birds. Nighttime gives way to twilight and the sky takes on different shades of dark blue, intensifying and then becoming lighter. When the slightest hints of warm color tint the horizon, I'm set up and waiting in the cold, dark, and not-so-lonesome – I'm surrounded by birds.
anticipation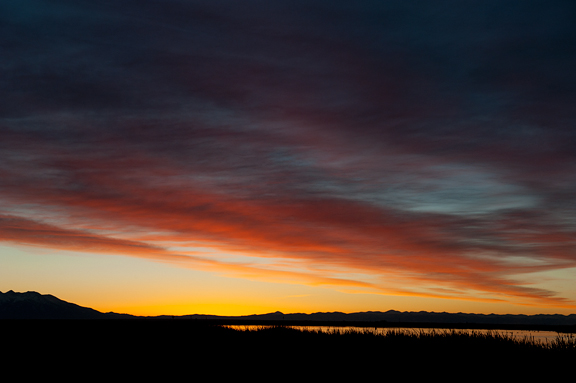 Some people might say 17°F is practically the same as 12°F. I say it's definitely warmer. If you stand outside for a couple of hours in one and then the other, I'm sure you'd notice a difference. Last year we were sitting around in 4°F waiting for sunrise one morning. The next morning it was 12°F and it felt like a tropical vacation.
blackbirds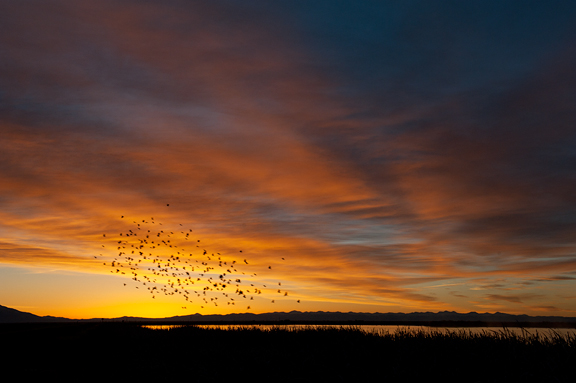 Sunrise is the breakfast of champions. I don't think enough people witness enough sunrises. I know I have seen many a sunrise and I still can't get enough of them. So the birds and I watched the sky turn colors in anticipation of the sun's arrival. No one else was there – it was all ours!
sandhill cranes patiently waiting in the water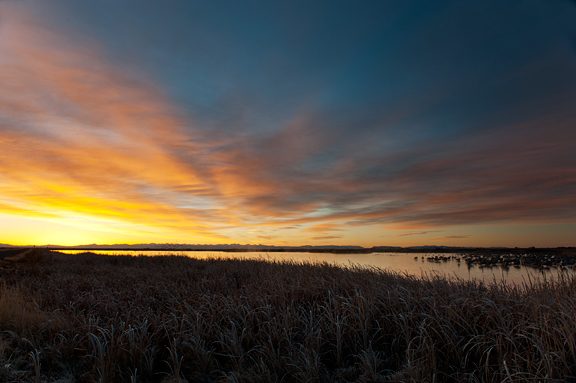 sun up!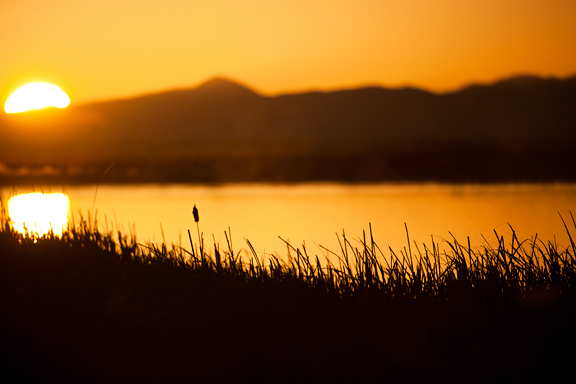 the other view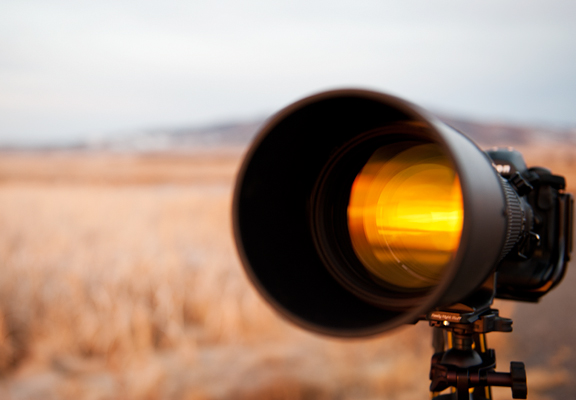 Bird chatter increased with the light levels as the world went from blue to orange to golden in a few minutes. The cranes began to take off for their feeding grounds. On top of the din of the bird calls, the sound of their enormous wings beating against the air boomed around me.
take off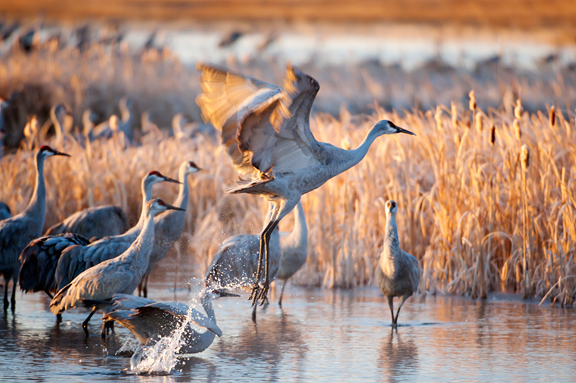 me shooting them (with a camera)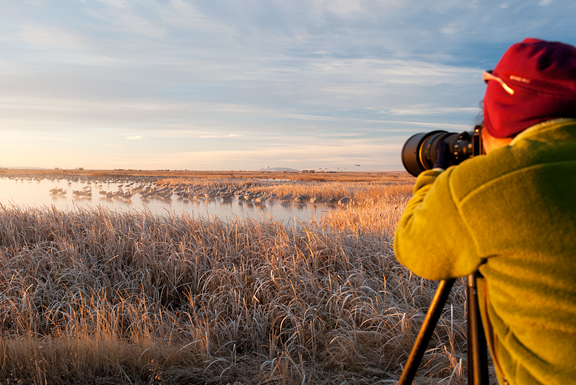 A couple of cars came by and people hopped out to take a few photos, but the sun was done performing for the morning. It moved behind the bank of clouds that had been giving such a glorious display of color only minutes before. I wanted to tell them "you should have been here just a little earlier!" but I quietly packed up my gear and headed out. Looking forward to scoping out more pronghorn antelope on the way back to New Mexico and then sharing what I saw with Jeremy, I turned on my seat heater and held my fingers in front of the air vents to thaw as I made my way south.