Recipe: tuna poke
I'm writing from the cool(er) foothills of Waimea (Kamuela) right now. The drizzle has abated and there is a gentle breeze keeping some residents in pants and jackets. Jeremy has just polished off his second cup of Kona coffee for the day and we're deciding on where to grab lunch. It's been a rainy week on the Big Island, but it's not such a downer considering the amazing food (ono kine grindz) on offer if you avoid the tourist traps.

noms to go at the hilo farmers market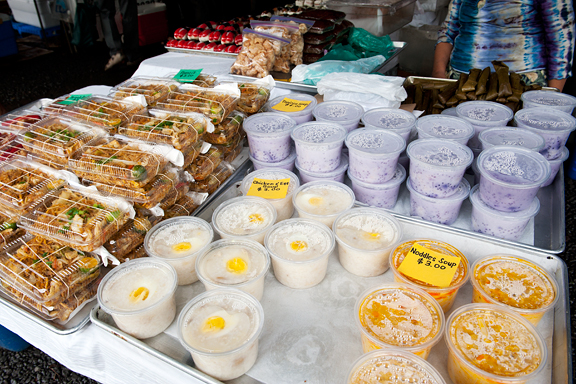 bouquets on display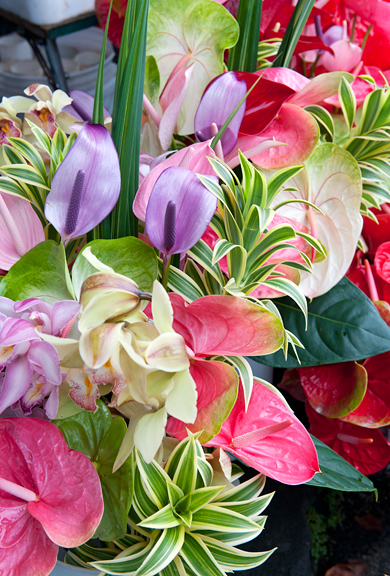 they had mangosteens, lychee, cherimoyas, mangos…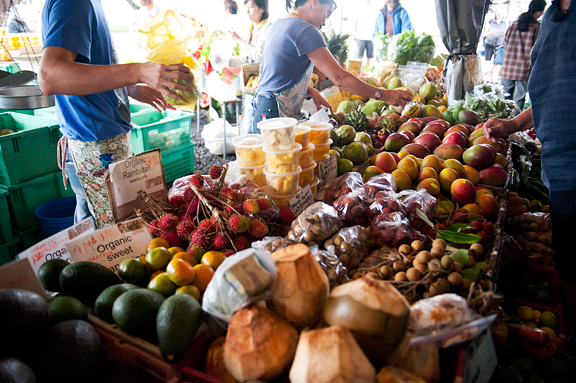 coconuts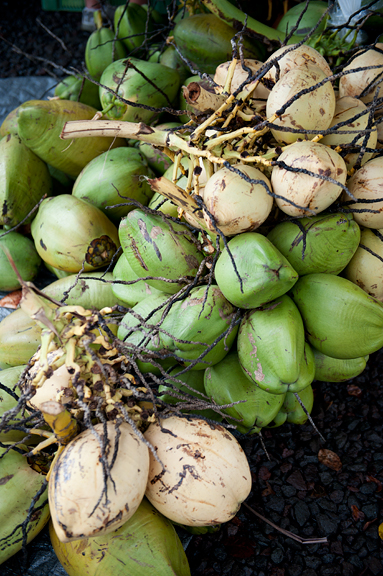 crates of rambutan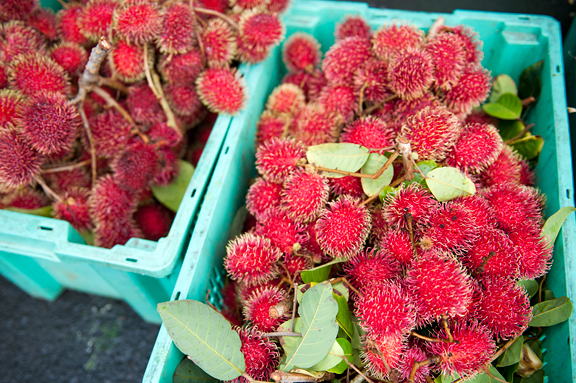 white anthurium among the reds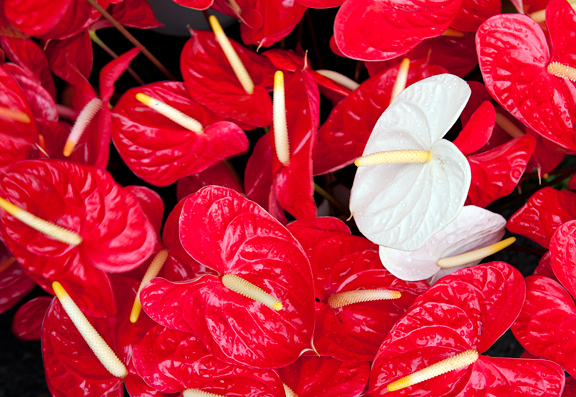 jeremy's favorite tree: the banyan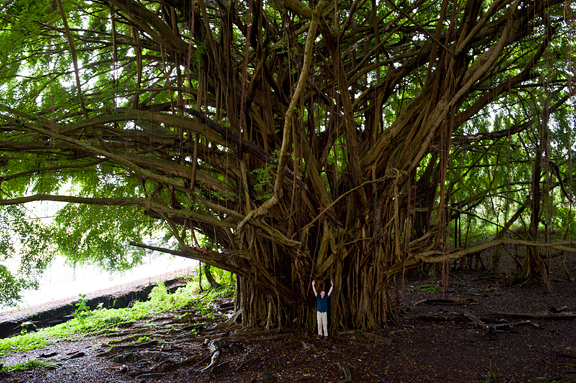 We scored heaps of fresh fruits and local treats in Hilo on our way to the Hamakua Coast. I think I'm in love with Hilo because it's everything that Kona isn't. The food alone is enough to make me forget about the heat and humidity – THAT is how fan-freaking-tastic Hilo is. As scenery goes, the north side of the Big Island is my favorite for the dramatic jungly cliffs plunging into the gem-blue waters. Another thing I love about the north side of the island is Tex's in Honoka'a.
this is for malasada research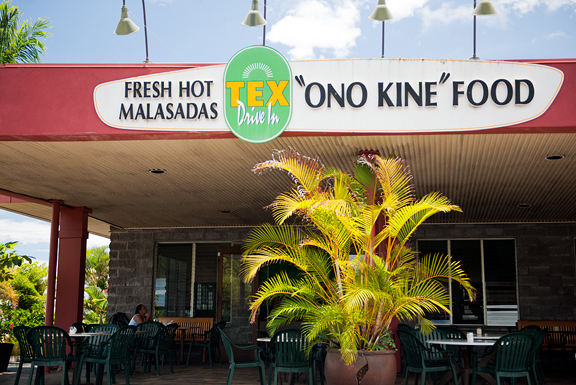 fresh hot malasadas from tex's beats the pants off a krispy kreme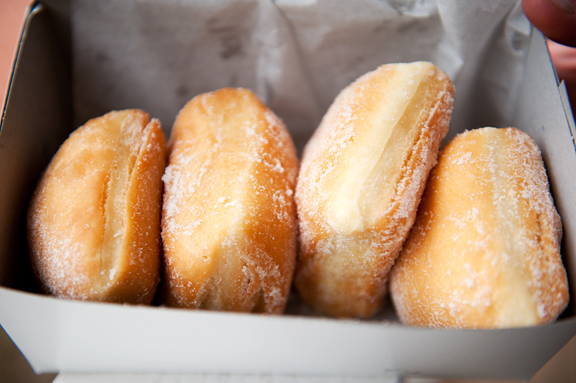 pineapple malasada research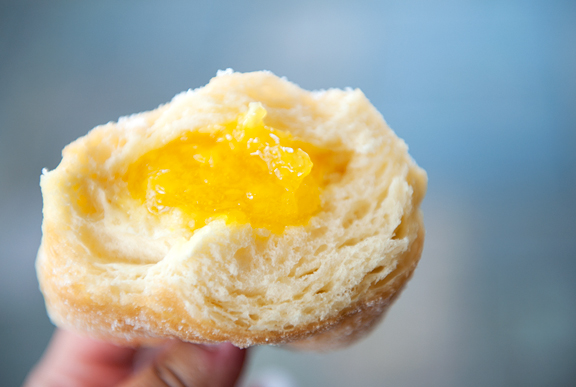 We spent the last three days out of Waimea (Kamuela) which is pleasantly nestled on the saddle between Kohala and Mauna Kea. It's a few thousand feet above the ocean and I've been loving the drier, cooler climate (we're on the dry side of town – yes, there is a wet and dry side of Waimea!). Excellent food here and in the lovely town of Hawi too.
we stayed at an inn on the west side of town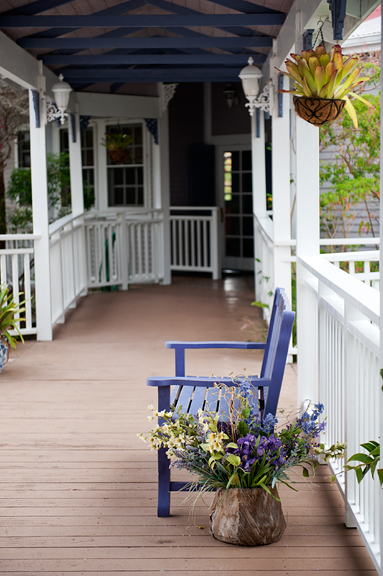 dinner at merriman's
kalua pig and sweet onion quesadilla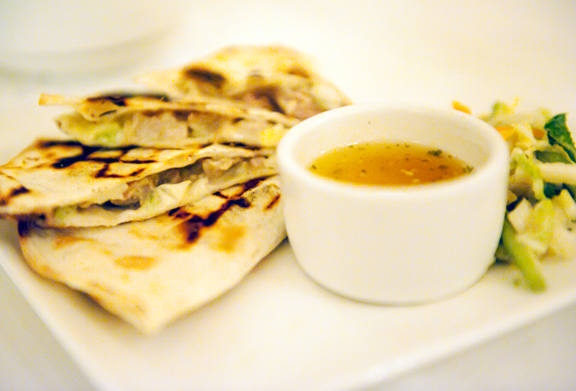 home-cured smoked pork belly with kona coffee glaze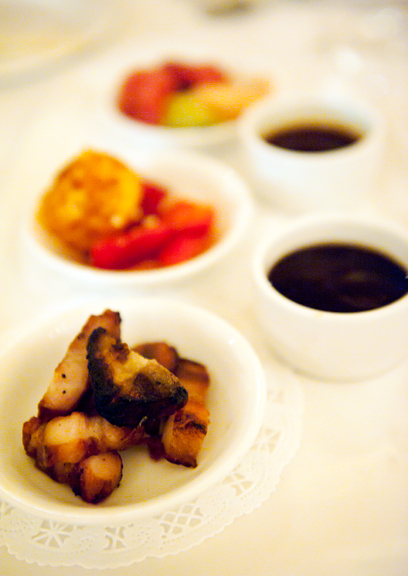 wild pork tenderloin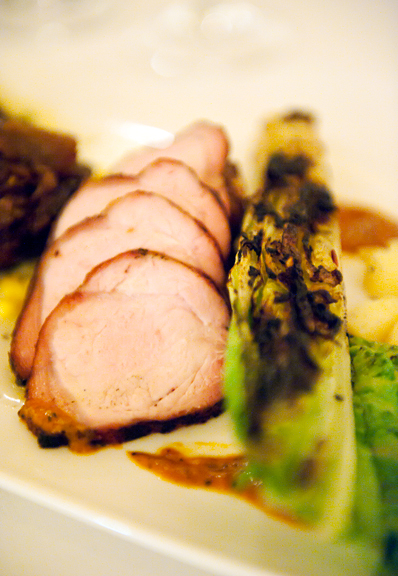 i've also been going crazy for these local taro and sweet potato chips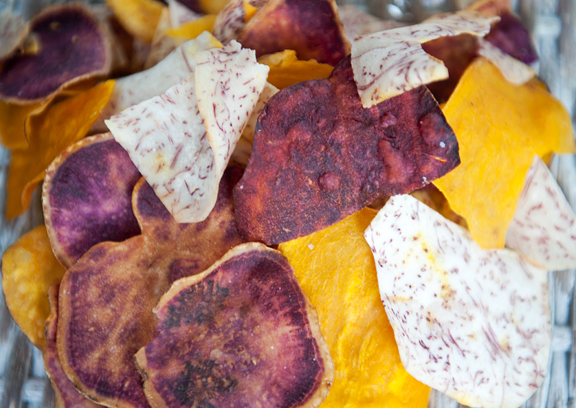 sushi rock in hawi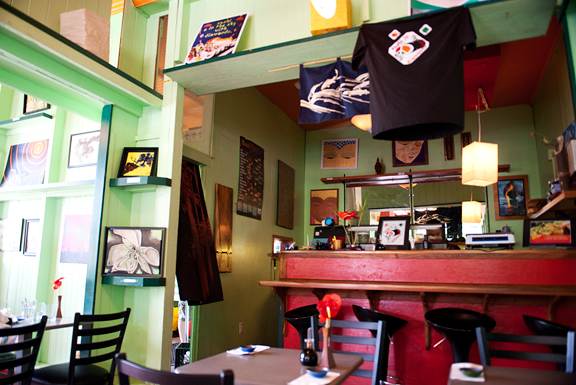 cap'n crunch roll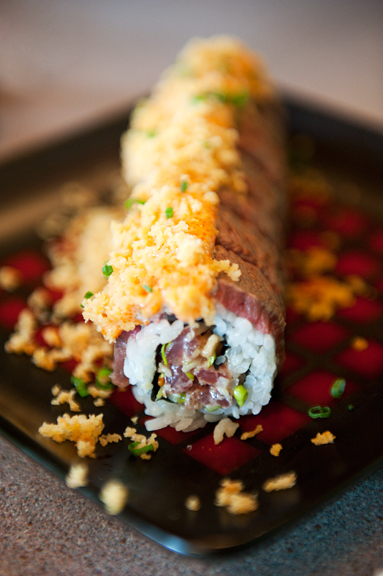 rockstar roll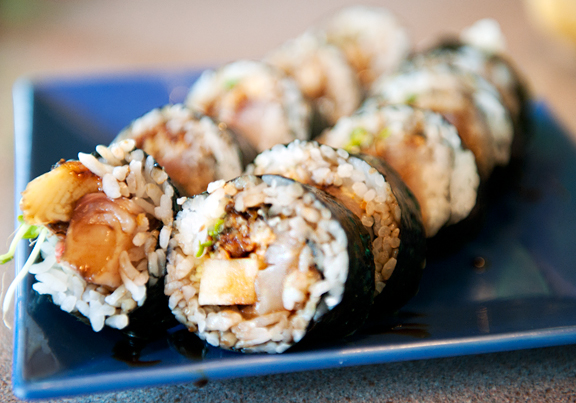 I knew before coming to Hawai'i that I would be all over the poke – that irresistible mix of fresh raw fish, onions, seaweed, and salt dressed lightly in soy sauce and sesame oil. There are many variations as we took note in the grocery stores: lime poke, kimchi poke (omg omg!!), avocado poke, California poke… We have sampled quite a bit of the poke around the island – I just can't get enough of it. One way to solve the withdrawal issues when returning to the mainland is to make some yourself. The fish will never be as awesomely fresh, but it's a start.
tuna (maguro), green onions, seaweed (wakame), flake salt, and sesame seeds
diced tuna, sliced onions, and rehydrated seaweed
The key is the fish. Get really fresh and good quality tuna or else it's not really worth making (and eating). I got my seaweed from Whole Foods – it's the dried wakame which also goes great in miso soup. Rehydration is super simple: add cold water and let sit for 5 minutes, then drain.
adding a dash of sesame oil
mix
Make sure you add enough of the seasonings that it tastes good but doesn't mask the fresh bites of tuna. And don't be shy about the salt. That little bit of crunch is a terrific texture and flavor enhancer. Also? If you feel so inclined, adding some chopped macadamia nuts to the mix is phenomenal. You can add pretty much whatever you like, but the recipe (sans nuts) is the basic poke recipe to go on. I especially like it with a side of steamed (Asian style = sticky) rice.
sprinkle good salt over the poke
serve to people you like
Tuna Poke
[print recipe]
from No Recipes
1/2 lb. sashimi-grade tuna (maguro), cubed (about 1/2 to 3/4 inch)
4 green onions, minced
1/4 cup rehydrated seaweed (I used wakame as Marc instructed – found it at my local Whole Foods)
2 tsps toasted sesame seeds (I like to mix black and white sesame seeds – I'm an interracial type)
2 tsps soy sauce
1 tsp sesame oil
1/2 tsp sugar
1/4 cup macadamia nuts, finely chopped (optional, but GOOD!)
the best salt you can find (I used Murray River pink flake sea salt)
Toss everything together except the salt. Sprinkle salt over the poke and serve with rice.