Recipe: chicken tikka masala
It used to be that I would measure a mile by the number of times (four) around the track. Then it became segments of a route through a lush residential neighborhood during field hockey practice runs. When Jeremy and I met and began hiking and backpacking together, I loved to stand on a high point and look back at where we had started. A short six miles could wind up a valley, around a mountain, over a ridge, and climb to a pass. It's one thing to read it on the topo map and understand this in a cerebral sense. It's another thing entirely to behold the majesty of the landscape before you.

golden grasses and rocks mantle the peaks and ridges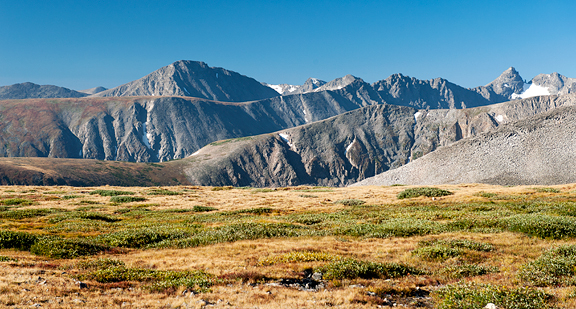 We had not hiked Mount Audubon since my birthday almost four years ago. Back then, Kaweah was still strong enough to summit with us and I was unaware I had cancer. A lot can happen over the course of four years and yet the trail was as we remembered it, more or less. When we ski in the backcountry, we're always looking up and around us. When we hike, we're usually scanning the trail ahead. I remember that cairn, that split boulder, that bifurcation of the trail, that stream crossing, that trail junction. I know where to expect to see families of marmots, pika, and ptarmigans. I like to think of the mountain structures changing on their geologic time scales – that is, they seldom change in our lifetime – and the mountain environment changing with diurnal or seasonal cycles due to avalanche, rock slide, fire, rain, vegetation, freeze and thaw, wind.
this pika is harvesting plants for the long winter ahead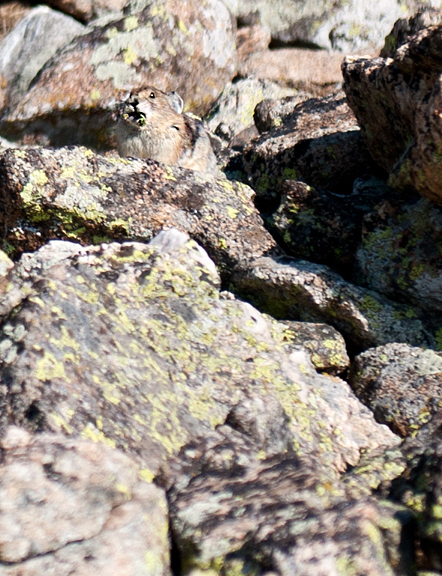 adolescent ptarmigan in hiding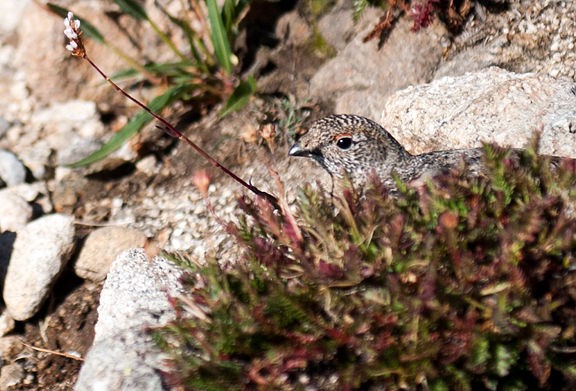 another pika checking us out at 13,000 feet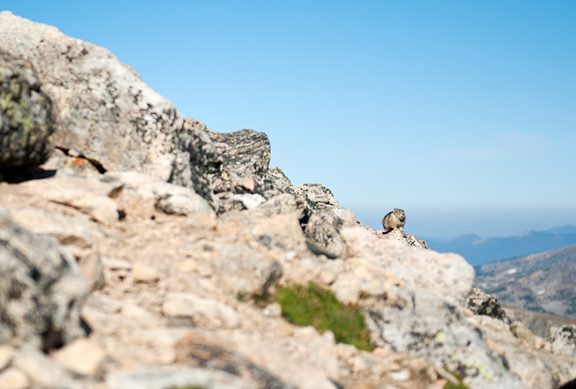 jeremy on summit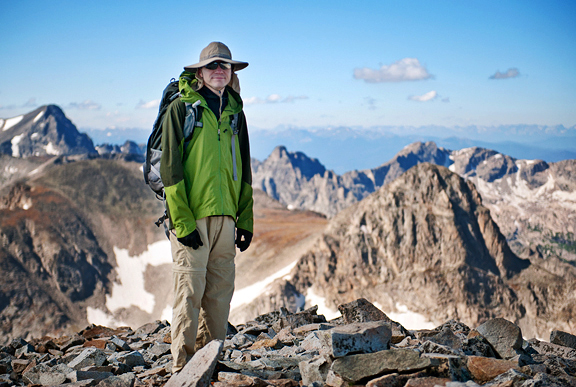 New trails are exciting, but familiar trails are comforting for me. I suppose it's like that for cooking or anything for that matter. As far as food goes, my usual progression is to like a dish that has been served to me and then crave it such that I want to learn to make it myself. Except with Indian food. I had this mental barrier. Despite most of the ingredients being things I've used or at least heard of, I just didn't know where to begin. My good friend,
Manisha
, has been so patient with me. I ask her the same stupid questions over and over and she patiently replies over and over and yet I still didn't have the guts to make my own Indian food… until last week. It's such a westernized Indian dish, but it is a favorite to be sure. I had to make chicken tikka masala.
chicken, yogurt, lime, garlic, oil, and spices
mince the garlic, juice the lime, dice the chicken
Everyone says it's easy to make. They're right. It is. It's just a pain to make it for the first time and shoot it too. I tripled the batch to make up for the time investment (hey, you can freeze it). First marinate the chicken in a mix of plain yogurt, lime juice, oil, garlic, and spices. The range was 1 hour to 24 hours. I like the idea of marinades, so I went for 24 hours. Booyah!
put it all in a bowl
mix well then refrigerate
When the chicken is ready, you can either bake it or grill it. I chose to grill it. Just skewer the cubes without packing them too tightly together (because you want the chicken to cook evenly) and grill or bake until they are cooked. Turn them over half-way through the cooking time. On our grill it took a total of seven minutes: four on one side and three after flipping the skewers. Lovely.
skewer
grill (or bake)
When the chicken is cooked, you can stop here and refrigerate the chicken for a few days or freeze it for a month or so until you are ready to use it. Mine went straight to the sauce. It was begging to be made!
the chicken, butter, seasonings, cream, oil, onions, tomatoes, garlic, ginger, lime
dice the tomatoes and onions, mince the garlic, grate the ginger
I grew up learning to cook one way – the Chinese way. That is, I learned the basic ingredients that make up the fundamentals of Chinese cooking like soy sauce, sesame oil, sherry, vinegar, garlic, green onions, and ginger (to name a few). It's that way with Indian food too, I just wasn't aware until Manisha explained it to me in her kitchen. And now that I've done it, I get it. Sort of. It's new to me, but it's delightful. Manisha tells me her Chinese food always ends up tasting like Indian food and I think it must be those basic building blocks that we're so used to that we keep reverting back to – the familiar, right?
add tomatoes to the sautéed onions, garlic, and ginger
when the tomatoes are soft, pour in the spices
The sauce doesn't take much time to make aside from all of the chopping. But you know, chopping is good when it comes to vegetables. Lots and lots of vegetables. Let it cook down to a soft mush and then purée the whole thing in a blender or food processor to get a smooth and brightly colored masala.
a brilliant orange color
place in blender to purée the sauce
Pour the masala back into the pan. The final steps involve adding butter, cream, cinnamon, lime, and water to round out the sauce. When the sauce is ready, add the chicken and heat it through. And that is your chicken tikka masala.
ah yes, butter – but we'll add some cream to cover all the bases
stir in the chicken
This homemade chicken tikka masala was much better than most of the restaurant versions I've had. My version is almost entirely organic and I can taste how fresh it is. I was elated, as was Jeremy. In the end, the magnitude of the difficulty in making Indian food was all in my mind. Turns out, it's not such a big distance to bridge. It's always good to know how to do things.
sitting down to dinner
goes well with raita and garlic naan
Chicken Tikka Masala
[print recipe]
from New Asian Cuisine (now defunct)
1/2 recipe chicken kebabs (see below)
3 tbsps vegetable oil
1 onion, diced
2 tsps minced garlic
2 tsps peeled and finely grated fresh ginger
1 fully ripe tomato, chopped
1/2 tsp cumin seeds
1/2 tsp ground coriander
1 tsp paprika
1/2 tsp ground red pepper (cayenne)
3/4 tsp salt
1/2 tsp ground black pepper
1 1/2 tsps sugar
1 cinnamon stick (approx 1-inch or 2.5-cm)
2 tbsps butter
1/2 lime, juice of (about 1.5 tbsps)
1/4 cup (65 ml) heavy cream
3 tbsps water
chicken kebabs
1 lb. chicken breast or chicken thigh, boneless and skinless
4 tbsps vegetable oil (or 3 tbsps if grilling the kebabs)
1 tbsp garlic, minced
1 lime, juice of
1/4 tsp ground nutmeg
1/4 tsp ground coriander
3/4 tsp paprika
1/4 tsp ground red pepper (cayenne)
3/4 tsp salt
1/2 tsp ground black pepper
2 tbsps plain yogurt
Make the chicken kebabs: Cut the chicken into 3/4-inch (2 cm) cubes. Mix 3 tablespoons of the oil and the remaining ingredients in a medium bowl or ziploc bag. Add the chicken cubes and mix well to ensure even coating. If in a bowl, cover the chicken with plastic wrap. Refrigerate for 1 hour or up to 1 day (I let it marinate for 24 hours). When done marinating, remove the chicken from the refrigerator. If baking the chicken then preheat oven to 450°F and spread the remaining tablespoon of oil over a baking sheet. If grilling, clean and lightly oil the grill, then fire it up! Skewer the chicken with pre-soaked bamboo skewers or as I prefer to use, stainless steel skewers. Try not to squash them too closely or they won't cook evenly. If baking, set the skewers on the baking sheet and bake 8 minutes, turn and bake another 7 minutes or until the chicken is no longer pink in the middle. If grilling, grill over high heat for 4 minutes, flip the skewers and grill another 3 minutes until done. Remove the chicken from the skewers. At this point you can refrigerate the chicken for a few days or freeze it for up to a month.
Make the masala: In a medium saucepan (or a large one if you double or triple the recipe), heat the oil over medium-high heat. Add the onions, garlic, and ginger. Sauté until the onions become golden brown, stirring frequently for about six minutes. [Mine never got to golden brown, they got to translucent yellowish slightly brown.] Reduce the heat to medium-low and add the chopped tomato. Cover and simmer for a few minutes until the tomato softens, stirring occasionally. Mash it with the onions until it becomes a sort of mushy paste. Stir in the cumin seeds, coriander, paprika, red pepper, salt, black pepper and sugar. Let the masala simmer uncovered for about 5 minutes, stirring frequently. Pour the sauce into a blender (take care not to burn yourself as it will be hot) and purée until smooth.
Put it all together: Return the masala to the saucepan and stir in the cinnamon stick, butter, lime juice, heavy cream and water. Set on high heat. Let it come to a boil, then reduce heat to medium-low. Add the chicken and let simmer 5 minutes. Stir it every minute or so. Serves 3 to 4.