Recipe: black cod with miso
Over a year ago, I was contacted by the program director of the Denver Botanic Gardens about giving a lecture and doing a workshop for their Bonfils Series. We met over tacos at Pica's and I cobbled together a proposal – something to inject a little ethnic culture and cuisine into Denver. I asked my friends Manisha, Todd, and Diane if they wanted to join me and then we worked out a date… October 20-21, 2011. That seemed quite far off, and now look – it's next week!


If you're near the Denver area, we'd love to have you come to our lecture:
Three Food Blogs, Three Cuisines, Infinite Inspiration
on Thursday, October 20, 2011 from 7:00 pm to 9:00 pm. If you want to arrive early (5:30 pm) there will be some great Denver food trucks to grab a nosh! On Friday, October 21, 2011, the four of us will lead
a workshop
in the kitchen facility where we will share and demonstrate Chinese, Indian, and Vietnamese recipes and cooking techniques. The workshop runs from 10:00 am to 2:00 pm with a short break in the middle for participants to grab lunch. So come join us for great stories, fantastic food, and heaps of laughter. We can't wait to meet you!
*********
I see more bare branches than aspen leaves around my neighborhood, thanks to the winds that whipped through here a few days prior. While walking Kaweah on the local trails this evening, I could see the skeletal dried flowers, puffballs, and solitary leaves shivering in the cold. They make a sad rattling noise as the winds race along the ground. They crunch underpaw when Kaweah goes careening off the trail to sniff something. Sunset comes earlier each day and practically sneaks up on us. When we came home from Boulder on Monday, I looked out the window to see some Kelvin-Helmholtz waves over the Continental Divide. These clouds are typically short-lived, but to get them at sunset? SCORE! Jeremy and I love to geek out on beautiful examples of fluid dynamics at work.
indicative of high shear aloft (SCIENCE!!!)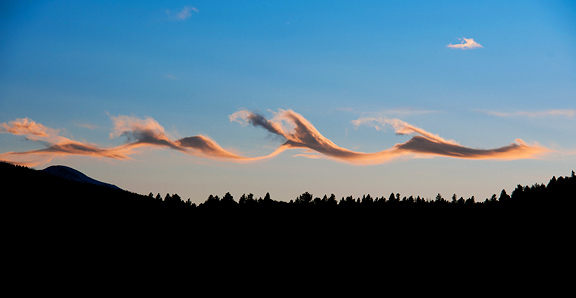 We had no such glorious clouds at sunset today, but that's okay because I had something glorious going on in the kitchen. On my fall colors recon/40th birthday long weekend, Jeremy and I spent a couple of days in Aspen. One evening, we went to
Matsuhisa
for dinner because so many had recommended it. I have to say, I was pretty underwhelmed with the sushi and sashimi which was decent, but seriously overpriced. However, the items we ordered from the kitchen were pretty phenomenal like their heirloom tomato salad with cilantro dressing or the black cod with miso. Let's talk about that black cod with miso. Melt. In. Your. Mouth. I've been obsessing over it ever since.
white miso paste, mirin, sake, sugar, black cod fillet
Flipping through some of my own books, I found a miso black cod recipe. But a quick search on the internets led me to the recipe from Matsuhisa on Food and Wine! The anticipation was crushing. I checked my local Whole Foods and asked my buddy Dustin (he's the head of Seafood) when they'd have some black cod in. We talked about the recipe and he nodded, "That's good stuff." I just had to be patient. Upon my return home from my road trip, I picked up some groceries at Whole Foods and saw they had black cod fillets on ice. YES, PLEASE.
pour the mirin and sake into a small saucepan
whisk the sugar in with the miso, mirin, and sake
pour the miso marinade into a baking dish to cool
I've seen all of these ingredients in most regular grocery stores, so it shouldn't be too difficult to round up. And you really ought to do a round up because once you taste the fish, you will be hooked. Hooked, I say! The recipe calls for marinating overnight, but I chose to follow the restaurant instructions of 2-3 days and marinated for 2 days. Next time I'm going to let it go for 3 days. And while the recipe says to use skinless pieces of black cod, the restaurant served ours with the skin on. I left the skin on.
slice the fillet into 6-ounce pieces
coat the fish in the miso marinade
cover in plastic and refrigerate
The recipe uses a grill pan to brown the fish for a few minutes before chucking it into the oven to roast. I opted for my stainless steel sauté pan, first browning the pieces skin-side up for about a minute, then carefully flipping them over for another minute. Use a fish spatula, otherwise you might wreck your fish as you pry it from the hot pan. After the initial browning, place the fish in the oven, skin-side down.
scrape the miso paste from the fish
pan-searing
into the oven
What you end up with is a moist, juicy, almost velvety fish that flakes off in giant delectable pieces. The flavor is both sweet and salty with a big wet kiss of umami thanks to the miso paste. I served it with edamame, sautéed bok choy, sautéed pea shoots, and gari (pickled ginger). Jeremy could not shut up about it. He kept gushing that this was his new favorite dish. It's definitely in my top 5 considering how simple it is to throw together and how quickly it cooks up. Totally worth trying once… but I'm pretty sure you'll make it again and again.
ready to dive in
Black Cod with Miso
[print recipe]
from Food and Wine contributed by Nobu Matsuhisa
3 tbsps mirin
3 tbsps sake
1/2 cup white miso paste
1/3 cup sugar
6 6-oz black cod fillets, about 1 1/2 inches thick (I only had 3 fillets)
vegetable oil
pickled ginger, for serving
[Note: The recipe originally calls for skinless black cod fillets. I left the skin on mine. I find it helps to keep the fish intact while I'm transferring it about.]
Bring the mirin and sake to a boil in a small saucepan. Whisk the miso paste into the mirin and sake until combined (mine didn't dissolve, it became a thick paste). Pour the sugar into the pan and stir over medium heat until the sugar is dissolved. Empty the miso marinade into a baking dish (one large enough to fit all of your fish) and let it cool. At this point, you can store the miso marinade for up to a week in the refrigerator. When the marinade is cool, place the fish pieces into the baking dish and be sure to coat each piece entirely in the miso. Cover with plastic wrap and refrigerate overnight or as the restaurant does it – refrigerate for 2-3 days (yes, do this – yes!!!). When ready to cook the fish, preheat the oven to 400°F. Heat a grill pan on high heat and oil it. In my case, I used my stainless steel sauté pan with a little oil. Remove the fish from the miso and scrape any excess from the fish (I just used my hands to do that). Place the fish, skin-side up, into the hot pan and cook for about a minute until the bottom browns. Carefully flip the pieces over (a fish spatula really helps here), skin-side down, and sear for another minute or until the skin begins to brown. Remove the fish from the pan and set on a heavy rimmed baking sheet lined with foil, skin-side down. Bake the fish for 10 minutes or until the flesh is flaky. Serve with pickled ginger.