Recipe: kale pepita cranberry salad
I am really looking forward to some downtime in about… a month. But I'm also thoroughly enjoying the crazy time which is now. We have visitors, house guests, travel, events, and all manner of goings on that my head is spinning just looking at the calendar. Are you the type who prefers to spread busy out evenly or cram it all together? I guess I didn't plan to have a smooshed schedule, but that's how it seems to have shaken out. Actually, I think October is always like this for me.

from crested butte a few weeks ago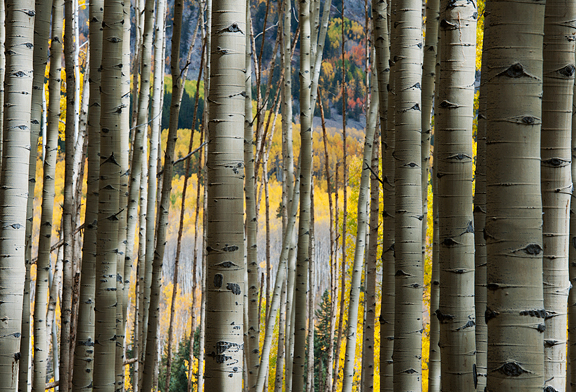 My parents are in town for a few weeks and we celebrated my dad's birthday last Friday with dinner at
The Black Cat
. I really get a kick out of how much they are enjoying each new restaurant we introduce them to around here. Of course, it helps that Boulder has no shortage of great places to dine.
amuse bouche: radish and mustard terrine on toast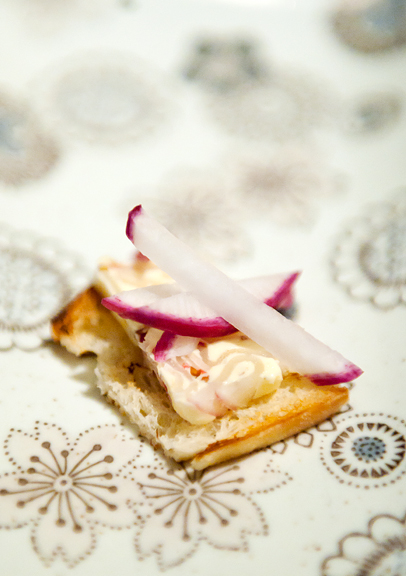 We like to cook as much as we like to dine out, so my folks came up to our house for dinner this evening. Actually, as my dad said, "I would like to see Kaweah." Kaweah loves my dad. Ever since he first met her when she was a puppy and he kept "accidentally" dropping peanuts on the floor, he has pretty much secured his place as #1 favorite person in her tiny brain. Anyway, it was a great excuse to introduce them to this kale salad which Jeremy and I are addicted to. It's all
Shauna's
fault. Actually, it's Danny's and
Jennie's
faults for tweeting about this salad after they had it for dinner one night. I asked if the recipe was on either of their blogs… and within a week, Shauna and Danny posted it. Thank you, friends.
dinosaur kale
I don't really know if that is dinosaur kale. What happened is that I went to Whole Foods looking for dinosaur or Lacinato kale and found this. It was above the sign for dinosaur kale. It didn't quite look like what I typically see listed as dinosaur kale, but that's what they had. I think it's pretty.
you'll need: kale, olive oil, fish sauce, lemon, pecorino, dried cranberries and pepitas
strip the stems
chiffonade
The most time consuming part of the whole process is probably washing the kale. The rest is a snap. Strip the leaves off the stem with a sharp knife (it's kinda fun) and stack the leaves together. Roll them up to cut them into strips (chiffonade) or don't roll them and slice them into strips. Whisk the dressing together. Shauna emphasizes how important it is to use the fish sauce. It's a small amount, but it really does make the flavor (think
umami
) and it doesn't taste fishy at all.
whisk the olive oil into the dressing
pouring dressing over the pepitas, cranberries, and kale
Place the dried cranberries and pepitas in the bowl with the kale. And you don't have to use dried cranberries or pepitas. Shauna's original recipe called for pine nuts and sultanas (golden raisins), but I had neither on hand and opted for these substitutions. I imagine you could add anything that suits your fancy, really. Pour half the dressing over the salad and mix it with your hand. This helps to get even distribution on the kale.
toss the salad by hand
I found that the kale becomes more tender after sitting an hour or two, so I try to prepare the salad ahead of time. Grate some Pecorino over the salad before serving and there you have it. My parents really enjoyed this recipe. It tastes of autumn to be sure, and it's a salad that departs from the ordinary. We'll be enjoying this one well into winter. This is a great way to get your greens on too.
it's good for you
Kale Pepita Cranberry Salad
[print recipe]
from Gluten-Free Girl and the Chef
1 large bunch of dinosaur kale (also known as Tuscan or Lacinato kale), washed
1 lemon, zest and juice of
1/2 tsp fish sauce
1/4 cup extra-virgin olive oil
salt and pepper
1/3 cup dried cranberries
1/4 cup roasted pepitas (pumpkin seeds)
1/4 cup grated Pecorino cheese
Trim the leaves from the fibrous stems of the kale. Discard (compost) the stems. Roll the leaves up like a cigar and cut into 1/2-inch wide strips. Place the kale in a large bowl. In a small bowl, combine the lemon juice, lemon zest, and fish sauce with a whisk. While whisking, slowly drizzle the olive oil into the dressing to make a nice emulsion. Season with salt and pepper to taste. Place the cranberries and pepitas in the bowl with the kale. Pour half of the dressing over the kale and mix it with your hands. Add more dressing as needed. I actually like to let the kale salad sit for an hour or two before serving so that the leaves are more tender. Grate cheese over the salad to finish. Serves 4-6.