Recipe: parsnip chowder
From the moment we entered the month of March, life got busier. It wasn't unexpected because I could see the colored tags that flooded my calendar starting in March into April through… November. It's all good in my book. We kicked it off with a special 15th anniversary dinner at Frasca. I think Frasca is Jeremy's favorite restaurant. In fact, I know it is. From the moment I placed the reservation, he could not shut up about going there for dinner. It was phenomenal, just like every other time we've been there.

appetizer sampler: cured meats, grissini, frico caldo, batter-fried shrimp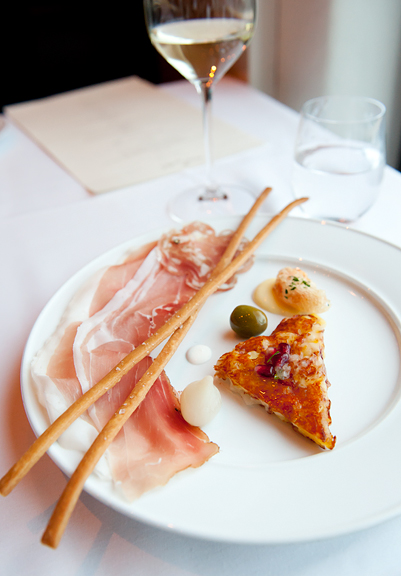 tortelloni: agribosco borlotti bean and house-made mortadella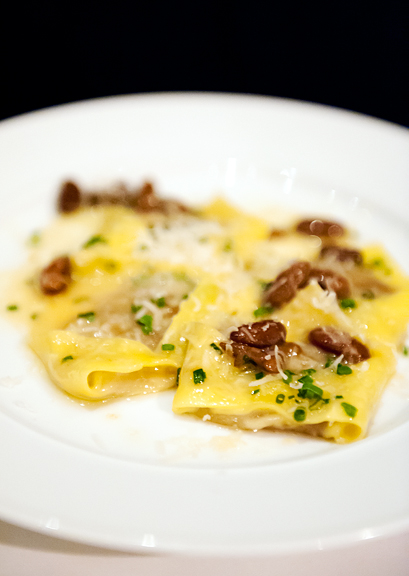 maine sea scallops, caviar, cauliflower, meyer lemon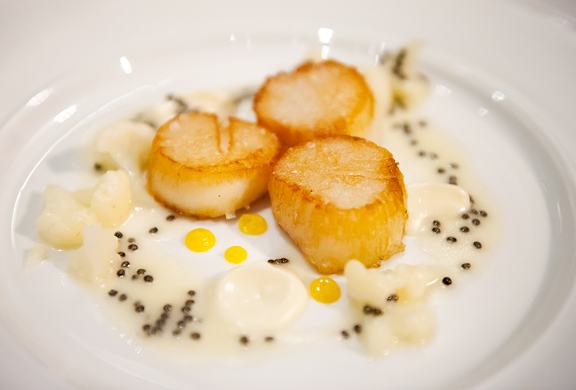 torta di cioccolato: chocolate cake, passionfruit caramel buttercream, mac nuts, dark chocolate gelato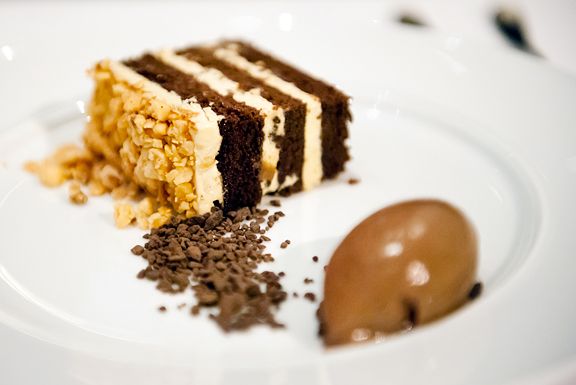 sfogliata: puff pastry, brown butter-hazelnut frangipane, banana, hazelnut crumble, custard gelato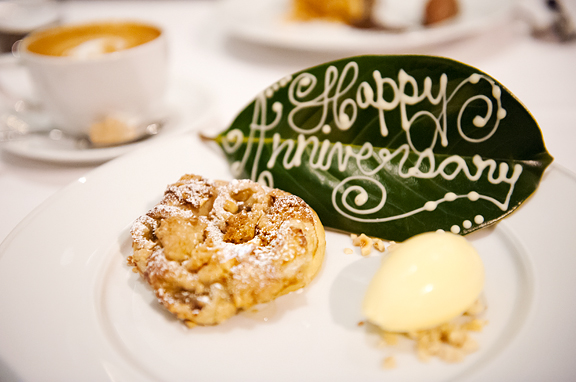 I think March also stands for Maintenance because we're doing a lot of that with the cars, the house, our outdoor gear, my photo equipment, finances, the dog, and well… everything. Perhaps it's that spring cleaning thing? And speaking of spring, some of my friends in other parts of the country have started talking about the arrival of strawberries. We here in Colorado are months off from strawberries. For me, spring is merely a sunnier, warmer, corn-snowier, cheery version of the winter ski season. Soup is still on the menu.
so are parsnips
potatoes, parsnips, onion, parsley, milk, half and half, butter, bacon
peeled parsnips, washed potatoes and parsley
We always forget how much we love parsnips until we taste that sweet, earthy spice of this root vegetable. It looks like a white carrot with exaggerated proportions. They are cousins. I willingly eat the hell out of both. So this recipe for parsnip chowder appealed to me when I was looking to change up our soup rotation. A big pot of soup lasts for several days around here.
diced: parsnips, potatoes, onions
oh, did i mention there is bacon?
There is bacon in the soup which arguably makes any soup irresistible. Actually, the bacon is merely a garnish. The bacon
grease
goes into the soup. If you want to keep this vegetarian, omit the bacon and use olive oil instead of bacon grease. I'm all for making it your own soup.
brown the onions
add the diced parsnips and potatoes
It's a relatively fast recipe to bring together: prep the vegetables, fry the bacon (or not), sweat the onions, simmer the parsnips and potatoes, stir in the
fat
butter, milk, and half and half.
pour milk in after the vegetables are soft
add butter and the half and half
This is a fairly dairy-heavy recipe. While I have a fondness for dairy, my GI tract disagrees. I'll have to look into swapping the dairy out for chicken broth or coconut milk. I wouldn't mind adding some carrots and greens to the soup as well. The parsnips make it fairly sweet. That's why a good and salty garnish of bacon and an herb like parsley play off the sweetness and creaminess so well.
garnish with bacon and parsley, serve with bread
makes a nice lunch
Want a little excitement? Add a couple of
pan-seared scallops
to the soup and wow your dinner companion(s). Talk about awesomer. Go get some.
top with scallops
dinner for wooing
Parsnip Chowder
[print recipe]
from The Complete Book of Soups and Stews by Bernard Clayton, Jr.
4 cups parsnips, peeled and medium dice
grease from 5 slices bacon (reserve the bacon for garnish) or 2 tbsps olive oil
1 cup onion, small dice
3 cups new potatoes, medium dice (I left the skins on)
2 cups boiling water
4 cups milk
3 tbsps butter
1 cup light cream or half and half
salt to taste
black pepper, freshly ground to taste
2 tbsps parsley, chopped (to garnish)
If your parsnips are large (older) then you may want to discard the core of the parsnip that may be especially hard and woody. If you plan to use bacon as a garnish and want to use the bacon grease in the chowder, then fry it up in a skillet over low heat until the bacon is crisp. Remove the bacon strips to a paper towel to drain. If you don't want bacon as a garnish and don't want to use bacon grease, then heat 2 tablespoons of olive oil in a large saucepan (the one you're going to make the soup in). Either way, you're going to brown some onions in bacon grease or olive oil over medium heat for ten minutes or until lightly browned. If you're not in the saucepan already, put the browned onions into a large saucepan.
Add the parsnips and potatoes to the onions and pour in two cups of boiling water. Bring it to a boil then reduce to a simmer. Cover the pot and let it simmer for about 30 minutes or until the potatoes and parsnips are tender. Add the milk and let the soup come back to boiling, but keep it at a simmer. Stir in the butter and the light cream or half and half. Season with salt and pepper to taste (I added at least 1 teaspoon of salt if not more). Ladle the soup into serving bowls, crumble bacon on top, and garnish with chopped parsley. Serves 6.
Fancy pants move: Pan sear some scallops and serve them atop the soup. Seriously amazing.