Recipe: hunan tofu
At the beginning of the week you're tip-toeing across frozen goose poop-laden grasses an hour before sunrise and by the end of the week you're dodging fancy cocktails and flame throwers on a packed second floor of the Boulder Museum of Contemporary Art. Oh wait, that's me. I was shooting the Boulder's Best Mixologist competition on Sunday. Quite a change of scenery.

one of the sponsors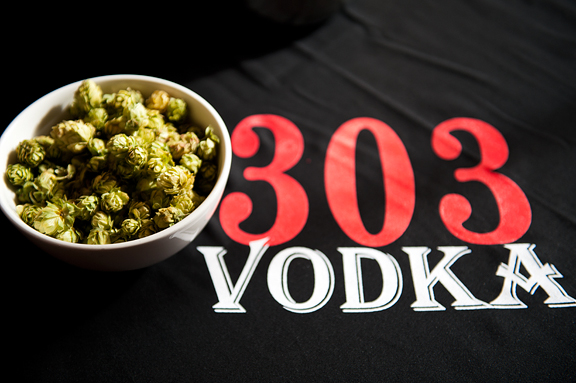 hapa sushi's station was hopping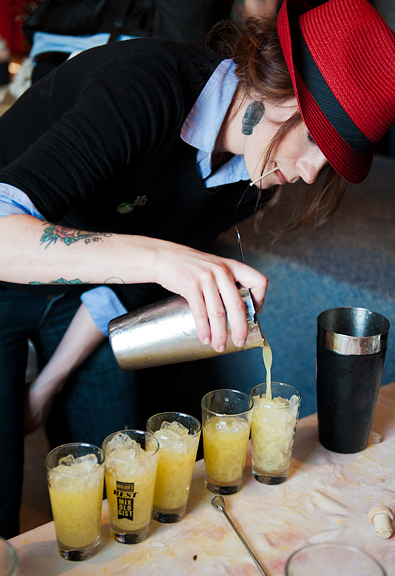 the gals from the kitchen were shaking things up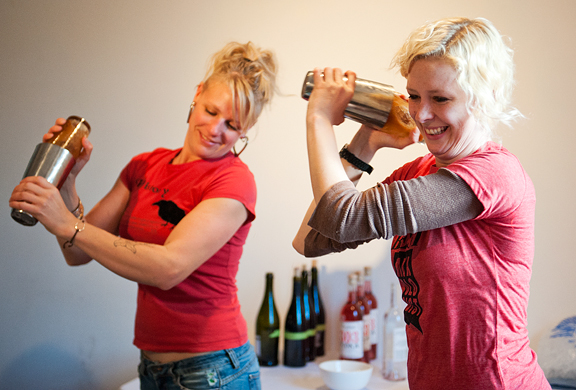 oak was on fire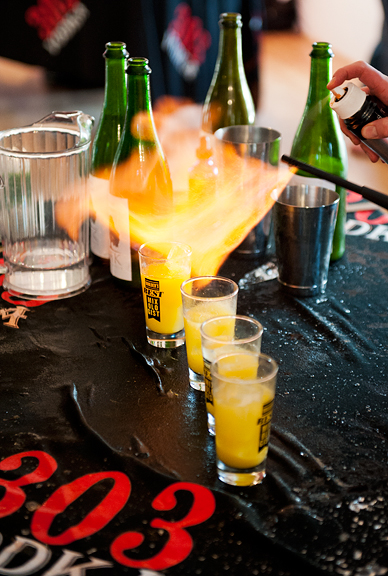 No matter if I'm on the road in Middle-of-Nowhere or navigating the great eateries in Boulder, it doesn't take long before I miss a home-cooked meal. That's partly because I am a homebody and partly because I know how to cook. I hear of people getting bored with the same five meals each week and wonder to myself when was the last time I repeated a recipe at home? It seems there are always new recipes to discover and try.
ingredients: green onions, tofu, garlic, thai bird chiles, country ham
shaoxing cooking wine, dark soy sauce, sesame oil, black bean sauce, cornstarch, chicken broth
I have been on the lookout for a tofu recipe for several years. My grandma always ordered it when we went to dinner at Chef Chu's in Palo Alto: tender tofu slices fried then simmered in a sauce with some salty country ham, a little heat, some black beans, garlic, and green onions. They called it Hunan Tofu. I scoured my recipe books, looked online, and chatted with Grandma on more than one occasion about what we thought might be the recipe, but nothing seemed to match.
helps to wear disposable gloves when handling the chiles
sliced and julienned
Until last week. I found a recipe that looked to be pretty much on target except for the fact that it was veganized. No problem, I un-veganized it and basically recreated the tofu dish that my Grandma and I shared together on so many visits. Our favorite. I added country ham the way Chef Chu's does, but you can use pork or chicken or dried tofu strips if you like.
soak the ham in the chinese cooking wine
fry the tofu
The key is to get tender tofu that is firm enough to handle. If it's too soft, it will fall apart and make a mess when you try to fry it. I hate deep-frying, but I'm getting better at it. What you should know about tofu if you haven't fried it before is that it has considerable water content and makes a big fuss when you put it in hot oil. The best advice I can give is to let the tofu sit out for 15 minutes to drain off some water, then pat each piece dry before placing it in the oil. Or get a deep fat fryer? Just don't handle the tofu for the first minute or so in the oil until the outer golden crust begins to form. I found that if you do, the tofu sticks to the tongs and breaks off in pieces.
add ham and black bean sauce to the aromatics
pour in the chicken broth
Frying the tofu is the hardest part. Once that is out of the way, everything else is like a typical stir-fry saucy thing. Sauté the aromatics in some oil, add the ham and black beans (I couldn't find fermented black beans, so I used the black bean garlic sauce instead), stir in the liquids, thicken with cornstarch, add the tofu last. Barring the frying, the dish comes together in a matter of minutes.
add the cornstarch mixture
gently stir in the fried tofu pieces
And it comes pretty darn close to Chef Chu's version. This dish is salty to begin with, but I think I will swap out the dark soy sauce for regular soy sauce next time as it was a little too salty. That could be because I used country ham which is like 400% of your daily recommended sodium intake. Just don't be too enthusiastic with the soy sauce as it's easier to add it than remove it (which you can't). Hunan tofu goes well with a hot bowl of steamed rice.
hunan tofu
Hunan Tofu
[print recipe]
adapted from Notes from the Vegan Feast Kitchen
1/4 cup country ham, julienned
1 tbsp Chinese cooking wine
1 1/4 lb. (20 oz.) firm tofu, drained
2 tbsps vegetable oil
3 green onions, julienned
2 red Thai chiles, seeded and sliced thin
1 tbsp garlic, minced or sliced thin
3 tbsps Chinese black bean sauce or fermented black beans
1 cup chicken broth
1 tsp dark soy sauce
1/2 tsp sesame oil
1 tsp cornstarch
1 tbsp water
Mix the ham and sherry in a small bowl and set aside to soak. Cut the tofu into 1/2-inch thick slices. Pat the tofu dry and deep fry in hot oil – about 360°F. A few tricks about frying the tofu. Put one piece in at a time because it will bubble and boil quite a bit. I try to stagger the tofu by about a minute or two. Let the piece fry for at least a minute before turning it because if you touch it too early, the tofu will stick to your utensil and break off. That's annoying. I found 2 minutes, a flip, and then another 2 minutes worked to give the tofu a nice golden exterior. Remove the tofu from the oil and drain on a paper towel. Heat 2 tablespoons of vegetable oil in a wok or a large saucepan over high heat. When the oil is hot, sauté the green onions, chiles, and garlic until fragrant – about a minute. Add the black bean sauce or fermented black beans, and the ham. Stir in the chicken broth, dark soy sauce, and sesame oil. Mix the cornstarch and water together in a small bowl. When the liquid begins to boil, pour the cornstarch mixture into the pan, reduce to a simmer and stir until it thickens. Add the fried tofu and gently stir to coat the tofu in the sauce. Simmer for three minutes. Serve hot with steamed rice. Makes 4 servings.