I'm back home from our week-long trip to California, but just for a day or so. It's enough time to wash (and snuggle) the dog, do laundry, unpack gear, repack gear, process photos, and get ready to hit the road. Oh, and maybe a little time to share the past week with you in photos and ramblings.
chapter 1: wine country
We flew into the San Francisco Bay Area and drove a couple hours north to Healdsburg (where we were staying) for a little wine tasting. Well, Jeremy was wine tasting and I was the driver. My aunt and uncle were spending the weekend near Napa, so we met up with them for a delightful dinner at Redd in Yountville. I had hoped to arrive a little early so we could check out a few wineries in Napa Valley, but time seems to get sucked up by traffic in California.

la crema's tasting room is in town (healdsburg)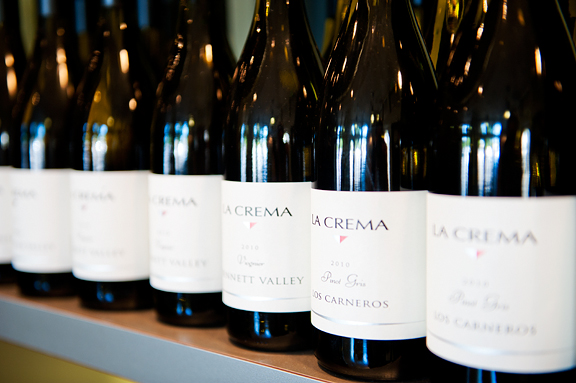 appetizer: sashimi of hamachi, sticky rice, edamame, soy ginger sauce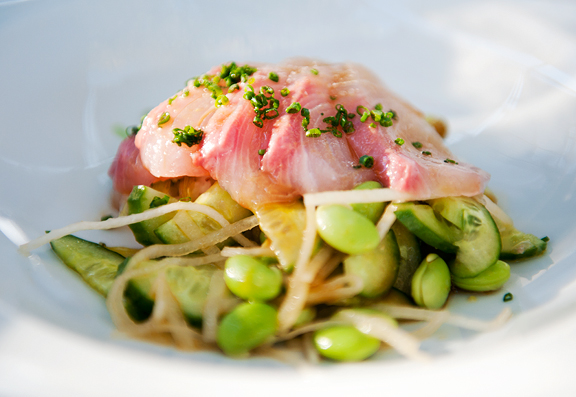 main: caramelized diver scallops, cauliflower, capers, almond, golden raisins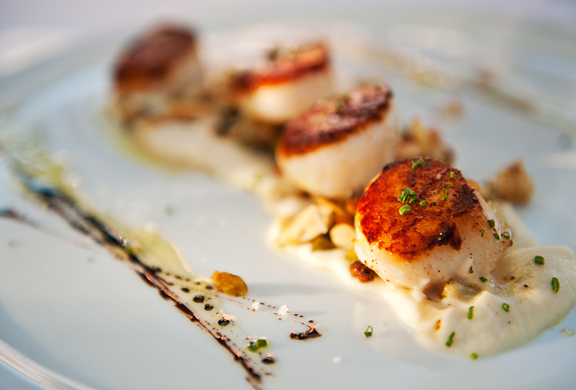 The next morning was spent gathering some gear and food to take backpacking. Once all of that was sorted and packed, we went into town (Healdsburg) for lunch at
Cyrus
. I had hoped to have dinner there, but reservations fill quickly on weekends in wine country. Luckily, they gave me the option of lunch (Saturdays only from May to October). Lunch offers the exact same tasting menu options (you have 2-3 choices per course) and service as dinner. In a word, our meal was
exquisite
and that was in no small part due to the flawless, friendly, and bend-over-backwards accommodating service of the staff. The flavors, the textures, the attention to every single detail, the whimsy, the elegance…
let's begin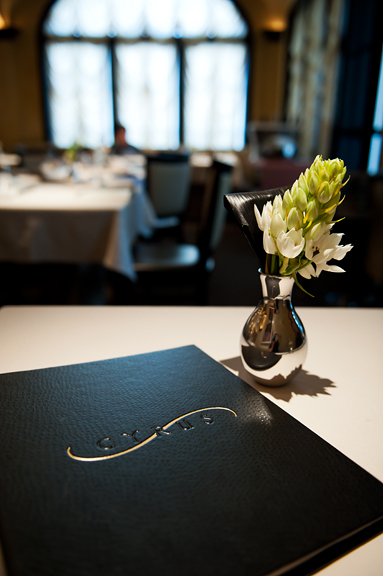 cozy interior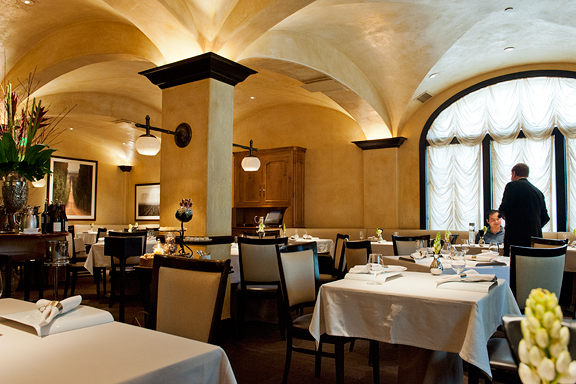 canapés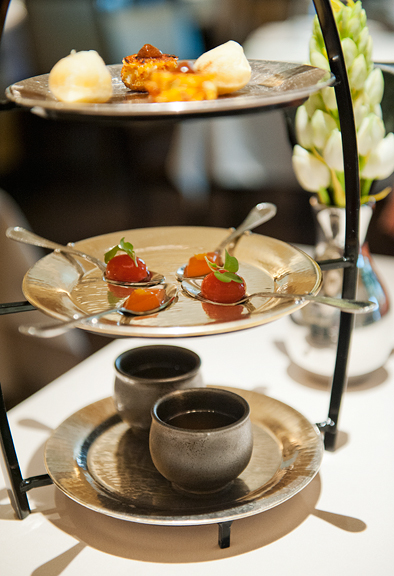 amuse bouche: uni purée, whipped cauliflower, puffed rice and seaweed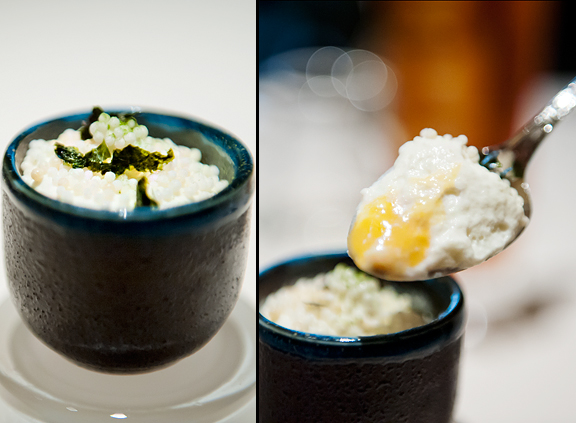 salmon with ginger, daikon, snap pea-basil broth (not pictured: chilled artichoke soup)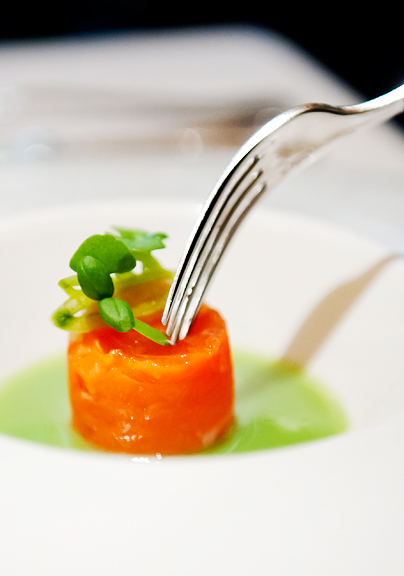 left: humane foie gras cherry blossom parfait, barley, sea beans and shiso
right: chorizo-crusted scallop with sweet corn and lobster froth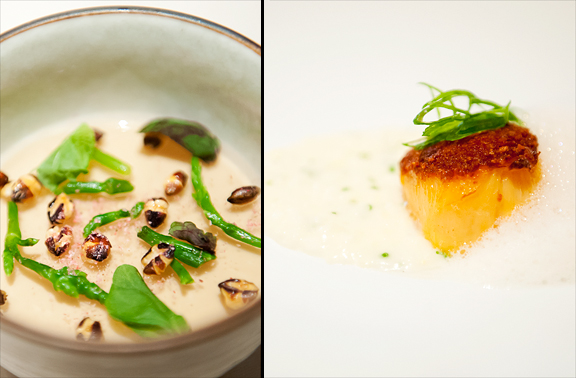 black sea bass, pea sprouts, asparagus, sea grapes, lemon verbena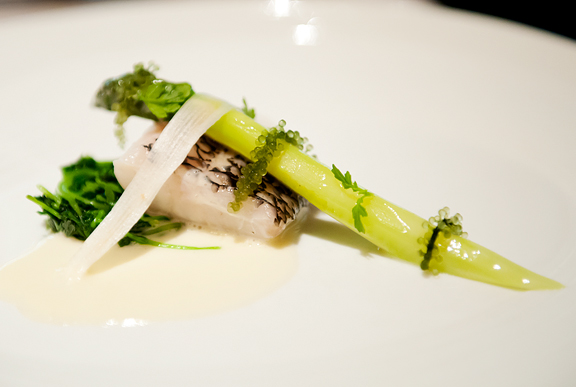 glazed tofu with asparagus and spring onions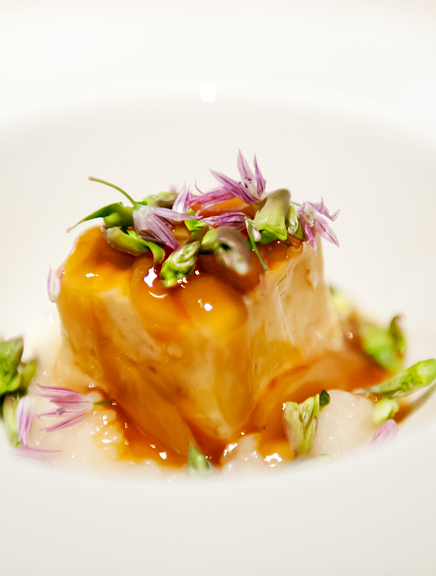 jeremy opted for wine pairings with his meal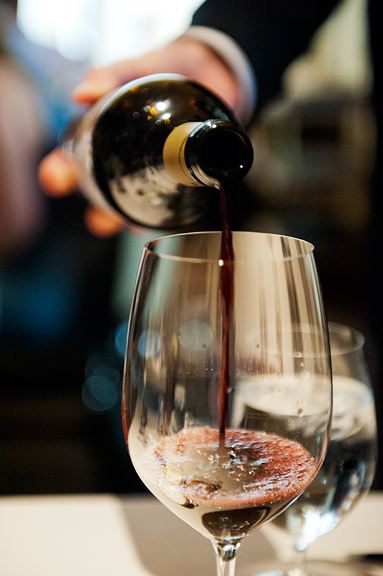 palate cleanser: avocado and lime sorbet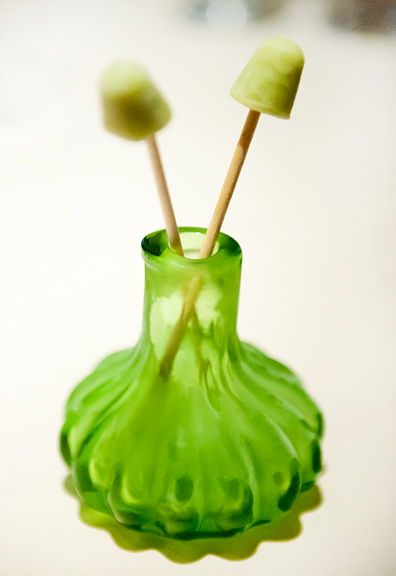 left: spring lamb tataki hot pot
right: seared beef cheek with green and black garlic, lotus root, natural jelly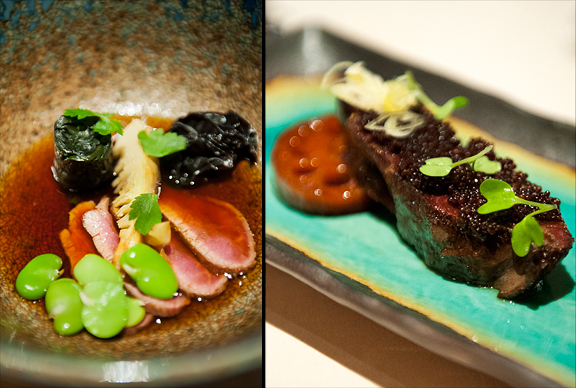 left: cocoa nib "affogato", condensed milk semifreddo
right: yuzu crèmeux, bergamot meringue, cream cheese ice cream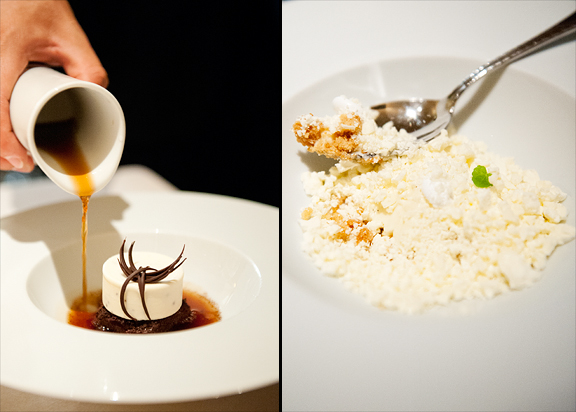 but wait! there's more: mignardises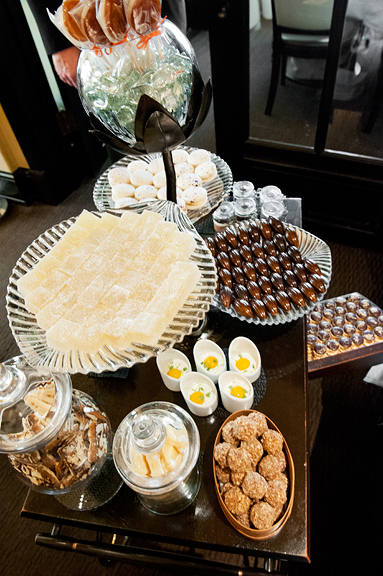 pastry-wrapped chocolates for "later"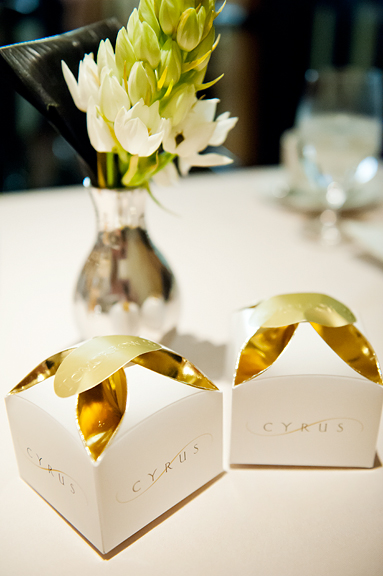 itty bitty (1-inch diameter) freshly made doughnuts for a last bite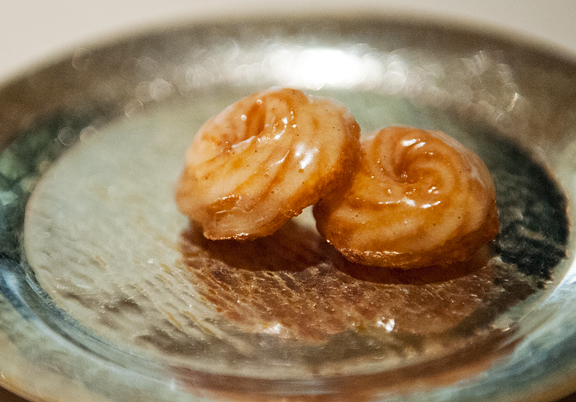 Insanity? Yes. Enjoyable? Absolutely. Cyrus was one of the finest meals we've ever experienced. So how do you follow that up? With cupcakes! Jeremy and I met our friends
Chief Gawker Chuck
and Hungry Bear at
Moustache
, just around the corner from Cyrus. We picked up cupcakes (for a gift) and did a tasting together at
Seghesio
before they had to leave for a dinner date with friends. Then I took Jeremy to
Michel-Schlumberger
to say hi to my friend, Jim, sample some of the wines, and stroll the beautiful grounds. As the heat of the day wound down, we made our way to a sushi bar for a light dinner.
welcome, why not cool off with some chardonnay?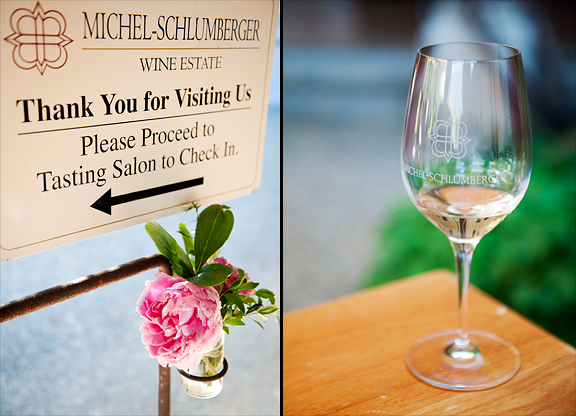 jeremy relaxing in the shade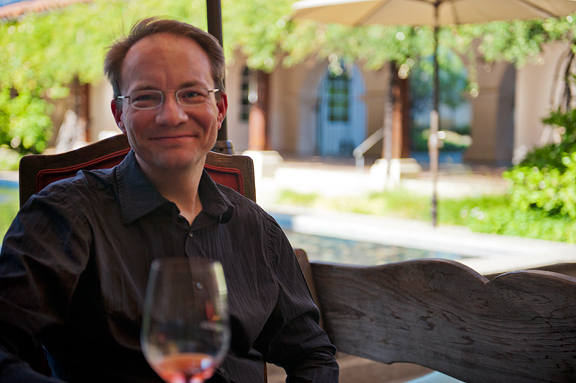 chapter 2: yosemite national park
Wine tasting and fine dining, then backpacking? Well, that's how we roll. Besides, what better way to work off all those calories than hitting the trails in one of the most spectacular parks in the world when the waterfalls are roaring, the dogwoods blooming, and the throngs of summer visitors have not yet gone full throttle? Driving from Healdsburg to Yosemite, we crossed California's Central Valley where they grow… everything. My favorite place to go anytime I'm headed to Yosemite is Taqueria La Estrella in Manteca. They open at 7 am! This is the Mexican food I dream about. I also try to hit it on my way out of Yosemite if at all possible. I mean, it's RIGHT ON THE ROAD to and from the park.
fact: it's never too early for carnitas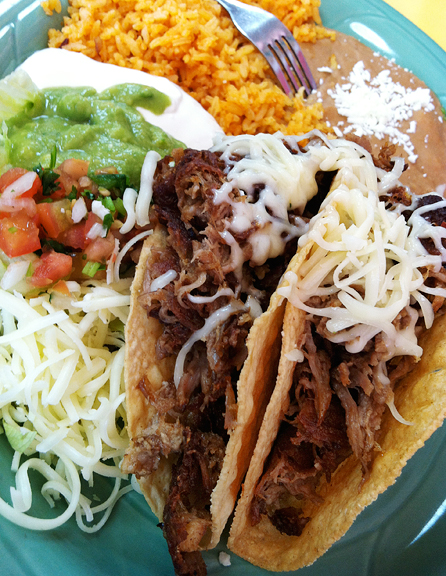 Getting a wilderness permit to backpack was surprisingly easy and unbusy from the valley wilderness office. I said as much to the ranger issuing our permit and she smiled, "The Half Dome Cables are still down." Well good. That meant it wouldn't be nearly as crazy in camp or on the trails. It was hot and humid, more so than usual, and it was crowded (Mother's Day). While we typically like to start backpacking or hiking before sunrise, our logistics put us at the valley trailhead around 3pm at the height of the day's heat. We hoofed it up the trail – this trail that we hiked 19 years ago together on our way to Half Dome – this time with backpacks and the benefit of living at altitude.
upper yosemite fall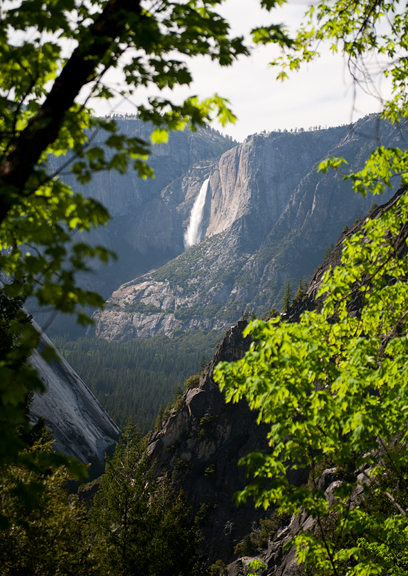 liberty cap and nevada fall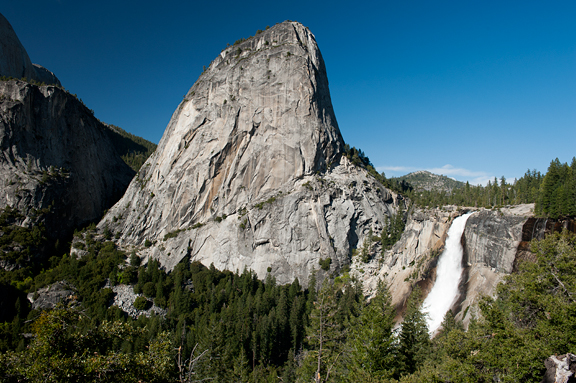 jeremy on the bridge crossing over nevada fall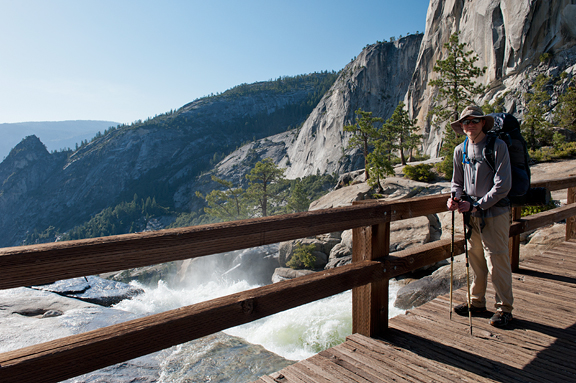 camp in little yosemite valley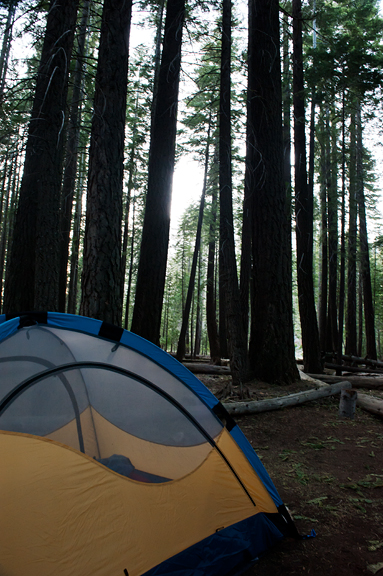 The following morning, we rose before anyone else in camp was up and hiked past the turnoff for Half Dome and up to Cloud's Rest. We had never been and I had it on recommendation from several trusted sources that it was one of the finest views of Yosemite in all of the park. Indeed, it was the best view of the park I had ever seen – a full and glorious 360° view from almost 10,000 feet. The sky overhead was clear, but strong gusts of wind slammed us around so that we didn't hang out on summit for long, nor did we linger near the edge and the 5,000-foot drop off the side.
on cloud's rest, jeremy checking out the trail in the other direction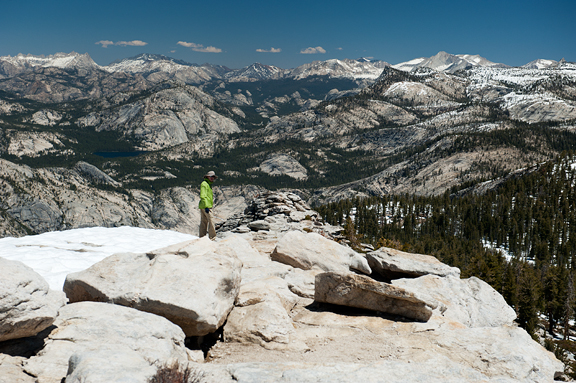 looking back toward the valley where we had started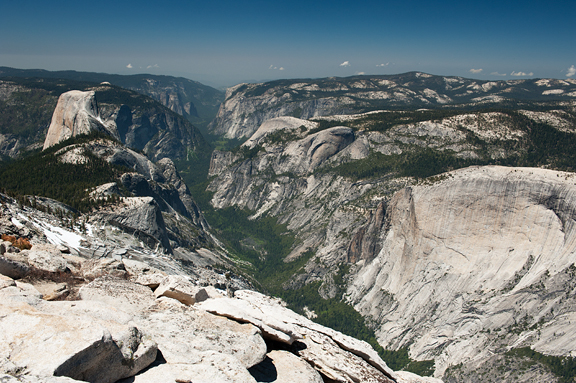 token summit shot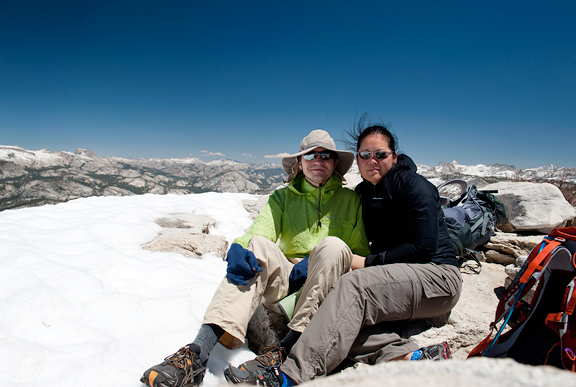 On our way back to camp, we encountered a handful of dayhikers and backpackers, but mostly we had the trail and the woods to ourselves (yay for hiking on weekdays). Although it was cooler than the first day, we took a break to lounge on a giant rock slab in the shade of a towering cedar, polishing off some crackers and dried fruit. In the last few years we've taken a shine to cold packing in summer for trips less than 4 days. Cold packing means we don't bring a stove. It makes air travel much easier and there is little to no cleanup when you're done. It is heavier, but less hassle. I tell Jeremy we just trade butter for white gas.
Overnight, we got down to freezing (32°F). We were up with the birds at 5:30 am and quietly packed up camp and hiked out. Just about every dayhiker we encountered asked if we went to Half Dome, so I finally told one gentleman that we went further and higher… to Cloud's Rest. Since Tioga Road was open all the way to the other side of the Sierra, I took Jeremy to check out sections along the road he had never seen like Tenaya Lake and Olmstead Point. We hopped on over to Lee Vining for lunch at the Whoa Nellie Deli (Dara, you know me so well!) – which is pretty amazing food for being in the middle of absolutely nowhere. Plus, we get decent cell reception. Jeremy and I spent the evening getting work done in Curry Village and stayed the night in the valley with billions and billions of screaming kids.

"if you go over the fall, you will die" yessireebob!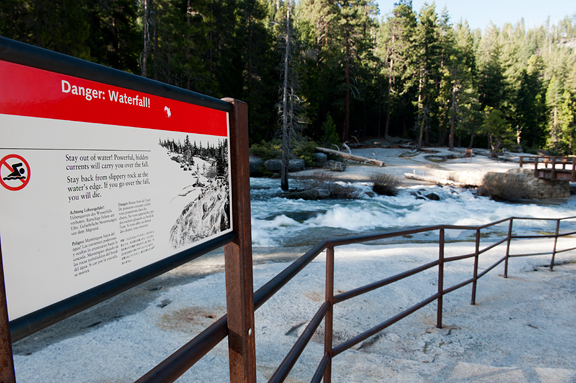 rainbow over nevada fall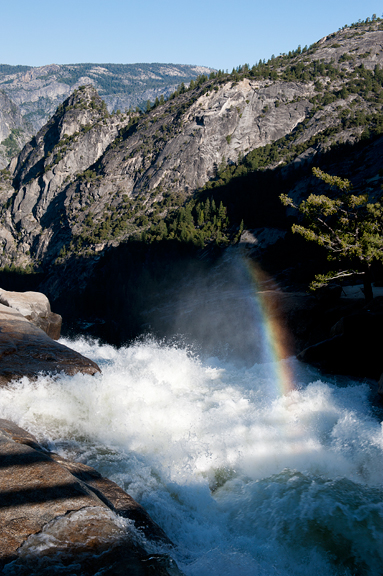 cloud's rest as viewed from tenaya lake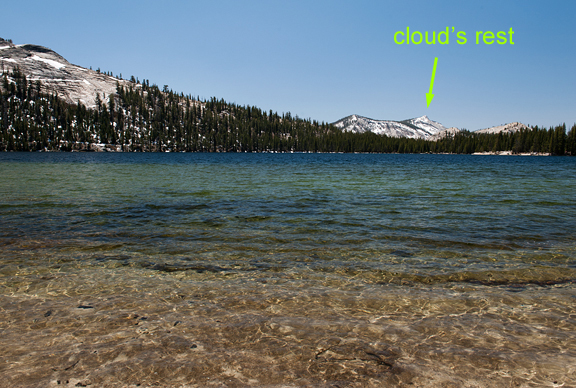 lupine in bloom near foresta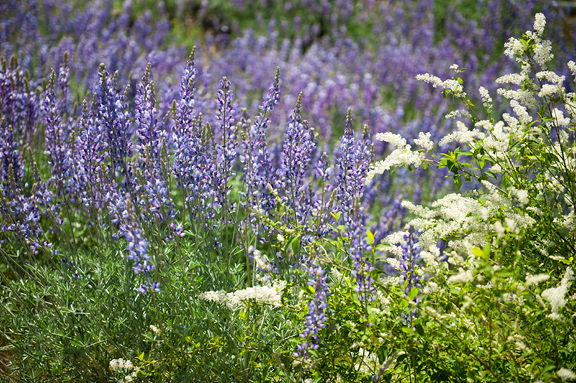 chapter 3: family
We left Yosemite before sunrise as we had several hours to drive to get back to the Bay Area where we were meeting my parents and my aunts at Grandma's grave site. It was the one-year anniversary of her passing and the four daughters were gathering to honor her. I wasn't her daughter, but I always felt a deep connection with my grandmother – perhaps somewhere between granddaughter and daughter. I wanted to be there and I wanted to see my family. This was the whole reason for my trip.
The coast was cold, foggy, and windy in contrast to the heat and sun of the Sierra. There were hugs and tears as everyone arrived. I've noticed that the four daughters seem a little lost without Grandma – some more than others. They're all fine, getting on with life as usual, but I sense this and it tugs at a place deep in my chest. I miss my Grandma every day. I feel tremendous gratitude for the many years we had together and the special bond we shared. The rest of the day was spent eating (of course, we're Chinese) and talking as a family. Before we knew it, we were saying our good-byes and wishing safe travels home.

remembrance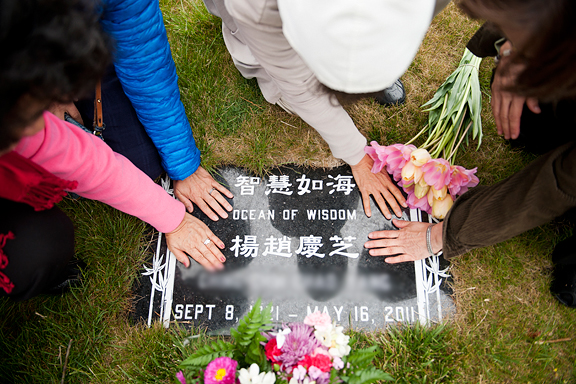 sisters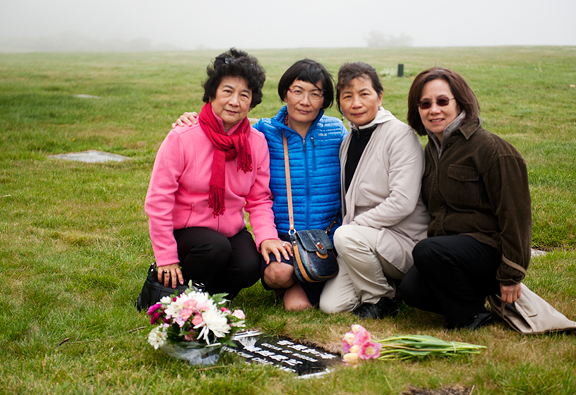 chapter 3.1: family in wine country
Mom and I had paperwork to take care of in the morning, but after that our day was wide open. My dad likes to have a plan, but what he likes even more is when someone makes a plan for him to approve. I am a planner. I am my father's daughter. I had two well-structured plans for him to choose from.
Me: Daddy, do you want to go to Napa or into the city (San Francisco)?
Dad: Napa.
Napa it was! My dad loves wine, but he prefers to share it with someone. That someone is Jeremy since neither Mom nor I drink much. Dad is quite ambitious when it comes to wine country. Having done this before (as the very sober designated driver), I told him we'd likely fit three in at best in addition to lunch before returning south and beating traffic. Our first stop was Domaine Chandon (my choice), because bubbles are perfectly acceptable in the morning, right? I had to do some research and besides, my friend Lisa recommended it. It's beautiful. I love it there. I just want to sit in the gardens all day.

looking pretty happy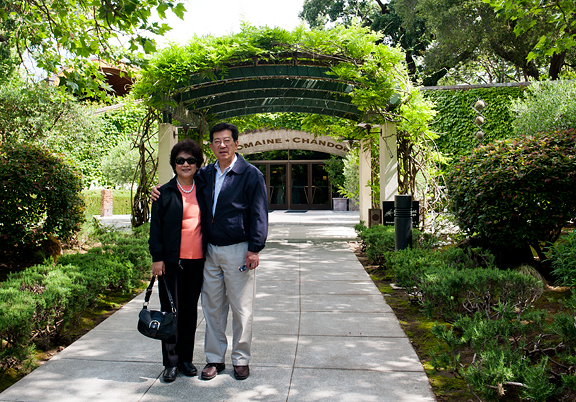 oysters and bubbles play well together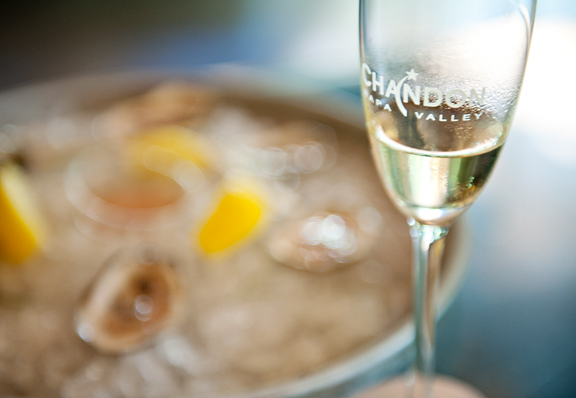 We lunched at
Morimoto
in Napa (another excellent Lisa recommendation, she never steers me wrong). Another winner in my book. We shared two appetizers and each ordered an entrée. Mom was underwhelmed with her duck meatball pho (I tasted it, I didn't think it was anything to rave about either), but the rest of the dishes were *amazing*. After lunch, it was on to more wineries, then back to the Bay Area where we all had dinner at
Little Shanghai
with Lisa,
Anita
and Mike, and Chuck and Hungry Bear. The food was decent and the service was… Chinese. I mean, no one judges a proper Chinese restaurant on service, okay? The company was stellar.
rock shrimp tempura: spicy kochujan and wasabi aioli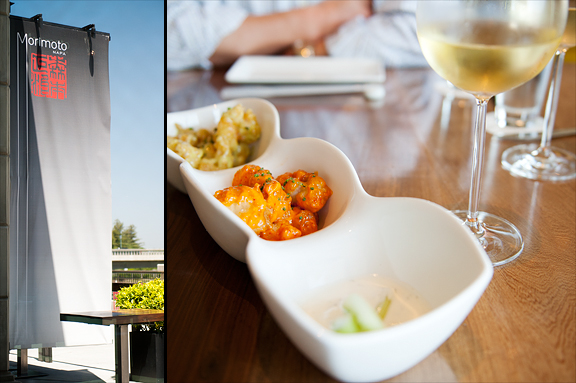 kakuni: ten hour pork belly, rice conjee, soy-scallion au jus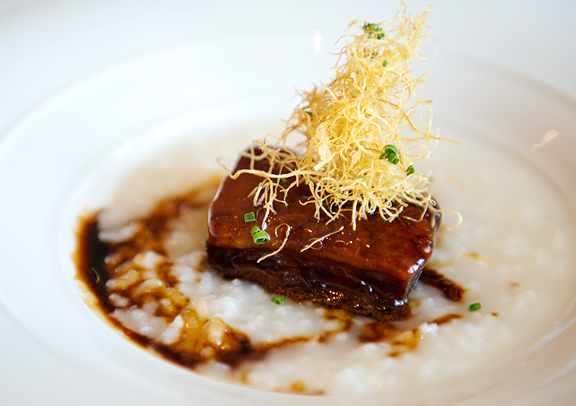 jeremy and dad ordered braised black cod with ginger-soy reduction lunch sets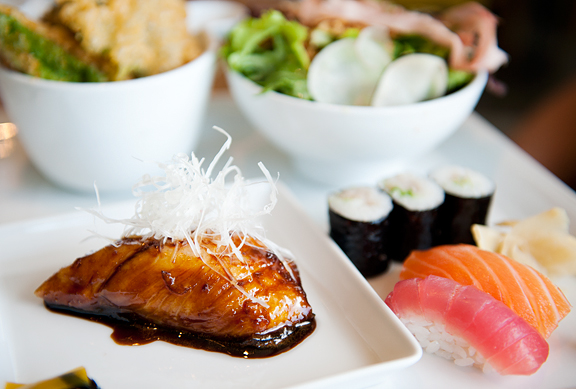 my spicy chirashi sushi: slow poached egg and kochujan sauce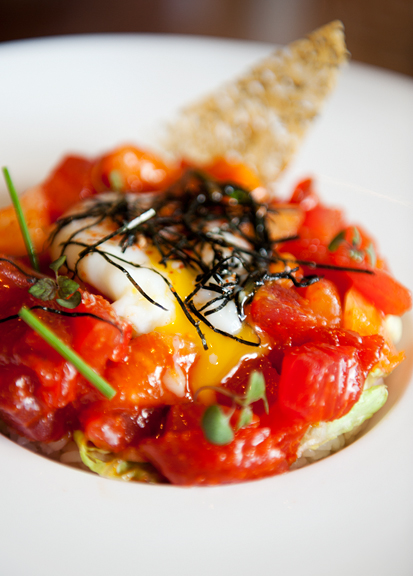 more wine tasting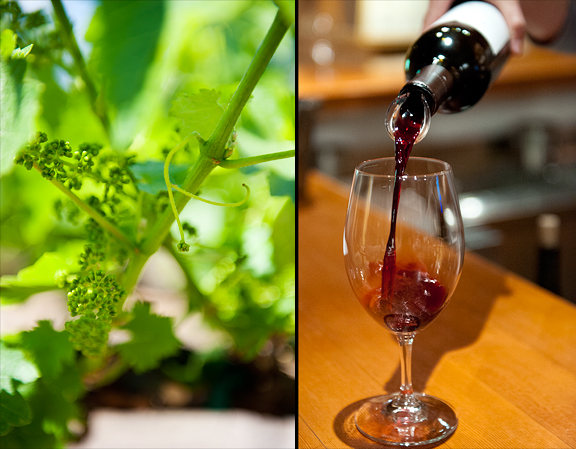 and pretty gardens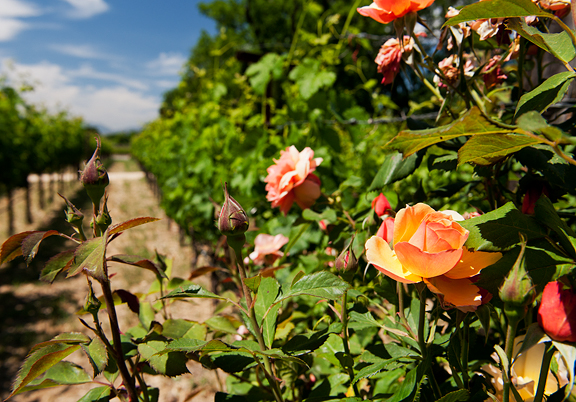 and more tasting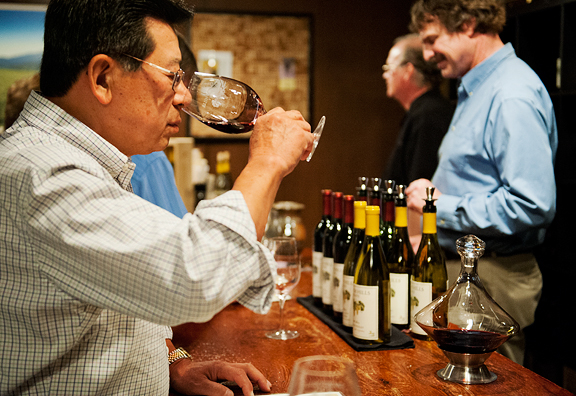 pretty trellises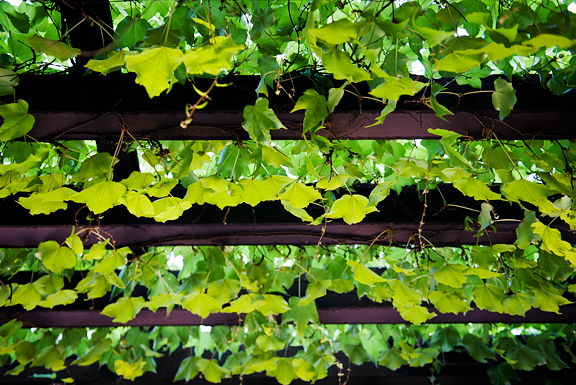 dinner – shanghainese style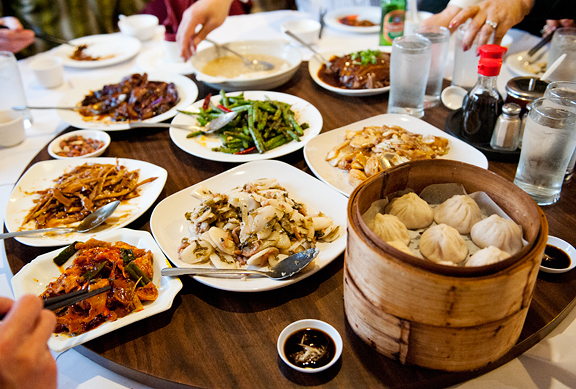 fried soup dumplings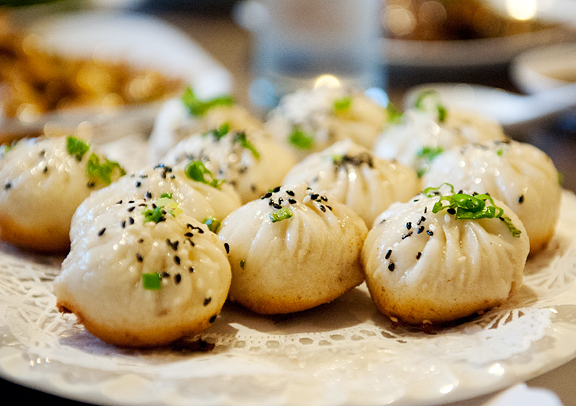 So that was our trip: wine, food, backpacking, food, family, wine, food, and friends!