Recipe: lavender lemonade
I want to thank those of you who shared your pet stories for the giveaway. Since Kaweah is in her golden years, the comments about the senior doggies and kitties were particularly touching for me as were the stories of how our pets comfort us when we are grieving or very ill. So thank you for that, all of you. We try to make the selection of winners as impartial and as random as possible by letting Kaweah choose. Retirees though… they aren't always in the mood to get back to their old jobs.

stretching out in the sun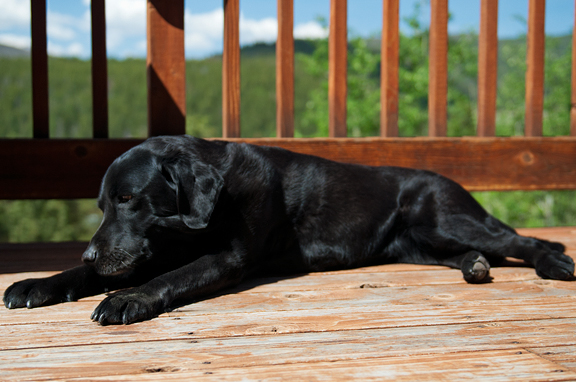 aw yeah…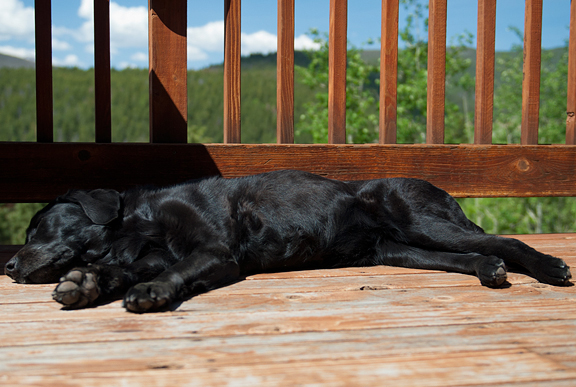 We tried again later when storm clouds blocked out the sun and Kaweah had gotten a sufficient amount of beauty rest. I lined up ten treats – each representing a number from 0 to 9 – and recorded the number of the first treat Kaweah went for. Then I replaced the eaten treat(s) (sometimes she ate two before I could get to her) and we repeated this nine times for a total of ten digits (5 winners).
that's a four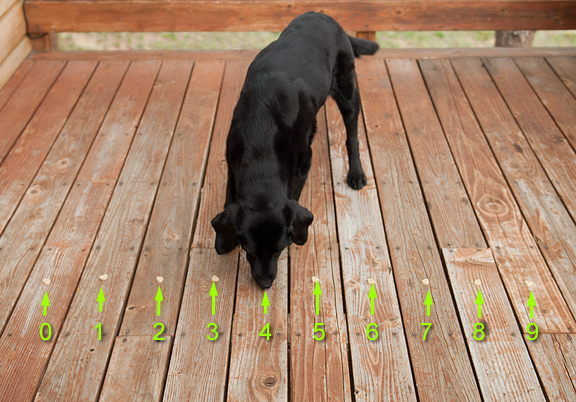 The winners are
#35: Ira
(Boxers N Birds All Breed Animal Rescue Inc. in Oceanside, CA),
#46: Jane
,
#52: Courtney
(Boulder Humane Society),
#65: Lisa@The Cutting Edge of Ordinary
, and
#80: Pat
! Congratulations to the winners – you should be receiving an email from me shortly. Thank you all for listing so many wonderful animal shelters and rescue organizations who care for those animals in need of a home and someone to love.
sunset reflected off our house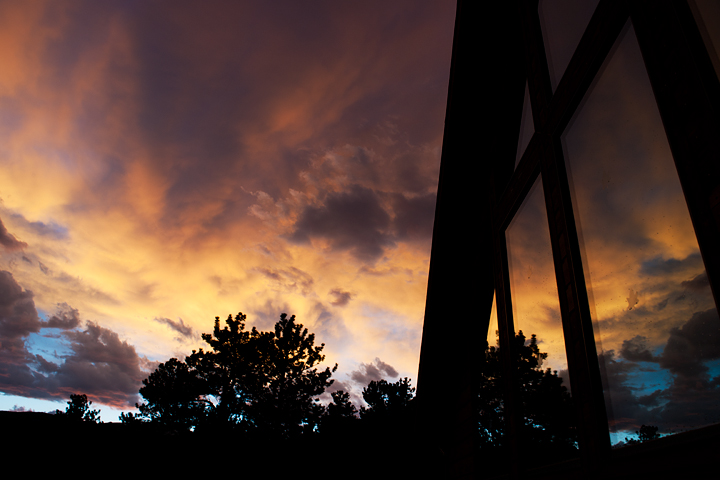 love those summer storms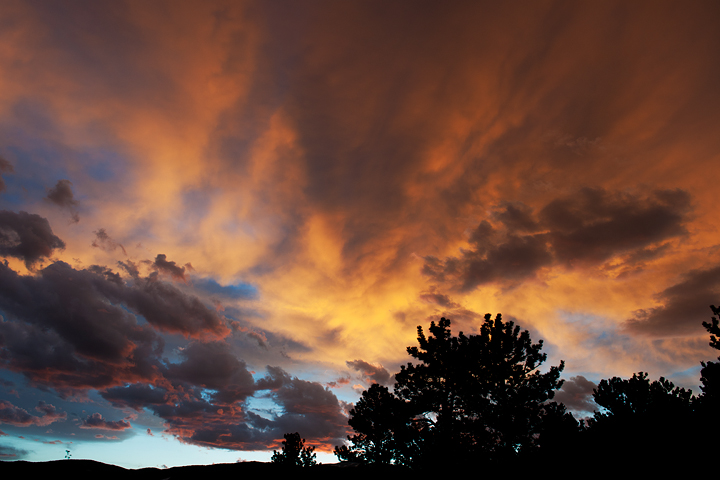 We are entering that thunderstorm cycle in the mountains now. Overnight temperatures are nowhere close to freezing anymore and nighttime is whittled down to a few hours at best.
Le sigh.
Oh, but you know what's coming, don't you? Summer things like blockbuster movies, a new tube of sunblock, eating outside, grilling, parties, hiking, and kicking back with an ice-cold drink. I had lunch at a soft opening for
Native Foods
in Boulder a couple of weeks ago. My friend, Michael (
@BSidesNarrative
on Twitter), told me the lavender lemonade at Native Foods was the best. So I tried it. I liked it! And you know where this is going. I know how to make lemonade…
lemons
juiced
Most people think of lavender as an odor, not a flavor. It's widely used in de-stinking or perfuming the heck out of something, someplace, or someone. This is not that lavender. It *is* lavender – the herb – but it is culinary lavender which means it is okay to consume. Mine is organic and you can find it at places like
Savory Spice Shop
or the Whole Foods bulk spice section.
pretty purple
a few tablespoons
My real motivation for making lavender lemonade was to see if it would turn pink. I've seen some that are yellow (like lemonade) and others that are pink. It's supposed to turn pink, although a quick search hasn't given me any explanation as to why. Any chemists out there wanna throw me a bone? I started with a half batch just in case it turned out to be a dud (not pink). [Edit: Thanks to a reader, she determined that the hidcote variety of lavender turns lemonade pink, but not any other varieties.]
pour boiling water over the lavender
let steep for 15 minutes (it's a deep rose color)
Well, this was promising. It was a sort of rose color. After straining the lavender bits out of the liquid (discard the bits), I put it back in a saucepan and added the sugar. Liquids cool quickly at my elevation (water boils at a lower temperature too), so I reheated the liquid while stirring the sugar until it dissolved. I normally use organic cane sugar, which makes an almost amber-colored simple syrup, but I keep "white" sugar around for certain candies and pastries that require preservation of color. I figured lavender lemonade justified some of that white sugar.
strain
add the sugar
I let the sweet lavender liquid cool a little bit, but added the lemon juice while it was still considerably warm. IT TURNED PINK! On contact! Look at the pictures, I am not joshing you.
starting to pour the lemon juice
you can see where the lemon juice has come into contact with the lavender tea
bright pink!
coooooooooooool!!
So it did, in fact, turn pink. Yay! But in addition to home kitchen chemistry fun, you get a floral and refreshing beverage with which to cool down over the summer. Be sure to add water to taste keeping in mind that you're probably going to serve it over ice (so don't dilute the heck out of it). You could also keep it fairly concentrated and serve it with fizzy water over ice for a little lavender lemon soda action. Your call. But do the chem lab experiment for fun!
better living through chemistry
Lavender Lemonade
[print recipe]
inspired by Native Foods
4 tbsps (1/4 cup) culinary lavender*
2 cups boiling water
2/3 cup sugar
1 1/2 cups fresh lemon juice (about 8 lemons)
2 cups cold water
* Culinary lavender is lavender harvested for the purposes of cooking/eating. Please don't buy the perfumed air-freshening kind because that is going to be utterly gross. If you want your lemonade to turn pink, you need to get the hidcote variety (that's the only one that turns it pink).
Steep the lavender in 2 cups of boiling water for 15 minutes. Strain through a fine-mesh sieve and discard the lavender. Place the lavender tea and the sugar in a small saucepan and set over high heat, stirring until the sugar dissolves (you don't have to put it over heat, but I do this because I'm impatient and want the sugar to dissolve faster and completely). Remove from heat and let cool to warm. Stir in the lemon juice. Stir in the cold water. Add more to taste. I prefer to keep mine on the concentrated side because I like to mix it with seltzer water when I serve it. Serve over ice. Makes about 6-8 cups depending on how dilute you want it.