Recipe: crunchy kale salad
Our evening walks with Kaweah are getting later and later because we try to avoid taking her out when the sun is still up. She overheats easily. Thankfully, as soon as the sun drops low, the air begins to cool quickly in the mountains. You can feel the delicious streams of cool air flowing around your ankles as you hike the neighborhood trails. Wildflowers are full speed ahead and the once new spring-green aspen leaves have turned to a soothing deep, dark green.

the blur is kaweah's wagging tail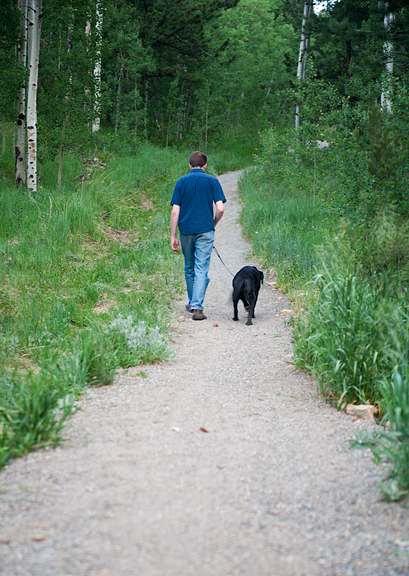 indian paintbrush and yarrow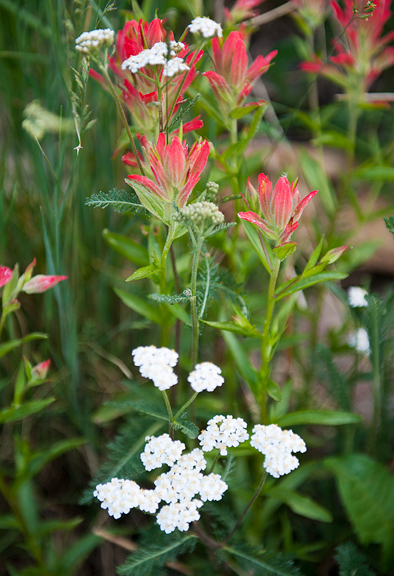 happily taking a rest in a field of clover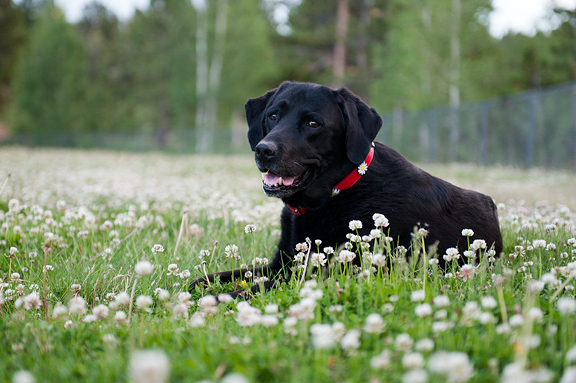 I reached down to give Kaweah a pat on the ribs as we left the trail to return to the house. Her fur was cool to the touch. She was clearly happy, lazily wagging her tail as she sniffed every.single.plant on the side of the road. I pressed my palm to my arm and was delighted that my skin felt COLD.
c'mon, let's go!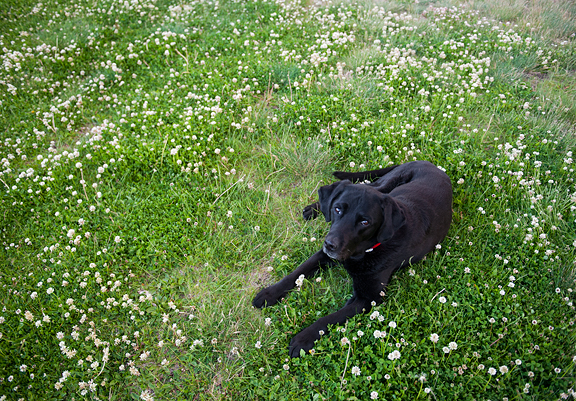 well, there's always time for a belly rub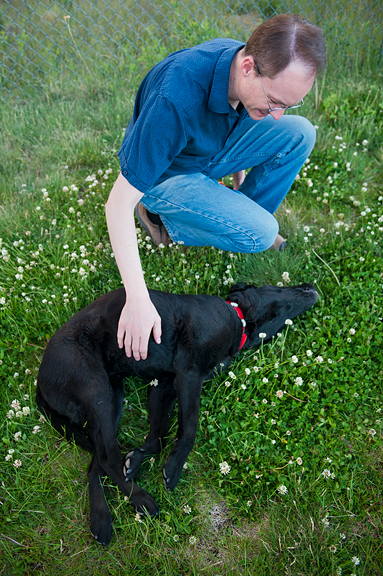 Thank goodness for the evening cooldowns around here, or else I would have lost my marbles back in April. We've been on a busy rotation of salads because the last thing I want in summer is to cook and then eat a hot, heavy meal. I want fresh, crunchy, green things! This means I'm always on the lookout for something new. When my pal,
Denise
, and I checked out the
Native Foods Boulder
soft opening in late May, we ordered strategically so we could get as big a sampling of the menu as possible. Native Foods is a popular vegan restaurant, not because it is vegan, but because they serve some great food. That said, I am not a fan of faux meats or faux cheeses (faux food isn't my thing). But, I absolutely fell in love with their crunchy kale salad and immediately went home and made it for Jeremy.
all you need: kale and cabbages
avocado, apple, almonds, and black currants
tahini, orange juice, maple syrup, olive oil, (not pictured: salt, lemon juice)
The salad is chock full of healthy goodies and unlike lettuce, it doesn't wilt much if you make a large batch to enjoy over the course of a few days. That's because it has hearty greens like kale and cabbage. The rest of the ingredients are either neutral or sweet. If you are seeking a tangy, salty salad – this is not it. But it's a fantastic, hearty salad that is satisfying without being overly heavy.
trim the kale leaves from the stalks
shred the kale
add shredded cabbage to the bowl
As with any salad, you can substitute, add, subtract whatever you like. It's all about what you like. I just happen to think this combination is pretty wonderful. There is nothing wimpy about it. Also, I love the deep and bright colors that scream "I'm healthy!"
dice the avocado
add the dried black currants
I took a guess at the dressing since they said it was a maple-orange dressing with tahini drizzle. No mysteries there. I added a pinch of salt and some lemon juice to give it a little more zing. It's a mellow, earthy flavor.
maple syrup
tahini
whisk in the olive oil
Your biggest time investment will be prepping the salad ingredients. The dressing comes together lickity split. If you wanted to make this ahead of time, everything can be done in advance although I recommend against prepping the apple and avocado too early because they will brown. Just assemble the salad before serving and you are good to go. It works well as a side salad or as a meal.
pour the dressing over the ingredients
toss
it's not easy being green (but it is most definitely delicious)
Crunchy Kale Salad
[print recipe]
inspired by Native Foods
4 cups kale, washed, trimmed, and shredded
2 cups red cabbage, shredded
2 cups green cabbage, shredded
1 Granny Smith apple, julienned
1 avocado, peeled, pitted, and diced
1 cup almonds, roughly chopped
1 cup dried black currants
maple orange tahini dressing:
1 orange, juice of (about 1/2 cup)
1 tbsp maple syrup
3 tbsps tahini
pinch of salt
1/3 cup olive oil
lemon juice to taste
Make the dressing: Place the orange juice, maple syrup, tahini, and pinch of salt in a medium bowl and whisk together until blended. Slowly drizzle the olive oil into the bowl in a steady stream while constantly whisking. Add lemon juice to taste. Set aside.
In a large bowl, combine the kale, cabbages, apple, avocado, almonds, and dried black currants. Pour the dressing over the salad and toss to coat. Serves 4-6.